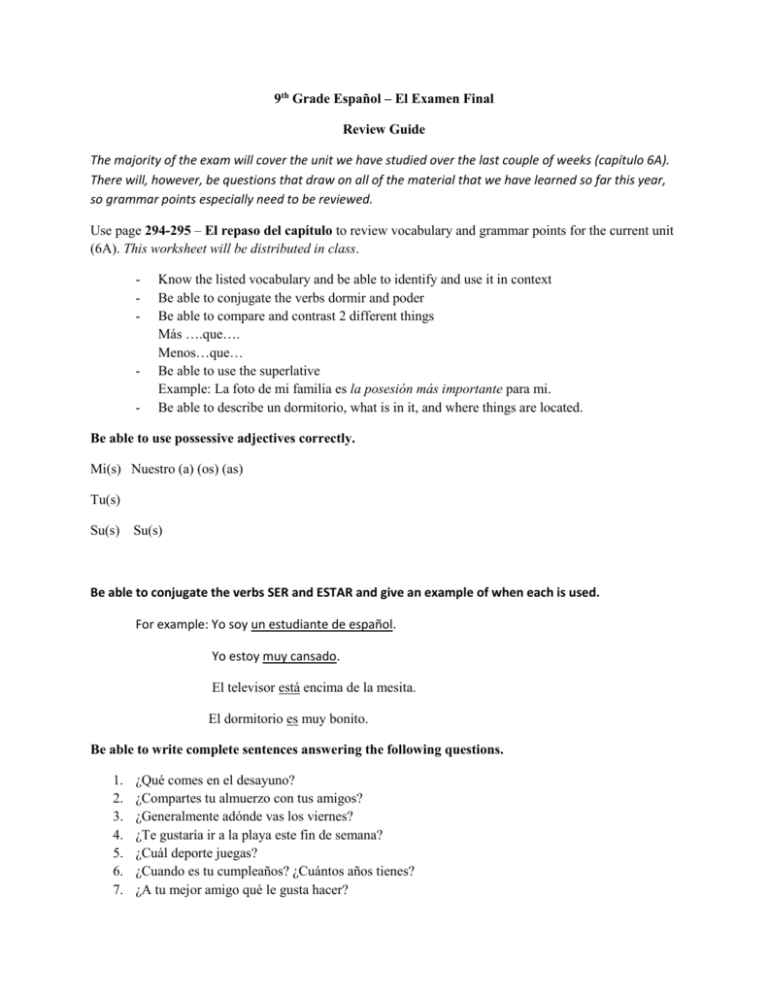 9th Grade Español – El Examen Final
Review Guide
The majority of the exam will cover the unit we have studied over the last couple of weeks (capítulo 6A).
There will, however, be questions that draw on all of the material that we have learned so far this year,
so grammar points especially need to be reviewed.
Use page 294-295 – El repaso del capítulo to review vocabulary and grammar points for the current unit
(6A). This worksheet will be distributed in class.
-
-
Know the listed vocabulary and be able to identify and use it in context
Be able to conjugate the verbs dormir and poder
Be able to compare and contrast 2 different things
Más ….que….
Menos…que…
Be able to use the superlative
Example: La foto de mi familia es la posesión más importante para mi.
Be able to describe un dormitorio, what is in it, and where things are located.
Be able to use possessive adjectives correctly.
Mi(s) Nuestro (a) (os) (as)
Tu(s)
Su(s) Su(s)
Be able to conjugate the verbs SER and ESTAR and give an example of when each is used.
For example: Yo soy un estudiante de español.
Yo estoy muy cansado.
El televisor está encima de la mesita.
El dormitorio es muy bonito.
Be able to write complete sentences answering the following questions.
1.
2.
3.
4.
5.
6.
7.
¿Qué comes en el desayuno?
¿Compartes tu almuerzo con tus amigos?
¿Generalmente adónde vas los viernes?
¿Te gustaría ir a la playa este fin de semana?
¿Cuál deporte juegas?
¿Cuando es tu cumpleaños? ¿Cuántos años tienes?
¿A tu mejor amigo qué le gusta hacer?