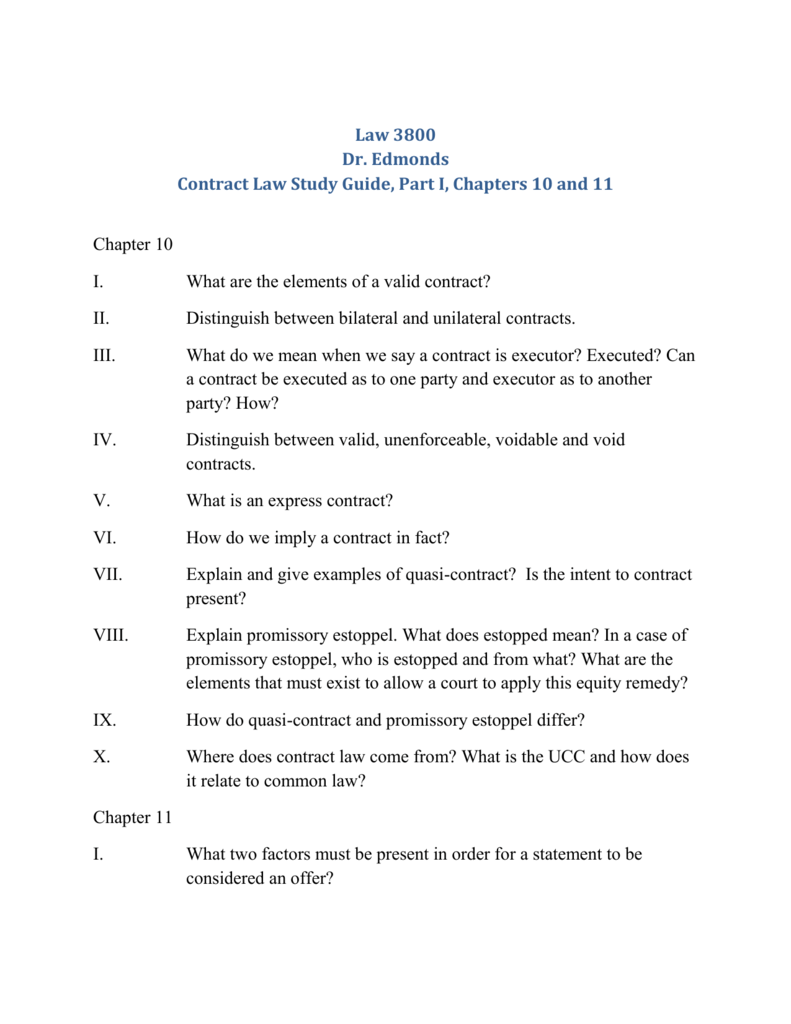 Law 3800
Dr. Edmonds
Contract Law Study Guide, Part I, Chapters 10 and 11
Chapter 10
I.
What are the elements of a valid contract?
II.
Distinguish between bilateral and unilateral contracts.
III.
What do we mean when we say a contract is executor? Executed? Can
a contract be executed as to one party and executor as to another
party? How?
IV.
Distinguish between valid, unenforceable, voidable and void
contracts.
V.
What is an express contract?
VI.
How do we imply a contract in fact?
VII.
Explain and give examples of quasi-contract? Is the intent to contract
present?
VIII.
Explain promissory estoppel. What does estopped mean? In a case of
promissory estoppel, who is estopped and from what? What are the
elements that must exist to allow a court to apply this equity remedy?
IX.
How do quasi-contract and promissory estoppel differ?
X.
Where does contract law come from? What is the UCC and how does
it relate to common law?
Chapter 11
I.
What two factors must be present in order for a statement to be
considered an offer?
Contracts Study Guide, Part I, page 2
II.
Is an advertisement generally considered an offer? Why? When might
one be considered an offer?
III.
In an auction, who is making the offer and who is accepting? In an
auction, what do "with reserve" and "without reserve" mean?
IV.
Under common law, when an offer has an "open" or indefinite term,
what happens?
V.
How does the UCC approach open terms in a contract? What is the
key to enforcement of a contract under the UCC approach?
VI.
What is a UCC "gap filler" provision? Give an example of one.
VII.
What is a termination of an offer by revocation mean?
VIII.
Can an offer become irrevocable?
Explain option contracts.
Explain Firm Offers under the UCC.
* How does promissory estoppel apply to offers?
IX.
Explain revocation by rejection. Is a counter offer rejection?
X.
Explain termination by expiration and by operation of law.
XI.
Explain the common law Mirror Image Rule as it applies to the
validity of an acceptance.
XII.
How does UCC section 2-207 change the common law
with regard to acceptance?
What is meant by "the battle of the forms"?
What happens when an acceptance includes new terms?
What happens when an acceptance contains terms that contradict
terms in the original offer?
Contract Law Study Guide, Part I, page 3
XII.
What is a "click wrap" agreement? A "shrink-wrap agreement"?
Are they enforceable? Any Exceptions?
XIII.
Explain the "mailbox rule" and how it should be addressed in an offer.