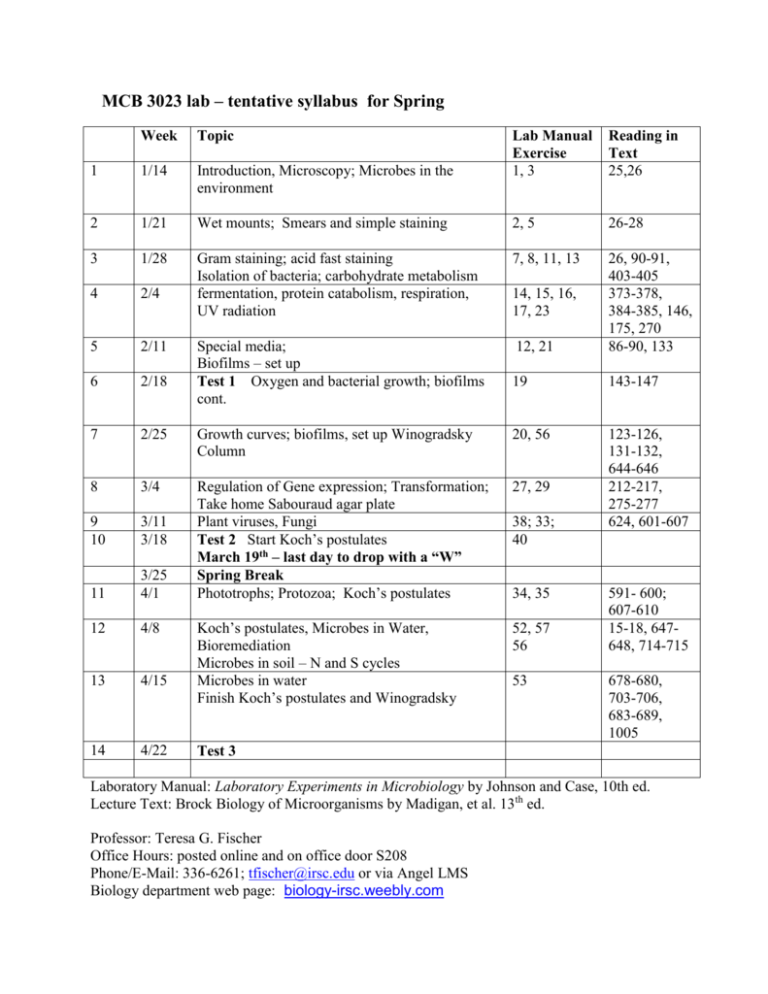 MCB 3023 lab – tentative syllabus for Spring
Week
Topic
Lab Manual
Exercise
1, 3
Reading in
Text
25,26
1
1/14
Introduction, Microscopy; Microbes in the
environment
2
1/21
Wet mounts; Smears and simple staining
2, 5
26-28
3
1/28
Gram staining; acid fast staining
Isolation of bacteria; carbohydrate metabolism
fermentation, protein catabolism, respiration,
UV radiation
7, 8, 11, 13
Special media;
Biofilms – set up
Test 1 Oxygen and bacterial growth; biofilms
cont.
12, 21
26, 90-91,
403-405
373-378,
384-385, 146,
175, 270
86-90, 133
4
2/4
5
2/11
6
2/18
19
143-147
7
2/25
Growth curves; biofilms, set up Winogradsky
Column
20, 56
Regulation of Gene expression; Transformation;
Take home Sabouraud agar plate
Plant viruses, Fungi
Test 2 Start Koch's postulates
March 19th – last day to drop with a "W"
Spring Break
Phototrophs; Protozoa; Koch's postulates
27, 29
123-126,
131-132,
644-646
212-217,
275-277
624, 601-607
8
3/4
9
10
3/11
3/18
11
3/25
4/1
12
4/8
Koch's postulates, Microbes in Water,
Bioremediation
Microbes in soil – N and S cycles
Microbes in water
Finish Koch's postulates and Winogradsky
52, 57
56
13
4/15
14
4/22
14, 15, 16,
17, 23
38; 33;
40
34, 35
53
591- 600;
607-610
15-18, 647648, 714-715
678-680,
703-706,
683-689,
1005
Test 3
Laboratory Manual: Laboratory Experiments in Microbiology by Johnson and Case, 10th ed.
Lecture Text: Brock Biology of Microorganisms by Madigan, et al. 13th ed.
Professor: Teresa G. Fischer
Office Hours: posted online and on office door S208
Phone/E-Mail: 336-6261; tfischer@irsc.edu or via Angel LMS
Biology department web page: biology-irsc.weebly.com
Pre-Lab Quizzes:
Before attending lab, students must have taken and scored a minimum of 70% on the Pre-Lab
Quiz for that week's exercises. Quizzes are taken online, and are found under the Lessons tab
in the Angel LMS. The Pre-lab Quizzes are worth 10% of the semester grade
Grades:
Grades for the semester are based upon the average of the three exams given and the Pre-Lab
Quizzes. See the attendance policy below. No extra credit will be offered. Grades are assigned
on the following basis:
A: 90-100, B: 80-89, C: 70-79, D: 60-69, F: below 60
Make-up policy:
Students should take their lab practical with their lab section at the assigned time. If a student is
unable to attend that practical, he/she MUST obtain permission within 24 hours in order to
arrange to take the practical with his/her instructor in a different lab section during the test week
(provided space is available), or discuss other options with his/her instructor.
Attendance:
Students are expected to attend all labs. Students are responsible for knowing exact dates and
times of exams, results of lab experiments, exact arrangements for written assignments, etc.
Students may attend a lab in another section if space is available. Be sure to give me the filled
out make-up slip in order to get credit for attendance. One absence is allowed without penalty;
any subsequent absence will result in a 10 % reduction in grade per absence. Students more
than 10 minutes late will be considered absent, and must attend an alternate lab session.
Appropriate Laboratory Attire:
Closed toed and closed-heeled shoes are required. If long sleeves are worn, they should fit
tight to the wrists and be free of ruffles. Students should dress in a conservative manner. Lab
instructors have the right to refuse admittance to any students improperly dressed.
Students are required to use lab coats in the Microbiology lab. Disposable coats to be used
during one semester are available at the bookstore. The coats will be used and stored in the
lab and autoclaved and discarded at the end of the semester. If you wish to supply your own
cloth lab coat, you will not be allowed to take the lab coat home at the end of the semester.
Withdrawal:
Please contact the instructor if you feel that you need to withdraw. It might not be necessary.
You will NOT be automatically withdrawn if you stop coming to class. Withdrawal requires that
you submit an official IRSC form which can be obtained at Educational Services or any site
office. Students wanting to withdraw must do so by the withdrawal date listed in the course
schedule.
Cheating:
Cheating of ANY kind WILL NOT be tolerated by this Department. Anyone caught cheating will
automatically receive an F for the semester. Anyone who witnesses this inexcusable behavior,
and does not report it, is also considered to be guilty of improper conduct.
Learning Outcome:
Develop the knowledge skills, attitudes and values necessary for positions of responsibility in a
variety of Life Science industries.