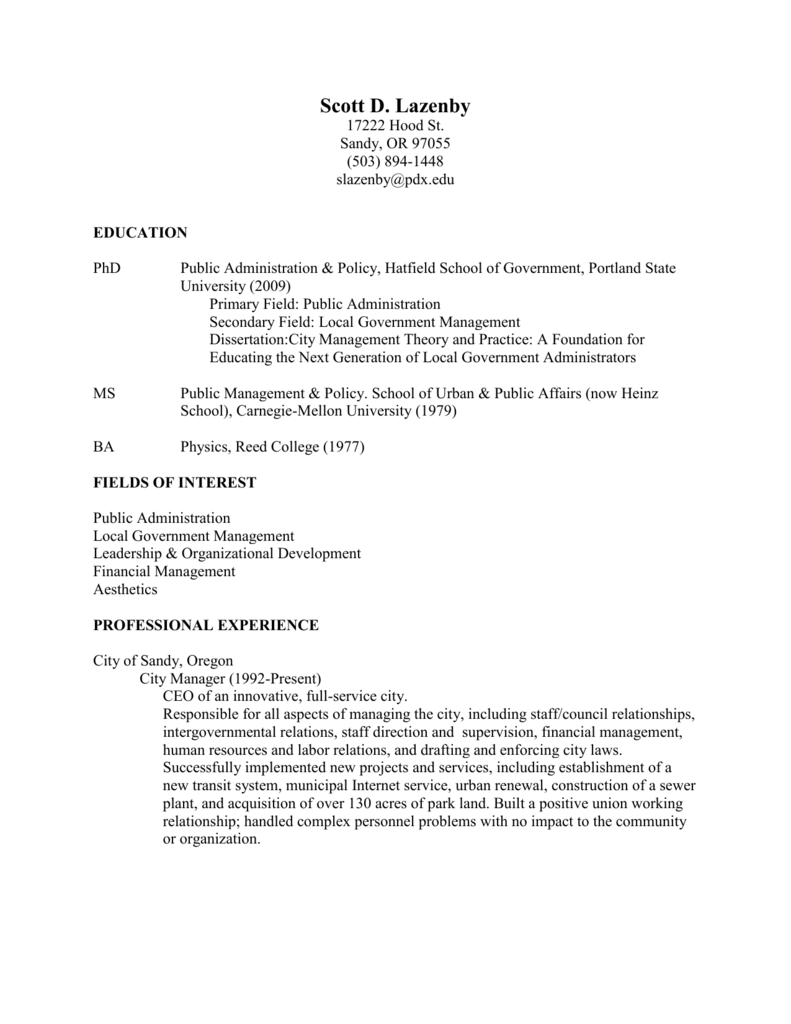 Scott D. Lazenby
17222 Hood St.
Sandy, OR 97055
(503) 894-1448
[email protected]
EDUCATION
PhD
Public Administration & Policy, Hatfield School of Government, Portland State
University (2009)
Primary Field: Public Administration
Secondary Field: Local Government Management
Dissertation:City Management Theory and Practice: A Foundation for
Educating the Next Generation of Local Government Administrators
MS
Public Management & Policy. School of Urban & Public Affairs (now Heinz
School), Carnegie-Mellon University (1979)
BA
Physics, Reed College (1977)
FIELDS OF INTEREST
Public Administration
Local Government Management
Leadership & Organizational Development
Financial Management
Aesthetics
PROFESSIONAL EXPERIENCE
City of Sandy, Oregon
City Manager (1992-Present)
CEO of an innovative, full-service city.
Responsible for all aspects of managing the city, including staff/council relationships,
intergovernmental relations, staff direction and supervision, financial management,
human resources and labor relations, and drafting and enforcing city laws.
Successfully implemented new projects and services, including establishment of a
new transit system, municipal Internet service, urban renewal, construction of a sewer
plant, and acquisition of over 130 acres of park land. Built a positive union working
relationship; handled complex personnel problems with no impact to the community
or organization.
Lazenby, Page 2
City of Glendale, Arizona
Director of Management & Budget (1986-1992)
Responsible for $180 million operating budget for a city of 150,000, as well as
management of various administrative services (purchasing, warehouse, risk
management). Served as interim Economic Development Director.
City of Vancouver, Washington
Assistant to the City Manager (1979-1986)
Served as city budget officer, developed long term annexation plan, other policy
analyses. Other positions included Systems Analyst and Management Analyst.
Allegheny County, Pennsylvania
Management Intern (1978-1979)
ACADEMIC EXPERIENCE
Adjunct Instructor, Portland State University (2007-Present)
Co-taught PA 582, Public Budgeting
Developed curriculum for and taught PA 583, Advanced Budgeting (EMPA program)
Adjunct Faculty, Golden Gate University, Luke AFB Campus, Glendale AZ (c.1988-92)
Developed curricula for and taught MPA courses in personnel management, IT
management, and budget management.
Chair, Advisory Committee, Hatfield School Local Government Administration Concentration
(2008-Present)
ARTICLES AND BOOK CHAPTERS
How to Motivate Employees: What Research is Telling Us. Public Management, Volume 90 (8)
(September 2008). Re-printed in League of Oregon Cities Local Focus and League of
Wisconsin Municipalities, The Municipality.
The Fire File. 2008. Case study (chapter) published in Managing Local Government: Cases in
Effectiveness, Charldean Newell, ed. Washington DC: ICMA Press.
Contracting for Trash. 2008. Case study (chapter) published in Managing Local Government:
Cases in Effectiveness, Charldean Newell, Ed. Washington DC: ICMA Press.
Reconfiguring the Computer Center (with Jay Covington). 1990. Case study (chapter) published
in Managing Local Government: Cases in Decision Making, James Banovetz, ed.
Washington DC: ICMA Press.
The Adequacy of MPA Course Offerings in Preparing the Next Generation of Local Government
Managers. Journal of Public Affairs Education. (Accepted for publication--Local
Government Symposium issue).
Lazenby, Page 3
Government and the Art of Car Maintenance. Governing, 1994, 7(9).
Various other articles in Public Management and Government Finance Review, 1979-1992.
PENDING
The Myth of Economy of Scale. Submitted to Public Administration Review.
OTHER
A Land Use System McCall Would Reject. Guest editorial, The Oregonian Nov. 4, 2008.
Playing With Fire. 2001. Lincoln NE: Writers Club Press. Fictional novel based on city
management. Serialized by Governing Magazine (web edition) and used as a case study
in several MPA programs.
Three more completed novels pending publisher acceptance.
Authored approximately 1,200 staff reports, 15 (biannual) budget messages, and 360 ordinances
and resolutions.
Editor, Supalum (alumni journal of the School of Urban & Public Affairs, Carnegie-Mellon
University), 1977-79.
Reviewer, The American Journal of Public Administration (2009-present)
PROFESSIONAL MEMBERSHIPS AND AFFILIATIONS
International City/County Management Association (ICMA)
Chair, Managers as Faculty Subcommittee, Advisory Board on Graduate Education
Past member: Smart Growth Advisory Committee, Telecommunications Committee
Oregon City/County Management Association (OCCMA)
Chair, University Relations Subcommittee, Next Generation Task Force
President (2006)
Board of Directors (2003-05)
National Association of Schools of Public Affairs & Administration (NASPAA)
COPRA accreditation site visit team member 2007-present
American Society for Public Administration (ASPA)
HONORS AND AWARDS
Phi Beta Kappa (1977)
Citizen of the Year, 2002, Sandy Area Chamber of Commerce
Citizen of the Year, 2005, Sandy Optimists
Finalist, Ron and Jane Cease Public Service Award, ASPA, 2004
Lazenby, Page 4
ICMA 30 Year Service Award (2008)
GFOA Awards for Distinguished Budget Presentation and Excellence in Financial Reporting
PRESENTATIONS
Speaker and panel member at conferences of National Association of Schools of Public Affairs
& Administration (Preparing the Next Generation of Local Government Managers), Teaching
PA (What Public Managers Need to Know).
Moderator, speaker, or panel member at various conferences of the League of Oregon Cities,
Oregon City/County Management Association, Florida City Management Association,
Government Finance Officers Association, and other professional associations. Topics include
aesthetics of urban design, the psychology of budgeting, municipal ISPs, financial forecasting,
employee motivation, water rights, council-manager relations, bond measures, grants, and
writing.
Facilitator, city council retreat & goals session, City of Cascade Locks. Board of directors
retreat, Sandy Area Chamber of Commerce. Facilitator and moderator of many community
forums.
RESEARCH (conducted as a practitioner)
Developed financial forecasting models for three cities. Conducted lean analysis of city planning
processes. Used queuing theory to project optimum number of police dispatchers. Assisted in the
design and implementation of a pay-for-performance system. Conducted several reorganization
studies (and implemented changes). Developed an annexation plan. Designed and implemented a
city fiscal stabilization tool. Created cost allocation models used for establishing systems
development charges (impact fees). Developed urban renewal plans and financing models based
on tax increment financing. Authored a white paper on trends in school location and construction
and a mechanism for building neighborhood schools. Managed development of a transit plan and
launching of a city's first public transit service. Developed a pro-forma for creation of a
municipal Internet Service Provider and successfully managed the new utility (in a competitive
environment).
Built an in-house research team ("Budget Research Associates") to provide consulting service to
other city departments during budget preparation off-season. Team research included
organizational analysis, productivity opportunities, and management auditing.
INTERGOVERNMENTAL RELATIONS
Negotiated a Memorandum of Understanding with BLM and USFS on watershed management.
Negotiated agreements with Clackamas County and Metro on rural and urban reserves (1998).
Worked with Tri-Met Board and staff on withdrawal from Tri-Met district (and creation of a
separate transit system). Served on the Clackamas County Public Safety Coordinating Council.
Served as member of Oregon Land Conservation and Development Local Officials Advisory
Committee.
Lazenby, Page 5
Negotiated multiple agreements between Vancouver and Clark County in areas of public health
services, operation of a joint data center, joint dispatch center, and contract land-use planning.
Negotiated with the county and fire district on details of annexation strategy.
Built a coalition of Oregon Municipal Internet Service Providers (OMIC).
Prepared successful federal and state grant applications in many areas (sewer plant construction,
tourism development, economic and downtown development, streets, energy conservation).
Hosted visiting local government officials from Japan, Czech Republic, Germany, Poland, New
Zealand, and Australia. Met with local officials in Ghana (2000).