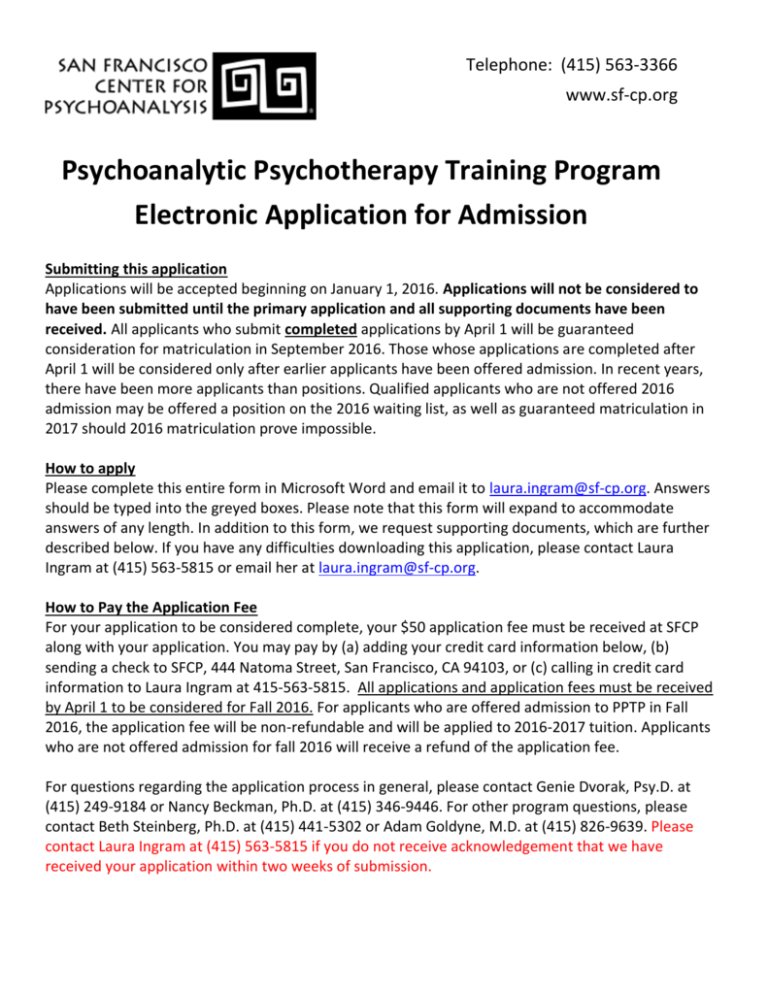 Telephone: (415) 563-3366
www.sf-cp.org
Psychoanalytic Psychotherapy Training Program
Electronic Application for Admission
Submitting this application
Applications will be accepted beginning on January 1, 2016. Applications will not be considered to
have been submitted until the primary application and all supporting documents have been
received. All applicants who submit completed applications by April 1 will be guaranteed
consideration for matriculation in September 2016. Those whose applications are completed after
April 1 will be considered only after earlier applicants have been offered admission. In recent years,
there have been more applicants than positions. Qualified applicants who are not offered 2016
admission may be offered a position on the 2016 waiting list, as well as guaranteed matriculation in
2017 should 2016 matriculation prove impossible.
How to apply
Please complete this entire form in Microsoft Word and email it to laura.ingram@sf-cp.org. Answers
should be typed into the greyed boxes. Please note that this form will expand to accommodate
answers of any length. In addition to this form, we request supporting documents, which are further
described below. If you have any difficulties downloading this application, please contact Laura
Ingram at (415) 563-5815 or email her at laura.ingram@sf-cp.org.
How to Pay the Application Fee
For your application to be considered complete, your $50 application fee must be received at SFCP
along with your application. You may pay by (a) adding your credit card information below, (b)
sending a check to SFCP, 444 Natoma Street, San Francisco, CA 94103, or (c) calling in credit card
information to Laura Ingram at 415-563-5815. All applications and application fees must be received
by April 1 to be considered for Fall 2016. For applicants who are offered admission to PPTP in Fall
2016, the application fee will be non-refundable and will be applied to 2016-2017 tuition. Applicants
who are not offered admission for fall 2016 will receive a refund of the application fee.
For questions regarding the application process in general, please contact Genie Dvorak, Psy.D. at
(415) 249-9184 or Nancy Beckman, Ph.D. at (415) 346-9446. For other program questions, please
contact Beth Steinberg, Ph.D. at (415) 441-5302 or Adam Goldyne, M.D. at (415) 826-9639. Please
contact Laura Ingram at (415) 563-5815 if you do not receive acknowledgement that we have
received your application within two weeks of submission.
PERSONAL INFORMATION
Name:
Degree:
Date of Application:
Office address:
Home Address:
Preferred telephone:
Home
Work
Cell
Second telephone:
Home
Work
Cell
Third telephone:
Home
Work
Cell
Preferred email:
Sex:
Date of birth:
Age:
Social Security #:
LICENSURE
If you are licensed, please fill out this section.
Professional License Number:
Professional Liability Insurance:
Board Certification
Certifying board:
(if applicable):
Date of certification:
State:
SUPERVISOR'S LICENSE AND LIABILITY INSURANCE
If you are working under a supervisor's license and professional liability insurance, please fill out this
section.
Note: If you are neither licensed and insured, nor working under the professional liability insurance of a
supervisor or organization, please apply to Foundations of Psychoanalytic Psychotherapy rather than to
PPTP. Further questions about eligibility may be directed to Genie Dvorak, Psy.D. at (415) 249-9184 or
Nancy Beckman, Ph.D. at (415) 346-9446.
Name of supervisor:
Supervisor's Professional License Number:
State:
Supervisor's Professional Liability Insurance:
EDUCATION AND TRAINING
Please include all undergraduate and graduate experience
Institution
Dates
attended
Degree
Year
RESIDENCIES AND TRAINING PLACEMENTS
If you are a psychiatrist, please list your residency. Other applicants should list psychological
assistantships and other pre- and post- degree training placements completed within the last seven
years.
Institution
Position
Dates
RELEVANT WORK EXPERIENCE
Briefly describe clinical work experience. Include years in practice, clinical settings (e.g.: agency,
hospital, private practice, etc.), average patient hours per week, nature of practice: frequency, type
of patient, etc.
(1) Work setting:
Dates:
Position/Description:
(2) Work setting:
Dates:
Position/Description:
(3) Work setting:
Dates:
Position/Description:
(4) Work setting:
Dates:
Position/Description:
(5) Work setting:
Position/Description:
TEACHING, RESEARCH, PUBLICATION, SUPERVISORY EXPERIENCE
If applicable, briefly describe.
Dates:
OTHER RELATED PROFESSIONAL EXPERIENCES
List classes, seminars, consultation, and other educational experiences in which you have
participated. Please specify if any of these have been of a psychoanalytic nature.
PROFESSIONAL MEMBERSHIPS
PSYCHOANALYSIS OR PSYCHOTHERAPY
If you are comfortable doing so, please provide additional information about your past and current
treatments below. Although we are interested in this information, be assured that personal
treatment is not a prerequisite for taking the PPTP.
Have you been in
psychoanalysis or
psychotherapy?
Type of treatment
Note: You need not provide names of
psychotherapists or psychoanalysts you have seen.
Session
frequency
Year treatment Year Treatment
began
ended
(1)
(2)
(3)
PERSONAL STATEMENT
In the space below, please tell us about yourself in any way that you think would be helpful,
including your reasons for and what you hope to achieve in undertaking a program in
psychoanalytic psychotherapy. (Please limit remarks to two pages.)
LETTER OF REFERENCE
Someone familiar with your training or clinical work should send us a letter of reference directly,
either electronically or by U.S. Mail. Please list your reference below, including the context in which he
or she knows your work.
(1)
ADDITIONAL INFORMATION
In this optional section, please add anything else you would like the Admissions Committee to
know in considering your application.
DECLARATION OF LEGAL AND ETHICAL STANDING
Has there ever been a complaint of ethical misconduct or unprofessional
conduct brought against you that resulted in a determination of misconduct and
ensuing sanction?
YES
NO
Has there ever been a complaint or investigation of you concerning impairment?
YES
NO
Have you ever been suspended from teaching or administrative functions in
relation to a professional ethics or impairment issue?
YES
NO
Has your membership in a professional or educational organization ever been
suspended or terminated in relation to a professional ethics or impairment
issue?
YES
NO
Has there ever been a finding against you by a professional licensing board?
YES
NO
If your answer to any of these questions is "Yes," please explain at greater length:
INTERVIEW
Once your complete application and letter of reference have been received, an interviewer will call
you to set up a meeting. Part of the interview will be a dialogue about your interest in
psychoanalytic psychotherapy, about how you see it fitting into your professional life, and about
whether our program is the right fit for you. In addition, you should be prepared to discuss a
recent session with a patient. You may choose to bring notes, but they are not required. The main
aim of this discussion will be for us to get a sense of how you are thinking about clinical work at this
point in your career and to begin to offer you a sense of our approach to clinical thinking. One
interview may not afford sufficient time for a complete discussion. If this is the case, your
interviewer will invite you to meet for a second time.
SIGNATURE
By entering your name and the date below, you acknowledge that the information in above
sections is true and accurate to the best of your knowledge. Electronic submission of this form by
email is equivalent to your handwritten signature.
Signature:
Date:
SFCP COMMUNITY MEMBERSHIP ENROLLMENT
Enrollment in the Psychoanalytic Psychotherapy Training Program includes Community
Membership in SFCP. (See SFCP website for community membership benefits.) Community
members are included in the printed and on-line member roster for SFCP.
Please fill out the following information, so that this page may be forwarded directly to Community
Membership enrollment:
Name:
Address:
Work
Profession/Degree:
Telephone:
Fax:
Email:
Once enrolled in PPTP, your member information will be included in the SFCP roster and SFCP
website unless you check the space below:
DO NOT include my information in the printed roster
DO NOT include my information in the on-line roster
Other comments:
APPLICATION INSTRUCTIONS AND CHECKLIST
To complete this application, the following should be sent to SFCP:
This entire file, including this checklist and the 'SFCP Community
Membership Enrollment Form' above, sent as an email attachment
submitted
Letter of reference
requested
A curriculum vitae (if you have one)
submitted
N/A
A copy of your California professional license (if applicable)
submitted
N/A
A copy of your professional liability insurance policy (if self-insured)
submitted
N/A
A copy of a supervisor's professional liability insurance policy (if you work
under a supervisor and covered by that supervisor's liability insurance)
submitted
N/A
$ 50 application fee (via credit card or check).
All applications and fees must be received at SFCP by April 1. Please check one of the following:
Please charge my credit card for the $ 50 application fee as below:
Credit Card Type:
Visa
MasterCard
Credit Card Number:
Expiration Date:
/
(mm/yy)
Billing Zip-code:
I have paid the $ 50 application fee by calling in my credit card information to Laura Ingram at
the SFCP Office at (415) 563-5815 on
date.
I have paid the $ 50 application fee by mailing a check to the SFCP Office (444 Natoma Street,
San Francisco, CA 94103) on
date.
We would like to make sure that, as you apply, you have accurate expectations regarding PPTP tuition
and when it is due. Please check the box below to indicate that you have read and understood these
policies.
The total yearly tuition for PPTP/Foundations is $ 2,175. We will make every effort to notify you by
early June regarding admission. At that time, your $ 50 application fee will be applied to your tuition,
and we will ask you send a non-refundable deposit of $ 675 by July 1 to confirm your spot in the
program for Fall 2016. There are two options for paying the remaining $ 1,450: (1) a lump sum of
$1450 paid by August 15 or (2) four installments of $ 362.50, with the first payment due August 15,
with each subsequent payment due two weeks prior to the beginning of each quarter, and with a one-
time $ 50 installment fee due August 15 with your first payment. Supervision fees are separate from
tuition and are arranged individually between supervisor and supervisee. If you have concerns about
this tuition payment schedule or other financial aspects of the program, please contact us to discuss
possibilities for alternative arrangements.
I Understand
If possible, email supporting documents that have been scanned or obtained in electronic form. Any
documents that cannot be submitted electronically may be mailed to:
San Francisco Center for Psychoanalysis
444 Natoma Street
San Francisco, CA 94103
ATTN: PPTP
If you do not receive acknowledgment that we have received your application within two weeks of
submission, please contact Laura Ingram at (415) 563-5815 or at laura.ingram@sf-cp.org.