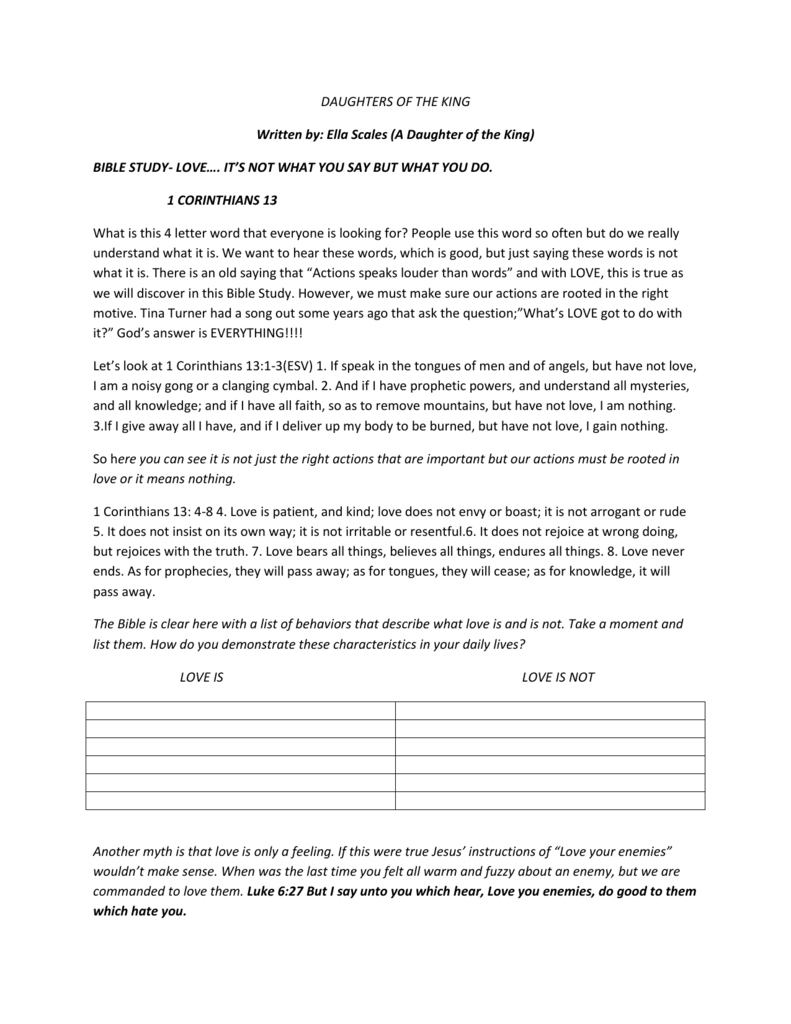 DAUGHTERS OF THE KING
Written by: Ella Scales (A Daughter of the King)
BIBLE STUDY- LOVE…. IT'S NOT WHAT YOU SAY BUT WHAT YOU DO.
1 CORINTHIANS 13
What is this 4 letter word that everyone is looking for? People use this word so often but do we really
understand what it is. We want to hear these words, which is good, but just saying these words is not
what it is. There is an old saying that "Actions speaks louder than words" and with LOVE, this is true as
we will discover in this Bible Study. However, we must make sure our actions are rooted in the right
motive. Tina Turner had a song out some years ago that ask the question;"What's LOVE got to do with
it?" God's answer is EVERYTHING!!!!
Let's look at 1 Corinthians 13:1-3(ESV) 1. If speak in the tongues of men and of angels, but have not love,
I am a noisy gong or a clanging cymbal. 2. And if I have prophetic powers, and understand all mysteries,
and all knowledge; and if I have all faith, so as to remove mountains, but have not love, I am nothing.
3.If I give away all I have, and if I deliver up my body to be burned, but have not love, I gain nothing.
So here you can see it is not just the right actions that are important but our actions must be rooted in
love or it means nothing.
1 Corinthians 13: 4-8 4. Love is patient, and kind; love does not envy or boast; it is not arrogant or rude
5. It does not insist on its own way; it is not irritable or resentful.6. It does not rejoice at wrong doing,
but rejoices with the truth. 7. Love bears all things, believes all things, endures all things. 8. Love never
ends. As for prophecies, they will pass away; as for tongues, they will cease; as for knowledge, it will
pass away.
The Bible is clear here with a list of behaviors that describe what love is and is not. Take a moment and
list them. How do you demonstrate these characteristics in your daily lives?
LOVE IS
LOVE IS NOT
Another myth is that love is only a feeling. If this were true Jesus' instructions of "Love your enemies"
wouldn't make sense. When was the last time you felt all warm and fuzzy about an enemy, but we are
commanded to love them. Luke 6:27 But I say unto you which hear, Love you enemies, do good to them
which hate you.
John 13: 34-35 A new commandment I give unto you, that ye love one another; as I have loved you, that
ye also love one another. 35 By this shall all men know that ye are my disciples, if ye have love one to
another.
Notice Jesus doesn't say tell each other every day, 5 times a day that you love them. No. He says love as I
have loved. That means show love. When we love God's way, that is, by doing not just saying, people will
know we are one of His children. Our actions will tell the story.
Our ultimate role model is God who showed us that Love is what we do not what we say.
John 3:16 For God so loved the world, that he gave his only begotten Son, that whosoever believeth in
him should not perish, but have everlasting life.
Luke 6:35 But love ye your enemies, and do good, and lend, hoping for nothing again; and your reward
shall be great, and ye shall be the children of the Highest: for he is kind unto the unthankful and to the
evil.
When we love as God teaches He also rewards us. He is proud to call us His children. We are true
Daughters of the King when we love God's way.
So "What's Love got to do with it?" EVERYTHING!!!!!!
You may be reading this and discovered the true meaning of love for the first time. Please know, without
the help of the Holy Spirit, it is impossible to love like this. God is Love. If you have a personal relationship
with him thru Jesus Christ, thank Him now and recommit to loving his way. If you have never made that
commitment you can do it now. God loves you and he will show you how to love. If you believe that God
loved you so much that he gave his Son, Jesus, to die on the cross for you and raised him from the dead
and confess your sins, He will come into your heart and save you RIGHT NOW!