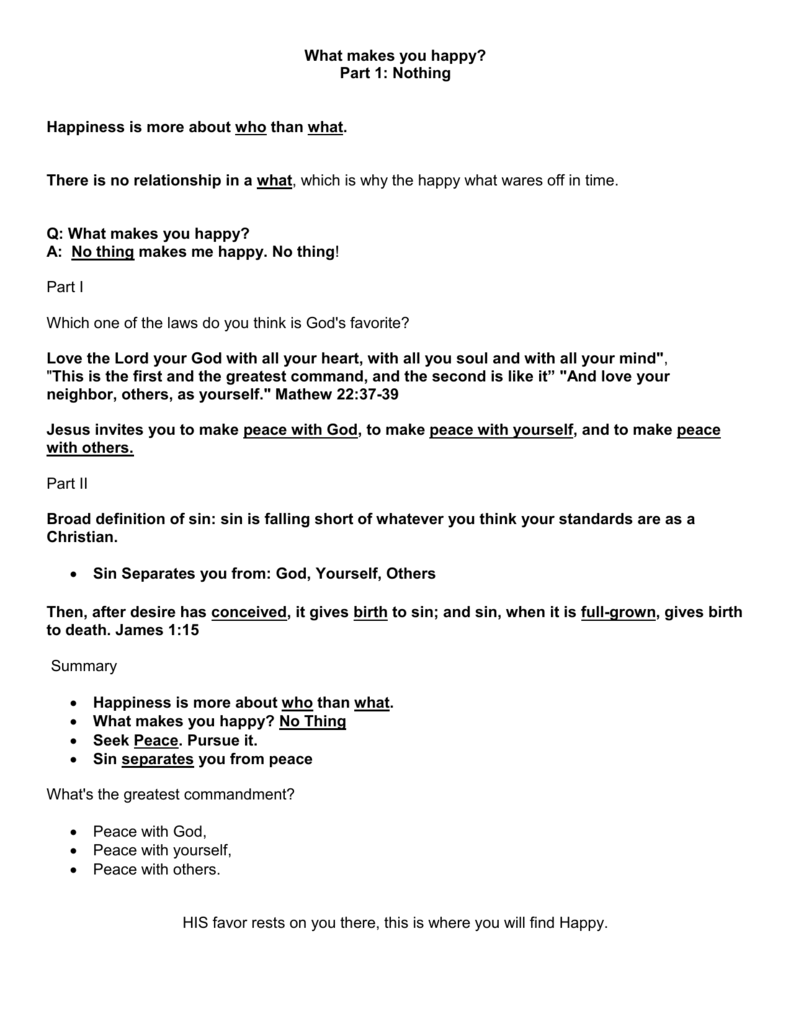 What makes you happy?
Part 1: Nothing
Happiness is more about who than what.
There is no relationship in a what, which is why the happy what wares off in time.
Q: What makes you happy?
A: No thing makes me happy. No thing!
Part I
Which one of the laws do you think is God's favorite?
Love the Lord your God with all your heart, with all you soul and with all your mind",
"This is the first and the greatest command, and the second is like it" "And love your
neighbor, others, as yourself." Mathew 22:37-39
Jesus invites you to make peace with God, to make peace with yourself, and to make peace
with others.
Part II
Broad definition of sin: sin is falling short of whatever you think your standards are as a
Christian.

Sin Separates you from: God, Yourself, Others
Then, after desire has conceived, it gives birth to sin; and sin, when it is full-grown, gives birth
to death. James 1:15
Summary




Happiness is more about who than what.
What makes you happy? No Thing
Seek Peace. Pursue it.
Sin separates you from peace
What's the greatest commandment?



Peace with God,
Peace with yourself,
Peace with others.
HIS favor rests on you there, this is where you will find Happy.