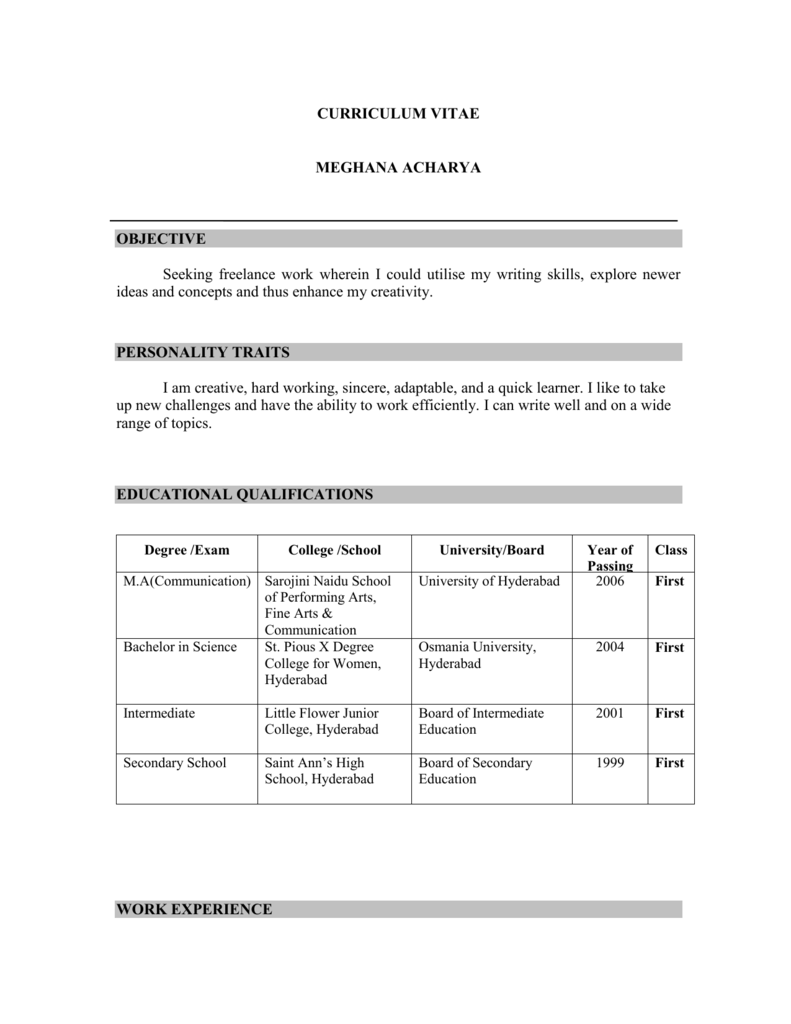 CURRICULUM VITAE
MEGHANA ACHARYA
OBJECTIVE
Seeking freelance work wherein I could utilise my writing skills, explore newer
ideas and concepts and thus enhance my creativity.
PERSONALITY TRAITS
I am creative, hard working, sincere, adaptable, and a quick learner. I like to take
up new challenges and have the ability to work efficiently. I can write well and on a wide
range of topics.
EDUCATIONAL QUALIFICATIONS
Degree /Exam
College /School
University/Board
Year of
Passing
2006
Class
M.A(Communication) Sarojini Naidu School
of Performing Arts,
Fine Arts &
Communication
Bachelor in Science
St. Pious X Degree
College for Women,
Hyderabad
University of Hyderabad
Osmania University,
Hyderabad
2004
First
Intermediate
Little Flower Junior
College, Hyderabad
Board of Intermediate
Education
2001
First
Secondary School
Saint Ann's High
School, Hyderabad
Board of Secondary
Education
1999
First
WORK EXPERIENCE
First
CARE Hospitals
August 2007 to May 2008
Content Developer - HR department
 Drafted an Employee Handbook aimed at staff employed across various CARE
hospital units.
 Researched and prepared material for PRE (patient relation executives) training.
Helped in drafting PRE training manual.
 Helped in the preparation of job descriptions for employees at different grades.
 Prepared CARE hospital brochure
 Edited various HR policies
NetElixir e-Marketing Solutions (P) Limited
(www.netelixir.com)
September 2006 to August 2007
Content Developer
 Was responsible for creating distinctive ad copies after analyzing the website of
advertiser.
o Change ad copies to convey differentiating claims of the advertiser
 Regularly reviewed ad copy performance to segregate the performing ad copies
from the non-performing ones
o Analyse competitor ad copies to identify potential gaps.
o Review ad copy performance using reports generated by Operations team.
 Was accountable for tracking website changes on client websites.
 Responsible for writing and publishing the monthly newsletter.
 Wrote a manual for LXR-100 (a single interface technology, that helps in
optimizing client campaigns across search engines, social networks and shopping
engines)
COMPUTER PROFICIENCY
Operating Systems: Windows 98/2000, Office Packages: MS-Word, Excel and
PowerPoint
EXTRA CURRICULAR ACTIVITIES
o Participated in a debate on Television channel TV 9 in a programme called "Young
Tarang" telecast in March 2005.
o Was an Event Officer in Sukoon 2005 - National Youth Fest organised by
University of Hyderabad.
o Stood 2nd in a Quiz competition held during the fest.
o Participated in Paper and Poster Representation event, in an Inter-Collegiate Poster
Presentation Competition – 'Missile Technology 2004'
o Won quiz competitions and took part in other cultural events at collegiate level.
PERSONAL DETAILS
Date of Birth:
Gender
Language Known:
10th April 1984
Female
English, Hindi, Kannada (mother tongue) and Telugu.