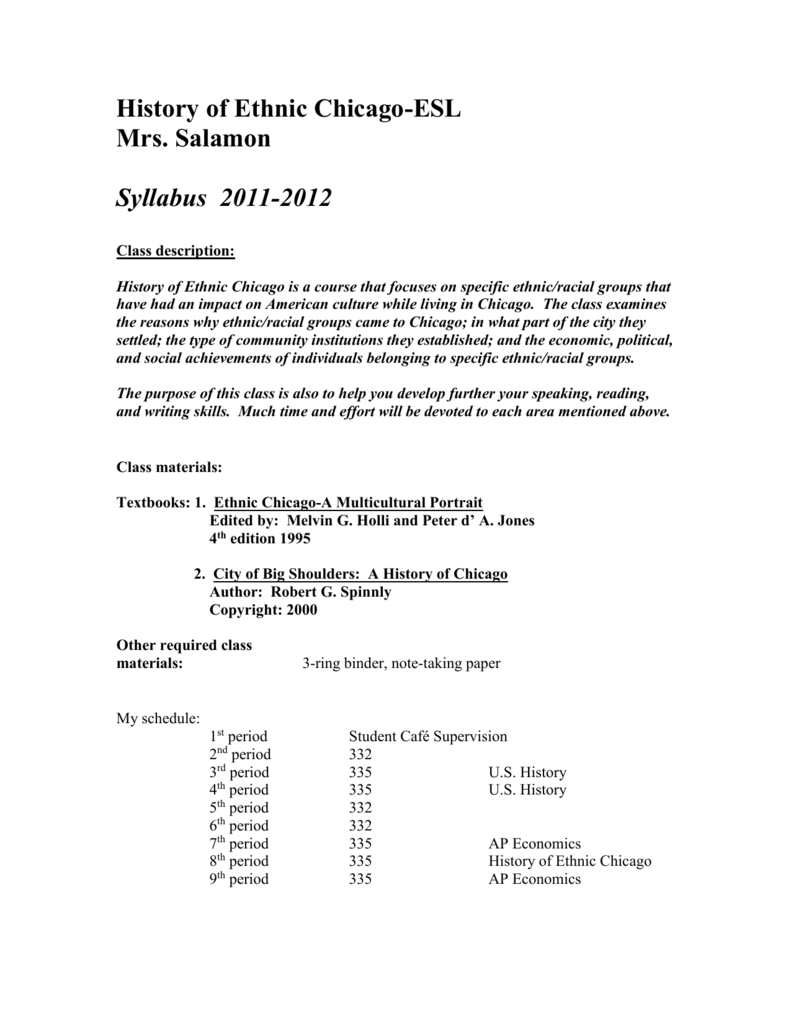 History of Ethnic Chicago-ESL
Mrs. Salamon
Syllabus 2011-2012
Class description:
History of Ethnic Chicago is a course that focuses on specific ethnic/racial groups that
have had an impact on American culture while living in Chicago. The class examines
the reasons why ethnic/racial groups came to Chicago; in what part of the city they
settled; the type of community institutions they established; and the economic, political,
and social achievements of individuals belonging to specific ethnic/racial groups.
The purpose of this class is also to help you develop further your speaking, reading,
and writing skills. Much time and effort will be devoted to each area mentioned above.
Class materials:
Textbooks: 1. Ethnic Chicago-A Multicultural Portrait
Edited by: Melvin G. Holli and Peter d' A. Jones
4th edition 1995
2. City of Big Shoulders: A History of Chicago
Author: Robert G. Spinnly
Copyright: 2000
Other required class
materials:
3-ring binder, note-taking paper
My schedule:
1st period
2nd period
3rd period
4th period
5th period
6th period
7th period
8th period
9th period
Student Café Supervision
332
335
U.S. History
335
U.S. History
332
332
335
AP Economics
335
History of Ethnic Chicago
335
AP Economics
Contacting information:
Phone: 847-692-8458
E-mail: [email protected]
Best times to find me: _____________________________________________________
Classroom expectations:
The three Rs……
1. Be on time, be ready to learn, be courteous to everyone! Do not leave your seat
until the bell rings. Come to class prepared and with your homework completed.
2. Do not hesitate to ask questions as often as necessary.
3. Participate actively.
4. Do not bring food to class. ***
5. Bring water to class.
6. Be an active participant in your learning teams.
7. Ask for help as soon as something is not clear.
8. Bathroom pass should be requested ONLY when really needed!
9. Allow others to learn and allow yourself to learn!
10. Have fun learning!!!!
****Refer to our school handbook for all other expectations on discipline and
conduct.
Attendance:
You are expected to be in class every day. However, if you are absent and your absence
is excused, you will have THREE school days to complete the assignment. It is your
responsibility to see me for any make-up work. This request SHOULD NOT interfere
with our class instruction time!
Unexcused Tardy Policy:
1st time: 15 minute detention
2nd time: 30 minute detention
After this, behavior report will be send to the Dean.
Grading Policy:
90-100
80-89
70-79
60-69
Below 60%
A
B
C
D
F
Semester I: Running total of points will be used with your Semester I Final Exam
counting for 20% of the total score.
Semester II: Running total of points will be used with your Semester II Final Exam
counting for 20% of the total score.
General distribution of points:
Tests: 100 points each
Weekly quizzes: 20 points each
Homework assignments: 5 points each
Case study assignments: 10 points each
Team assignments: 20 points each
Special projects: 50 points each
Late work:
All late work will be marked down 50%. You may not turn in any late work after each
unit test.
Grades will be updated every Monday.
Extra credit: You may earn 10 points extra credit each quarter.
Extra credit options will be discussed in class.
Academic honesty:
STUDENTS ARE EXPECTED TO COMPLETE ALL TESTS AND
ASSIGNMENTS HONESTLY AND WILL NOT COLLABORATE IN
DISHONEST ACTIONS. STUDENTS WILL NOT GIVE OR ACCEPT
ANSWERS OR ASSIGNMENTS UNLESS DIRECTED TO BY THE TEACHER.
Please refer to page 45 in the student handbook for all further details.
Cell phone policy: NO cell phones are allowed in room 335!
Let's have a great semester together!!!!!!