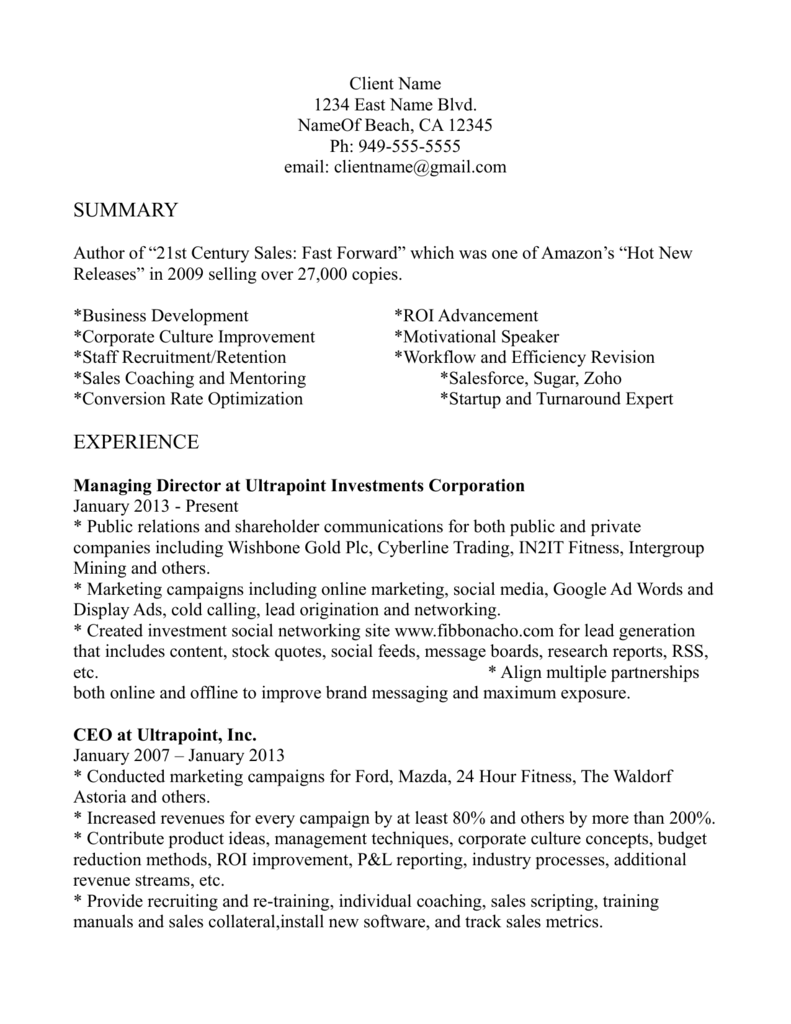 Client Name
1234 East Name Blvd.
NameOf Beach, CA 12345
Ph: 949-555-5555
email: [email protected]
SUMMARY
Author of "21st Century Sales: Fast Forward" which was one of Amazon's "Hot New
Releases" in 2009 selling over 27,000 copies.
*Business Development
*Corporate Culture Improvement
*Staff Recruitment/Retention
*Sales Coaching and Mentoring
*Conversion Rate Optimization
*ROI Advancement
*Motivational Speaker
*Workflow and Efficiency Revision
*Salesforce, Sugar, Zoho
*Startup and Turnaround Expert
EXPERIENCE
Managing Director at Ultrapoint Investments Corporation
January 2013 - Present
* Public relations and shareholder communications for both public and private
companies including Wishbone Gold Plc, Cyberline Trading, IN2IT Fitness, Intergroup
Mining and others.
* Marketing campaigns including online marketing, social media, Google Ad Words and
Display Ads, cold calling, lead origination and networking.
* Created investment social networking site www.fibbonacho.com for lead generation
that includes content, stock quotes, social feeds, message boards, research reports, RSS,
etc.
* Align multiple partnerships
both online and offline to improve brand messaging and maximum exposure.
CEO at Ultrapoint, Inc.
January 2007 – January 2013
* Conducted marketing campaigns for Ford, Mazda, 24 Hour Fitness, The Waldorf
Astoria and others.
* Increased revenues for every campaign by at least 80% and others by more than 200%.
* Contribute product ideas, management techniques, corporate culture concepts, budget
reduction methods, ROI improvement, P&L reporting, industry processes, additional
revenue streams, etc.
* Provide recruiting and re-training, individual coaching, sales scripting, training
manuals and sales collateral,install new software, and track sales metrics.
* Implement brand building concepts, and educate principals on effective new client
acquisition techniques, with focus on monetization by upselling, cross-selling, usage
stimulation, and lifecycle engagement.
* Revenues
produced from $6M - $15M yearly.
Vice President Sales/Marketing at Financial Media Group
January 2005 - December 2006
* Increased revenues by 110% in 4 months and increased average sale to 25K.
* Managed a team of 15 sales reps that sold 800K in advertising monthly by increasing
call volume,
improving follow ups, introducing Salesforce CRM, and by creating deep customer
relationships.
* Oversaw sales growth, P&L, policy/procedure implementation, employee hiring, and
Investor Relations.
* Developed highly efficient sales team with individual mentoring, ongoing training, and
group coaching.
* Conducted webinars, co-designed email newsletter, developed an investor social
network with over 15,000 users, and implemented SEO and PPC marketing to increase
visibility.
Vice President Sales/Marketing at Joystar, Inc
June 2003 - January 2005
* Increased revenues by 589% in the first year as indicated in 2004 10KSB report by
changing corporate
culture, hiring new sales management, and contributing additional sales/marketing
concepts.
* Developed sales program and online client acquisition method responsible for 40%
conversion rate.
* Recruited, hired, and trained sales force of 30 in 2 months conducting over 100
interviews.
* Marketing and lead generation that included PPC, co-registration, media buying, optin email, and SEO.
* Co-designed software product suite and pricing, while streamlining eCommerce
productivity with web development/analytics/optimization, signup funnels, credit card
processing and billing.
Vice President Sales/Marketing at Ellipsis, Inc.
March 2001 - June 2003
* Quadrupled company revenues the first year to $15M per year by installing new sales
force beginning with 9 employees to 75, conducting over 850 interviews while also
hiring key management.
* Led business process improvement initiatives, including acquisition concepts and
additional market penetration, while dramatically lowering client acquisition costs, and
reducing staff turnover by 65%.
* Integrated Whos Calling call center SaaS to improve average phone time to 4.5 hrs per
day and created a team environment, corporate culture, and sales training method that
supported over 25% growth yearly.
* Created over $5 billion in loan
fundings in 2002.
Executive Vice President at Capital Growth Communications
May 1996 – March 2001
* Increased revenues within 6 months by 160% and increased share holdings over 40%
among shareholders
in the first year by increasing average subscription purchase by double.
* Hired, trained, and retained a sales team of 12 that raised over $14M yearly and took
several companies
public including Genius Products (GNPR), FreeRealtime (FRTI), and American
Inflatables.
* Lead effort to find, support, and encourage prospective investors by broadening
awareness and interest
through conferences, presentations, meetings, media, and mailings.
* Worked closely with brokers and money managers to boost referrals for optimal
market penetration.
* Expanded sales territory internationally, and built a network of investors with strong
client relationships.
PATENTS AND PUBLICATIONS
* Invented and hold US Patent US 5954387, Fuel access door with affixed seal.
* Author of "21st Century Sales: Fast Forward" available at Amazon and Google Books.