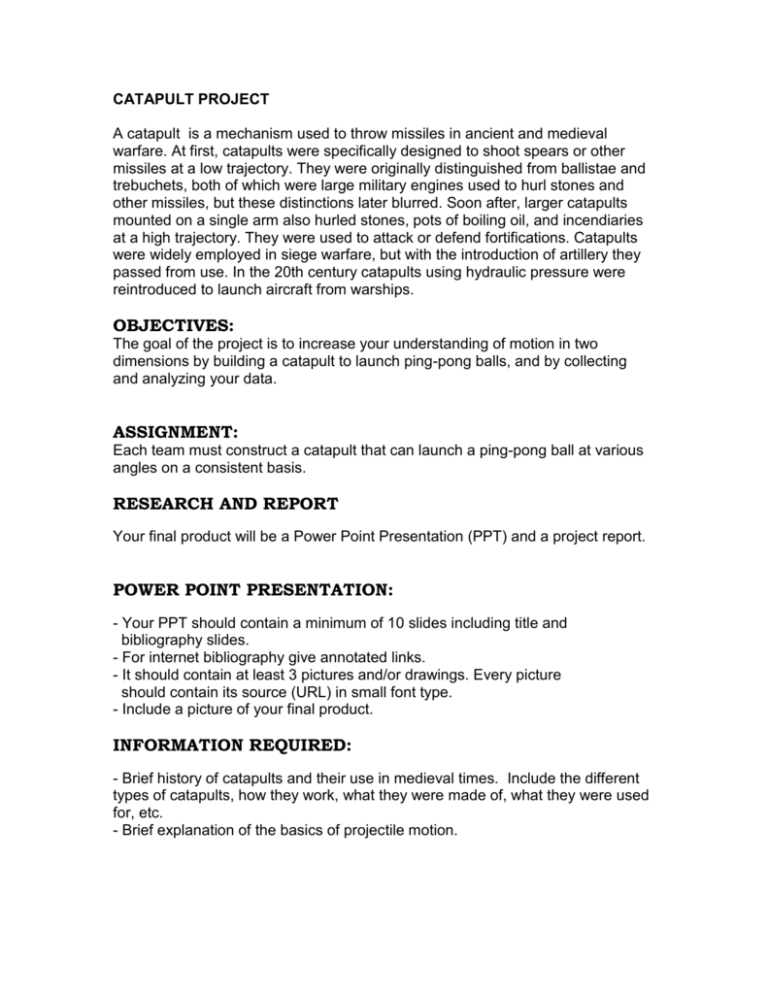 CATAPULT PROJECT
A catapult is a mechanism used to throw missiles in ancient and medieval
warfare. At first, catapults were specifically designed to shoot spears or other
missiles at a low trajectory. They were originally distinguished from ballistae and
trebuchets, both of which were large military engines used to hurl stones and
other missiles, but these distinctions later blurred. Soon after, larger catapults
mounted on a single arm also hurled stones, pots of boiling oil, and incendiaries
at a high trajectory. They were used to attack or defend fortifications. Catapults
were widely employed in siege warfare, but with the introduction of artillery they
passed from use. In the 20th century catapults using hydraulic pressure were
reintroduced to launch aircraft from warships.
OBJECTIVES:
The goal of the project is to increase your understanding of motion in two
dimensions by building a catapult to launch ping-pong balls, and by collecting
and analyzing your data.
ASSIGNMENT:
Each team must construct a catapult that can launch a ping-pong ball at various
angles on a consistent basis.
RESEARCH AND REPORT
Your final product will be a Power Point Presentation (PPT) and a project report.
POWER POINT PRESENTATION:
- Your PPT should contain a minimum of 10 slides including title and
bibliography slides.
- For internet bibliography give annotated links.
- It should contain at least 3 pictures and/or drawings. Every picture
should contain its source (URL) in small font type.
- Include a picture of your final product.
INFORMATION REQUIRED:
- Brief history of catapults and their use in medieval times. Include the different
types of catapults, how they work, what they were made of, what they were used
for, etc.
- Brief explanation of the basics of projectile motion.
PROJECT REPORT:
DATA COLLECTION:
Launch the ping-pong ball at three different angles recording:
- launching angle
- range of flight (horizontal distance traveled),
- time of flight
-graph launch angle vs. range
ANALYSIS:
Using the data that you have collected determine the following:
- the initial velocity of the release, initial horizontal and vertical
components
- the time to the highest point
- the velocity of the ball upon impact
DIAGRAM:
Include an annotated vector diagram of the motion of the ball.
QuickTime™ and a
dec ompres sor
are needed to s ee this pic ture.