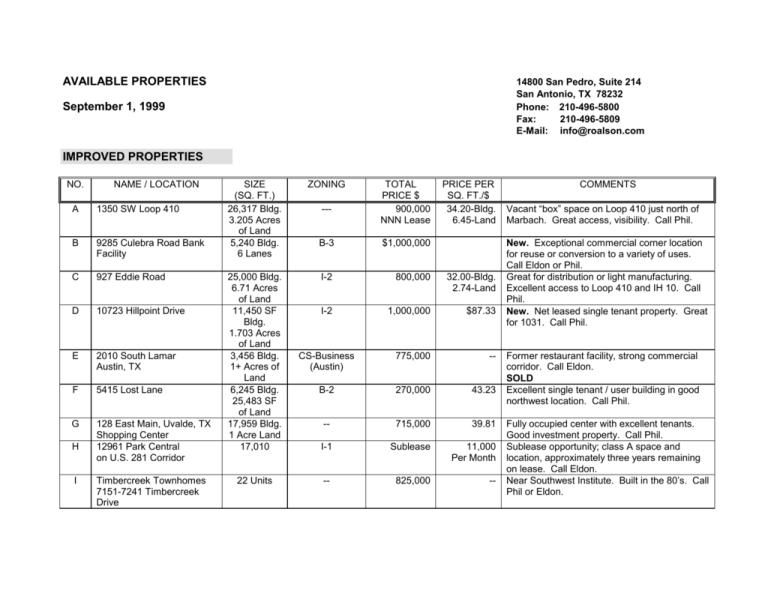 AVAILABLE PROPERTIES
14800 San Pedro, Suite 214
San Antonio, TX 78232
Phone: 210-496-5800
Fax:
210-496-5809
E-Mail: info@roalson.com
September 1, 1999
IMPROVED PROPERTIES
NO.
NAME / LOCATION
A
1350 SW Loop 410
B
9285 Culebra Road Bank
Facility
C
927 Eddie Road
D
10723 Hillpoint Drive
E
2010 South Lamar
Austin, TX
F
5415 Lost Lane
G
128 East Main, Uvalde, TX
Shopping Center
12961 Park Central
on U.S. 281 Corridor
H
I
Timbercreek Townhomes
7151-7241 Timbercreek
Drive
SIZE
(SQ. FT.)
26,317 Bldg.
3.205 Acres
of Land
5,240 Bldg.
6 Lanes
ZONING
B-3
$1,000,000
25,000 Bldg.
6.71 Acres
of Land
11,450 SF
Bldg.
1.703 Acres
of Land
3,456 Bldg.
1+ Acres of
Land
6,245 Bldg.
25,483 SF
of Land
17,959 Bldg.
1 Acre Land
17,010
I-2
800,000
32.00-Bldg.
2.74-Land
I-2
1,000,000
$87.33
CS-Business
(Austin)
775,000
--
B-2
270,000
43.23
--
715,000
39.81
I-1
Sublease
11,000
Per Month
22 Units
--
825,000
--
---
TOTAL
PRICE $
900,000
NNN Lease
PRICE PER
SQ. FT./$
34.20-Bldg.
6.45-Land
COMMENTS
Vacant "box" space on Loop 410 just north of
Marbach. Great access, visibility. Call Phil.
New. Exceptional commercial corner location
for reuse or conversion to a variety of uses.
Call Eldon or Phil.
Great for distribution or light manufacturing.
Excellent access to Loop 410 and IH 10. Call
Phil.
New. Net leased single tenant property. Great
for 1031. Call Phil.
Former restaurant facility, strong commercial
corridor. Call Eldon.
SOLD
Excellent single tenant / user building in good
northwest location. Call Phil.
Fully occupied center with excellent tenants.
Good investment property. Call Phil.
Sublease opportunity; class A space and
location, approximately three years remaining
on lease. Call Eldon.
Near Southwest Institute. Built in the 80's. Call
Phil or Eldon.
LAND
NO.
NAME / LOCATION
SIZE
(ACRES)
2.288
ZONING
TOTAL
PRICE $
847,154
PRICE PER
SQ. FT./$
8.50
Unzoned
Kendall
County
$350/Acre
per month
Lease
--
B-3, ERZD
3,301,630
3.75
3,192,687
6.50
6,500,000
24,345/Ac
1
SEC IH 10 at Hwy. 46,
Boerne, Texas
2
IH 10 approximately ½ mile
south of Hwy. 46, Boerne,
Texas
3
NEC IH 10 at Loop 1604
IH 10
frontage out
of 313.4 acre
tract
20.212
4
NWC IH 10 at Loop 1604
11.276
5
NWC IH 10 at Boerne
Stage Road
267
B-3 and Temp
R-1, ERZD
Bexar County
6
NWC IH 10 at Fredericksburg
and Magnolia near Central
Business District
IH 10 at East Houston
.674
B-2
364,159
9.00
.578
B-3, J
151,000
6.00
564,095
8.75
2,626,000
5.50
7
B-2
(Boerne)
8
IH 10 north of Wurzbach
and Colonnade. Pad
Pad 3
64,468 SF
B-3, B-2
9
West Corner of IH 35 at
Loop 1604
10.961
10
FARM AND RANCH
Showplace Hill
Highway 90
Highway 151 at Westover
Hills. Loop 1604 between
Wiseman and Ellison
B-3
City of Live
Oak
Out of City
Limits
11
131
252
B-3
1,200,000
Prices
Quoted
$9,160/Ac
--
COMMENTS
Excellent pad location in Boerne's hottest
commercial area, across from H.E.B.
SOLD
Ground lease, part or all, of IH 10 frontage.
Owner willing to sell entire tract. Call Eldon
Six Flags Fiesta Texas and UTSA area. Just
east of Ultramar Diamond Shamrock
Headquarters. Call Eldon
Excellent corner location adjacent to La
Cantera. Call Eldon
Excellent IH 10 corridor mixed use
development tract. Call Eldon.
UNDER CONTRACT
Quality commercial pad at an in-fill location.
Call Eldon.
Nice pad site at major IH 10 East intersection.
Call Eldon
Excellent commercial/office pad site adjacent
to the Colonnade and Amerisuites Hotel. Call
Eldon.
Active intersection with the Forum Shopping
Center and announced 18 screen Act III
Theater. Great visibility. Call Phil.
Just past Highway 211. Two houses and an
auction arena. Many other improvements. Call
Phil.
Excellent frontage, visibility and accessibility in
Westover Hills master planned area with
subdivides available. Call Phil or Eldon.
NO.
NAME / LOCATION
12
US 281 / Encino Park
Commercial Sites
13
SWC Loop 410 at Lakeside
Parkway, just south of Hwy
151
Loop 1604 west of Babcock
14
15
NEC 1604 at Bulverde
Road
16
North side of Loop 1604 at
Gold Canyon Road, one
fourth mile east of US 281
North side of Loop 1604 at
South Hausman Road
Loop 1604 between Valley
Meadow and Misty Woods
17
18
19
20
Bandera Road south of
Braun
NEC Bandera at Scenic
Loop
SIZE
(ACRES)
ZONING
TOTAL
PRICE $
PRICE PER
SQ. FT./$
6 Parcels
195.53
Temp. R-1,
ERZD, B-3, B2
Varies By
Parcel
$12,376,873
Call For
Pricing
130.53
B-3, B-3NA
I-1, B-2
5,318,863
40,758/Ac.
1.03
B-3, B-2
ERZD
B-3, ERZD
269,201
6.00
6,272,640
2.50
64
66.15
B-2, B-3
ERZD
Subdivides
Considered
--
16.427
B-3, ERZD
1,252,230
1.70
20.95
B-3/Front
B-2/Buffer on
Rear
$2,739,053
3.00
.66
Temp. R-1
216,563
7.50
32.00
B-2, General
Business and
County
B-2
R-3
1,742,400
1.25
7,500,000
2.28
21
SEC of Blanco Road and
Old Bitters Road
75.399
22
SEC Blanco Road at
Huebner Road
3.679
B-2
1,081,736
6.75
23
NWC Callaghan at Horizon
Hill Blvd.
7.188
B-2
B-3
1,400,000
4.47
COMMENTS
Exceptional 281 frontage including corners at
Stone Oak Parkway and Marshall Road; also,
corners on Bulverde Road. Owners will
consider bulk sale. Call Eldon.
Excellent site adjacent to Home Depot and
Wal-Mart. Will subdivide. Call Phil or Eldon.
Adjacent to Pizza Hut, circulation to Babcock
corner. Call Eldon.
Exceptional commercial intersection at the
confluence of 1604 and four other major
thoroughfare roads. Subdivides considered.
Call Phil or Eldon.
Exceptional development opportunity in the
"HOT" US 281/Loop 1604 intersection area.
Call Eldon.
Exceptional NW Loop 1604 frontage. Call
Eldon or Sharon.
Great frontage just west of Sea World and
across from World Savings' headquarters in
front of North San Antonio Hills. Call Phil or
Eldon.
Quality pad next to Exxon. Easement gives
circulation direct to Braun Road. Call Eldon.
Strong commercial potential in Northwest San
Antonio. Owner willing to subdivide. Call
Eldon.
Walker Tract. Area's best apartment site. Also
fronts Silverhorn Golf Course. Owner may
consider subdivides. Call Phil.
UNDER CONTRACT
Unique intersection commercial development
site overlooking Sonterra Golf Course. Call
Eldon.
Great IH 10 Corridor location. Potential pad
site at corner. Call Phil.
NO.
NAME / LOCATION
SIZE
(ACRES)
ZONING
.74
J-Commercial
F-Retail
C-Apartment
B-3
24
SEC Culebra at General
McMullen
25
Culebra Road between
Potranco and Ingram
NEC De Zavala at Brandeis
14.85
Fredericksburg Road north
of Wurzbach
East side of Fredericksburg
north of Huebner
Guilbeau Road at Bandera
Road
Huebner Parke
26
27
28
29
30
31
32
33
34
35
36
37
Huebner Road, west of
Eckert Road
Jackson Keller, east of
West Avenue
Jung Road, south of
Knollcreek
Marbach Road at Ellison
Drive
938 S.E. Military Drive
(Southwest Quadrant of
Military and Roosevelt)
S.E. Military at Salado
Creek
IMPROVED LOTS
Mission Ridge Boulevard
east of Blanco Road
TOTAL
PRICE $
PRICE PER
SQ. FT./$
2,690/Mo.
Lease
--
1,875,912
2.90
259,180
10.00
1.51
B-3R
ERZD
B-3
526,240
8.00
1.55
B-3
710,997
10.50
.705
B-3
337,810
11.00
10 Lots
B-3
800,000
--
28.839
R-3
2,224,000
1.77
1.945
JJ
550,000
--
12
Temp. R-1
162,000
13,500/Ac.
a) 13.677
b) 14.022
c) 7.460
7.632
a) outside city
limits
b & c) B-3R
B-3
B-3NA
a) 744,713
b) 763,498
c) 243,718
1,911,587
a) 1.25
b) 1.25
c) 0.75
5.75
14.87
B-3
100,000
6,725/Ac.
4 Lots
Remaining
R-1 PUD
78,000
19,500
.60
COMMENTS
Short-term ground lease. Strong corner
location. Call Eldon.
Excellent commercial location near 410 and
Ingram Mall. Call Eldon.
Nice pad just east of IH 10 across from Clark
High School. Call Eldon.
Nice pad site just north of Wurzbach Road.
Call Eldon.
Excellent commercial pad adjacent to Chevron
and Miller Bar-B-Q. Call Eldon.
Adjacent to Bill Miller Bar-B-Q. Call Eldon
New. Garden office park. Great location for
professionals. Bulk sale or individual lots. Call
Phil or Eldon.
Excellent frontage, convenient access to IH 10,
USAA and Medical Center. Call Eldon.
Across from newly remodeled HEB. Partially
improved with income producing property on
net lease. Redevelopment opportunity. Call
Phil.
Single family development tract in high growth
neighborhood. Call Eldon or Phil.
Excellent corner potential on Marbach Road
west of Loop 410. Call Eldon.
TRACT A UNDER CONTRACT
Great retail property Adjacent to Wal-Mart, Bill
Miller Bar-B-Q and Luby's. Call Eldon.
Good access to IH 37 and South W.W. White
Road. Call Eldon
Great pricing in Mission Ridge Subdivision.
Excellent lots; available to individuals. Call Phil
or Eldon.
NO.
NAME / LOCATION
SIZE
(ACRES)
ZONING
38
.597
B-3
156,000
6.00
1.33
B-3
493,927
8.50
40
Nacogdoches north of
Higgins Drive
South corner Nacogdoches
at Judson
Parkdale, East of Wurzbach
.886
B-2
289,456
7.50
41
14123 San Pedro
3.03
1,188,000
9.00
42
FARM AND RANCH
Scenic Loop Road, between
Bandera Road and
Babcock Road
Vance Jackson, north of
Huebner
B-2 Office
(Hill Country
Village)
County
Portion in
Grey Forest
1,813,972
3,800/Ac.
345,150
6.50
39
43
g:\reports\avprop
477.361
1.219
B-2
B-3
TOTAL
PRICE $
PRICE PER
SQ. FT./$
COMMENTS
Small pad adjacent to Broadway Bank. Call
Phil.
Great intersection location across from
Albertson's shopping center. Call Eldon.
EXCELLENT Business Park Development Site.
Call Eldon
Excellent location between ramps. Could be
office, retail or restaurant. Across 281 from
Alamo Cafe. Call Phil.
Exceptional views, great Hill Country subdivide
opportunity. Call Eldon.
Adjacent to Walgreens Store currently under
construction. Great location. Call Phil.