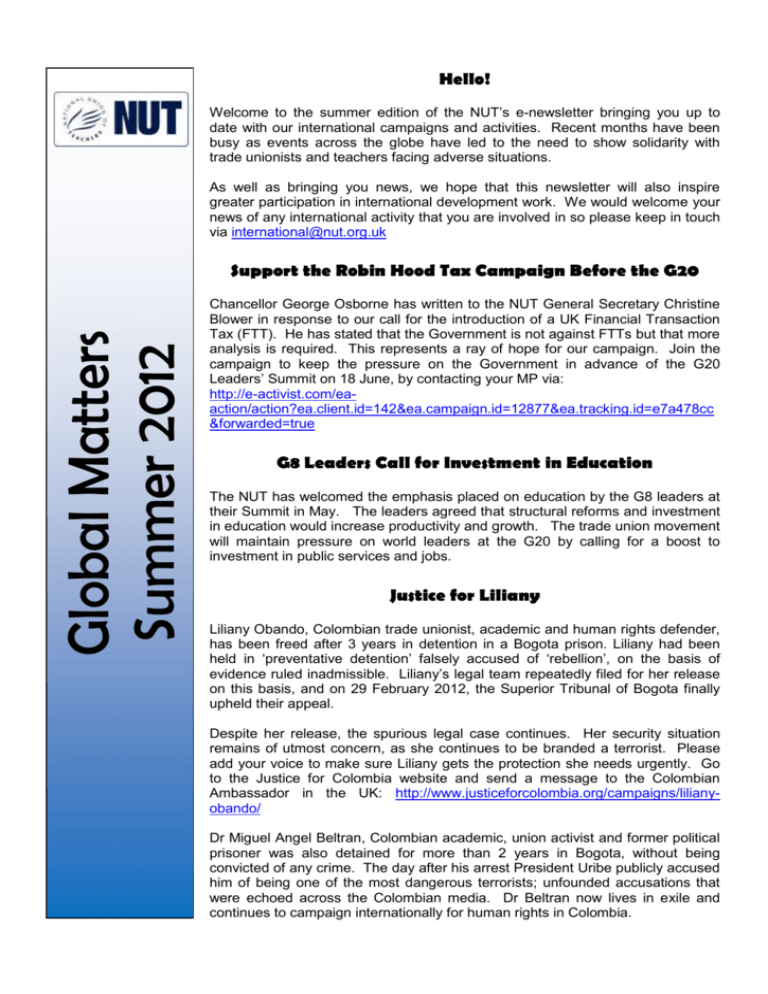 Hello!
Welcome to the summer edition of the NUT's e-newsletter bringing you up to
date with our international campaigns and activities. Recent months have been
busy as events across the globe have led to the need to show solidarity with
trade unionists and teachers facing adverse situations.
As well as bringing you news, we hope that this newsletter will also inspire
greater participation in international development work. We would welcome your
news of any international activity that you are involved in so please keep in touch
via [email protected]
Global Matters
Summer 2012
Support the Robin Hood Tax Campaign Before the G20
Chancellor George Osborne has written to the NUT General Secretary Christine
Blower in response to our call for the introduction of a UK Financial Transaction
Tax (FTT). He has stated that the Government is not against FTTs but that more
analysis is required. This represents a ray of hope for our campaign. Join the
campaign to keep the pressure on the Government in advance of the G20
Leaders' Summit on 18 June, by contacting your MP via:
http://e-activist.com/eaaction/action?ea.client.id=142&ea.campaign.id=12877&ea.tracking.id=e7a478cc
&forwarded=true
G8 Leaders Call for Investment in Education
The NUT has welcomed the emphasis placed on education by the G8 leaders at
their Summit in May. The leaders agreed that structural reforms and investment
in education would increase productivity and growth. The trade union movement
will maintain pressure on world leaders at the G20 by calling for a boost to
investment in public services and jobs.
Justice for Liliany
Liliany Obando, Colombian trade unionist, academic and human rights defender,
has been freed after 3 years in detention in a Bogota prison. Liliany had been
held in 'preventative detention' falsely accused of 'rebellion', on the basis of
evidence ruled inadmissible. Liliany's legal team repeatedly filed for her release
on this basis, and on 29 February 2012, the Superior Tribunal of Bogota finally
upheld their appeal.
Despite her release, the spurious legal case continues. Her security situation
remains of utmost concern, as she continues to be branded a terrorist. Please
add your voice to make sure Liliany gets the protection she needs urgently. Go
to the Justice for Colombia website and send a message to the Colombian
Ambassador in the UK: http://www.justiceforcolombia.org/campaigns/lilianyobando/
Dr Miguel Angel Beltran, Colombian academic, union activist and former political
prisoner was also detained for more than 2 years in Bogota, without being
convicted of any crime. The day after his arrest President Uribe publicly accused
him of being one of the most dangerous terrorists; unfounded accusations that
were echoed across the Colombian media. Dr Beltran now lives in exile and
continues to campaign internationally for human rights in Colombia.
Solidarity and Support
Greek Solidarity in the UK
Freedom for Bahraini Teachers
Following an appeal by Tony Benn for solidarity
with the people of Greece, signed by thousands
across Britain and the world, the Greece Solidarity
Campaign has been established.
Imposed
austerity measures have resulted in the mass
impoverishment of the Greek people, the
systematic destruction of their social and welfare
provision, and the retraction of agreements
between employers and trade unions contrary to
the constitution of Greece and international
conventions.
Please keep the pressure on the Bahraini
authorities in support of the jailed Bahraini
Teachers' Association (BTA) President, Mahdi 'Issa
Mahdi Abu Dheeb.
Mahdi 'Issa Mahdi Abu Dheeb continues to be
detained and the BTA is calling for support which
they need now more than ever. Please help by
signing
the
BTA
petition
at:
http://www.gopetition.com/petitions/freedom-for-mrmahdi-abo-deeb.html.
Local solidarity meetings have been organised,
including on 19 June 2012 at 6.30pm in London at
which Christine Blower will be speaking. You can
support the campaign by attending meetings,
volunteering and affiliating to the campaign (for just
£12).
To find out more go to: www.greecesolidarity.org
Fair Games?
Playfair 2012 has published a report of its investigations into ten factories producing sportswear for the
2012 Olympics. The report is available to read online at: http://www.playfair2012.org.uk/what-you-cando/fair-games/ . This link also provides contact details for the sports brand leaders so that you can take
action against workers' appalling conditions.
There is also an opportunity to 'light the flame for workers' human rights' by contacting the International
Olympic Committee at: www.playfair2012.org.uk/lighttheflame
Send My Friend to School 2012
Almost 6,000 schools have taken part in this year's campaign so far. Don't miss out on your free resource
pack available at http://www.sendmyfriend.org/take-action/spread-the-word
2013 Steve Sinnott Award for
Global Campaign for Education Young Ambassadors
The competition to be the Young Ambassadors for 2013 will take place later this year. Watch out for news
on how to get involved by signing up to the Send My Friend to School e-newsletter at
http://www.sendmyfriend.org/take-action/signup
Palestinian Child Prisoners
Gerard Horton from Defence for Children International (DCI) spoke at the NUT Annual Conference in April
about Palestinian child prisoners. There are currently over 200 Palestinian children in Israeli detention,
some as young as twelve years old, the majority being detained inside Israel. Information about the
campaign
to
protect
child
prisoners
can
be
found
at
http://www.dcipal.org/english/camp/freedom/display.cfm?docid=244&categoryid=14
Peace Activist Bruce Kent Calls
for PSC Support
The Palestine Solidarity Campaign (PSC) fights against injustice in Palestine. Bruce Kent, patron of PSC,
has launched a plea for donations. If you would like to find out more about donating go to
http://www.palestinecampaign.org/Index5b.asp?m_id=1&l1_id=78&l2_id=139&utm_medium=email&utm_c
ampaign=Let%5C%5C%5C%27s+end+the+injustice%3A+a+special+message+...&utm_source=YMLP&ut
m_term=Make+a+donation+today+
School Resources
The NUT and the Holocaust Educational Trust publication 'Mosaic: Victims of Nazi Persecution' is
available online at http://www.teachers.org.uk/teachingresources/holocaust .
Copies of this thought-provoking pack can be obtained by emailing [email protected] , up to
three packs per school can be ordered free of charge.
NUT and VSO Working Together
The NUT is working closely with VSO on a number of initiatives, including research. Currently VSO is
looking for experienced educationalists to help with work for up to 2 years in countries across Africa, Asia,
the Pacific and the Caribbean.
For more information go to: http://www.vsointernational.org/volunteer/find-out-more.asp
Trade Union Rights Violations
The International Trade Union Confederation (ITUC) has published the findings of a survey of
trade union violations. The 143 countries examined found 76 people murdered for trade union
activities, of which 29 were in Colombia. The Americas remain the most dangerous region for
trade unionists. TUC General Secretary Brendan Barber stated 'Across the world rogue
employers are operating hand in glove with corrupt governments to exploit workers'. The survey
can be downloaded at http://survey.ituc-csi.org/
Looking Forward
Internationalising Learning CPD 2012/13
One Day Event on Internationalising Learning
Dates have been set for the ILCPD programme for
the next school year. There will be two courses
available, both being run at Stoke Rochford. A
course for primary teachers will be run on 7 to 8
November 2012 and a course for secondary
teachers will be run from 20 to 21 November 2012.
We are holding an event on Wednesday 26
September 2012 from 10am to 4pm at NUT
headquarters in London.
This event aims to
showcase teachers' experiences of teaching about
global issues following their attendance at the NUT
Internationalising Learning CPD programme. The
event is free and there will be a range of speakers,
so do come along.
For more details and to
http://www.teachers.org.uk/cpd
apply
go
to
Contact [email protected] if you would like
to join us.
World Teachers' Day
The Anthony Walker Memorial Lecture 2012
The NUT will be holding a reception this year to
mark World Teachers' Day on Wednesday 3
October at 5pm at NUT headquarters. The theme
of the event this year will be the role of women in
education.
We are delighted to announce that this year's
Anthony Walker Memorial Lecture will be delivered
by Benjamin Zephaniah, the globally renowned
poet, novelist, playwright, musician and television
and radio presenter. The lecture will take place on
the evening of Friday, 19 October 2012 in the
Council House in Benjamin's home town of
Birmingham. He will speak on current themes in
race, resistance and education. If you would like to
attend email: [email protected]
If you would like to join us please email
[email protected] for further information.
Global Teachers Award
A new national Global Teachers Award (GTA) has been launched by the Consortium of Development
Education Centres in England. The Award will support teachers in developing skills and practical
approaches to incorporate global learning in the curriculum and promote informed, active global
citizenship with pupils.
For more information about the award and courses go to: http://globalclassrooms.co.uk/
Coming Soon
The NUT, working with Action for South Africa (ACTSA), has produced school materials to mark the
centenary of the African National Congress this year. The pack will be available online in the coming
month.
Keep an eye on the NUT website for further details.
Contact Us!
Whatever you do share your experience by
emailing [email protected]
Visit www.teachers.org.uk/international
for more information on our international work.