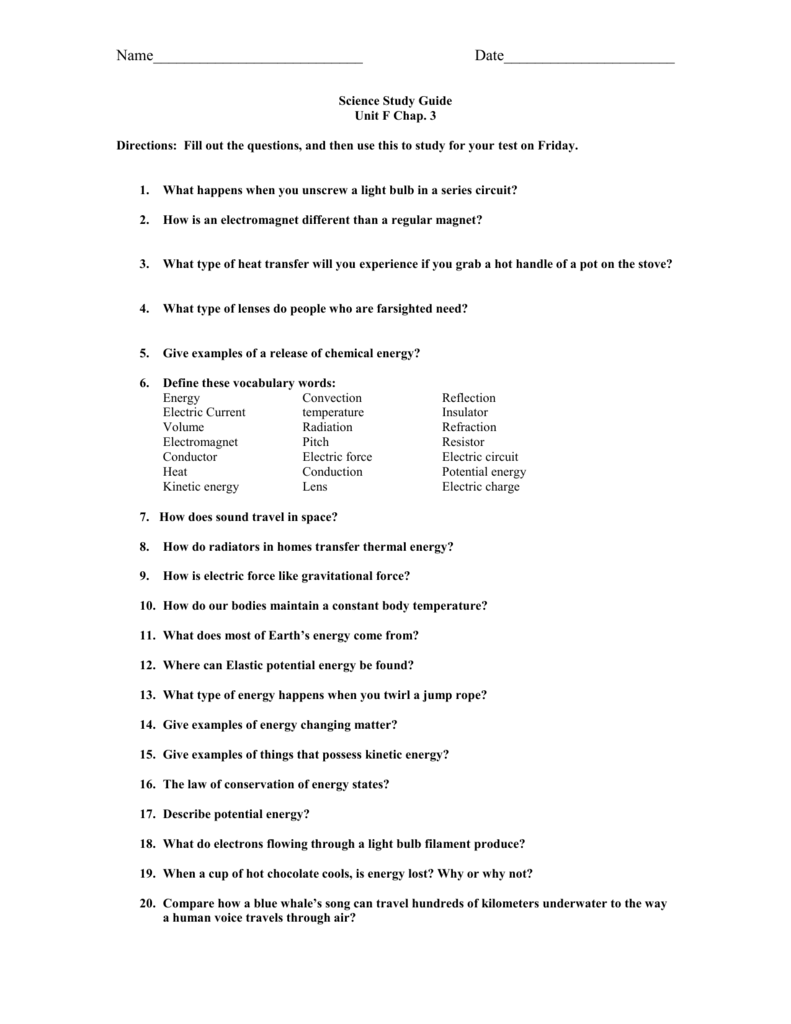 Name___________________________
Date______________________
Science Study Guide
Unit F Chap. 3
Directions: Fill out the questions, and then use this to study for your test on Friday.
1.
What happens when you unscrew a light bulb in a series circuit?
2.
How is an electromagnet different than a regular magnet?
3.
What type of heat transfer will you experience if you grab a hot handle of a pot on the stove?
4.
What type of lenses do people who are farsighted need?
5.
Give examples of a release of chemical energy?
6.
Define these vocabulary words:
Energy
Convection
Electric Current
temperature
Volume
Radiation
Electromagnet
Pitch
Conductor
Electric force
Heat
Conduction
Kinetic energy
Lens
Reflection
Insulator
Refraction
Resistor
Electric circuit
Potential energy
Electric charge
7. How does sound travel in space?
8.
How do radiators in homes transfer thermal energy?
9.
How is electric force like gravitational force?
10. How do our bodies maintain a constant body temperature?
11. What does most of Earth's energy come from?
12. Where can Elastic potential energy be found?
13. What type of energy happens when you twirl a jump rope?
14. Give examples of energy changing matter?
15. Give examples of things that possess kinetic energy?
16. The law of conservation of energy states?
17. Describe potential energy?
18. What do electrons flowing through a light bulb filament produce?
19. When a cup of hot chocolate cools, is energy lost? Why or why not?
20. Compare how a blue whale's song can travel hundreds of kilometers underwater to the way
a human voice travels through air?