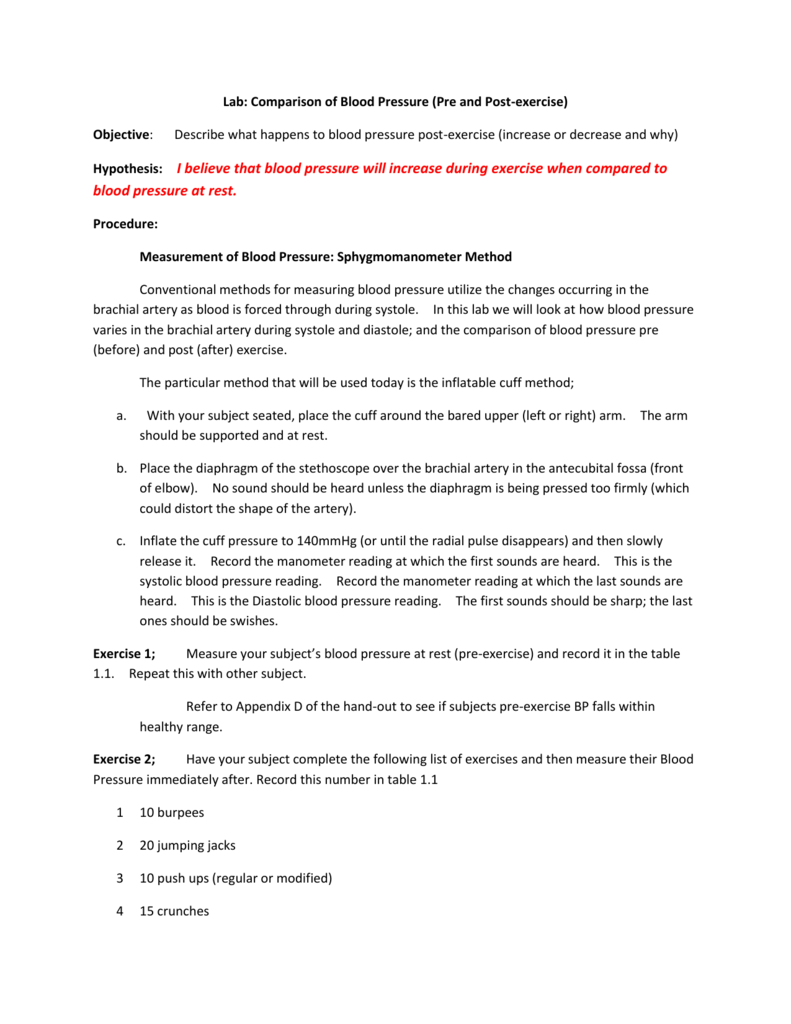 Lab: Comparison of Blood Pressure (Pre and Post-exercise)
Objective:
Describe what happens to blood pressure post-exercise (increase or decrease and why)
Hypothesis: I believe that blood pressure will increase during exercise when compared to
blood pressure at rest.
Procedure:
Measurement of Blood Pressure: Sphygmomanometer Method
Conventional methods for measuring blood pressure utilize the changes occurring in the
brachial artery as blood is forced through during systole. In this lab we will look at how blood pressure
varies in the brachial artery during systole and diastole; and the comparison of blood pressure pre
(before) and post (after) exercise.
The particular method that will be used today is the inflatable cuff method;
a.
With your subject seated, place the cuff around the bared upper (left or right) arm. The arm
should be supported and at rest.
b. Place the diaphragm of the stethoscope over the brachial artery in the antecubital fossa (front
of elbow). No sound should be heard unless the diaphragm is being pressed too firmly (which
could distort the shape of the artery).
c. Inflate the cuff pressure to 140mmHg (or until the radial pulse disappears) and then slowly
release it. Record the manometer reading at which the first sounds are heard. This is the
systolic blood pressure reading. Record the manometer reading at which the last sounds are
heard. This is the Diastolic blood pressure reading. The first sounds should be sharp; the last
ones should be swishes.
Exercise 1;
Measure your subject's blood pressure at rest (pre-exercise) and record it in the table
1.1. Repeat this with other subject.
Refer to Appendix D of the hand-out to see if subjects pre-exercise BP falls within
healthy range.
Exercise 2;
Have your subject complete the following list of exercises and then measure their Blood
Pressure immediately after. Record this number in table 1.1
1
10 burpees
2
20 jumping jacks
3
10 push ups (regular or modified)
4
15 crunches
Repeat this process with other subject. Record this number in table 1.1
Data and Observations:
Observations; After exercise; both subject's blood pressure increased, they were breathing heavy,
sweating, red in the face, exhausted and heart rate increased.
Data;
Subject 1
Subject 2
Pre-Exercise
Systolic
Diastolic
BP(mmHg)
BP(mmHg)
110
72
130
80
Post-Exercise
Systolic
Diastolic
BP(mmHg)
BP(mmHg)
115
76
135
84
Table 1.1 Measurement of Blood Pressure Pre- and Post-Exercise
Analysis and Conclusion:
The difference between pre- and post-exercise blood pressure (BP) is that there was a slight
increase in both systolic and diastolic BP. It was found that both subjects blood pressure falls within
healthy range (refer to Appendix D of handout).
During aerobic exercise there are multiple contractions of large muscle groups thus an
increase in oxygen demand for these muscles. The muscles respond to this increase in oxygen
demand by sending signals and causing arteriole dilation. As a result of this arteriole dilation
vascular resistance is reduced and compensates for the increase in Cardiac Output. Therefore the
subject's pre- and post- blood pressure should be relatively the same when doing aerobic exercise.
However if this lab called for anaerobic exercise the arterioles carrying blood to the exercising
muscles are compressed by high sustained force the muscles are generating. As a result the blood
pressure will increase because cardiac output has increased and vascular resistance has elevated.
References;
Zumerchik, John. (1997). Encyclopedia of Sports Science,Simon & Schuster MacMillan,
New York, NY. Volume 2.