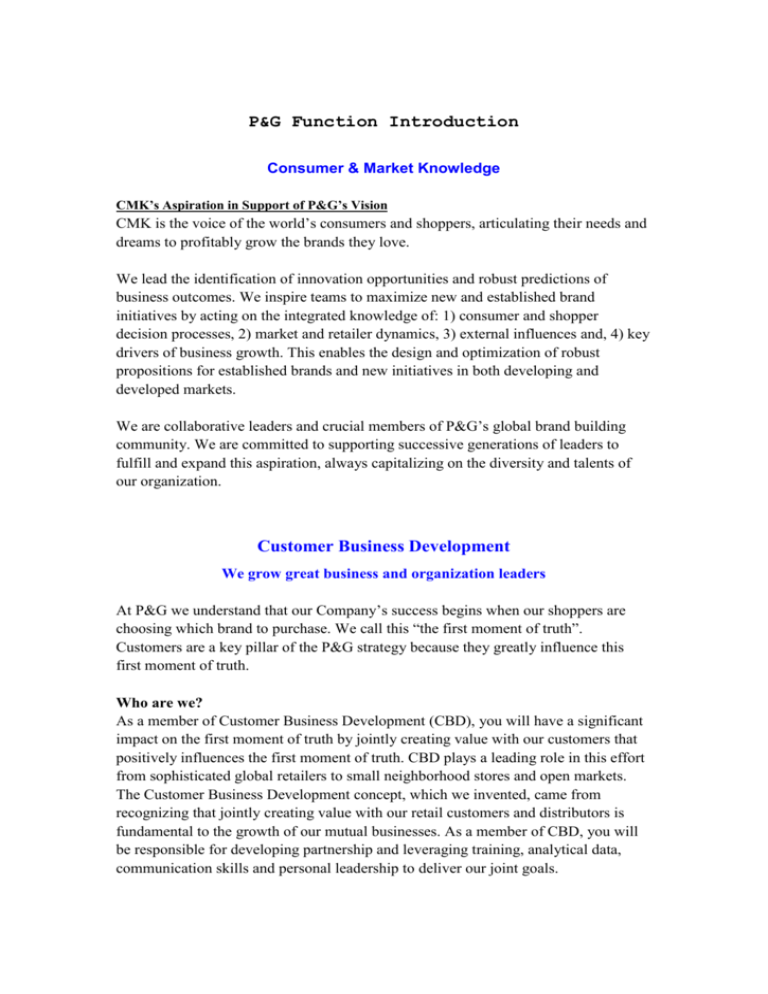 P&G Function Introduction
Consumer & Market Knowledge
CMK's Aspiration in Support of P&G's Vision
CMK is the voice of the world's consumers and shoppers, articulating their needs and
dreams to profitably grow the brands they love.
We lead the identification of innovation opportunities and robust predictions of
business outcomes. We inspire teams to maximize new and established brand
initiatives by acting on the integrated knowledge of: 1) consumer and shopper
decision processes, 2) market and retailer dynamics, 3) external influences and, 4) key
drivers of business growth. This enables the design and optimization of robust
propositions for established brands and new initiatives in both developing and
developed markets.
We are collaborative leaders and crucial members of P&G's global brand building
community. We are committed to supporting successive generations of leaders to
fulfill and expand this aspiration, always capitalizing on the diversity and talents of
our organization.
Customer Business Development
We grow great business and organization leaders
At P&G we understand that our Company's success begins when our shoppers are
choosing which brand to purchase. We call this "the first moment of truth".
Customers are a key pillar of the P&G strategy because they greatly influence this
first moment of truth.
Who are we?
As a member of Customer Business Development (CBD), you will have a significant
impact on the first moment of truth by jointly creating value with our customers that
positively influences the first moment of truth. CBD plays a leading role in this effort
from sophisticated global retailers to small neighborhood stores and open markets.
The Customer Business Development concept, which we invented, came from
recognizing that jointly creating value with our retail customers and distributors is
fundamental to the growth of our mutual businesses. As a member of CBD, you will
be responsible for developing partnership and leveraging training, analytical data,
communication skills and personal leadership to deliver our joint goals.
Finance & Accounting
Mission: Influential leadership that builds the business and maximizes
shareholder value.
What We Expect From You?
Strategic Thinking, Leadership influence and Value creation
 Developing strategy
 Making business decision
 Sound, innovative financial planning and analysis
 Stewardship & Financial security
What We Offer To You?
Training and Coaching:
 Senior finance managers -- Daily supervision and coaching
 Mentors -- Coaching for career and personal development
 Buddies – Helping you early adapt to work and environment
 Finance College I, II, and III – Classroom trainings accompany with your
career progress.
 Financial learning forums – Real business case study to broaden your
financial analysis experience and sharpen your both hard and soft skills.
Broader Assignment Rotation Experience:
 Category Finance
 Product Supply Finance
 Customer Business Development(CBD) Finance
 Treasury & Tax
 Corporate Financial Planning
 Internal Control
 Accounting
Product Supply
Mission:
Our mission is to have the Right Products at the Right Place at the Right Time;
Always There; Always Preferred; Always Affordable! WE DELIVER!
What can you expect upon joining Product Supply?
As a member of PS, your role spans the whole length of the Supply Chain, adding
value to each of the stage - from materials procurement to getting the products to the
store shelf. In Product Supply, we will offer you:
•
•
•
•
Top 3 Supply Chain Company in the World
The biggest population in P&G
Possibility to lead a big organization in early years
Many Global Opportunities and Real Hands-on experience
Research & Development
Innovation is our lifeblood
Innovation is the cornerstone of P&G's success. P&G is the first and foremost a
Research and Development Company and Research & Development (R&D) are the
lifeblood of the business. Our Technical Center in Beijing (BJTC) is responsible for
the development of consumer products for Greater China, Asia, and the rest of the
world, especially in the fields of Household Care, Oral Care, Beauty Care, Feminine
Care and Baby Care. Whilst still growing, BJTC is currently ranked amongst the
company's leading world class technical centers and has about 400 employees as well
as excellent research facilities and experts from many different countries. Our goal is
to understand the consumer better than anyone else and to develop technologies,
products, packages and devices that best meet the needs of the consumers in Greater
China, the Asian region and globally. To do so R&D is divided into several main
capabilities including Formula Design, Technology, Process Design, Product
Research, Analytical, Clinical and Packaging & Device Development. All working
together as a team towards one common goal: Improving the lives of the world's
consumers.
Marketing
Have you ever imagined managing an international leading brand? Are you prepared
to take challenges and make your work creative and exciting?
Mission
P&G Marketing is a global community of the world's best Brand Builders and
Business Leaders. We are dedicated to growing Brand and Category share leadership,
and to empower our succeeding generations to do the same. In short, we are
passionate about building Brands that last forever.
Join the winning team of P&G Marketing! The job is frequently glamorous and highly
strategic. This is the place where global leading brands are being built and promoted,
and this is where you will undergo the transformation from a fresh graduate to global
leader.