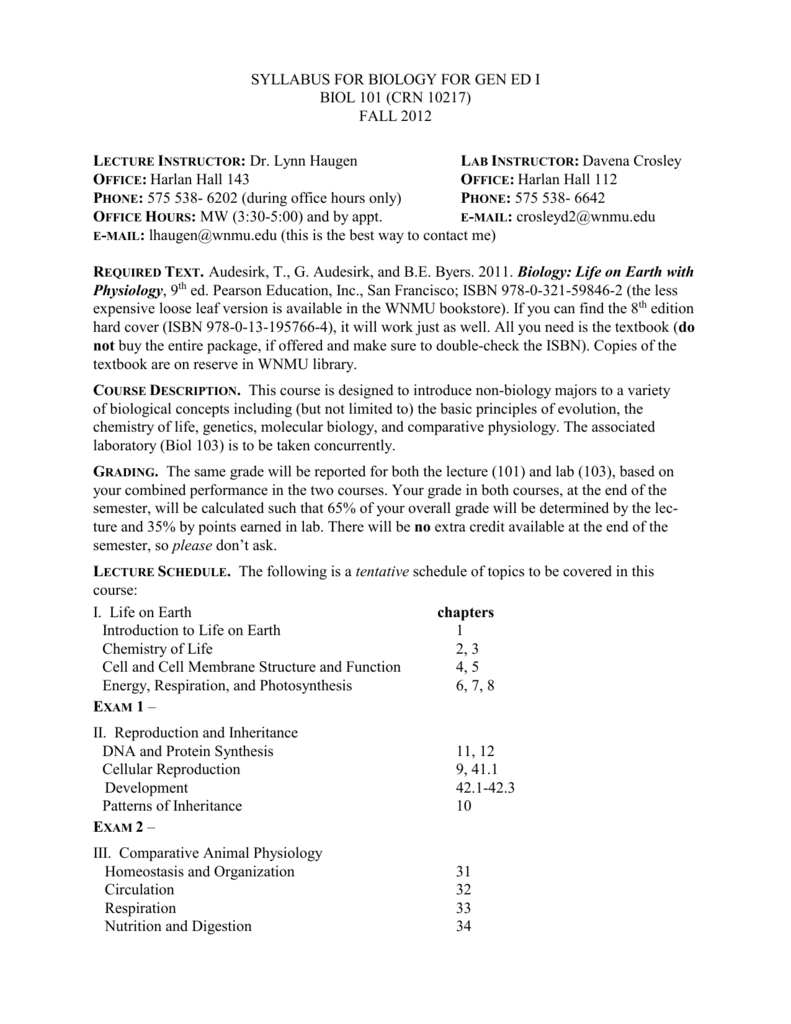 SYLLABUS FOR BIOLOGY FOR GEN ED I
BIOL 101 (CRN 10217)
FALL 2012
LECTURE INSTRUCTOR: Dr. Lynn Haugen
LAB INSTRUCTOR: Davena Crosley
OFFICE: Harlan Hall 143
OFFICE: Harlan Hall 112
PHONE: 575 538- 6202 (during office hours only)
PHONE: 575 538- 6642
OFFICE HOURS: MW (3:30-5:00) and by appt.
E-MAIL: [email protected]
E-MAIL: [email protected] (this is the best way to contact me)
REQUIRED TEXT. Audesirk, T., G. Audesirk, and B.E. Byers. 2011. Biology: Life on Earth with
Physiology, 9th ed. Pearson Education, Inc., San Francisco; ISBN 978-0-321-59846-2 (the less
expensive loose leaf version is available in the WNMU bookstore). If you can find the 8th edition
hard cover (ISBN 978-0-13-195766-4), it will work just as well. All you need is the textbook (do
not buy the entire package, if offered and make sure to double-check the ISBN). Copies of the
textbook are on reserve in WNMU library.
COURSE DESCRIPTION. This course is designed to introduce non-biology majors to a variety
of biological concepts including (but not limited to) the basic principles of evolution, the
chemistry of life, genetics, molecular biology, and comparative physiology. The associated
laboratory (Biol 103) is to be taken concurrently.
GRADING. The same grade will be reported for both the lecture (101) and lab (103), based on
your combined performance in the two courses. Your grade in both courses, at the end of the
semester, will be calculated such that 65% of your overall grade will be determined by the lecture and 35% by points earned in lab. There will be no extra credit available at the end of the
semester, so please don't ask.
LECTURE SCHEDULE. The following is a tentative schedule of topics to be covered in this
course:
I. Life on Earth
chapters
Introduction to Life on Earth
1
Chemistry of Life
2, 3
Cell and Cell Membrane Structure and Function
4, 5
Energy, Respiration, and Photosynthesis
6, 7, 8
EXAM 1 –
II. Reproduction and Inheritance
DNA and Protein Synthesis
Cellular Reproduction
Development
Patterns of Inheritance
EXAM 2 –
III. Comparative Animal Physiology
Homeostasis and Organization
Circulation
Respiration
Nutrition and Digestion
11, 12
9, 41.1
42.1-42.3
10
31
32
33
34
Excretory Systems
Animal Hormones and Endocrine Systems
Animal Nervous Systems and Senses
Skeletons and Musculature
Defenses Against Disease
35
37
38, 39
40
36
FINAL EXAM – Monday, 10 December @ 5:15-7:15pm
IMPORTANT DATES.
Friday,24 August – last day to drop
Friday, 2 November – last day to withdraw
19-25 November – Fall Break!!!
EVALUATIONS.
Quizzes. You will be given 22 pop quizzes. Each quiz will be worth 5 points for a total of 100
points (the two lowest quiz scores will be dropped).
Tests. There will be two tests (100 points each) and a final exam (200 points). Each of the first
two exams will consist of multiple choice and true/false questions worth two points each and
several short answer/matching/fill in the blank questions. An overwhelming majority of material
on the tests will come from lecture. The final exam will be cumulative and will consist of multiple choice and true/false questions.
Point Distribution
20 quizzes (5 points each)
2 exams (100 points each)
final exam
TOTAL
100
200
200
500
Grade Distribution
89.5% and above
A
79.5% - 89.4%
B
69.5% - 79.4%
C
59.5% - 69.4%
D
59.4% and below
F
MAKE-UP POLICY. There will be no make-ups!!! This includes quizzes as well as exams. If you
are late or miss a quiz for any reason, you will not be allowed to make it up (that's why I drop the
two lowest).
IMPROVEMENT POLICY. If you have not missed either of the first two exams, you can replace
your lowest exam grade with your score on the corresponding part of the final. If you miss an exam, your score on the corresponding part of the final will be used to determine the missing grade.
This is good for one missed exam only! If you miss the first two exams, you will need to withdraw from the course or receive a WF.
ACADEMIC INTEGRITY. Academic misconduct of any kind will not be tolerated. Violations of
academic integrity include "any behavior that misrepresents of falsifies a student's knowledge,
skills or ability with the goal of unjustified or illegitimate evaluation or gain" (WNMU Faculty
Handbook). Suspected involvement in cheating ("using or attempting to use unauthorized materials…and unauthorized collaboration with others, copying the work of another or any action that
presents the work of others to misrepresent the student's knowledge" [WNMU Faculty Handbook]) or plagiarism ("the intentional or unintentional representation of another's work as one's
own without proper acknowledgement of the original author or creator of the work" [WNMU
Faculty Handbook]) will be reported to the appropriate authority immediately and may result in
penalties ranging from a zero on the assignment or quiz to expulsion from the college. It is your
responsibility as the student to familiarize yourself with the specifics of what constitutes academic misconduct. Additional precaution: you may not leave the room during an exam - you may
leave only after you have turned in the exam.
THE MOST IMPORTANT POLICY. Turn off all cell phones and other electronic devices. Not only
are they very disruptive to both myself and other students, they may also interfere with the radio
frequency of my mouse.
DISABILITY SERVICES AT WESTERN NEW MEXICO UNIVERSITY. Services for students with
disabilities are provided through the Student Health Center's Disability Support Services Office
located in the Juan Chacon Building, Room 221. Some examples of the assistance provided
are: audio materials for the blind or dyslexic, note takers, readers, campus guides, audio recorders, and a quiet testing area. In order to qualify for these services, documentation must be provided by certified health care professionals. Disability Support Services forms are available in
the First Year Experience Office located in the Juan Chacon Building and in the Student Health
Services Office in Muir Heights 111. The Disability Support Services Office serves as Western
New Mexico University's liaison for students with disabilities. The Disability Support Services
Office can be contacted by phone at (575) 538-6400 or e-mail at [email protected] If you have a
disability that may prevent you from fully demonstrating your abilities in this course, you
should contact disability support services as soon as possible to discuss accommodations necessary to ensure full participation and to facilitate your educational opportunities.
INCLEMENT WEATHER. Refer to the OTA Student Handbook for notification procedures. In the
event that campus is closed during our scheduled class time, I will send an email with updates
and announcements specific to this class.
WNMU COMMUNICATION POLICY. WNMU's communication policy requires that all official
communication be sent via Mustang Express. All emails related to your enrollment at WNMU
will be sent to your wnmu.edu email address. It is very important that you access your Mustang
Express e-mail periodically to check for correspondence from the University. If I need to reach
you, I will also use your WNMU address. If you receive most of your email at a different address you can forward your messages from Mustang Express to your other address. For directions on how to forward mail, go to
http://www.wnmu.edu/campusdocs/direction%20for%20forwarding%20email.htm but beware
– forwarded messages may get lost in cyberspace (i.e., it's best to not forward mail, but instead,
check your Mustang Express mail directly).
WNMU POLICY ON EMAIL PASSWORDS. WNMU's requires that passwords for access to all of
the protected software, programs, and applications will be robust, including complexity in the
number of characters required, the combination of characters required, and the frequency in
which passwords are required to be changed. Minimum complexity shall include:
 Passwords shall contain at least six (6) characters.
 Passwords shall contain at least one capital (upper case) letter, and at least one symbol (numbers and characters such as @ # $ % & *)
 Passwords shall be changed at least every 90 days.
COPYRIGHT ©. The materials found in this course are only for the use of students enrolled in
this course for purposes associated with this course and may not be retained by students in any
electronic form or further disseminated or distributed to anyone not currently enrolled in this
course.