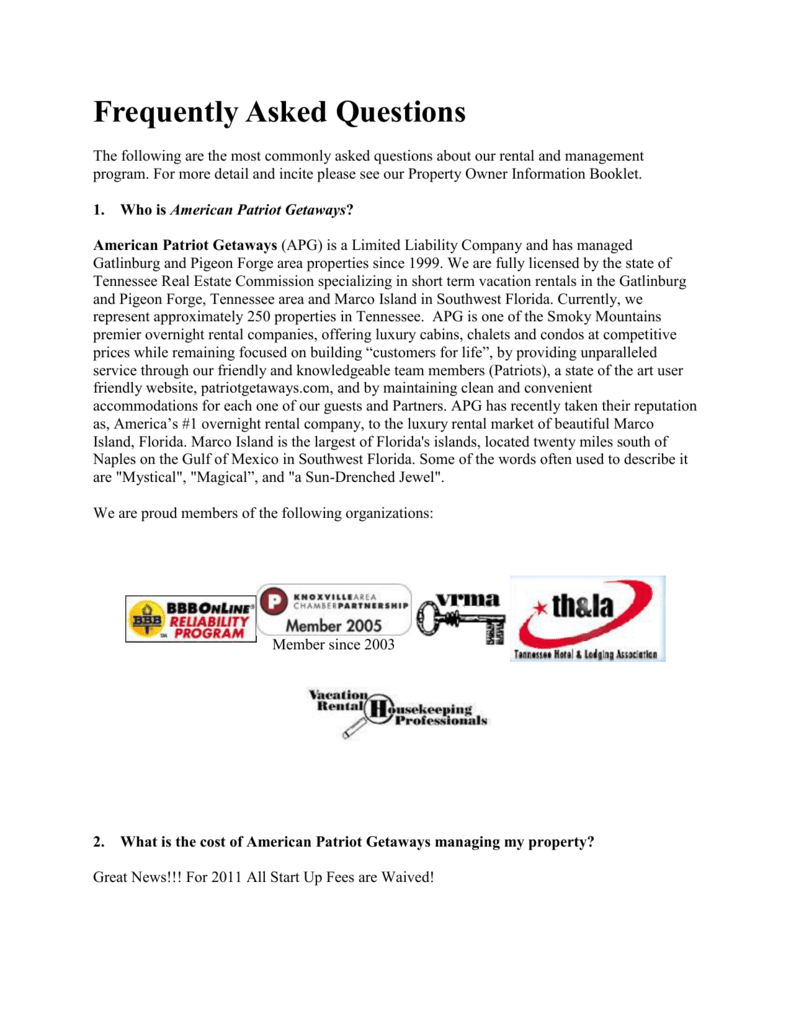 Frequently Asked Questions
The following are the most commonly asked questions about our rental and management
program. For more detail and incite please see our Property Owner Information Booklet.
1.
Who is American Patriot Getaways?
American Patriot Getaways (APG) is a Limited Liability Company and has managed
Gatlinburg and Pigeon Forge area properties since 1999. We are fully licensed by the state of
Tennessee Real Estate Commission specializing in short term vacation rentals in the Gatlinburg
and Pigeon Forge, Tennessee area and Marco Island in Southwest Florida. Currently, we
represent approximately 250 properties in Tennessee. APG is one of the Smoky Mountains
premier overnight rental companies, offering luxury cabins, chalets and condos at competitive
prices while remaining focused on building "customers for life", by providing unparalleled
service through our friendly and knowledgeable team members (Patriots), a state of the art user
friendly website, patriotgetaways.com, and by maintaining clean and convenient
accommodations for each one of our guests and Partners. APG has recently taken their reputation
as, America's #1 overnight rental company, to the luxury rental market of beautiful Marco
Island, Florida. Marco Island is the largest of Florida's islands, located twenty miles south of
Naples on the Gulf of Mexico in Southwest Florida. Some of the words often used to describe it
are "Mystical", "Magical", and "a Sun-Drenched Jewel".
We are proud members of the following organizations:
Member since 2003
2.
What is the cost of American Patriot Getaways managing my property?
Great News!!! For 2011 All Start Up Fees are Waived!
The revenue is split 60/40 after adjusted, which is the standard revenue split for this area. For
this 40% you receive American Patriot Getaways experience of professional rental management,
a top of the industry user friendly website, advertising and marketing of your investment
property, all housekeeping, guest management and check in, collection of monies from guest,
thorough cleaning upon guest check out and a professional subcontracted maintenance team to
help resolve guest issues in a timely manner and maintain your property to the highest standards.
As partners in this program, American Patriot Getaways is committed to striving for the highest
possible occupancy and both owner and guest satisfaction.
3. What recurring fees are associated with having an investment property with American
Patriot Getaways?
There are only a few monthly charges involved with American Patriot Getaways managing your
property:
There is a $20.00 per month pest control charge through ORKIN to exterminate the property,
unless you have your own extermination company providing this service on a monthly basis.
We split the credit card fees incurred for the rental of your property 60/40 just like our contract;
this is the fee that Visa, Master Card, Discovery, American Express charge to accept their cards.
This is roughly 2% of the gross credit card charges incurred on your property for a given month.
This 2% is split 60/40.
Business License Tax and this runs about $10 a month. This is Uncle Sam not us but
unfortunately it has to be paid. You are paying this now because the government sees the cabin
as a business. This is separate from the business taxes we pay for APG.
Gross Receipts Tax again this is based on the gross revenue the cabin produces again this is a
government charged tax for you to have a rental property.
A linen replenishment fee: which is $4.00 per person that your property is advertised to sleep.
(For Example: a 2 bedroom property that sleeps 6 would be billed $24.00 a month) This fee is
about half of what we spend each month in replacing worn, torn and stained linens and towels.
You will also be responsible for the cost of any maintenance performed on your property during
a given month.
4.
Who pays the utilities and taxes?
The property owner is responsible for all utilities and taxes associated with their investment
property. Below is a list of companies you may need to contact when getting your property ready
for rental.
5.
Sevier County Electric
865-453-2887
Electric
BellSouth
888-764-2500
Telephone Service
Direct TV
800-347-3288
Satellite Service
Dish Network
800-333-3474
Satellite Service
Sky Harbor Resort Cable
865-774-0671
Sky Harbor Cable
Charter Communications
888-Get-Charter
Cable
Comcast
865-637-5411
Cable
Atchley Cox-McCroskey Insurance
865-430-2264
Insurance
Holston Gases
865-573-1917
Propane
Heritage Propane
865-428-4271
Propane
Sevierville Water Department
865-453-1736
City Water
How often and when do we get paid for the rentals on our investment property?
Monthly Payments are posted by the 15th of the following month. We also offer direct deposit,
which would allow you to receive your revenue a little bit quicker. Along with your check, you
will receive a detailed owner's statement and the occasional flyer or brochure with information
to help you improve your investment property.
6. How many days can I expect my investment property to be rented with American
Patriot Getaways?
On average, the properties that have been on our program for at least 12 to 18 months are renting
about 180 nights per year. Some rent 100 nights a year and some rent 300 nights a year. The best
properties with the most "bells and whistles" rent the most. In most cases potential guests are
comparing apples to apples and more importantly shiny apples to shiny apples. The shiniest
apple usually wins.
7.
How do I know when my investment property is booked?
We provide our owners a secure website that they can access with a user I.D. and password 24
hours a day 7 days a week. The information on this site is updated in real time, so when a
booking is taken on your property or maintenance is performed, the site is updated in real time.
On this secure site the owner can view current rental information, rental history, future rental
information, the most recent newsletter, maintenance performed on your property, charges and
other important information. The secure site calculates for you, your revenue for a given month,
including deducting for any charges against your account. You will know exactly what your
revenue for the month will be, before we ever deposit or mail you your revenue check. This
secure site is one of the ways we keep you, our partners, informed of what is going on with your
property and American patriot Getaways.
8.
How do you advertise your properties?
The majority of our advertising is internet based. The majority of our business comes from the
internet therefore it only makes since that the majority of our advertising dollar is spent on the
internet. We do compliment our internet advertising with some print advertising and sports
media advertising, see Section VI. , Advertising the Art of Finding Guests in the Property Owner
Information Booklet.
9. What area is the best area to purchase or build an investment property, Gatlinburg,
Pigeon Forge, Sevierville or Wears Valley?
All of these areas have their advantages. Gatlinburg is close to the national park, snow skiing and
the old town charm of downtown Gatlinburg is a nice draw. Pigeon Forge is where the growth is
happening. Pigeon forge is a little less congested than Gatlinburg and our guest realize that they
are only 5 minutes from Gatlinburg when they are in Pigeon Forge. Sevierville also is seeing a
lot of growth and is a good location but a bit further from the "action" and not yet as desirable to
most visitors. Wears Valley, with its surrounding mountain ranges and proximity to Cades Cove
and Townsend is a beautiful area for an investment property and is becoming more and more
popular. Location and proximity to the areas attractions is important but what type of investment
property and the amenities you offer are much more important.
10.
What size investment property produces the best revenue?
All nice investment properties do well over time. On a consistent basis one bedroom properties
tend to rent better. They almost immediately begin to rent and rent well. Two bedroom and larger
properties tend to take a little more time to generate consistent revenue, but once a nice two
bedroom or larger properties have been with our management program for 12 to 18 months these
properties tend to do very well. The key to having a successful investment property is having a
quality property. As the saying goes, "the cream rises to the top".
11. What type of amenities should our investment property have to maximize the
potential rental revenue?
The most popular amenities are a hot tub outside (in a screened and or covered area is a plus), a
Jacuzzi tub inside, a pool table or other game tables (foosball, air hockey), Plasma or LCD TV's
(the larger the better), surround sound system, satellite or cable TV, DVD player, Blu-Ray
Player, washer and dryer, dishwasher, gas or wood fireplace, stereo with CD player, rocking
chairs on the deck, porch swing, gas or charcoal grill, picnic table, mountain views, high speed
wireless internet, theater room, king size beds, water filtration system as needed, paved
driveway, charcoal grill. These are what most of our potential guests are looking for in a rental
property. Basically potential guests want what they do not have at home; most folks do not have
a mountain view, a hot tub or many of the other items mentioned above. The more of these key
amenities your investment property has, the more it will rent. Anything and everything that you
can have in your property gives you one more opportunity to rent your property. Again the
cream rises to the top and our potential guests are comparing other properties to yours and
usually the nicest property with the most extras gets the revenue.
Recommended Items for Cabins

















Hot Tub (with hose & hanger installed)
Game Table
Updated Décor (APG discretion)
Quality Electronics
DVD and/or Blu-Ray Player
Stereo with CD player (IPOD Dock a plus)
Rockers
Gas or charcoal grill
Fireplace
Satellite or cable
Phone
Kitchen must be totally equipped
Closet or place to store suit cases (luggage rack)
Fire Extinguishers
First Aid Kit
Cigarette butt cans for every deck/porch
If there is a problem with water quality then a filtration system must be installed
Suggestions to Help a Cabin Be More Competitive









Decorate with a theme
o A theme of some sort
o Contemporary décor
o Cabin name should reflect the décor
o Theme should be consistent throughout the cabin
o If the cabin is dark then use lighter colors for curtains, comforters and etc…
o Cabin can be softened up by using rugs, stuffed animals and soft wall hangings
o Minimal drywall, contemporary color if necessary
Plasma, LCD, Big Screen TV, Theater Room
Surround Sound
Playstation 3, XBOX 360 or Wii Game System
Arcade Game System
Free long distance
High speed wireless internet
Upgrade Stereo with IPOD Dock
Jetted bath tubs










12.
Swing
Movie and local channels, sports packages
Washer and dryer
Dishwasher
Leather furniture
Hardwood flooring
Picnic Table
Log Furniture
King size beds
Exterior should look appealing (fresh stain, deck furniture, landscaping, etc.)
What if we want to stay in our investment property?
All you need to do is log into your secure owner's page of our website and you can place an
owner or maintenance block on your property at any time (see screen shot below) or you may
call our vacation specialists and give them your name and let them know that you would like to
put an "Owner Block" or "Maintenance Block", depending on the situation, on your property.
They will verify that you are who you say you are and then block the property for you. We ask
that you call at least two weeks in advance to avoid the property being booked when you want to
stay. The further in advance you can notify us the better, so we do not book the property during
the time you would like to stay. You have two choices upon departure; you can clean the
property yourself and leave it as you found it, ready for the next guest to check-in (all linens
cleaned, trash removed and ready to be occupied) or our housekeeping staff can clean the
property for a fee. This applies to booking the property via your secure owner's page as well.
We leave this choice up to you; just let us know which option you would like to take.
Screen Shot of Secure Online Owner's Block page
Make An Owner's Block
Cabins Near Great Smoky Mountains
Location
Property Number
0
Type of Block
Month & Year
OCTOBER 2006
Arrival Day
01
Number of Nights
01
No
Owner Will Clean
Please enter a brief description of the block. E.g., "John Smith" as the
name of the guest, or "Change locks" as a maintenance task. 50
characters maximum.
13. Are there a maximum number of nights that an owner may use their investment
property?
No, there is unrestricted usage of the investment property for our owners. The intent of the
investment property is for rental purposes, so the more days you use for yourself or friends and
family the fewer days we have available to book and produce revenue for you.
14.
What if we want to let family or friends stay in our property?
This procedure is the same as if it were you staying in the property. Be sure to put in the friend or
family members name in the brief description field if booking online or be sure to let one of our
vacation specialists know the name and all pertinent information about the family member or
friend if calling in your block.