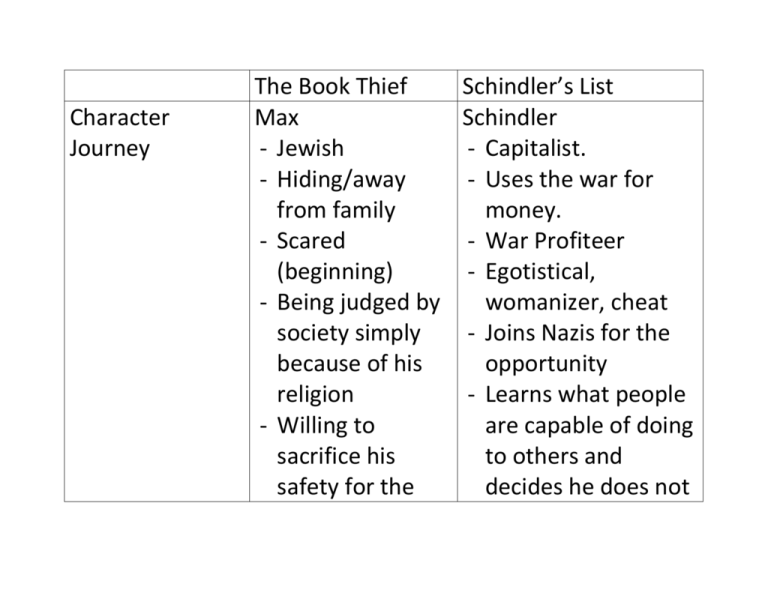 Character
Journey
The Book Thief
Schindler's List
Max
Schindler
- Jewish
- Capitalist.
- Hiding/away
- Uses the war for
from family
money.
- Scared
- War Profiteer
(beginning)
- Egotistical,
- Being judged by
womanizer, cheat
society simply
- Joins Nazis for the
because of his
opportunity
religion
- Learns what people
- Willing to
are capable of doing
sacrifice his
to others and
safety for the
decides he does not
Hubermanns.
want to be like that
Hans
- Plays the game –
- WW1 Veteran
uses his quest for
- Barely survives – power and money
survives due to
to save lives
Maxs father.
- Goes from being
Repays that debt someone who
by hiding Max
would use slave
- Gentle Soul
labour to someone
- Does not join
who would use all
Nazi party (later
his money to save
is refused from
lives.
party).
- Sign painter and
musician.
- Teaches Liesel to
read
- Helps a jew on a
march by giving
bread. Later is
placed in army
for this act.
Liesel
- Young girl at
beginning – lost
family.
- Values learning –
once she learns
to read she
makes books her
quest
- Goes from not
understanding
words to staying
alive because of
her words
- Caring, but more
discreet than
Hans
Themes
*Abandonment
*Family and
*Humanity
*Family and
Symbols
Setting
Relationships
*Death
*Humanity
Relationships
*Death
*Abandonment
*Books/Literature
*Colours
*
Time: 1936-1945
Place: Germany
Circumstance:
Family Life in
Germany during
WWII
* Red Jacket
*Nazi symbols
*Religious Symbols
Time: WWII
Place:
Poland/Czechoslovakia
Circumstance:
Holocaust during
WWII
Conflict
External
- Nazis vs Jews
- Society vs Jews
External
- Nazis vs Jews
- Jews vs nature
- Society vs Jews
Interpersonal
- Liesel vs people Interpersonal
at school
- Schindler vs Goeth
- Hans vs people - Goeth vs Helen
in society
- Jews vs Jews
- Max vs Hitler
Internal
Internal
-Schindler – helping
- Hans
jews
- Liesel
Goeth – Being humane
- Rudy
- Schindler's Wife
How does the internal conflict of a character develop a
theme?
Title, author, def of conflict. Rewrite the question.
Internal conflict is when a character has to question themself
and the choices they make throughout a work. In the works
'The Book Thief' by Marcus Zuzak and 'Schindler's List',
internal conflict of characters such as Hans and Oskar
Schindler helps develop the theme, or message of humanity.
In 'The Book Thief', Hans is a gentle person. He has not
joined the Nazi party, and this becomes a source of internal
conflict for him – should he join to help his family? It is his
humanity that has kept him from joining this group as he
doesn't believe in what they do. However, it is his caring for
those he loves that gets him to try to join at a later point.
Conversely, Oskar Schindler gladly joins the Nazi party. He
joins, not because he cares about their philosophy, but more
because he wants the connections with the successful. It is
his lack of caring for others that prompts his choice.
However, later on in the movie, Schindler finds that his
connections with the Nazi party that allows him to be
humane – because he joined, he is able to work within their
rules to save over 1100 Jews. Without that association, he
would have been just another person, with that association,
he is considered more respected.