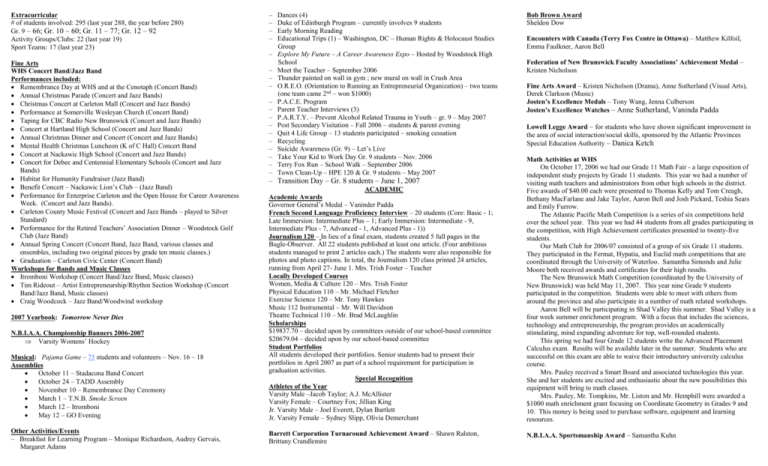 Extracurricular
# of students involved: 295 (last year 288, the year before 280)
Gr. 9 – 66; Gr. 10 – 60; Gr. 11 – 77; Gr. 12 – 92
Activity Groups/Clubs: 22 (last year 19)
Sport Teams: 17 (last year 23)
Fine Arts
WHS Concert Band/Jazz Band
Performances included:
 Remembrance Day at WHS and at the Cenotaph (Concert Band)
 Annual Christmas Parade (Concert and Jazz Bands)
 Christmas Concert at Carleton Mall (Concert and Jazz Bands)
 Performance at Somerville Wesleyan Church (Concert Band)
 Taping for CBC Radio New Brunswick (Concert and Jazz Bands)
 Concert at Hartland High School (Concert and Jazz Bands)
 Annual Christmas Dinner and Concert (Concert and Jazz Bands)
 Mental Health Christmas Luncheon (K of C Hall) Concert Band
 Concert at Nackawic High School (Concert and Jazz Bands)
 Concert for Debec and Centennial Elementary Schools (Concert and Jazz
Bands)
 Habitat for Humanity Fundraiser (Jazz Band)
 Benefit Concert – Nackawic Lion's Club – (Jazz Band)
 Performance for Enterprise Carleton and the Open House for Career Awareness
Week. (Concert and Jazz Bands).
 Carleton County Music Festival (Concert and Jazz Bands – played to Silver
Standard)
 Performance for the Retired Teachers' Association Dinner – Woodstock Golf
Club (Jazz Band)
 Annual Spring Concert (Concert Band, Jazz Band, various classes and
ensembles, including two original pieces by grade ten music classes.)
 Graduation – Carleton Civic Center (Concert Band)
Workshops for Bands and Music Classes
 Itromboni Workshop (Concert Band/Jazz Band, Music classes)
 Tim Rideout – Artist Entrepreneurship/Rhythm Section Workshop (Concert
Band/Jazz Band, Music classes)
 Craig Woodcock – Jazz Band/Woodwind workshop
2007 Yearbook: Tomorrow Never Dies
N.B.I.A.A. Championship Banners 2006-2007
 Varsity Womens' Hockey
Musical: Pajama Game – 75 students and volunteers – Nov. 16 – 18
Assemblies

October 11 – Stadacona Band Concert

October 24 – TADD Assembly

November 10 – Remembrance Day Ceremony

March 1 – T.N.B. Smoke Screen

March 12 – Itromboni

May 12 – GO Evening
Other Activities/Events
– Breakfast for Learning Program – Monique Richardson, Audrey Gervais,
Margaret Adams
–
–
–
–
–
–
–
–
Dances (4)
Duke of Edinburgh Program – currently involves 9 students
Early Morning Reading
Educational Trips (1) – Washington, DC – Human Rights & Holocaust Studies
Group
Explore My Future – A Career Awareness Expo – Hosted by Woodstock High
School
Meet the Teacher – September 2006
Thunder painted on wall in gym ; new mural on wall in Crush Area
O.R.E.O. (Orientation to Running an Entrepreneurial Organization) – two teams
(one team came 2nd – won $1000)
P.A.C.E. Program
Parent Teacher Interviews (3)
P.A.R.T.Y. – Prevent Alcohol Related Trauma in Youth – gr. 9 – May 2007
Post Secondary Visitation – Fall 2006 – students & parent evening
Quit 4 Life Group – 13 students participated – smoking cessation
Recycling
Suicide Awareness (Gr. 9) – Let's Live
Take Your Kid to Work Day Gr. 9 students – Nov. 2006
Terry Fox Run – School Walk – September 2006
Town Clean-Up – HPE 120 & Gr. 9 students – May 2007
–
–
–
–
–
–
–
–
–
–
– Transition Day – Gr. 8 students – June 1, 2007
ACADEMIC
Academic Awards
Governor General's Medal – Vaninder Padda
French Second Language Proficiency Interview – 20 students (Core: Basic - 1;
Late Immersion: Intermediate Plus – 1; Early Immersion: Intermediate - 9,
Intermediate Plus - 7, Advanced - 1, Advanced Plus - 1))
Journalism 120 – In lieu of a final exam, students created 5 full pages in the
Bugle-Observer. All 22 students published at least one article. (Four ambitious
students managed to print 2 articles each.) The students were also responsible for
photos and photo captions. In total, the Journalism 120 class printed 24 articles,
running from April 27- June 1. Mrs. Trish Foster – Teacher
Locally Developed Courses
Women, Media & Culture 120 – Mrs. Trish Foster
Physical Education 110 – Mr. Michael Fletcher
Exercise Science 120 – Mr. Tony Hawkes
Music 112 Instrumental – Mr. Will Davidson
Theatre Technical 110 – Mr. Brad McLaughlin
Scholarships
$19837.70 – decided upon by committees outside of our school-based committee
$20679.04 – decided upon by our school-based committee
Student Portfolios
All students developed their portfolios. Senior students had to present their
portfolios in April 2007 as part of a school requirement for participation in
graduation activities.
Special Recognition
Athletes of the Year
Varsity Male –Jacob Taylor; A.J. McAllister
Varsity Female – Courtney Fox; Jillian King
Jr. Varsity Male – Joel Everett, Dylan Bartlett
Jr. Varsity Female – Sydney Slipp, Olivia Demerchant
Barrett Corporation Turnaround Achievement Award – Shawn Ralston,
Brittany Crandlemire
Bob Brown Award
Sheldon Dow
Encounters with Canada (Terry Fox Centre in Ottawa) – Matthew Kilfoil,
Emma Faulkner, Aaron Bell
Federation of New Brunswick Faculty Associations' Achievement Medal –
Kristen Nicholson
Fine Arts Award – Kristen Nicholson (Drama), Anne Sutherland (Visual Arts),
Derek Clarkson (Music)
Josten's Excellence Medals – Tony Wang, Jenna Culberson
Josten's Excellence Watches – Anne Sutherland, Vaninda Padda
Lowell Legge Award – for students who have shown significant improvement in
the area of social interaction/social skills, sponsored by the Atlantic Provinces
Special Education Authority – Danica Ketch
Math Activities at WHS
On October 17, 2006 we had our Grade 11 Math Fair - a large exposition of
independent study projects by Grade 11 students. This year we had a number of
visiting math teachers and administrators from other high schools in the district.
Five awards of $40.00 each were presented to Thomas Kelly and Tom Creagh,
Bethany MacFarlane and Jake Taylor, Aaron Bell and Josh Pickard, Teshia Sears
and Emily Furrow.
The Atlantic Pacific Math Competition is a series of six competitions held
over the school year. This year we had 44 students from all grades participating in
the competition, with High Achievement certificates presented to twenty-five
students.
Our Math Club for 2006/07 consisted of a group of six Grade 11 students.
They participated in the Fermat, Hypatia, and Euclid math competitions that are
coordinated through the University of Waterloo. Samantha Simonds and Julie
Moore both received awards and certificates for their high results.
The New Brunswick Math Competition (coordinated by the University of
New Brunswick) was held May 11, 2007. This year nine Grade 9 students
participated in the competition. Students were able to meet with others from
around the province and also participate in a number of math related workshops.
Aaron Bell will be participating in Shad Valley this summer. Shad Valley is a
four week summer enrichment program. With a focus that includes the sciences,
technology and entrepreneurship, the program provides an academically
stimulating, mind expanding adventure for top, well-rounded students.
This spring we had four Grade 12 students write the Advanced Placement
Calculus exam. Results will be available later in the summer. Students who are
successful on this exam are able to waive their introductory university calculus
course.
Mrs. Pauley received a Smart Board and associated technologies this year.
She and her students are excited and enthusiastic about the new possibilities this
equipment will bring to math classes.
Mrs. Pauley, Mr. Tompkins, Mr. Liston and Mr. Hemphill were awarded a
$1000 math enrichment grant focusing on Coordinate Geometry in Grades 9 and
10. This money is being used to purchase software, equipment and learning
resources.
N.B.I.A.A. Sportsmanship Award – Samantha Kuhn
Principal's Award for Outstanding Achievement
Scott Jones – Coaching
Luke Flemming – Coaching
Courtney Fox – Athletics (Hockey)
Kent Kuhn – Coaching
School Generated Data
Class Mark: Exam Mark
Avg. Median Score
Robots East
This years competition titled "Luck of the Draw" was held May 4 th and 5th 2007 on
the Fredericton campus of UNB. Our team of 14 students and 4 mentors, along
with our robot "Model-T", had a successful year and had a great time at the
competition. We look forward to starting up in the fall to meet the challenge for
next year! Special thanks go to BID, Apple Autoglass, Brian Kelly and Carl
Liston for their donations and expertise during our build.
Classmark
100
90
80
70
60
50
40
30
20
10
0
Exam Mark
Our Motto: RESPECT, RESPONSIBILITY & RIGHT CHOICES
Jun- Dec- Jun- Dec- Jun- Dec- Jun- Dec- Jun- Dec- Jun- Dec- Jun01
01
02
02
03
03
04
04
05
05
06
06
07
Shad Valley – Tony Wang (Summer 2006), Aaron Bell (Summer 2007)
Student Activity Award
Male – Thomas Creagh
Female – Kristen Nicholson
Teachers' Choice Award – Jillian King
W.H.S. Principal's Choice Award (models Respect, Responsibility & Right
Choices) – Lori McKinley, Matthew Kilfoil, Caroline McBride, Jillian King
# of In-School Suspensions
2006 - 2007
# of Suspensions
Students Playing on Provincial Sports Teams
U-17 Basketball – – Jocelyn Clark, Bethany MacFarlane, Jacob Taylor, Joel
Everett
U-16 Basketball – Will Thornton, Lauren Moffatt
U-15 Basketball – Scott Anderson, Jordan Irvine, Tyler Sears
U-15 Dev. Basketball – Alex Stocek, Billy Delong
Women's Hockey – Sierra Paul (Aboriginal Maritime Team), Courtney Fox (NB
Canada Games Team)
Highlights 2006-07
1. Increase in student satisfaction (see Provincial Student Perception
Survey Data)
2. English Language Proficiency Assessment – Gr. 9 Results Nov. 2006
62% successful in writing at WHS
49% successful in writing in District
52% successful in writing in Province
59% successful in reading at WHS
57%successful in District
60% successful in reading in Province
3 Comprehensive review of the school's mission statement and beliefs.
Gr. 11, 68
Let him who deserves it have the reward.
Gr. 9, 48
Gr. 10, 29
Gr. 12, 29
Mission Statement (New 2007-08)
"ACT Now for Preparing Your Future"
A = Aesthetic Appreciation
C = Communication; Citizenship
T = Technological Competence
P = Problem Solving; Personal Development
1
Youth Apprenticeship Program (YAP) Certificates – 14 students successfully
completed the program
Graduate Summary – (Last Year)
53 students – 30.5% of graduates – going to University (51;34.2%)
47 students – 27% of graduates – going to College (48;32.3%)
34 students – 19.5% of graduates – going to work (34;22.8%)
20 students – 11.5% of graduates – Other (6;4%)
20 students – 11.5% of graduates – No Data (10;6.7%)
80
70
60
50
40
30
20
10
0
Grade Levels
Alternative Interventions = 31
Total # of In-School Suspensions = 174 (224)
Total # of Out-of-School Suspensions = 101 (134)
Total # Bus Suspensions = 6






Review of Exams
Senior Portfolio Presentations
Provincial and School Perception Surveys
Year End Summaries
French Oral Proficiency
English Language Proficiency Assessment
School Beliefs (New 2007-08)
 Building trusting relationships;
 Maintaining an instructional focus using best practices;
 Encouraging everyone to value learning;
 Promoting acceptance of diversity;
 Creating a culture and climate that fosters successful,
productive learners;
 Solving problems;
 Celebrating accomplishments.