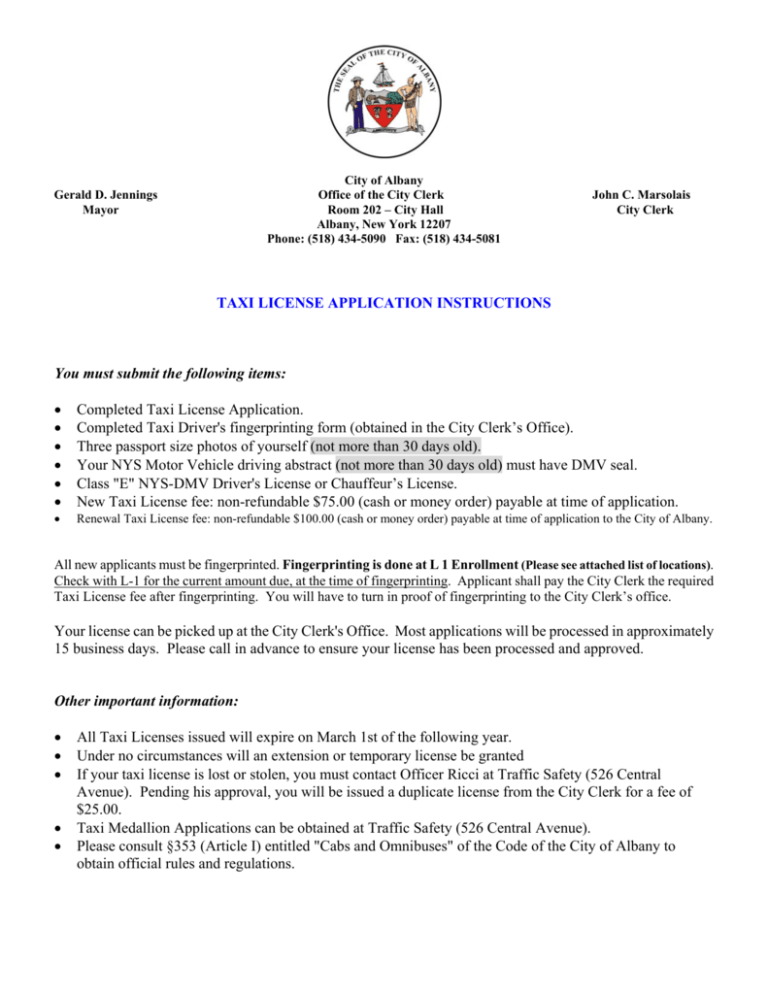 City of Albany
Office of the City Clerk
Room 202 – City Hall
Albany, New York 12207
Phone: (518) 434-5090 Fax: (518) 434-5081
Gerald D. Jennings
Mayor
John C. Marsolais
City Clerk
TAXI LICENSE APPLICATION INSTRUCTIONS
You must submit the following items:
•
•
•
•
•
•
Completed Taxi License Application.
Completed Taxi Driver's fingerprinting form (obtained in the City Clerk's Office).
Three passport size photos of yourself (not more than 30 days old).
Your NYS Motor Vehicle driving abstract (not more than 30 days old) must have DMV seal.
Class "E" NYS-DMV Driver's License or Chauffeur's License.
New Taxi License fee: non-refundable $75.00 (cash or money order) payable at time of application.
•
Renewal Taxi License fee: non-refundable $100.00 (cash or money order) payable at time of application to the City of Albany.
All new applicants must be fingerprinted. Fingerprinting is done at L 1 Enrollment (Please see attached list of locations).
Check with L-1 for the current amount due, at the time of fingerprinting. Applicant shall pay the City Clerk the required
Taxi License fee after fingerprinting. You will have to turn in proof of fingerprinting to the City Clerk's office.
Your license can be picked up at the City Clerk's Office. Most applications will be processed in approximately
15 business days. Please call in advance to ensure your license has been processed and approved.
Other important information:
•
•
•
•
•
All Taxi Licenses issued will expire on March 1st of the following year.
Under no circumstances will an extension or temporary license be granted
If your taxi license is lost or stolen, you must contact Officer Ricci at Traffic Safety (526 Central
Avenue). Pending his approval, you will be issued a duplicate license from the City Clerk for a fee of
$25.00.
Taxi Medallion Applications can be obtained at Traffic Safety (526 Central Avenue).
Please consult §353 (Article I) entitled "Cabs and Omnibuses" of the Code of the City of Albany to
obtain official rules and regulations.
Office of the City Clerk
City Hall - Room 202
Albany, New York 12207
Phone (518) 434-5090 Fax (518) 434-5081
Gerald D. Jennings
Mayor
John C. Marsolais
City Clerk
TAXICAB LICENSE APPLICATION
NEW LICENSE FEE PAID: $75.00
RENEWAL FEE PAID: $100.00
REPLACEMENT FEE PAID: $25.00
Clerk Initials:
Date:
IMPORTANT NOTICE
False replies to any of the questions herein under the law constitutes perjury, detection of such falsity will result in refusal of license or,
if granted, in revocation of same.
The following application must be properly filled out and all questions answered.
Full Name (printed:
City:
Address:
Age:
Phone Number:
Height:
Weight:
Complexion:
Social Security Number:
State:
Date of Birth:
Zip Code:
Place of Birth:
Eye Color:
Hair Color:
By Whom Employed:
If operating own taxicab please give:
Medallion number:
Vehicle registration number:
Chauffeur's License Number:
Marital Status (circle one):
Sex (circle one):
Male
Married
Single
Application must be accompanied by
3 pictures taken within 30 days of
date of application.
Pictures must be this size
Female
Date of pictures
I the undersigned, hereby apply for a PUBLIC TAXICAB DRIVER'S LICENSE to drive a Taxicab in the City of Albany, NY and for that purpose file the attached
photograph and description of myself, and give the following answers to the questions contained in this application.
1. Are you a naturalized citizen of the United States, or have you declared your intention to become one? (State which, giving date of naturalization and
the court in which papers were filed.
2. Have you ever served in the army, navy, or militia, of this or any other country?
3. Were you ever convicted of any crime or traffic offense?
Yes
Yes
No
No
If yes, where?
If so, give charges and disposition (explain).
4. Have you been in an automobile accident(s) resulting in injury to yourself or any other party?
Yes
No
If so, give date and
location.
5. Are you addicted to intoxicating liquors as a beverage, or any narcotic drugs?
6. Have you ever filed an application for a Taxicab Driver's License?
Yes
Yes
No
No
Explain:
If so, state when, where, and with what result.
7. Has any taxicab driver's, chauffeurs, or operator's license issued to you by the City of Albany or the State of New York ever been suspended or
revoked?
Yes
No
If so, give particulars.
8. Have you any physical or mental defects or infirmity, of which you are aware, that would in any way interfere with the proper operation and control
by you of a motor vehicle. Yes
No
If so, explain:
9. Where have you lived for the last three (3) years?
YEAR
ADDRESS
CITY OR TOWN
RESIDED WITH
10. Give the names and addresses of your employers, and your occupation, for the past five years.
YEAR
EMPLOYER
ADDRESS
OCCUPATION
In consideration of the granting of the license hereby applied for, the applicant agrees that service of any paper, notice, letter, summons,
complaint or legal process of any kind or nature may be made by the City of Albany or any department thereon upon the person to whom the license is
issued by leaving a copy of any such paper, notice, letter, summons, complaint or legal process with any member of his family or other person with
whom he may reside at the address given above.
The applicant further agrees that he will conform to all applicable laws, ordinances and the rules and regulations of the Police Department
governing public Taxicab licenses.
Notice: False statements made herein are punishable as a class "A" misdemeanor, pursuant to section 210.45 of the Penal Law of the State of
New York.
STATE OF NEW YORK
City of Albany, County of Albany
_________________________________________, being duly sworn, deposes and says that he is the individual making the foregoing application
for a Taxicab Driver's License; that the answers to the foregoing questions and other statements contained therein are true of his /her own knowledge.
Sworn before me, this____________
day of _____________, 20_______.
(Notary Public or Commissioner of Deeds)
Signature of Applicant
Date
Folder Number
Current License Number
POLICE DEPARTMENT
CITY OF ALBANY, NEW YORK
TAXI DRIVERS' APPLICATION
FINGERPRINTING FEE – see instructions
Date:
Applicant's Name:
Applicant's Residence:
Date of Birth:
Place of Birth :
Height:
Weight:
Eye Color:
Complexion:
Hair Color:
Build:
Please answer question below:
________________________________________________________________________
IF THE APPLICANT HAS EVER BEEN ARRESTED OR SUMMONED FOR ANY OFFENSE,
SUCH FACTS MUST BE STATED IN FULL, GIVING NUMBER OF TIMES, AND FINAL
DISPOSITION, IF "NONE" STATE SO.
Signature of Applicant
FINGERPRINTING INSTRUCTIONS FOR TAXI LICENSE APPLICANTS
Read ALL Instructions Carefully
If you are applying for a job as listed above and are informed that you need to be fingerprinted, you will need to
do the following:
Contact " L1 Enrollment " in order to schedule an appointment to be fingerprinted. They can be contacted as
follows:
Website : www.L1enrollment.com Appointment scheduling via the website is available 24/7/365.
Or
Toll Free number : 877-472-6915 Appointment scheduling via the call center is available 9am – 9pm Monday
through Saturday.
A list of available locations can be found at www.L1enrollment.com Select "NY" and then click on
"Locations" to view the list. There are several in the Albany area.
You will need to know the departments "ORI" number, it is : NY0010100
You will also need to know your "Fingerprint Reason" . The only reason accepted for this purpose is:
" TAXI "
If you schedule an appointment via the website, it is recommended you print out the confirmation page and
bring it to your appointment.
The cost, to be paid by applicant, is as follows:
DCJS fingerprint search fee …………………. $75.00
L1 Vendor Fee ………………………………. $11.75
Total Fingerprinting Fee Due ………………..$ call L1 for current fee
Payment may be made by personal or business check, certified check, bank check, money order or credit card.
Payment is made to : "L1 Enrollment Services"
When you go to be fingerprinted you MUST bring two forms of identification. At least one must have a photo.
Acceptable forms of ID are Drivers License, US Passport, US Social Security Card, US Military ID Card,
Original or Certified Birth Certificate, School ID w/photo, Photo ID Issued by Federal, state or Local
Government.
You will be provided two receipts from L1, to show that you have been fingerprinted. YOU MUST THEN
RETURN ONE OF THE RECEIPT S TO THE CITY CLERK'S OFFICE TO SHOW THAT FINGERPRINTS
WERE TAKEN AT WHICH TIME YOUR APPLICATION WILL BE PROCESSED.