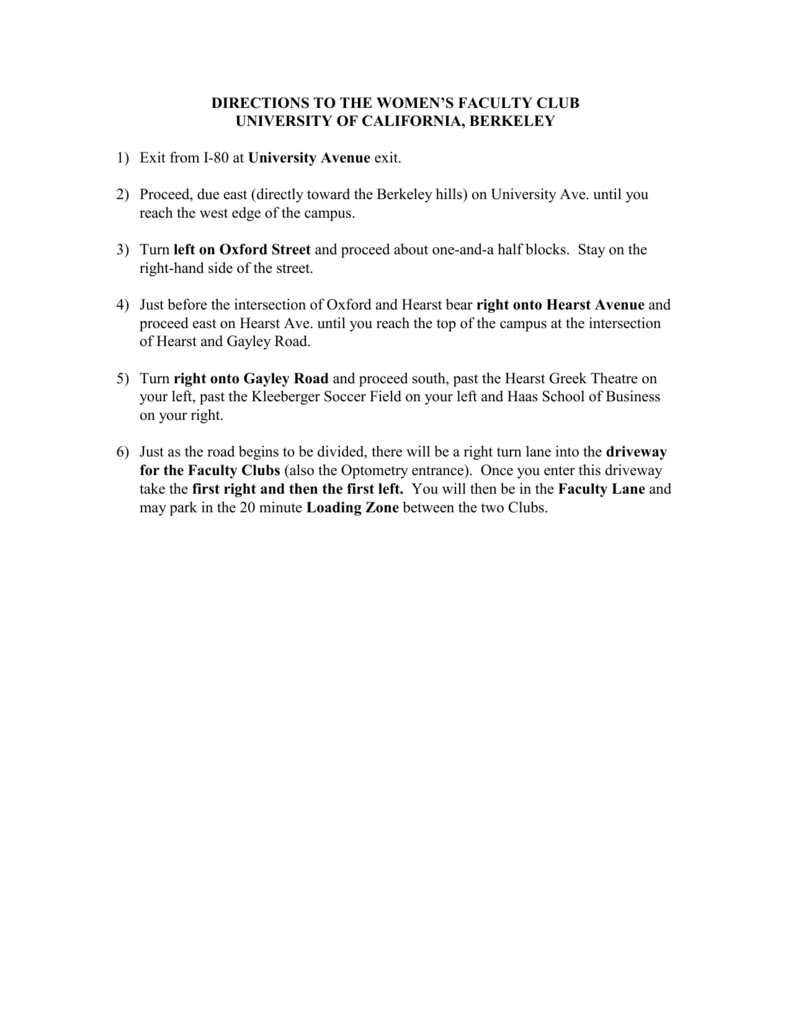 DIRECTIONS TO THE WOMEN'S FACULTY CLUB
UNIVERSITY OF CALIFORNIA, BERKELEY
1) Exit from I-80 at University Avenue exit.
2) Proceed, due east (directly toward the Berkeley hills) on University Ave. until you
reach the west edge of the campus.
3) Turn left on Oxford Street and proceed about one-and-a half blocks. Stay on the
right-hand side of the street.
4) Just before the intersection of Oxford and Hearst bear right onto Hearst Avenue and
proceed east on Hearst Ave. until you reach the top of the campus at the intersection
of Hearst and Gayley Road.
5) Turn right onto Gayley Road and proceed south, past the Hearst Greek Theatre on
your left, past the Kleeberger Soccer Field on your left and Haas School of Business
on your right.
6) Just as the road begins to be divided, there will be a right turn lane into the driveway
for the Faculty Clubs (also the Optometry entrance). Once you enter this driveway
take the first right and then the first left. You will then be in the Faculty Lane and
may park in the 20 minute Loading Zone between the two Clubs.