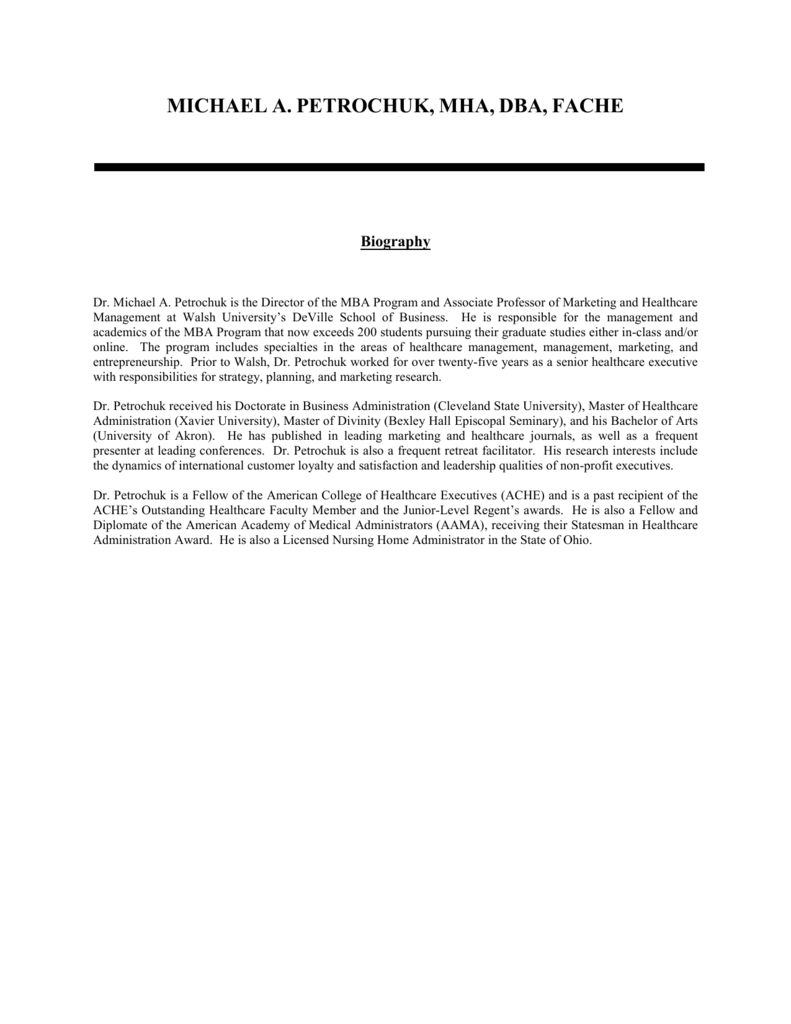 MICHAEL A. PETROCHUK, MHA, DBA, FACHE
Biography
Dr. Michael A. Petrochuk is the Director of the MBA Program and Associate Professor of Marketing and Healthcare
Management at Walsh University's DeVille School of Business. He is responsible for the management and
academics of the MBA Program that now exceeds 200 students pursuing their graduate studies either in-class and/or
online. The program includes specialties in the areas of healthcare management, management, marketing, and
entrepreneurship. Prior to Walsh, Dr. Petrochuk worked for over twenty-five years as a senior healthcare executive
with responsibilities for strategy, planning, and marketing research.
Dr. Petrochuk received his Doctorate in Business Administration (Cleveland State University), Master of Healthcare
Administration (Xavier University), Master of Divinity (Bexley Hall Episcopal Seminary), and his Bachelor of Arts
(University of Akron). He has published in leading marketing and healthcare journals, as well as a frequent
presenter at leading conferences. Dr. Petrochuk is also a frequent retreat facilitator. His research interests include
the dynamics of international customer loyalty and satisfaction and leadership qualities of non-profit executives.
Dr. Petrochuk is a Fellow of the American College of Healthcare Executives (ACHE) and is a past recipient of the
ACHE's Outstanding Healthcare Faculty Member and the Junior-Level Regent's awards. He is also a Fellow and
Diplomate of the American Academy of Medical Administrators (AAMA), receiving their Statesman in Healthcare
Administration Award. He is also a Licensed Nursing Home Administrator in the State of Ohio.