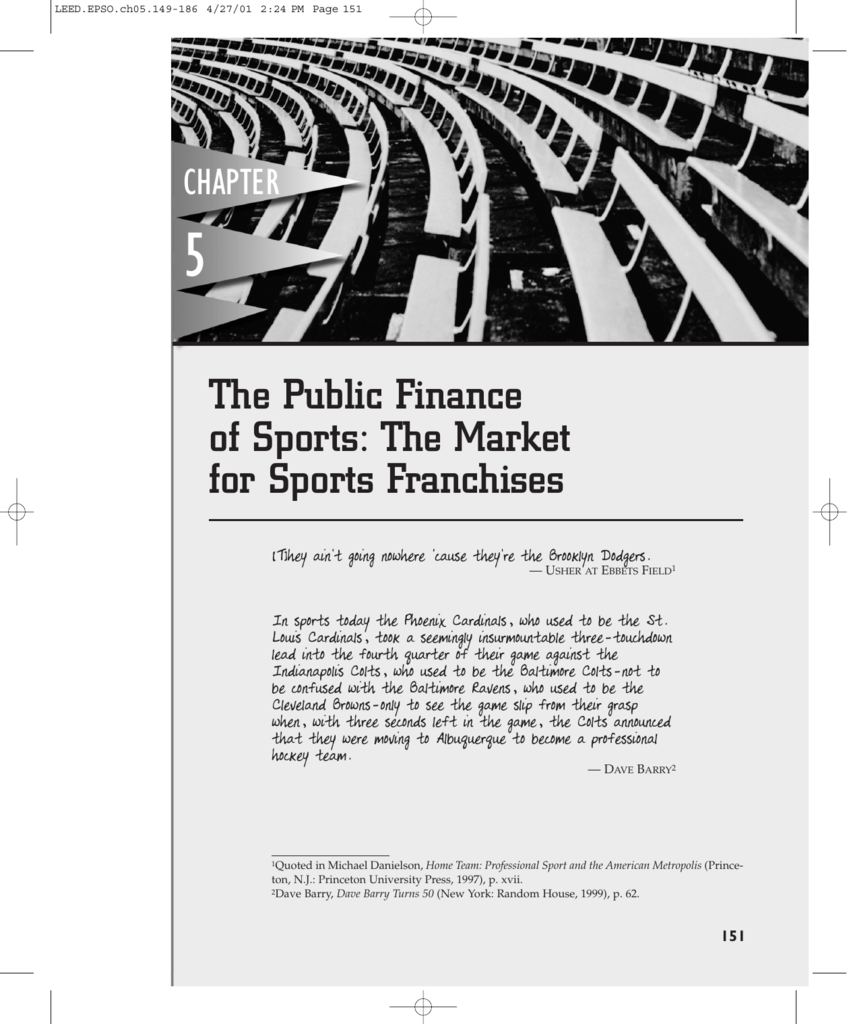 LEED.EPSO.ch05.149-186 4/27/01 2:24 PM Page 151
CHAPTER
5
The Public Finance
of Sports: The Market
for Sports Franchises
[T]hey ain't going nowhere 'cause they're the Brooklyn Dodgers.
— USHER AT EBBETS FIELD1
In sports today the Phoenix Cardinals, who used to be the St.
Louis Cardinals, took a seemingly insurmountable three-touchdown
lead into the fourth quarter of their game against the
Indianapolis Colts, who used to be the Baltimore Colts—not to
be confused with the Baltimore Ravens, who used to be the
Cleveland Browns—only to see the game slip from their grasp
when, with three seconds left in the game, the Colts announced
that they were moving to Albuquerque to become a professional
hockey team.
— DAVE BARRY2
1Quoted in Michael Danielson, Home Team: Professional Sport and the American Metropolis (Princeton, N.J.: Princeton University Press, 1997), p. xvii.
2Dave Barry, Dave Barry Turns 50 (New York: Random House, 1999), p. 62.
151
LEED.EPSO.ch05.149-186 4/27/01 2:24 PM Page 152
152 CHAPTER 5 The Public Finance of Sports: The Market for Sports Franchises
INTRODUCTION: HOW WALTER
O'MALLEY CHANGED THE LANDSCAPE
OF SPORTS
One day in the late 1950s, Jack Newfield and Pete Hamill, both reporters for
New York newspapers, discussed writing an article about "The Ten Worst
Human Beings Who Ever Lived." On a whim, each wrote the names of the
three men he regarded as "the all-time worst" on a napkin. To their surprise,
each had written the same three names: Adolf Hitler, Joseph Stalin, and Walter O'Malley.3
In a nation with fresh memories of the Second World War and new worries over the Cold War, Hitler and Stalin come as no surprise. Unlike his companions on the list, O'Malley's crime against humanity did not involve mass
murder or show trials. Instead, he changed the landscape of professional
sports forever by moving the Dodgers from Brooklyn to Los Angeles.
While their move was the most notorious, the Dodgers were not the first
team to change cities. Teams entered, exited, and moved so frequently in the
early years of all professional leagues that teams were reluctant to erect permanent facilities. As a general rule, the moves were from small towns to large
ones. While the NFL likes to reminisce about its small-town, midwestern
origins, professional football did not become financially stable until teams
in major cities like Detroit, Chicago, and Washington, D.C., replaced teams in
small towns like Portsmouth, Decatur, and Duluth.4 Unfavorable demographics proved the undoing of entire leagues, as seen by the demise of the
National Basketball League in the 1940s, the American Basketball League in
the 1990s, and baseball's American Association in the 1890s.
Sports leagues generally achieved financial stability only after they
located franchises in the nation's largest cities. The "Golden Age" of baseball marked the longest such period of stability. Between 1903, when the Baltimore Orioles left for New York to become the Highlanders (and later the
Yankees), and 1953, when the Braves left Boston for Milwaukee, no Major
League baseball team entered, left, or changed cities. Not coincidentally, the
early years of this era were marked by the construction of baseball's historic
ballparks, starting with Shibe Park in Philadelphia and Forbes Field in Pittsburgh in 1909 and followed a year later by Comiskey Park in Chicago. The
construction boom effectively ended with Yankee Stadium in 1923. After the
1920s, only one new baseball stadium was built until the 1950s.
3Geoffrey
Ward and Kenneth Burns, Baseball: An Illustrated History (New York: Alfred A. Knopf,
1994), pp. 351–352.
4See Danielson, Home Team (1997), pp. 20–24; and Charles Euchner, Playing the Field (Baltimore:
Johns Hopkins University Press, 1993), p. 4. The NFL Hall of Fame is in Canton, Ohio, home of
the long-defunct Canton Bulldogs.
LEED.EPSO.ch05.149-186 4/27/01 2:24 PM Page 153
Introduction: How Walter O'Malley Changed the Landscape of Sports
153
The Braves' move to Milwaukee—and several moves that followed in the
early 1950s—led few to believe that this golden era was at an end. The Boston
Braves, the Philadelphia Athletics, who moved to Kansas City in 1954 (and
then to Oakland in 1968), and the St. Louis Browns, who moved to Baltimore and were rechristened the Orioles in 1953, were all neglected stepsisters
in cities whose hearts belonged to the Red Sox, Phillies, and Cardinals, respectively. When the Braves left Boston, few fans noticed and fewer still mourned
their loss. In their first nine games in Milwaukee, the Braves drew as many
fans as they had drawn in the entire preceding year.5
Unlike the franchises that moved in the early 1950s, the Brooklyn Dodgers
played second fiddle to no one. In the 11 years prior to their move, from
1947 to 1957, the Dodgers were the most successful and most profitable team
in the National League. The value of the Dodgers, however, could not be
measured solely in dollars and cents. They were "a cultural totem" for the residents of Brooklyn, a rallying point for those who felt scorned by the wealthier, more sophisticated Manhattanites.6 It was this sense of loss—and the sense
of powerlessness that accompanied it—that prompted the sportswriters to
elevate O'Malley to the elite company of Stalin and Hitler.
To O'Malley, the issue was a simple matter of economics. While the
Dodgers did well in Brooklyn, O'Malley realized that the Dodgers would earn
even more if they had Los Angeles (and, at the time, all of Southern California) to themselves. In effect, O'Malley recognized the difference between
accounting and economic profits that we emphasized in Chapter 2. Although
extremely profitable, the Dodgers averaged somewhat over 1.5 million fans
in their last decade in Brooklyn. After moving to Los Angeles, they set new standards in attendance, frequently drawing more than 3 million fans in a season.
Even when teams do not move, they have frequently used the threat of a
move to coerce their home cities to subsidize or build new facilities. Often public funds go to individuals who have little need for financial support. Residents
of Washington state, for example, recently voted to underwrite a new stadium
for the Seattle Seahawks, a football team owned by Paul Allen, co-founder of
Microsoft and one of the wealthiest men in America (see Table 3.1). At other
times, cities that appear to have far more pressing needs have spent considerable sums on sports facilities. Over the course of the 1990s, Cleveland—a city
whose school system had gone into receivership—committed itself to spending over a billion dollars financing facilities for its baseball, basketball, and football teams.7 Even when the electorate turns down funding in referenda, public
officials sometimes go to extraordinary lengths to subvert the electoral process
5Neil
J. Sullivan, The Dodgers Move West (New York: Oxford University Press, 1987), p. 42.
Sullivan, The Dodgers Move West (1987), p. 15; and Danielson, Home Team (1997), p. 9. Manhattan was the home of the Dodgers' archrivals, the New York Giants, who, ironically, moved
to San Francisco when the Dodgers left for Los Angeles.
7In the fall of 2000 Philadelphia committed itself to a $1 billion project for new facilities for the
Phillies and Eagles.
6See
LEED.EPSO.ch05.149-186 4/27/01 2:24 PM Page 154
154 CHAPTER 5 The Public Finance of Sports: The Market for Sports Franchises
in order to get the funding approved. After the residents of Phoenix voted
against public funding for a new stadium, the Arizona state legislature
approved a bill that gave authority to raise money for a new facility to the Maricopa County Board of Supervisors.8 Such maneuvering suggests that the public sector will be underwriting sports franchises for a long time to come.
In this chapter we explore the power that team owners have held over
cities and the impact of that power on the decisions cities and franchises make.
In Section 5.1, we show that teams have a great deal to gain from the stadium
deals they have been able to extract from cities. In Section 5.2, we examine
the market forces that give sports leagues the power to command such financial support. In Section 5.3, we see how the International Olympic Committee has exploited these market forces in its dealings with cities that wish to host
the Olympics. Finally, in Section 5.4, we show how the market for sports franchises has affected the character and location of sports facilities.
5.1 THE COMPETITION FOR TEAMS
AND THE VALUE OF A NEW STADIUM
In Chapter 4, we showed how professional sports teams and leagues exert
monopoly power over fans and the media. Here, we show that they hold similar monopoly positions over entire cities. Unlike fans and the media, who compete in markets for access to teams, cities compete over the right to host a
franchise. Many municipal government officials believe that playing host to a
professional franchise will generate economic growth in their city. Their demand
for a franchise stems from the perceived financial benefits of hosting a team as
well as intangible benefits, like the pride in being considered a "big league" city.
If the politicians are correct, and cities do benefit from hosting a franchise,
then they might be better off buying a franchise outright. As owners, cities
would not have to worry about whether the team will move as soon as its lease
is up. Professional leagues, however, have gone to considerable lengths to prevent cities from owning franchises. Major League Baseball owners, for example, took specific action to block Joan Kroc's attempt to give the Padres to San
Diego after she inherited the team from her late husband. Even the Green Bay
Packers, contrary to popular opinion, are not municipally owned. They are a
publicly held corporation. As such, they have threatened to leave Green Bay
if the city does not accede to their demands for stadium improvements.9
8For details on the birth of the Arizona Diamondbacks, see Len Sherman, Big League, Big Time
(New York: Pocket Books, 1998).
9They are, however, the only team that does not have a single managing partner. See Joanna
Cagan and Neil deMause, Field of Schemes (Monroe, Maine: Common Courage Press, 1998), pp.
93–94 and 191–192; and Richard Jones and Don Walker, "Packer Boss Warns of Move if Stadium Doesn't Get Upgrade," Milwaukee Sentinel Journal, March 1, 2000, at http://www.jsonline.com/packer/news/feb00/lambeau01022900.asp; and Barry Lorge, "Kroc Wanted to Give
Padres to City," San Diego Union-Tribune, July 29, 1990, p. H1.
LEED.EPSO.ch05.149-186 4/27/01 2:24 PM Page 155
5.1 The Competition for Teams and the Value of a New Stadium
155
Cities also differ from consumers in a typical market in that they do not
participate in a formal market in which they pay directly for a good or service. Instead, they pay for the right to host teams by building them facilities,
providing them with revenue guarantees, and allowing them to capture revenue from such sources as parking, concessions, and luxury boxes.
Cities could provide the same inducements with the more traditional
market transaction of paying a fixed sum directly to the franchise. While such
behavior might prove more efficient, city officials do not find such payments
politically feasible. Instead, the city may garner political support for the project by employing local contractors and construction workers in constructing the facility. (We explore such political behavior in Chapter 6.) Moreover,
city officials seem to be subject to an "edifice complex," a bias for "high visibility projects with political payoff, such as sites and structures."10
Whatever the benefits to the cities that host them, sports franchises have
a lot to gain from new facilities. The Orioles, Cleveland Indians, (Denver) Colorado Rockies, and Seattle Mariners all have market values exceeding that
of the Los Angeles Dodgers, who play in the nation's second largest city and
media market. Of the seven most valuable baseball franchises in 1999, only
the Yankees, whose media deals dwarf those of any other franchise, play in
a facility built before 1992, and even they are clamoring for a new ballpark.
Table 5.1 reports estimates of the impact that a new stadium can have on a
team's revenue. It shows estimates of the impact of venues on revenues for
teams that have moved (or soon will move) to new facilities since 1999. Even
if one accepts the lowest estimate in Table 5.1 as the standard, a new facility
increases a team's annual revenue stream by over $25 million. The increased
revenue stream leads naturally to a rise in the teams' market values.
10Arthur
Johnson, Minor League Baseball and Local Economic Development (Urbana: University of
Illinois Press, 1995), p. 2. For additional motivations, see John Siegfried and Andrew Zimbalist,
"The Economics of Sports Facilities and Their Construction," Journal of Economic Perspectives, v.
14, no. 3 (Summer 2000), pp. 95–114.
Table 5.1
The Impact of New Baseball Stadia on Team Revenues
Team
Seattle Mariners
Detroit Tigers
Houston Astros
Milwaukee Brewers
Pittsburgh Pirates
Montreal Expos
Stadium
Opening Date
Added Revenue
Safeco Field
Comerica Park
Enron Field
Miller Park
PNC Park
Labatt Park
1999
2000
2000
2001
2001
2002
$44.78 million
$43.35 million
$28.41 million
$43.17 million
$42.61 million
$43.51 million
Source: Data from Reuters, "$4.3 Billion in New Ballparks to Usher in Grand Slam Gate, According to New Kagan Sports Business
Study," at http://news.excite.comnews/bw/991021/ca-paul-kagan-associates.
LEED.EPSO.ch05.149-186 4/27/01 2:24 PM Page 156
156 CHAPTER 5 The Public Finance of Sports: The Market for Sports Franchises
The benefits of a new facility are not limited to baseball. According to
Forbes magazine's 2000 evaluation of NFL franchise values, six of the seven
most valuable NFL franchises play in stadia that have been built since 1995.11
The exception here is the Dallas Cowboys, who saw the value of luxury boxes
in the 1980s, long before most other teams, and whose 379 luxury boxes remain
almost double the total for any other team in the NFL. The rest are all teams
from relatively small markets like the Cincinnati Bengals, Jacksonville Jaguars,
and (Nashville) Tennessee Titans, all of which have higher market values than
the "big city" New York Giants or Chicago Bears.12 The secret of these teams'
success cannot be attributed to either superior performance on the field or better marketing skills. Rather, their value stems from the opportunity to play
in a relatively new facility under favorable financial conditions.
Just as stadium deals can bring riches to a franchise, the lack of a facility can condemn a team—or even a league—to second-rate status. For example, while hockey teams owe much of their financial instability to the NHL's
failure to secure a network media contract on par with the other major sports,
NHL teams have also suffered from their role as secondary tenants in facilities that cater to NBA teams. The NHL's second-class status represents an
ironic twist from hockey's early years, in which the owners of hockey teams
invited basketball teams to play in the arenas they owned as a way to generate revenue from off-nights. Their second-class status also means that
hockey teams frequently face worse financial arrangements than the basketball teams with whom they share the arena.13 It is thus no surprise that the
most profitable hockey teams in the NHL—the New York Rangers, Philadelphia Flyers, Boston Bruins, and Detroit Red Wings—are all primary tenants
of their facilities. The Rangers, Bruins, and Flyers have arrangements with
Madison Square Garden, the Fleet Center and the First Union Center, respectively, that are equal or superior to those of their co-tenants, the Knicks,
Celtics, and 76ers, while the Red Wings do not share their venue—the Joe
Louis Arena—with the NBA's Detroit Pistons.
Two of the most widely touted success stories of publicly built facilities,
the Cleveland Indians' Jacobs Field and Oriole Park at Camden Yards, show
the importance of a new stadium for a franchise. In 1993, the year before
Jacobs Field opened, the Indians were among the least valuable franchises
in baseball, worth an estimated $81 million dollars. By 1996 the team's value
had risen 54 percent to $125 million. The Indians' growth in value continued through the 1990s, culminating in their selling for a record $323 million
in early 2000.14
11See the table accompanying Michael Ozanian, "Two Minute Drill," Forbes, September 18, 2000,
p. 92.
12Reported in Christopher Hepp, "Money Machines," Philadelphia Inquirer, January 20, 1999,
pp. E1 and E8.
13See Robert La Franco, "Profits on Ice," Forbes, May 5, 1997, pp. 86–89.
14Cagan and deMause, Field of Schemes (1998), p. 5.
LEED.EPSO.ch05.149-186 4/27/01 2:24 PM Page 157
5.1 The Competition for Teams and the Value of a New Stadium
157
While Jacobs Field clearly contributed to the increase in the value of the
Indians (which we discuss in detail later in this chapter), the impact of the
new stadium is clouded by the upturn in the Indians' fortunes on the field,
particularly their two World Series appearances since 1995. One could reasonably attribute some of the increased value of the franchise to its recent success on the field and at the turnstile. Table 5.2 supports this view, showing
that attendance—and hence revenue—began to turn up even before the Indians moved to Jacobs Field.
A clearer picture of the role that a stadium can play in the financial fortunes of a team comes from the experience of the Baltimore Orioles. Eli Jacobs
(no relation to the Jacobs brothers who owned the Indians and gave their
name to Cleveland's ballpark) bought the Orioles in 1988 for $70 million. Oriole Park at Camden Yards opened four years later at a cost of over $200 million. The stadium features 72 luxury boxes that lease for $55,000 to $95,000
per year.15 The team's lease is so good—it pays 7 percent of net admissions
receipts but keeps 90 percent of luxury suite rentals—that, when Jacobs went
bankrupt due to other business ventures and was forced to auction off the
team in 1993, he was able to sell the team for $173 million. Moreover, the
single most valuable asset listed at the auction was the lease.16
15Maryland
spent $99 million for the land and $105.4 million for the stadium itself.
Shropshire, The Sports Franchise Game (Philadelphia: University of Pennsylvania Press,
1995), p. 50; Roger Noll and Andrew Zimbalist, "The Economic Impact of Sports Teams and Facilities," in Sports, Jobs, and Taxes, ed. by Roger Noll and Andrew Zimbalist (Washington, D.C.:
Brookings Institution Press, 1997), p. 31; and Paul Farhi, "A Team Is a Sound Investment," Washington Post, January 12, 1999, p. A1
16Kenneth
Table 5.2
A Timeline of Performance and Attendance at Jacobs Field
Year
Winning Percentage
Attendance*
1990
1991
1992
1993
1994
.475
.352
.469
.469
.584
1.22
1.05
1.22
2.18
2.00
1995
.694
2.84
1996
1997
1998
1999
.615
.537
.549
.574
3.32
3.40
3.47
3.42
Major Events
Strike begins
Jacobs Field opens
Strike ends
Indians in World Series
Indians in World Series
*Attendance measured in millions.
Sources: The Baseball Archive, at www.baseball1.com, and Jacobs Field at www.Indians.com/Jacobs/
attendance.html.
LEED.EPSO.ch05.149-186 4/27/01 2:24 PM Page 158
158 CHAPTER 5 The Public Finance of Sports: The Market for Sports Franchises
Recall that team profits—and hence market values—come from three
sources: gate revenue, other venue-related revenue, and media revenue.
Teams' dealings with cities have no direct impact on their media revenues,
but they have greatly increased the gate revenue and other venue-related revenue. The impact on gate revenue can be seen in the three ballparks that
opened at the beginning of the 2000 season. In 2000, ticket prices rose an average of 11.8 percent in Major League Baseball, the largest increase in a decade.
Much of this increase, however, was due to increases in the three cities—
Detroit, Houston, and San Francisco—that had new ballparks. Ticket prices
at Comerica Park in Detroit were 103 percent higher in 2000 than they were
at Tiger Stadium in 1999. In San Francisco, prices at Pacific Bell Park were
about 75 percent higher than at Candlestick Park. Houston saw the smallest
price hike of the three, only a 50 percent increase.17
These price increases do not reflect higher prices for identical seats.
Instead, they reflect a change in the nature of the facilities and in the audience
they serve. Architect John Pastier points out that less than one-sixth of the
seats in baseball parks built (and scheduled to be built) since 1986 fall into the
low-price categories of general admission and bleacher seats. In contrast, ballparks built prior to World War II—supposedly the models for the new "retro"
facilities—had over 40 percent of their seats in these relatively affordable
categories. Even the much larger facilities built in the 1960s and 1970s had
more than one-fourth of their seats as bleachers or general admission.18
The benefits of a new stadium would not amount to much if teams had
to pay rents that were commensurate with the value of the facility. As we shall
see later in the chapter, cities do not charge market rates to their tenants. As
a result, much of the impact that new facilities have on teams' profit streams
stems from the teams' getting something for nothing. As Table 5.3 shows,
the burden of financing new facilities began to shift from teams to cities about
50 years ago. Even teams that have supposedly paid for their facilities have
generally benefited from substantial government funding. Pacific Bell Ballpark in San Francisco is widely touted as the first privately funded baseball
stadium since the O'Malley family built Dodger Stadium almost 40 years earlier, though the comparison may not be appropriate. Those who cite Dodger
Stadium as an example of a privately built ballpark ignore the fact that Los
Angeles agreed to almost $5 million in road construction and improvements
and donated 300 acres of prime real estate in Chavez Ravine to Walter O'Malley as the site of the new stadium. By contrast, the city of San Francisco paid
only $10 million, though it did guarantee a $145 million loan.19
17Associated
Press, "New Ballparks Mean Higher Ticket Prices," Sporting News, April 4, 2000,
at http://tsn.sportingnews.com/baseball/articles/2000404/228259.html.
18Figures from John Pastier, "Diamonds in the Rough: Two Cheers for the Modern Baseball
Palaces," Slate Magazine, July 31, 1996, at http://slate.msn.com/feature2/96-07-31/feature2.asp.
19Andrew Zimbalist, Baseball and Billions (New York: Basic Books, 1992), pp. 125–128; Matthew
Freedman, ed., 2000: Inside the Ownership of Professional Sports Teams (Chicago: Team Marketing
Report, 2000), pp. 118–119; and Sullivan, The Dodgers Move West (1987), pp. 99–104.
LEED.EPSO.ch05.149-186 4/27/01 2:24 PM Page 159
5.1 The Competition for Teams and the Value of a New Stadium
159
Table 5.3
Patterns in Stadium Expenses
Stadium
Baker Bowl
Shibe Park
Forbes Field
Comiskey Park (I)
Polo Grounds
Tiger Stadium
Fenway Park
Crosley Field
Ebbets Field
Wrigley Field
Yankee Stadium
County Stadium
Metropolitan Stadium
Candlestick Park
RFK Stadium
Dodger Stadium
Colt Stadium
Shea Stadium
Atlanta–Fulton Stadium
Astrodome
Oakland–Alameda Stadium
Busch Memorial Stadium
Anaheim Stadium
Jack Murphy Stadium
Riverfront Stadium
Three Rivers Stadium
Veterans Stadium
Kauffman Stadium
Kingdome
Metrodome
Skydome
Comiskey Park (II)
Oriole Park
Jacobs Field
Coors Field
Bank One Ballpark
Safeco Field
Comerica Park
Enron Field
Pacific Bell Park
Year Opened
1887
1909
1909
1910
1911
1912
1912
1912
1913
1914
1923
1953
1956
1960
1962
1962
1962
1964
1964
1965
1966
1966
1966
1967
1970
1970
1971
1973
1976
1982
1989
1991
1992
1994
1995
1998
1999
2000
2000
2000
Construction Cost
$
1.87
5.84
37.07
12.53
4.47
8.65
6.31
6.92
12.56
4.12
30.36
31.65
27.64
180.52
119.81
153.16
11.04
129.08
99.50
201.24
132.40
123.33
128.46
138.48
233.76
235.91
203.89
189.05
195.90
129.53
593.53
183.39
249.41
196.73
234.92
362.69
529.03
260.33
251.50
255.00
Public Expense
$
0
0
0
0
0
0
0
0
0
0
0
31.65
27.64
180.52
119.81
26.17
0.00
129.08
99.50
201.24
132.40
123.33
128.46
138.48
233.76
235.91
203.89
176.12
195.90
117.44
432.39
183.39
249.41
115.74
218.53
243.15
347.51*
115.00
170.85
10.00**
Figures are for intial construction costs only.
All figures are in millions of 1999 dollars. The table does not include facilities built earlier and later retrofitted to attract a team.
*$100 million in cost overruns are still in dispute.
**San Francisco also secured a $145 million loan.
Sources: Raymond Keating, "Sports Pork," Policy Analysis, No. 339, (Washington D.C.: Cato Institute, 1999). Paul Munsey and
Corey Suppes, "Ballparks," at http://www.ballparks.com., Mark Rosentraub Major League Losers, (New York: Basic Books, 1997).
LEED.EPSO.ch05.149-186 4/27/01 2:24 PM Page 160
160 CHAPTER 5 The Public Finance of Sports: The Market for Sports Franchises
Such subsidies are not limited to baseball. The Philadelphia Flyers and
76ers also received substantial implicit subsidies from Philadelphia and Pennsylvania for the construction of the First Union Center (originally called the
CoreStates Center). Their contributions included the land on which the Center was built, a $6.5 million dollar low-interest loan (originally to have been an
outright grant), and $12 million to demolish JFK Stadium, which had stood on
the site of the new facility, and funding to construct a parking lot. Parking also
played a role in Boston, where the "privately built" Fleet Center rests atop a
$100 million publicly built parking lot.20 In the next section we explore why
teams have been able to extract such large sums from the cities that host them.
5.2 HOW TEAMS EXPLOIT MARKET FORCES
Three market forces play into the hands of professional sports franchises, each
of which gives them an advantage in their dealings with cities. We have
already encountered one of the forces at work, monopoly power. In Chapters 3 and 4 we saw that professional sports leagues and amateur sports associations exercise the market power that comes with being the only provider
of their sport and the only buyer of athletic talent for that sport. We now
look more closely at how teams and leagues use their monopoly power to
extract the best deal they can from cities.
The second market force also stems from a familiar source. In Chapter 4
we saw that most fans enjoy a consumer surplus when they attend a sporting
event and that teams can use price discrimination or personal seat licenses
(PSLs) to claim a portion of this surplus for themselves. Like fans, cities can
enjoy a surplus from hosting a franchise or event. Leagues and event coordinators have learned to extract the surplus that cities gain from hosting a
franchise. They do so by forcing cities to spend more than they would ideally choose to by confronting them with the all-or-nothing choice of either
hosting a team full time, or not at all.
Finally, under certain circumstances monopolists can induce consumers
to spend more than the good or service is worth to them. Leagues can exploit
the uncertainty of cities that bid to host franchises and charge the "winning"
city a price that exceeds the value of the franchise. Economists call this paradox—in which the "winning" city is actually worse off than it would have
been had it lost the bid—the winner's curse.
Leagues, Cities, and Monopoly Power
Leagues have several reasons for wanting to limit the number of teams.
Leagues that overexpand become unwieldy and unprofitable. The fear of
20Kenneth
pp. 20–26.
Shropshire, The Sports Franchise Game (Philadelphia: University of Pennsylvania, 1995),
LEED.EPSO.ch05.149-186 4/27/01 2:24 PM Page 161
5.2 How Teams Exploit Market Forces
161
noncompetitive—and hence unprofitable—teams motivated the National
League to set a strict limit of eight teams once it attained monopoly status
in the 1890s. Fiscal instability also kept the NFL, NHL, and NBA from
expanding until the 1960s. With the moves of franchises in the 1950s—especially those of the Giants and Dodgers to California—leagues discovered a
new reason for limiting size. Limiting the number of franchises enables a
league to act as a franchise monopolist and maximize its members' monopoly profits. By restricting the number of franchises that are available, they
can drive up the price cities pay to attract a franchise or to retain one they
already have. Donald Fehr, the executive director of the Major League Baseball Players Association (MLBPA), summed up this point of view when he
explained the White Sox threat to move to Tampa if Chicago did not build
him a new stadium: "[I]f you put a team in Tampa, [owners like the Chicago
White Sox Jerry] Reinsdorf can't extort money from the city of Chicago by
threatening to move to Tampa."21
Even before World War II, both MLB and the NFL recognized that declining transportation costs and changing population patterns were undermining the traditional location of teams. By the 1940s it made little economic sense
for Los Angeles to have no major league franchises while Boston had two
baseball teams and a hockey team. San Francisco had a half million more people in its metropolitan area than St. Louis, but it had no major league sports
teams while St. Louis had two baseball teams.22
After the war, both MLB and the NFL put franchises on the West Coast,
but neither sport did so by expanding the number of franchises. The NFL's
Rams moved to Los Angeles from Cleveland in 1946, a departure prompted
by the arrival of the Cleveland Browns of the new All American Football Conference (AAFC).23 Baseball had an explicit offer to expand westward when the
Pacific Coast League (PCL), a high minor league that had sent stars like Joe
DiMaggio and Ted Williams to MLB, broached the idea of becoming a third
major league. The negotiations fell through, however, when MLB, which
regarded its own reserve clause as sacrosanct, refused to honor the PCL's contracts with its own players. Instead, MLB chose to allow the Giants and
Dodgers to move west, establishing a beachhead on the West Coast and reducing the PCL to truly minor league status.24
MLB seemed perfectly content to respond to demographic pressures by
rearranging franchises until it undertook the first systematic expansion by a
professional sports league in 1961. The new policy, however, did not reflect
21Quoted
in Euchner, Playing the Field (1993), p. 24.
Danielson, Home Team (1997), p. 25.
23The Rams feared the popularity of a new team headed by the legendary Ohio State coach,
Paul Brown, who gave his name to the new team. See Jon Morgan, Glory for Sale: Fans, Dollars,
and the New NFL (Baltimore: Bancroft Press, 1997), p. 59.
24See Sullivan, The Dodgers Move West (1987), pp. 90–94.
22See
LEED.EPSO.ch05.149-186 4/27/01 2:24 PM Page 162
162 CHAPTER 5 The Public Finance of Sports: The Market for Sports Franchises
a change of heart. Instead, it was a direct response to pressure from Congress.
Faced with the highly unpopular moves of the Dodgers and Giants, and
aghast at the impending loss of the Washington Senators to Minneapolis–St.
Paul (where they became the Twins), Congress had once again begun to investigate baseball's antitrust exemption. In addition, Branch Rickey, the man who
built the great Cardinal teams of the 1930s and Dodger teams of the late 1940s
and 1950s, was looking into forming a new league, with two of the flagship
teams planned for Houston and New York. Not surprisingly, three of MLB's
first four expansion teams were located in Houston, New York, and Washington, D.C.25 The fourth team, the Los Angeles (later Anaheim) Angels, gave
the American League the West Coast presence that it had long coveted.
The NFL's first several expansions also came under duress. As noted in
Chapter 4, the NFL had no intention of expanding in the early 1960s until it
learned that the fledgling American Football League (AFL) planned to put
teams in Dallas and Minneapolis. The AFL also spurred the NFL's second
expansion in 1967. This time, however, the motive was peace, not war. The
NFL and AFL recognized that their impending merger would run afoul of the
antitrust laws and requested special legislation that would allow them to
merge. In their path stood two powerful legislators from Louisiana, Representative Hale Boggs and Senator Russell Long, who could have delayed or
derailed the legislation. Fortunately, both men were keen to have an NFL
franchise in New Orleans. Not surprisingly, less than two weeks after Congress passed the legislation granting the NFL and AFL the right to merge, the
NFL approved the creation of the New Orleans Saints.26
Cities sometimes contribute to the monopoly power of teams by committing themselves to projects despite having no corresponding guarantee
from the franchise. For example, in May 1990 the residents of Cuyahoga
County, which includes Cleveland, voted to approve the construction of a new
baseball stadium for the Indians and a new basketball arena for the Cavaliers,
who were playing in the Richfield Coliseum in a nearby suburb. Unfortunately for the residents of Cuyahoga County, the Indians did not agree to lease
terms until December, and the Cavaliers did not agree until even later. Worse
still, the teams had not even agreed on architectural plans for the new facilities. Having committed themselves to new facilities, the civic leaders forfeited any bargaining power with the franchises. The teams were able to insist
on added features like two stadium suites, two office complexes, and a restau-
25See
Zimbalist, Baseball and Billions (1992), pp. 16–17; and James Miller The Baseball Business: Pursuing Pennants and Profits in Baltimore (Chapel Hill: University of North Carolina Press, 1990), pp.
78–84.
26Morgan, Glory for Sale (1997), p. 89; and David Harris, The League: The Rise and Decline of the NFL
(New York: Bantam Books, 1986), p. 17.
LEED.EPSO.ch05.149-186 4/27/01 2:24 PM Page 163
5.2 How Teams Exploit Market Forces
163
rant, all at no extra charge to them. These add-ons led Jacobs Field to cost
about $48 million more than estimated and Gund Arena to cost $73 million
more, almost double the arena's estimated cost.
The All-or-Nothing Demand Curve
While a monopoly has the power to set the price it charges or the quantity
that it sells, it generally cannot do both simultaneously. For example, if a
monopolist sets the price of its product, consumers' responses determine
quantity. They respond to the monopoly price by buying as much of the good
or service as they want. The monopoly's power is thus limited by the demand
curve that it faces. If, as in Figure 5.1, the monopoly raises its price from p0
to p1, it must accept the fact that its sales fall from Q0 to Q1. Even the most
powerful monopolist generally cannot tell consumers how much to pay and
how much to buy.
Under certain circumstances, a monopolist can dictate both price and
quantity. Foot-long hot dogs at the ballpark or one-pound boxes of Milk Duds
at the movie theater may have become something of a tradition, but they
are also far bigger than most consumers want to buy. They are, instead, part
of an attempt by producers to extract consumer surplus by getting consumers
to buy more than they would choose. By not allowing consumers to bring
in their own candy, the theaters establish local monopoly power over the
p ($ per unit)
p1
p0
D
0
Q1
Q0
Q (quantity of units)
Figure 5.1
To Sell More, Most Monopolists Must Reduce Price
LEED.EPSO.ch05.149-186 4/27/01 2:24 PM Page 164
164 CHAPTER 5 The Public Finance of Sports: The Market for Sports Franchises
sale of candy.27 Similarly, sports leagues—or individual team owners—exploit
their monopoly power by auctioning off teams to an array of eager cities.
Teams confront cities with an all-or-nothing choice. Since the city cannot
choose to host a franchise for a smaller part of a season at a lower price, it
must pay the full price or have no franchise at all.
If a sports franchise acted like a typical monopolist, it would charge the
city the monopoly price of p1 per game and let the city "buy" all the games
it wanted. As seen in Figure 5.2 the city would choose to "buy" Q1 games, and
the city's residents would enjoy the consumer surplus ACE. Figure 5.2 shows
that the team can take some of this surplus by telling the city that if it wants
to host any games at all, it must host all Q2. Buying more games than it wants
at the price p1 imposes a "consumer loss" equal to EFG, since residents of
the city must pay more than the additional games are worth to them. The city
will accept this loss as long as the surplus that residents enjoy on the first
Q1 games is greater than the loss residents suffer on the next Q2-Q1. That
is, as long as consuming "too many" games is preferable to consuming noth-
27For
an alternative interpretation of the behavior of vendors at theaters or arenas, see Steven
Landsburg, The Armchair Economist: Economics and Everyday Life (New York: Free Press, 1993), pp.
157–167.
p ($ per game)
A
C
p1
F
E
G
MC
D
0
Q1
MR
Q2
Q (quantity of games)
Figure 5.2
A Monopolist Can Extract Consumer Surplus by Setting Price and Quantity
LEED.EPSO.ch05.149-186 4/27/01 2:24 PM Page 165
5.2 How Teams Exploit Market Forces
165
ing, the city will choose to consume too much. The franchise can push the city
to host more games until the size of the loss (EFG) catches up with the size
of the surplus (ACE).
The Winner's Curse
Even the pressures created by the all-or-nothing demand curve understate the
power of sports leagues or teams to extract consumer surplus. They often can
solicit bids that exceed the value of the franchise to the winning city. In any
auction in which the bidders do not know the value of the prize with absolute
certainty, the winner may well overpay for what has been won, damning himor herself with the "winner's curse." The winner's curse was first applied
to oil leases, when researchers sought to explain why investments by oil companies in the oil-rich Gulf of Mexico "paid off at something less than the local
credit union." Since then, it has been applied to contexts as diverse as
advances paid to authors and the salaries paid to baseball players.28
To see how the winner's curse works, consider what happens if Vancouver and several other cities bid to host the Grizzlies basketball team. To
win the auction, Vancouver must outbid the other potential host cities. Each
competitor bases its bid on how much it expects the Grizzlies to be worth.29
The competing cities hire experts to evaluate the benefits of a new franchise.
Based on these estimates, each submits bids to the NBA. Vancouver wins
the auction by bidding more than any other city. It may do so for any of three
reasons. Vancouver may bid more because it can make more profitable use
of the franchise than other cities can. For example, a basketball franchise may
allow Vancouver to exploit synergies with other attractions that do not exist
elsewhere.30 If Vancouver overestimates the benefits that the Grizzlies will
bring, it may overbid for the franchise and win the auction even though it
would have been better off losing. Finally, the auction process itself may lead
Vancouver to bid more than the Grizzlies are worth even when it correctly
estimates the team's value.
At first glance, the chance of Vancouver's overbidding for the Grizzlies
seems unlikely. As we saw in Chapter 2, if Vancouver recognizes that the
Grizzlies pose an uncertain payoff and Vancouver is risk averse, then its
expected utility from winning the auction falls. Figure 5.3 shows that a risk
averse city has lower expected utility from a project that pays $200 million
28Richard Thaler, "The Winner's Curse," Journal of Economic Perspectives, v. 2, no. 1 (Winter 1988),
pp. 191–202. For an application to sports, see James Cassing and Richard Douglas, "Implications of the Auction Mechanism in Baseball's Free Agent Draft," Southern Economic Journal, v.
47, no. 1 (July 1980), pp. 110–121.
29Since cities have much greater access to capital than individuals, we ignore the question of
the city's ability to pay.
30For example, Montreal and Atlanta converted their main stadia to baseball stadiums after the
Olympics.
LEED.EPSO.ch05.149-186 4/27/01 2:24 PM Page 166
166 CHAPTER 5 The Public Finance of Sports: The Market for Sports Franchises
Utility
U($200M)
U($100M)
E (U )
U ( $0)
0
$100M
$200M
Return
Figure 5.3
Cities Prefer Sure Payoffs to Risky Ones
or $0 with equal probability than it does from a project that pays $100 million with certainty. It will therefore bid less for such a project than for the project that returns a sure $100 million. Based on this reasoning, uncertainty
should cause cities to underbid rather than overbid for franchises.
The key to the winner's curse lies in the fact that not all cities have the
same expectations and that only the most optimistic bidder wins the prize. In
addition to any objective advantages it may have over other cities, Vancouver's winning bid also reflects its optimism about the uncertain value of the
Grizzlies. If Vancouver is more optimistic than other cities about its ability
to turn a profit, it is also more likely to overstate the value of the Grizzlies and
hence more likely to submit a bid that is higher than the true return to hosting the Grizzlies. In the context of Figure 5.3, Vancouver feels that it has a
much higher probability of success than any other city, leading the expected
profit from the games to move upward toward $200 million.
Finally, Vancouver may simply get caught up in trying to win the right
to host the Grizzlies independent of expected benefits. Empirical studies and
clinical experiments of bidding behavior have shown that, on average, bidders
accurately assess the value of uncertain prizes. The winning bid, however, consistently overstates the value of the prize. Moreover, the degree to which a
winner overbids, and hence the degree of loss, generally rises with the number of bidders. This has led some economists to conclude that participants
get caught up in the action and begin to set winning the auction as a goal in
LEED.EPSO.ch05.149-186 4/27/01 2:24 PM Page 167
5.3 The Case of the International Olympic Committee
167
itself. As a result, bids by cities and individuals alike may reflect both the value
of the prize and the desire to win the prize regardless of its inherent worth.
5.3 THE CASE OF THE INTERNATIONAL
OLYMPIC COMMITTEE
The International Olympic Committee (IOC) may be the ultimate franchise
monopolist. With one Summer Olympics and one Winter Olympics held
every four years, cities see a chance to attract hordes of tourists and generate international attention. The high price of staging Olympics and the corruption that has tainted the site selection process in recent years form a case
study of the three forces outlined above. Cities that wish to host the Olympics
must purchase the right from a producer with little direct competition. Cities
that consider bidding on the Olympics also face the constraint that they cannot purchase part of an Olympics and, thus, face an all-or-nothing decision.
Finally, the winning city may be overly optimistic about the benefits that hosting the Games will bring or may be led by the auction process to overbid
for the right to stage the Games. In this example, we explore how the IOC has
exploited each of the market forces outlined earlier in this chapter.
Over the years, there have been numerous entrants into the market for
multisport athletic competition, making for about 40 Olympic-style events.
These generally consist of regional competitions like the Pan American Games
or events focused on specific sets of competitors, like the Commonwealth or
World University Games. The Goodwill Games are the only events in recent
history that have attempted to rival the Olympics in offering broad-based competitions among the world's athletes. Even the Goodwill Games, though, have
never seriously competed with the Olympics. They have neither caught the
public's attention nor achieved the financial stability of the Olympics and
depend on infusions of funds from their creator, Ted Turner.31 The failure of
the entrants to have a significant impact on the Olympics suggests that the
audience may not be large enough to justify the large fixed cost of staging competing games. As a result, the Olympics resemble a natural monopoly.
While it may be a natural monopoly, the IOC has not relied solely on market forces to protect its monopoly position. It has, for example, repeatedly
gone to court to protect its trademark rights over the term "Olympics."32 In
addition, one could view the shift from holding winter and summer games
in the same year as an attempt to flood the market in order to forestall entry
by competitors.
31See, for example, Michael Hiestand, "Goodwill Games, Site Hope for Mutual Gain," USA Today,
July 5, 2000, p. C2; and Karen Allen, "Turner Plans on Keeping Games Going, Winter Site is to
be Determined," USA Today, February 21, 2000, p. C10.
32See, for example, James Grimaldi, "Olympics File Suit Over Web Domain," Washington Post,
July 14, 2000, p. E4, at http://washintonpost.com/wp-dyn/articles/A40476-2000July13.html.
LEED.EPSO.ch05.149-186 4/27/01 2:24 PM Page 168
168 CHAPTER 5 The Public Finance of Sports: The Market for Sports Franchises
Massive spending by cities seeking to host the Games has long been a part
of the Olympics. Los Angeles spent about $1 million to build the Coliseum
in an unsuccessful attempt to attract the 1924 Games and spent almost another
$1 million (for a total of almost $21 million in 1999 dollars) to refurbish the
Coliseum in its successful bid for the 1932 Games. Cleveland spent even more,
roughly $3 million (over $36 million in 1999 dollars), to build the mammoth
Municipal Stadium—when completed, it had the largest seating capacity of
any outdoor arena in the world—in its unsuccessful bid to host the 1932
Games. Germany spent huge sums as part of its successful effort to outdo
the "Hollywood Olympics" and to present the world with a positive image
of the Nazi regime during the 1936 Berlin Games. One of the cities Berlin beat
out was Barcelona, which housed much of the 1992 Games in the stadium it
built in 1929 in an attempt to host the 1936 Games.33
In more recent years the cost of attracting and staging the Games has
reached truly Olympian heights. In 1976, Montreal spent roughly C$1.6 billion on its Summer Games. Lacking a significant tax base, Montreal was left
with a debt burden of about C$1 billion (about US$750 million) that would be
paid in part by residents who had not been born when the torch was lit.34
At the time, Montreal's expenditure seemed the height of folly. Eight years
later, however, the stakes rose dramatically.
In staging the 1984 Summer Games, the Los Angeles Olympics Organizing Committee, headed by Peter Ueberroth, showed that cities could work
with private sponsors to stage a highly profitable Olympics. It was not long,
however, before the costs began to catch up with revenues. In 1998, Nagano
spent between $13 and $14 billion on the 1998 Winter Games, an event significantly smaller than the Summer Games. (The figures remain in dispute
due to the secretiveness of the Nagano organizers, who destroyed many of
the financial records.) The $28 million surplus that resulted from the actual
operation of the Games still left Nagano and the Japanese government with
a debt burden of about $11 billion.35
33Raymond
Keating, "Sports Pork: The Costly Relationship Between Major League Sports and
Government," Policy Analysis, no. 339 (Washington, D.C.: Cato Institute, 1999), p. 4; Mark Rosentraub, Major League Losers (New York: Basic Books, 1997), pp. 253–254. The propaganda value
of the 1936 Olympics and the elaborate preparations for the Games are described in Duff HartDavis, Hitler's Games (London: Century, 1986); and R. Mundell, The Nazi Olympics (New York:
Ballantine Books, 1972).
34Ed Zotti, "Hosting the Olympics—Not All Fund and Games," Advertising Age, February 7, 1983,
v. 54, no. 6 (from ProQuest); and M. Lawson, "Going for Gold," Accountancy, v. 117, no. 1234 (June
1996), pp. 30–32.
35Anonymous, "Asia: Downhill All the Way," The Economist, February 7, 1998, p. 44; Quebecor
News Media, "Olympics Give Respite, but Larger Concerns Hang Over Nagano," at http://
www.canoe.ca/SlamNaganoNewsArchive/feb21_oly2.html, February 21, 1998; SportZone,
"Nagano Olympics Has $32 Million Surplus," at http://espn.go.com/olympics98/news/
980709/00765455.html, January 12, 1998; and Douglas Robson, "Sydney Finds Its Facilities Formula in Blend of Public–Private Financing," Street and Smith's Sports Business Journal, v. 2, no.
27 (October 25–31, 1999), p. 33.
LEED.EPSO.ch05.149-186 4/27/01 2:24 PM Page 169
5.3 The Case of the International Olympic Committee
169
The IOC's monopoly position explains only a part of its power over cities.
The profits shown by the 1984 Los Angeles Games dramatically increased the
number of cities bidding to be a host site. In effect, the Games became an asset
that the IOC could auction off to the highest bidder, much like a valuable
painting on auction at Sotheby's or a firm that is the target of competing
takeover bids. As the number of competing bidders rises, the bidders drive
the price of the asset upward. In the limit, the price of the asset approaches
the expected profits (or utility) that the asset can provide. The original owner
of the asset—in this case, the IOC—captures all the value of the asset, just
as the monopolist can extract all consumer surplus through the all-or-nothing demand curve.
To see how much a city would be willing to bid, we make several simplifying assumptions. First, suppose that all costs are paid the moment the
city wins the bid. Second, suppose that the revenue the city receives from
the games (e.g., revenue from the Games themselves and from future use of
the facilities built for the Games) comes in annual lump sums. Finally, assume
that cities know exactly how much they must spend and exactly how much
revenue they will receive, so that expected revenue always equals actual revenue. The first two assumptions make our analysis much neater without
straying too far from reality. We shall replace the third assumption with a less
restrictive one shortly. Under these assumptions, if the city receives benefits
of Bt for each of T years after it wins the bid, then it is willing to pay the
price P, where P equals V, the value of the future stream of returns.
One might expect V to equal the sum of payments the city receives
(B1 +B2+B3+B), but reality is a bit more complicated. The city must
compare a present cost with a future stream of benefits. Since one can save
the dollar that one receives today and earn the market rate of interest, r, a
dollar today actually equals 1+r dollars a year from today, (1+r)2 dollars
two years from today, and so on. The future value that $1 today will have
in t years is thus $(1+r)t, while the present value of $1 that one will receive
t years from today equals $1/(1+r)t. The present value of the stream of
benefits to the city equals
V=
B3
B1
B2
+
+
+L
(1 + r) (1 + r)2 (1 + r)3
When the stream of benefits from hosting an Olympics increased in the wake
of the 1984 Los Angeles Games, the IOC was able to extract greater payments
from cities. These payments took the form of increasingly elaborate facilities, increasingly luxurious accommodations for IOC members, and, finally,
outright payments to members of the IOC site selection committee.
The revenue stream that the host city will receive, however, is far from
certain. As we saw in our discussion of the winner's curse, the winning city
is likely to overstate the value of the Games to the city and wind up paying
a price that exceeds the actual value of the Games (P>V).
LEED.EPSO.ch05.149-186 4/27/01 2:24 PM Page 170
170 CHAPTER 5 The Public Finance of Sports: The Market for Sports Franchises
Finally, cities may just want to win. The competition among the cities hoping to host the 2008 Summer Olympics—Beijing, Paris, Istanbul, and Osaka—
exemplified the pressure on the cities to win the auction. From the outset
the rival sites viewed the bidding process as "a high-level competition
between cities and countries."36 Consciously or not, the IOC structures the
selection process as a tournament, with cities advancing from preliminary
rounds to "the finals," with the ante rising at each stage. Even the terminology used by journalists and bid officials resembled that of the athletic competition they hoped to stage. The official Chinese news source pictured Beijing
as being in a "neck-in-neck [sic] competition" to host the 2008 Games, while
Osaka officials cited the need to catch their breath before moving forward.
Toronto officials were even more explicit, saying, "We've made the playoffs
… [b]ut there are a bunch of rounds coming up and we've got to make sure
that we're the last survivor at the end of the day." The emotion and selfesteem invested in such competition makes winning the competition an end
in itself, beyond the financial merits of the prize itself.37
In sum, the Olympics represent a very challenging problem for potential host cities. Those that would like to host the games face a monopolist
offering an all-or-nothing demand curve in an environment in which costs
and benefits are both highly uncertain. More broadly, the resources that cities
expend simply in an effort to win the right to stage the Games reduce efficiency in the overall economy.
5.4 THE FORM AND FUNCTION OF STADIA
AND ARENAS
The ability of leagues and event organizers to exploit their market power
has had a major impact on the nature of the facilities themselves. Facilities
have changed names, location, and even size and shape over the years, as
the source of funding has shifted from the owners to the public sector. In
this section we see that the growing involvement of the public sector in the
1960s gave rise to the large, multipurpose stadium. Along the way, we
encounter the economic theory of location and learn why the skyline in
Crookston, Minn., does not resemble the skyline in Manhattan and why central business districts are indeed central.
36Beijing's Vice-Mayor Liu Jingmin, deputy director of the Chinese Olympics Bidding Committee, quoted in "Bejing Enters Play-offs to Be Olympics Host," People's Daily Online, March 24,
2000, at http://english.peopledaily.com.cn/200003/24/eng20000324S101.html.
37See People's Daily Online (2000); Channel Sports, "Beijing Welcomes Inclusion on Shortlist to
Hold 2008 Olympics," China Daily Information, August 29, 2000, at http://www.chinadaily.net/
cover/storydb/2000/08/29/sp-beiji.829.html; Reuters, "Osaka Vows to Battle On to Host 2008
Olympics," August 28, 2000, at http://web4.sportsline.com/u/wire/stories/0,1169,2712403_
15,00.html; and Dan Ralph, "Toronto Among Finalists to Host 2008 Olympics," Canadian Press,
August 29, 2000, at http://www.herald.ns.ca/stories/2000/08/29/f161.raw.html.
LEED.EPSO.ch05.149-186 4/27/01 2:24 PM Page 171
5.4 The Form and Function of Stadia and Arenas
171
What's in a Name?
At the risk of some oversimplification, one can divide the history of sports
facilities into three broad eras. Like a paleontologist identifying dinosaur
bones, one can discern one era from another by looking for certain telltale signs
in each facility. The first era consisted of baseball stadiums with names like
Forbes Field, Wrigley Field, or Shibe Park. The second era was marked by multipurpose facilities with names like the Texas Stadium, Oakland–Alameda
County Stadium, or Atlanta—Fulton County Stadium. The third era consists
of sport-specific venues with names like Bank One Ballpark, the First Union
Center, or the National Car Rental Arena. Sometimes a given facility reflects
the transition from one era to another, as when Riverfront Stadium in Cincinnati was renamed Cynergy Field.
The first era covered the first two decades or so of the twentieth century. All
of the facilities built during this era have two things in common. First, none
has the word "Stadium" in its title. The universal use of the word "Park" or
"Field" reflects the pastoral origins of baseball. In its formative years, prior to
the enclosure of games in private structures, baseball games were played in open
fields or parks. The term "stadium" was not used until Jacob Ruppert applied
the name to his new "Yankee Stadium" in 1923 in a deliberate attempt to recall
the grandeur of classical architecture. (Stadium comes from the Greek word stadion, which originally referred to a specific distance, later referred a race of that
distance, and eventually came to mean the seats for spectators who watched the
race.) Second, all the ballparks, with the exception of Fenway Park, bear the
name of the owner of the baseball team for which the stadium was built.38 During this era, teams typically built their own ballparks since the point of enclosing the field was to prevent bystanders from seeing ballgames for free.39
The unparalleled stability that baseball enjoyed during its "Golden Age"
brought no need for new construction. Prior to 1950, Cleveland's Municipal
Stadium and the Los Angeles Coliseum were the only major publicly built
facilities, and—as noted earlier in this chapter—they were built with the
Olympics and not baseball or football in mind. Since that time, the aging of
the old facilities, the changing face of American cities, and the growing ability and willingness of franchises to utilize the market forces described earlier in this chapter led to the gradual disappearance of facilities built in the
first era. Of these ballparks, only Wrigley Field, Fenway Park, and Yankee Stadium still exist, and efforts are under way to replace the latter two parks.
While there were some antecedents in the 1950s—such as Milwaukee's
County Stadium and Baltimore's Memorial Stadium—the second era of
38Wrigley
Field was originally named Weghman Field for the owner of the Chicago Whales of
the Federal League. When Philip Wrigley bought the team and the stadium, he renamed it for
himself.
39In 1936 Connie Mack went so far as to erect a "spite fence" behind right field of Shibe Park to
prevent fans from viewing the game from the roofs of nearby apartment buildings.
LEED.EPSO.ch05.149-186 4/27/01 2:24 PM Page 172
172 CHAPTER 5 The Public Finance of Sports: The Market for Sports Franchises
stadium construction ran roughly from 1962 to 1991. The first stadium in
this new era, Dodger Stadium in Los Angeles, was one of the key lures that
brought the Dodgers west. While "Dodger Stadium" is a relatively neutral
name, most of the new stadiums of this era have names that reflect the fact
that municipalities were now paying for the new ballparks. Most municipalities chose to name the facilities for themselves, for local geographical
features, such as Three Rivers Stadium in Pittsburgh, or for patriotic causes,
like Veterans Stadium in Philadelphia.
The third set of names represents the newest trend in facilities, the sale
of naming rights to private sponsors. As shown in Chapter 3, naming rights
form a significant, though often overstated, source of income for teams. Bank
One Ballpark, the TransWorld Dome, and National Car Rental Arena were all
built largely with public funding. Even the First Union Center and Ericsson
Stadium, which were ostensibly privately built, received substantial implicit
subsidies from state and local governments.40
The Size and Shape of Facilities
In Chapter 2 we pointed out that the Philadelphia Phillies seldom sell out
because they play in a stadium that is too big for them. Most baseball teams
fail to sell out a significant amount of the time. The major exceptions to this
rule are the Boston Red Sox and Chicago Cubs, who play in relatively old ballparks, and the San Francisco Giants and Cleveland Indians, who play in new,
baseball-only stadia. During the second era of sports facilities (1962–1991),
stadia grew significantly and assumed the "cookie-cutter" shape that has
since been so reviled. In this section we examine why the size and shape of
stadia changed so dramatically.
Multipurpose Facilities: Size Does Matter The trend toward publicly funded
facilities was accompanied by a trend toward larger arenas. Until the 1960s
baseball team owners built ballparks specifically to house the teams they
owned. Like the hockey owners who rented their arenas to basketball teams,
baseball owners allowed football teams to rent the facilities in the off-season for an additional source of revenue. Football teams jumped at this
arrangement since they could not afford to build their own facilities and were
often anxious to capture some of the reflected glory of the baseball teams.41
40"The city [of Charlotte] put in about $30 million of work prior to the announcement [that the
Charlotte ownership group had been selected for an NFL franchise]." Catherine McHugh, "Ericsson Stadium," TCI, v. 31, no. 4 (May 1997), pp. 32–35 (from ProQuest).
41NFL teams even adopted variants of the names of MLB teams whose facilities they used (e.g.,
the Chicago Bears, who rented Wrigley Field from the Cubs) or took on the names of the teams
themselves (e.g., the New York Giants of the NFL, who rented the Polo Grounds from MLB's
Giants). Ironically, college football enjoyed a building spree during the early decades of the
century. These were the years when classic facilities like Michigan Stadium and the Yale Bowl
were built.
LEED.EPSO.ch05.149-186 4/27/01 2:24 PM Page 173
5.4 The Form and Function of Stadia and Arenas
173
In the 1960s, as cities became more involved in funding and designing
facilities, football had begun to overtake baseball in popularity. In the original era, football teams had to play in baseball stadiums that failed to provide proper sight lines for watching a football game. In addition, the size of
the old ballparks was beginning to prove inadequate for football. Playing only
eight regular season home games a year, usually on a Sunday afternoon,
professional football teams began to draw far more fans than baseball teams
for a typical game. In conjunction with Pete Rozelle's "league-think" leadership style, football teams were enjoying their own era of stability in the
1960s and 1970s. Lacking a credible threat to leave town, NFL franchises were
not yet in a position to demand their own ballparks. However, their growing prominence on the American sports scene was reflected in the design of
the new facilities. The new, multipurpose stadia had to accommodate the
larger fan base for football teams, leaving the capacity far larger than a baseball team could fill for most games. As a result, baseball teams whose home
fields were built during the second era of facilities rarely sell out their games.
Football teams that play in the same facilities are far more likely to draw
capacity crowds.
Shape Matters, Too A camel has often been called "a horse designed by committee." Like the camel, the circular, multipurpose stadia that were built during the second era reflected a compromise of interests that in the end satisfied
no one. Cities that constructed multipurpose facilities now had to take the
popularity of football into consideration. Unfortunately, the ideal football stadium and the ideal baseball stadium look nothing alike.
Football teams play on a standardized, rectangular field. Teams score
by going to one end of the field or the other, but the bulk of the action takes
place in the middle of the field. A football stadium's least desirable seats are
therefore located in either end zone. Such seats give little perspective on the
action and provide a poor view of what is happening on much of the field.
They are typically the cheapest and last to sell. Figure 5.4 shows the design of
a football-only facility, Cleveland Browns Stadium. It maximizes the number of fans who can sit along either sideline and has relatively few seats far
from the action.
By contrast, most of the action on a baseball field takes place within the
diamond that forms the infield. Early baseball stadia thus consisted of grandstands that extended outward from home plate around the foul lines and
did not encompass the outfield. The new "fan friendly" ballparks have
returned to this pattern. One of the newest ballparks, Bank One Ballpark,
has only 15 percent of its seats in the outfield.42 Figure 5.5 shows the design
of Cleveland's baseball-only facility, Jacobs Field. Like the older ballparks
42Sherman,
Big League, Big Time (1998), p. 218.
LEED.EPSO.ch05.149-186 4/27/01 2:24 PM Page 174
MP
RA
T
ES
539
HW
538
533
534
535
536
537
532
531
530
529
NO
RT
HE
AS
528
T
527
540
400 LEVEL SUITES
541
542
339
340
543
336
337
338
341
333
334
335
526
332
331
330
525
329
328
327
200 LEVEL SUITES
524
326
342
325
343
344
139
137
138
136
135
133
134
132
131
324
130
129
127
141
345
323
125
144
122
20
CLEVELAND
30
30
40
20
40
50
10
10
50
40
348
40
30
148
20
147
30
20
BROWNS
146
10
121
320
120
119
319
149
118
150
349
321
10
346
347
322
124
145
350
318
117
101
116
102
104
105
106
107
108
109
111
110
112
113
317
115
200 LEVEL SUITES
301
302
316
303
304
305
306
PRESS B
501
307
308
309
310
311
312
313
L
400 LEVE
OX
314
SUITE
315
S
516
502
SO
515
503
UT
504
HW
RA
P
M
NO
RT
174 CHAPTER 5 The Public Finance of Sports: The Market for Sports Franchises
505
EST
RAMP
513
506
507
508
509
510
511
514
512
SOUT
HEA
R
ST
AM
P
Figure 5.4
Cleveland Browns Stadium—A Football-Specific Venue
whose memory it seeks to evoke, Jacobs Field maximizes the number of seats
near home plate and the infield, where most of the fans focus their attention, and has relatively few seats in the outfield, far from the action.
The circular shape of the cookie-cutter stadia strikes a middle ground
between the two ideal shapes, providing fans with a good view of neither
sport. Figures 5.6 and 5.7 show Veterans Stadium in Philadelphia when it is
configured for baseball and football games, respectively. In both cases the stadium has a relatively large number of seats in the least desirable locations.
When arranged for football, Veterans Stadium has a large number of seats
in the end zone, and many of the seats near midfield are far from the playing surface. When arranged for baseball, it has a large number of seats in
LEED.EPSO.ch05.149-186 4/27/01 2:24 PM Page 175
5.4 The Form and Function of Stadia and Arenas
180A
180
181
182
183
175
185
179
577
478
178
303
102
575
572
101
177
175
472
570
172
107
108
169
109
267
567
403
103
111
165
468
113
564
262
460
559
258
157
121
130
558
557
348
253
516
519
434
447
522
528
529
442
537
453
521
427
525
250
555
514
326
340
556
511
518
334
149
255
411
421
142
153
311
119
136
458
509
309
317
117
125
507
307
316
116
161
561
504
304
533
541
554
546
553
552
551
550
548
Figure 5.5
Jacobs Field—A Baseball-Specific Venue
the outfield, far from the action. As a result, a substantial number of both baseball fans and football fans have inferior views of the action in multipurpose
stadia like Veterans Stadium. Not surprisingly, the teams have trouble selling
such tickets.
The cookie-cutter shape of the second era's facilities also imposed uniformity on baseball, which had previously been characterized by idiosyncratically shaped ballparks. While the size and shape of a football field and
a baseball infield are carefully specified, the shape of a baseball outfield has
few restrictions. As a result, the first era of facilities contained stadia in a
dizzying array of sizes and shapes. Stadia were sometimes shaped around the
LEED.EPSO.ch05.149-186 4/27/01 2:24 PM Page 176
176 CHAPTER 5 The Public Finance of Sports: The Market for Sports Franchises
GATE E
B
615
514
614
513
512
613
612
510
611
610
716
0
1 71
715 714
713 712 71
P E
N T H
S
O U S E S U I T E
502
604
5
60
7
6
60
60
709
8
70
701
5
70
50
8
609
702
304
50
6
7
508
503
5
30
6
504
305
20
509
70
511
309
7
70
AT
E
515
310
312
501
303 30
2
717
616
314
50
8
22
617
214
316
703
5
12
5
8
7
30
8
30
601
8
34
24
8
247
246
244
71
516
216
318
209
210
G
E
AT
G
9
517
218
320
212
704
53
532
347
346
344
342
8
322
220
602
3
1
63
531
0
61
71
222
6
324
7
20
60
72
8
20
0
10
8
224
51
111
0
9
9
110
112
0
1
62
51
61
109
0
1
1
6
101
102
103
104
105
106
107
108
23
52
62
72
32
0
210
20
603
63
2
73
242
232
33
522
622
722
6
8
52
22
205
20
6
6
208
GATE G
652
234
0
10
752
554
113
751
651
236
332
523
623
334
524
624
336
525
114
32
555
201
301
238
338
526
625
3
4 72
725 72
S
S U I T E
115
750
553
273
373
240
117
650
552
272
372
528
649
551
271
371
527
626
118
116
749
550
270
370
121
120
119
648
9
54
9
530
8
26
124
123
122
748
7
246
529
26
7
266
9
36
630
7
367
1
629
54
7
64
73
1
5
6
8
26
730
264
64
54
74
262
545
366
9
248
628
364
25
729
362
0
627
260
d
ate
im ard
An rebo
o
Sc
360
258
8
36
24
358
5
54
0
35
9
34
356
4
4
6
351
354
74
74
64
64
4
53
352
544
643
25
728
6
53
5
53
543
1
25
0
25
727
537
542
541
H
3
63
340
726
P E
N T H
O U S E
GATE C
6
540
5
2
G
7
642
539
538
12
D
AT
E
34
63
636
635
G
4
73
33
Ph
asa
Vis
ion
F
E
AT 746
T H O U S E S U I T
E S
P E N
7 738 739 740 741 74
3
7
2 7
36
7
43
639 640 641
735
7 638
GATE A
Figure 5.6
Veterans Stadium—A Multipurpose Venue Configured for Baseball
particular strengths or weaknesses of the home team. Yankee Stadium may
have been the "house that Ruth built," but it was also built to order for Babe
Ruth, a left-handed batter who hit prodigious home runs. Yankee Stadium
accommodated Ruth with a short right field fence and left-center field so deep
that it came to be known as "Death Valley." The old Baker Bowl in Philadel-
LEED.EPSO.ch05.149-186 4/27/01 2:24 PM Page 177
5.4 The Form and Function of Stadia and Arenas
177
GATE E
711
715
714 713 712
P E
S
N T H O
U S E S U I T E
710
701
601
702
602
501
502
703
503
704
5
5
60
5
70
6
60
7
6
60
60
7
8
709
70
70
H
70
8
609
604
504
305
6
30
6
50
50
AT
E
610
7
508
603
201
203 20
2
204
5
20
105
104
108
107
106
109
110
112
111
101
611
30
G
B
245
25
0
5
612
510
50
342
242
PHILADELPHIA
22
6
22
8
613
511
302 301
8
246
512
509
303
3
53
34
532
347
346
344
528
244
614
513
309
304
73
2
63
2
1
63
630
531
530
529
12
D
AT
E
G
73
1
730
629
628
627
10
20
30
40
50
40
30
20
10
514
310
312
GATE G
314
752
716
615
214
751
B
717
616
515
216
316
750
617
71
516
218
318
749
E
AT
G
9
517
320
652
8
7
30
8
555
0
72
61
322
209
210
212
554
8
220
553
324
51
222
651
9
224
650
0
1
62
51
7
8
1
6
20
0
10
20
0
52
1
72
32
61
8
552
33
522
8
210
649
332
523
62
722
622
2
0
205
20
6
6
20
551
234
334
623
723
0
208
550
273
10
373
20
372
30
272
40
648
271
50
10
32
71
371
40
30
9
370
30
748
7
9
36
9
26
EAGLES
236
20
232
52
9
54
8
26
270
10
64
8
8
729
7
ted
ima ard
An rebo
o
Sc
54
367
8
728
5
6
267
N-R
12
12 5
12 6
7
64
54
36
266
5
54
260 262
264
4
545
366
74
4
64
12
238
336
S U I T
E S
364
Ph
as
aV
isio
n
74
643
544
124
123
122
240
338
727
362
121
120
247
AA
5 51
12 2
360
119
8
543
118
24
117
116
9
113
542
256 258
115
114
251
0
25
24
254
252
541
743
7
74
0
35
9
34
641 6
42
358
356
354
352
351
540
640
6
64
4
53
340
524
624
525
625
724
526
626
725
GATE C
53
5
53
538
537
6
63
527
726
T H O U S E
P E N
4
63
539
639
F
E 6
AT 74
636
635
638
637
G
7
3
73
735
34
3
73
O U S E S U I T E
N T H
S
P E
8 739 740 741
73
7
742
6 73
GATE A
Figure 5.7
Veterans Stadium—A Multipurpose Venue Configured for Football
phia so favored left-handed hitters that Red Smith, the famed columnist,
was moved to say, "It might be exaggerating to say the outfield wall casts a
shadow across the infield. But if the right fielder had eaten onions at lunch,
the second baseman knew it."43
43Quoted
in Rich Westcott, Philadelphia's Old Ballparks (Philadelphia: Temple University Press,
1996), p. 32.
LEED.EPSO.ch05.149-186 4/27/01 2:24 PM Page 178
178 CHAPTER 5 The Public Finance of Sports: The Market for Sports Franchises
Other fields were shaped to fit into a preexisting city plan. Center field
in Philadelphia's Shibe Park came to a distinctive point so that the stadium
could fit in the square block grid. Two of the most dramatic plays in baseball history—Bobby Thompson's "shot heard round the world," a dramatic
ninth-inning home run that beat the Dodgers in a 1951 playoff game, and
Willie Mays's miraculous catch of a mammoth drive by the Cleveland Indians' Vic Wertz in the 1954 World Series—had as much to do with the configuration of the Polo Grounds as with the talents of the two players. With
one of the oddest shapes of any baseball stadium, the Polo Grounds, named
for an area north of Central Park that the New York Giants shared with polo
teams before moving to their home in upper Manhattan, could be a very easy
place or an incredibly difficult place in which to hit a home run, depending
on where one hit the ball. The left field wall was only 258 feet away, with
an overhang that reduced the effective distance of the left field seats—where
Thompson hit his home run—to only 250 feet. Center field was a different
story. The stands in left-center field and right-center field were about 450
feet away, with a cutout in dead center field that extended the distance to
about 480 feet.44 In almost any other stadium, Willie Mays would have been
staring at the ball Vic Wertz hit as it sailed out of the park.
One can generally identify venues belonging to the current era of sports
facilities by the corporate names they bear. Even facilities that ostentatiously
rejected corporate naming rights, such as Cleveland Browns Stadium, could
not resist selling the naming rights to the four entrances to the stadium. Baseball and football fields built during the latest era have also generally returned
to the single-purpose facilities of the first era.
Starting with Oriole Park at Camden Yards, the latest generation of baseball fields has striven to recapture the feel of these old ballparks. The new ballparks, however, have been built with far looser budget constraints than the
old ballparks on which they are modeled. With cities picking up most of or
the entire bill, team owners are now able to build on a far grander scale. The
supposedly intimate Ballpark at Arlington (home of the Texas Rangers) takes
up 13.6 acres, about 2.5 times the space occupied by Ebbets Field and 50 percent more than the supposedly less intimate Kingdome did in Seattle.
The larger "footprint" of the modern stadia allows teams to fill them with
a wider array of accommodations than ever before, from food courts to restrooms. Most importantly, they allow teams to fill stadia with luxury suites
and other special seating. Because these seats occupy prime sight lines, the
general admission seats above them must be pushed up and back. In the past,
upper-deck seats—such as the overhang at the Polo Grounds—were close
to the action, supported by columns that obstructed the view of some. Modern architecture allows the upper deck to be supported without obtrusive pillars, and modern aesthetics rebel against obstructed seats. The result has been
44The precise distance varied over the years. See Paul Munsey and Corey Suppes, Ballparks, 1999,
at http://www.ballparks.com.
LEED.EPSO.ch05.149-186 4/27/01 2:24 PM Page 179
5.4 The Form and Function of Stadia and Arenas
179
seats that, while not obstructed, are much farther from the action than in
the ballparks they have replaced. According to one advocate, the last row
of the upper decks of Tiger Stadium and the old Comiskey Park were closer
to the field than the first row of the upper decks of their replacements.45
Upper-deck seats in supposed throwback parks like Jacobs Field in Cleveland, Coors Field in Denver, and the Ballpark in Arlington are even more distant from the action.46 Ironically, while the new stadia may no longer have
views obstructed by pillars, the average fan may have a worse view of the
action on the field than ever.
Location, Location, Location
Nostalgia buffs and urban planners delight in the fact that all the ballparks
built since the early 1990s, starting with Baltimore's Oriole Park at Camden Yards, have a "retro" feel. Not only are they built to look like the old ballparks (both Miller Field in Milwaukee and the proposed new stadium for the
New York Mets deliberately evoke memories of the Brooklyn Dodgers' old
Ebbets Field), they are frequently in downtown areas, reminiscent of the
old parks' locations.
The warm and fuzzy feeling associated with the downtown location of
the newest stadia is proof that nostalgia is not what it used to be. When
they were first built, the old ballparks were no more urbanized than the multipurpose facilities of the 1960s and 1970s. When Shibe Park (later renamed
Connie Mack Stadium) was built at 21st and Lehigh Streets in North
Philadelphia in 1909, it stood near the site of a recently demolished hospital for communicable diseases. Given the state of medical knowledge at the
turn of the century, society tended to deal with communicable diseases by
locating the patients as far from town as possible. For several years after
Shibe Park was built, Philadelphians complained about the distance they had
to travel to reach it.47 Similarly, Yankee Stadium in the South Bronx was not
always associated with urban devastation. It was built on an empty 10-acre
lot, bordered by unpaved roads, in a part of town known as "Goatville,"
hardly a metropolitan setting.48 Brooklyn's Ebbets Field was not much different. By the mid-1950s it may have come to epitomize the urban ballpark,
but in 1913 the neighborhood in which it was built bore the nickname "Pigtown … where poor Italian immigrants lived in miserable shanties amidst
goats and dandelions."49
45Cagan and deMause, Field of Schemes (1998), p. 135; and http://www.fieldofschemes.com/comerica.jpg.
46Phillip Bess, "Urban Ballparks and the Future of Cities," Real Estate Issues, v. 21, no. 3 (December 1996), pp. 27–30.
47See Bruce Kuklick, To Everything a Season: Shibe Park and Urban Philadelphia, 1909–1976 (Princeton, N.J.: Princeton University Press, 1991), pp. 21–25; and Westcott, Philadelphia's Old Ballparks
(1996), pp. 104–105.
48W. Nack, "This Old House," Sports Illustrated, June 7, 1999, pp. 100–116.
49Harold Seymour, Baseball: The Golden Years (New York: Oxford University Press, 1971), p. 52.
LEED.EPSO.ch05.149-186 4/27/01 2:24 PM Page 180
180 CHAPTER 5 The Public Finance of Sports: The Market for Sports Franchises
As time went on, urban areas developed and then decayed around many
of the old ballparks. As the old stadia began to decay themselves, team owners and cities turned their attention to the outskirts of town and the suburbs
for sociological, technological, and economic reasons. An increasingly suburbanized fan base was more and more reluctant to attend games in the
decaying inner city.
The movement to the suburbs also brought a need to accommodate fans
who drove to the game. Any new ballpark would have to come packaged
with acres of parking lots. The need for parking vastly increased the space
required for a stadium. Space, however, costs money and becomes increasingly expensive as one moves toward the center of town. Consider, for
example, the case of two bookstores, Barnes and Noble and Borders, that are
trying to figure out where to locate in the circular city shown in Figure 5.8.
The stores are identical in every way and compete largely on the basis of
locating in a convenient spot. If the population is evenly spread over the
city, then the best place for the stores to locate is in the very center of the circle. To see why, assume that the stores initially consider locating at the edge
of town, along the diameter AA in Figure 5.8. Since the stores are identical
in every way but convenience, customers base their purchases on how close
they are to each store. In this case, half the city's population is closer to
Barnes and Noble and half is closer to Border's. As a result, each store gets
an equal share of the city's business. The managers of the Barnes and Noble
quickly learn how customers decide where to go and recognize that they
can steal some of Borders' business by moving to a more convenient location. They can do so by moving along the diameter toward the center of
the circular town. The managers at Borders also recognize this and try to do
Barnes and Noble one better by moving still closer to the center of the circle. The process continues until both stores compete for space in the cen-
A
Figure 5.8
Competing Firms Move to the Center of Town
A
LEED.EPSO.ch05.149-186 4/27/01 2:24 PM Page 181
5.4 The Form and Function of Stadia and Arenas
181
Rent ($)
0
Distance from center of city
Figure 5.9
The Rent Gradient
ter of town. The tendency of businesses to locate in the center of a city has
given rise to the term central business district.
The competition for space also explains why property values are so much
higher as one moves toward the center of town. Urban economists call the
movement in property values the rent gradient. Figure 5.9 shows a typical
rent gradient. As one moves toward the center of town, the value of property rises. The increasing price of land leads people to economize on their use
of land, and buildings become taller. Since expanding horizontally becomes
more expensive as one moves closer to the center of town, developers start
to expand vertically. Figure 5.9 could measure the height of buildings as well
as the cost of land, since both rise as one moves inward. A stadium with its
surrounding parking facilities requires so much space that the cost of land can
make locating in the center of town prohibitively expensive.
The move away from the center of town and the creation of large parking areas has made stadia virtual islands in "seas of asphalt or concrete."50
Fans drive to these isolated stadia on highways designed to take fans to the
stadium from their suburban enclaves with minimal contact with the center
of town and its attendant traffic jams. Largely built with public funds in order
50Robert Baade and Allen Sanderson, "Field of Fantasies," Intellectual Ammunition, March/April
1996, at http://www.heartland.org/01maap96.htm, p. 2.
LEED.EPSO.ch05.149-186 4/27/01 2:24 PM Page 182
182 CHAPTER 5 The Public Finance of Sports: The Market for Sports Franchises
to attract consumer spending and income, the cookie-cutter stadia of the
1960s, 1970s, and 1980s were designed in a way that minimized any spillover
of consumer spending into the surrounding community. Since fans have
found it inconvenient to go into town to enjoy restaurants, taverns, and other
forms of entertainment, the stadium has taken on many of those functions
itself, further isolating the stadium and its income flows from the host area.
In the words of Robert Baade, "[I]n many cases the modern sports facility
resembles a small walled city."51 In moving stadia back to the center of town,
cities are expressing a willingness to spend more in order to generate greater
spillovers for the community.
51Robert Baade, "Should Congress Stop the Bidding War for Sports Franchises," Hearing Before
the Subcommittee on Antitrust, Business Rights, and Compensation, Senate Committee on the
Judiciary, November 29, 1995, v. 4, "Academics," Heartland Policy, at http://www.heartland.org/
stadps4.html, p. 16.
LEED.EPSO.ch05.149-186 4/27/01 2:24 PM Page 183
Biographical Sketch
183
AL DAVIS
BIOGRAPHICAL
Sketch
To me, professional football is a business and an avocation.
I never wanted to hurt anybody. To Davis, it is a war.
—GENE KLEIN1
n the history of professional football, few owners
have been so completely identified with their
teams as Al Davis is with the Oakland Raiders. He
has been the Raiders' head coach, their general manager, and even the commissioner of the old American
Football League. However, in a sport that prides itself
on its working-class, midwestern roots, Al Davis cuts
a most unlikely figure. A fast-talking Brooklynite from
an upper-middle class family, Davis originally preferred
the "city game" of basketball. Unable to play varsity basketball at a major program, he wandered from college
to college—attending Wittenburg College, Hartwick
College, and Syracuse University—searching for a way
to fit into the sports world.
Davis discovered his niche when Syracuse hired
Ben Schwartzwalder as head football coach. Enthralled
with Schwartzwalder's innovative offensive schemes,
Davis became a fixture at strategy classes and team
practices, even though he had no official position with
the team. Never one to let the lack of credentials get
in his way, Davis talked his way into a job as an assistant
coach at Adelphi University immediately after graduating from Syracuse. Later stops at The Citadel and
the University of Southern California confirmed Davis
as a first-rate offensive mind and a brilliant recruiter.
These qualities, however, also had a downside, as Davis
could not fit into the hierarchy of a coaching staff. He
constantly battled with fellow assistant coaches and
never hid his desire to become a head coach. To make
matters worse, his aggressive recruiting practices often
ran afoul of NCAA regulations.
Tainted by scandal and unable to move up to a
head coaching position, Davis found himself adrift in
1960. Fortunately for Davis, that was the year that the
I
fledgling American Football League (AFL) opened up a
realm of new opportunities, and he soon found a position on the staff of the Los Angeles (later San Diego)
Chargers. Under the tutelage of head coach Sid Gillman, a widely acclaimed offensive genius, Davis refined
the concept of an attacking, pass-oriented offense. He
also applied his marketing skills to stealing players from
the NFL and rival AFL clubs. The Chargers' dominance
of the AFL put Davis in position to grab the chance of
a lifetime—though it hardly seemed such at the time.
For the first three years of their existence, the
Oakland Raiders were the laughingstock of the nascent AFL. They were, in fact, something of an accidental franchise. As noted in Chapter 5, the AFL had
originally hoped to locate a flagship franchise in Minneapolis. Caught unprepared when the NFL hastily
expanded to Minneapolis, the AFL awarded the Minnesota franchise to Oakland even though no one in
Oakland had expressed an interest in owning a franchise. While a group led by developer Wayne Valley
eventually stepped forward, the Raiders reflected their
slapdash origins, compiling an appalling record in front
of minuscule crowds. In 1963, desperate for a
respectable team, the Raiders hired Davis as head
coach. Within a year Davis made the Raiders competitive, and within five years they were playing in the
Super Bowl. By that time, however, Davis had already
moved beyond the coaching ranks.
In 1966, the AFL's owners narrowly approved
Davis as the league's second commissioner. Six months
later they negotiated a merger with the NFL behind
his back. This experience confirmed Davis's low opinion of football's owners and inculcated a deep dislike
of NFL Commissioner Pete Rozelle, whom Davis—
LEED.EPSO.ch05.149-186 4/27/01 2:24 PM Page 184
184 CHAPTER 5 The Public Finance of Sports: The Market for Sports Franchises
Rozelle's opposite in upbringing and temperament—felt
had undermined him during the merger talks. Some
even believe that Davis felt that he should have been
named commissioner of the expanded league.
His term as commissioner quickly over, Davis again
was a man without a team until Wayne Valley agreed to
bring Davis back as a "managing general partner" with
a one-tenth interest in the team. Valley's move came
as a surprise to many who had seen the growing friction between Valley and Davis. Valley soon regretted
bringing Davis back to Oakland. In 1972 Davis masterminded a coup that reduced Valley to a figurehead position and—after four years of bitter legal battles—gave
Davis control of the team.
As effective owner of the Raiders, Davis quickly
became a pariah among the other owners, who were
deeply committed to the "league-think" approach of
Commissioner Rozelle. Whether out of principle or
personal animosity, Davis repeatedly challenged the rest
of the league. Unlike his peers, Davis welcomed free
agency, declaring, "Just cut all the players and make
everybody a free agent." He testified on behalf of the
USFL in its antitrust suit against the NFL. (In return, the
USFL pointedly sued only 27 of the existing 28 teams in
the NFL.) He even refused to sign over the Raiders'
share of profits from NFL Properties to the NFL Charities Foundation, claiming that the Raiders did their
charity work locally.
Davis's biggest challenge to Rozelle and the NFL
came in March 1980, when he sought to move the
Raiders to Los Angeles. Davis had long coveted a larger
stage than Oakland afforded, and he was among the
first owners to see that favorable stadium deals would
affect the balance of power in the NFL. The other owners, however, forbade him from moving the team, citing the league's constitution, which barred a team from
moving into another's home territory without the
league's unanimous consent. Davis responded by filing an antitrust suit against the NFL. After a series of
trials that were finally settled in 1989, the NFL dropped
its objections to the move and agreed to pay the
Raiders $18 million. The impact of the judgment, however, went far beyond the courtroom. Never again
would the NFL invoke its bylaws to block a franchise
from moving. This opened the door for later moves by
the Colts, Rams, Browns (now Ravens), Oilers (now
Titans), and the Raiders themselves—back to Oakland—in 1995. Davis had quickly become disenchanted
with his agreement with the authorities in Los Angeles. The rush to an agreement had left much of the language open to multiple interpretations, and Davis soon
saw that his move would not bring the financial benefits that he had anticipated.
The return to Oakland has not been the joyous
homecoming that one might have expected, as Davis is
again at odds with Oakland's stadium authority. Moreover, in the 1990s the Raiders were not the dominant
team they had been in the 1970s and 1980s. Almost
constant litigation since the mid-1970s has absorbed
much of Davis's time and energy. In addition, the rest
of the league has finally caught on to Davis's tactics.
Perhaps even worse for Davis, the new breed of
owner—best personified by Cowboys' owner Jerry
Jones—has come to imitate his persona. No longer the
rebel, Davis is now the role model, a position he cannot relish.
1Eugene Klein, First Down and a Billion: The Funny Business of Professional Football (New York: Morrow, 1987).
Sources: Glenn Dickey, Just Win, Baby: Al Davis and His Raiders
(New York: Harcourt, Brace and Jovanovich, 1991); David Harris, The League: The Rise and Decline of the NFL (New York: Bantam Books, 1986); and Mark Ribowsky, Slick: The Silver and
Black Life of Al Davis (New York, Macmillan, 1991).
SUMMARY
Since the 1950s, the burden of financing facilities has shifted from franchises
to the cities that host them. Several characteristics of the market in which
sports leagues and cities operate help to explain the large expenditures cities
LEED.EPSO.ch05.149-186 4/27/01 2:24 PM Page 185
Problems
185
have made to attract or keep franchises. Monopoly power explains why
leagues have limited the number of franchises and have been so reluctant
to expand. All-or-nothing demand curves and the winner's curse have
allowed leagues to extract whatever consumer surplus may have remained.
The growing involvement of cities has had significant effects on the size,
shape, and location of facilities. From the 1960s through the 1980s, cities
favored large, circular, multipurpose facilities that could accommodate both
baseball and football teams. These facilities were often built on the edge of
cities or in the suburbs. Recently, teams have begun to build facilities downtown, as cities have come to recognize that they have not benefited from locating facilities far from the center of town. Whatever its other effects, the
growing involvement of cities has had a significant positive effect on the
bottom line of the teams they host.
DISCUSSION QUESTIONS
1. How would you explain the fact that the Oakland Raiders moved back to
Oakland from Los Angeles?
2. Have teams that have moved in the past 20 years become uniformly better off?
3. What is it about new facilities that makes the teams that occupy them
more valuable?
4. Not long ago, the NFL dissuaded the owner of the Seattle Seahawks from
moving to Los Angeles. Why would it do this?
5. Suppose your city (or the nearest large city) is trying to decide where to
build a new facility. Think of two or three alternative sites and explain the
pros and cons of each.
6. Studies have shown that the winner's curse is more severe in large groups
than in small groups. Why do you think this is so?
PROBLEMS
1. Show that a monopolist that uses an all-or-nothing demand curve is more
efficient (in the sense of minimizing deadweight loss) than a standard
monopolist.
2. Show why New York is not likely to build a new stadium for the Yankees in midtown Manhattan.
3. Critics of referenda often complain that this method of determining
expenditure often results in the community spending more than it really
wants to. Do they have a point? Explain your answer.
LEED.EPSO.ch05.149-186 4/27/01 2:24 PM Page 186
186 CHAPTER 5 The Public Finance of Sports: The Market for Sports Franchises
4. What happens to a city's bid to host an Olympics if:
a. Stadium construction costs rise?
b. The city's NFL franchise offers to buy the Olympic stadium after the
Games?
c. Interest rates rise from 5 percent to 10 percent?
5. While football and baseball teams have gone from multipurpose to football- and baseball-only facilities, basketball and hockey teams continue
to share arenas. Why?