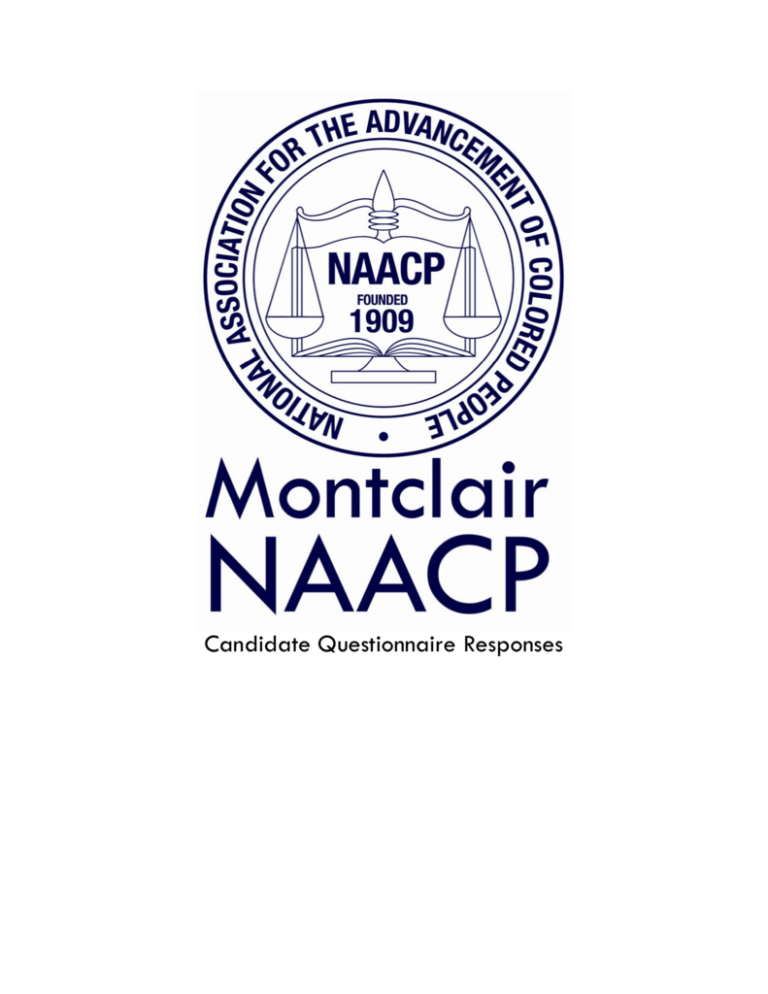 Candidate Questionnaire Responses
PERSONAL INFORMATION
Montclair 2012:
1. Name:
Robert David Jackson (candidate for Mayor)
Rich McMahon (candidate for At-Large Councilor)
Robert (Bob) Russo (candidate for At-Large Councilor)
Richard Murnick (candidate for 1st Ward Councilor)
Robin Schlager (candidate for 2nd Ward Councilor)
Sean Spiller (candidate for 3rd Ward Councilor)
2.
How long have you lived in Montclair?
Robert Jackson: Montclair native
Richard McMahon: I'm am the 4th generation of my family to live in Montclair and have been a homeowner
for 25 years.
Robert Russo: 24 years
Richard Murnick: Moved to Montclair 1996. My wife Susan is born and raised here, and she attended
Edgemont, Mt Hebron and graduated Montclair high '86.
Robin Schlager: Resident for 20 years. I am the Assoc. Director of Montclair Fund for Educational Excellence
(MFEE) for the past 12 years.
Sean Spiller: Approximately 7 years
3.
Are your children or did your children attend Private or Public School?
Robert Jackson: Four children, all public schools: one finished, three now in.
Richard McMahon: two are out of college and one is a Junior at the University of Maryland.
Robert Russo: No Children
Richard Murnick: All four of my kids attended Montclair community Pre-K, they are all in the public schools
right now... 2 in MHS, one in Glenfield and one still in Bradford.
Robin Schlager: I have 2 children, both who are in the Montclair Public Schools. Nishuane, Hilliside,
Glenfield, MHS
Sean Spiller: I currently do not have any children. As a public school teacher and champion, my children will
attend public schools.
4.
What community groups do you have a current active involvement in?
Robert Jackson
Montclair Public Library
Richard McMahon
I am Vice President of the Montclair Ambulance Unit.
I am a trustee of St Patrick's Guard of Honor.
I also work with Mercier Club,
the 4th of July Parade committee,
the Montclair 100 Club,
and The Ray Festa Memorial Foundation
Robert Russo
President of Consumers League of New Jersey
Member of the following groups: Montclair NAACP; Montclair League of Women Voters;
BlueWave NJ; Sierra Club; Montclair Art Museum; Giblin Association; Essex Running Club.
Richard Murnick
1st Ward Councilman (2008 to present)
Robin Schlager
I was PTA president for 3 years at Nishuane and PTA President for 2 years at Hillside
I sit on the School Action Team at Montclair High School & head up the School Pride Committee
I work with the Booster Club of the Mountie's Girls Softball Varsity team at MHS
Co-chair of Project Graduation for this year, 2012.
Sean Spiller
Donor to the Montclair Library
Member of BlueWaveNJ (Montclair Based)
5.
Additional information you would like to share (family, occupation, etc):
Robert Jackson
Married to Cheryl Stephenson who is a multi-generational native. Cheryl is a GSA Troop Leader
and former Northeast School PTA President.
Professsion: Real Estate Development
Richard McMahon
I am married to Anne Marie Ward who was born and raised in Montclair.
She is a teacher/administrator at the Parkside Montessori School, a pre-school in Montclair.
I am an attorney by trade with my office in Montclair.
Robert Russo
Former Montclair Mayor and Councilmember
Current Adjunct Professor of American Government and Public Administration at Rutgers and
Montclair State Universities.
Former Director New Jersey Consumer Affairs, Lemon Law
Former President of Montclair State University Adjunct Faculty Union, Local 6025, AFTNJ
Married to Christine for 23 years
Richard Murnick
I have been a financial planner since 1991, own my own firm on Bellevue Ave in the center of the
first ward.
I sit on numerous boards, committees, coach 3 teams, Run my firm, and visit my constituents on a
daily basis.
Robin Schlager
I sat on the council as 2nd ward rep from 2004 – 2008.
Sean Spiller
Son of a wonderful biracial couple, with one brother. Proud graduate of NJ public schools/colleges
(Montville, Rutgers, Ramapo).
For Montclair:
1. Name:
Harvey Susswein (candidate for Mayor)
Timothy Barr (candidate for At-Large Councilor)
William Hurlock (candidate for 1st Ward Councilor)
Walter Springer (candidate for 2nd Ward Councilor)
Jeffrey Jacobson (candidate for 3rd Ward Councilor)
2.
How long have you lived in Montclair?
Harvey Susswein (35 years)
Timothy Barr (20 years)
William Hurlock (12 years)
Walter Springer (22 years)
Jeffrey Jacobson (5 years)
3.
Are your children or did your children attend Private or Public School?
Harvey Susswein (adult children who attended public schools)
Timothy Barr (one public school graduate, two children in public schools)
William Hurlock (two children in public schools)
Walter Springer (one kid in public school, the other currently in private school)
Jeffrey Jacobson (one 3 year-old, one child in MKA kindergarten)
4.
What community groups do you have a current active involvement in?
Harvey Susswein
Zoning Board (2001-2011) - Resigned to run for office
Montclair Arts Council - former board member
Board of Education - 2011 Revenue Working Group Chair
Congregation Bnai Keshet - Past president and treasurer; member Finance Committee
Timothy Barr
Montclair Celebrates…which I co-founded is focused on raising funds to save our July 4th Celebration as
well as First Night. I have also been on the July 4th committee for several years and serve as the
parade announcer. My family and I also volunteer to help with First Night activities. I am also active in
Montclair United Soccer and Montclair Town Baseball – both as a coach and with MUSC as the
coordinator of Futsal at the Northeast School location. Until recently, I was also a member of the board
of the Montclair Community Pre-K.
William Hurlock
I am a board of trustee member of Outpost in the Burbs and the vice chair for the board of trustees for
the Newark Presbytery (which serves part of Montclair). I also serve as an Elder in the Presbyterian
Church of Upper Montclair. At PCUM I participate in several community related projects with
HomeCorp, Habitat for Humanity, the Interfaith Hospitality Network and the Montclair Human Needs
Food Pantry.
Walter Springer
I am former PTA secretary at Northeast Elementary School, a former PTA president at Mount Hebron
Middle School, am presently the SAT liaison at Mount Hebron MS, and continue to serve as chair or cochair of numerous school events. I've been extremely active in seeking creative funding sources for
school programs in addition to the BOE operating budget. I currently serve as a board member of the
Montclair Junior Bulldogs Football & Little Scholars and consult to the Montclair High School Gridiron
Club. I'm an active member of the Saint Cassian RC Church, serving as a Eucharistic Minister and Usher.
Jeffrey Jacobson
My wife and I moved to Montclair in 2006 with one toddler and our second daughter arrived in
2009. I hope the parents reading this will understand that I've had my hands full as a father (and
active preschool and now kindergarten volunteer). Now that my daughters are 6 and 3, I have their
and my wife's enthusiastic support to become much more involved with the community they and we have
come to love. When my wife and I lived on the Upper West Side, I was elected vice president of our
84-unit condominium's board after just a year in-residence, and the other new board members and I
turned around a building that was not being well-managed, financially or otherwise. I hope to have the
opportunity to do the same in our new home, where my family and I intend to stay for a long, long time.
5.
Additional information you would like to share (family, occupation, etc):
Harvey Susswein
Jane and I have lived in the same Montclair house for 36 years. Jane is a former member of the
Montclair Board of Education and a co-founder of the Montclair Community Pre-K. Our daughter HIlary
is a teacher at Renaissance Middle School.
I am a former Naval officer and a Vietnam veteran.
Professionally, I retired after a 30-year career with American Management Systems. AMS helped
leading governments and corporations become more successful and efficient through the use of
information technology. I joined AMS as a start-up and helped build the firm into a world-wide
enterprise with thousands of professional employees when I retired as a senior executive in 2000.
Timothy Barr
I hold a BA and MA from Fordham University. My Masters is in Public Administration. I am the Vice
President for Development at St. Joseph's Healthcare System in Paterson, NJ. I have spent my career
working in the not for profit sector where we strive to always use best practices and the most effective
and efficient operational methods. In not for profits, we need to be creative and do more with modest
resources – which is similar to good government. My wife and I have lived in town for over 20 years
and have three children who are products of the Montclair Public Schools. Our oldest son is a college
freshman, our daughter is a freshman at MHS and our youngest son is a fourth grader at Bradford
School. Our younger children both attended the MCPK.
William Hurlock
My wife Alison and I have lived in Montclair for over 12 years. We are proud of the fact that our
children attend Montclair's public school system. I am a Partner in the law firm of Seiger Gfeller Laurie
where I have offices in New Jersey and New York. I also serve as an adjunct Professor at Seton Hall
Law School. I am a former federal prosecutor and worked for a United States Congressman and a
member of British Parliament. I served as an advisory member to the Federal Homeland Security
Foundation. My wife is a former president and treasurer of the Northeast PTA. We have hosted MFEE
fundraisers. I also served for four years on the Capital Finance Committee and coached t-ball and
soccer in the Montclair youth recreation leagues. We have been very active in our community and are
honored to call Montclair our home.
Walter Springer
I have been fortunate to live in our community for the last twenty-two years. During this time I have
been blessed enough to marry, purchase a home, begin raising two children and immerse myself in the
Montclair community. My wife Liza and I chose Montclair over New York City, Westchester County, and
Connecticut. We chose Montclair for many reasons; the proximity to New York City, a strong and
unique school system, the diversity of our neighbors, and the great Montclair business community.
Jeffrey Jacobson
I have a master's degree in government administration (basically an MBA for public-sector
management) from the University of Pennsylvania, which I earned while working full-time for the
Philadelphia Streets Department as the department's public spokesperson, liaison to the mayor's office
and City Council, and an assistant to the commissioner for implementing budget initiatives. I then
graduated Columbia Law School with honors in 1996 and, after a short stint in Washington, have been
with the firm of Debevoise & Plimpton LLP in NYC since 1997. I'm now an equity partner in the firm,
mostly handling the defense of complex class action cases and corporate internal investigations. My
wife Janice was a theatrical company manager for several Broadway shows before our older daughter
was born in 2005 and now is a full-time mom to our two wonderful girls. I grew up in South Orange,
my dad grew up in Maplewood and his dad grew up in Newark, so my girls are fifth-generation Essex
County. We are very glad we have settled in Montclair.
Real Progress Montclair:
1. Name:
Karen Turner (candidate for Mayor)
LeeAnn Carlson (candidate for At-Large Councilor)
Peter Zorich (candidate for At-Large Councilor)
Chris Swenson (candidate for 3rd Ward Councilor)
2.
How long have you lived in Montclair:
Karen Turner
I moved to Montclair in 1995 with my husband, Chris Turner, who grew up here and introduced me to
the town before we were married. I immediately fell in love with the diversity and energy of the
community. While we first lived in Manhattan, there was no doubt we would move to Montclair to settle
down and start a family. Both of our children were born at Mountainside Hospital.
LeeAnn Carlson
I have lived in Montclair with my husband and two kids for nine years.
Peter Zorich
I have lived on Montclair all my life and attended the public schools (MHS 86').
Chris Swenson
19 years as of May. My parents were originally from Montclair.
3.
Are your children or did your children attend Private or Public School?
Karen Turner
I'm a proud graduate of a public school system and my husband graduated from Edgemont, Mt.
Hebron, and attended Nishuane and Montclair High School. He was part of the first group of students
to be bussed as part of the integration program.
Our two daughters attend the Montclair Kimberley Academy. Although my husband and I made a
personal decision to send our daughters to MKA, our commitment to the public schools is unquestionable.
We have been strong supporters of the Montclair Fund for Educational Excellence for many years and
have supported Montclair Rocks since its inception. Rather, the decision to enroll our daughter at MKA
was a choice we made because we thought it was best at the time she started Pre-k.
LeeAnn Carlson
My daughter is a freshman at Montclair High School and my son is a junior at the Lawrenceville School,
in Lawrenceville, NJ.
Peter Zorich
My two daughters both go to the Montclair public schools (Glenfield/Hillside)
Chris Swenson
Two sons graduated from Montclair High School, 2005 and 2008. Daughter graduated from Glenfield
School in 2009. She currently attends private school in Livingston, NJ.
4.
What community groups do you have a current active involvement in?
Karen Turner
I have been very involved in the Junior League of Montclair-Newark. I worked directly with many
nonprofits in the community through this work. My favorite projects included the LINK School in Newark,
the Neighborhood Childcare Center and with the GEPA tutoring for standardized tests at Glenfield
School. Soon after I joined the JLMN to do hands on volunteer work, I was pulled into leadership roles
of the group. These roles included Vice President of Finance, Vice President of the Endowment Fund,
Treasurer and finance positions for multiple fundraisers. During my year as President of JLMN, over
6,000 volunteer hours were devoted to the Montclair community to help children at risk and to close the
achievement gap. I was proud to serve in a leadership role of this organization. I have also served on
the board of the Mountainside Hospital Foundation, as fundraising chair for the Van Vleck House and
Garden's, and Treasurer positions with MKA's parent association.
LeeAnn Carlson
I have been a volunteer at my kids various schools for many years. A favorite project was for Glenfield
Middle School, where I worked on a 'Fountains of Wayne' concert to raise money to outfit two houses
with Apple laptops, printers and iPod Touch's. I am also an active member of the Garden Club of
Montclair and have worked on projects to raise money and plant gardens at the Montclair's schools and
downtown areas. I am interested in finding a way to introduce a community garden in Montclair to
bring residents together and also provide a source of fresh fruit and vegetables.
I was a founding member of Concerned Citizens of Montclair (CCM), where I focused on finding
innovative ways to improve municipal services while reducing cost. Municipalities across the country are
introducing more modern and efficient operating models, with measurable success.
Peter Zorich
Commonwealth Club of Montclair member
Montclair Lacrosse Alumni Association Board member
Montclair 100 Club member
Former member of the Montclair Arts Council
Former member of the United Way Financial Stability Committee
Chris Swenson
I am the founder and past president and still a board member of the Montclair Baseball and Softball
Club, running its TeeBall and Coach Pitch Programs. Until the campaign began I served on the BOE
Budget Working Group and also last year on the BOE Revenue Committee. In 2009 I received a
Community Service Award from Montclair Neighborhood Development Corporation. I co-chaired the
Third Ward Action Committee which successfully fought over development on Llewellyn St. I run the
Montclair Community Tutoring Project in which MHS students tutor elementary school kids. I am involved
with the MHS Football Booster Club as a donor and a tutor.
5.
Additional information you would like to share (family, occupation, etc):
Karen Turner
I am from a humble background. I started working at an early age and held two jobs during summer
months throughout high school and during college to pay for my education. I am a hard worker,
empathetic and care deeply about providing a platform for success for families and children at a
disadvantage. I moved to Montclair to raise my children because of the diverse population and the
community's commitment to its values.
But recently, I've come to realize that our town has been placed in a tenuous financial situation by the
status quo. Our debt now consumes 24% of our annual expenses and has crippled our ability to keep
the community affordable for people of every class and race. A lack of fiscal planning and heavy
reliance on debt and bonding has made it difficult to maintain funding for pre-k scholarships, libraries,
and other programs that many in the community have relied on and been accustomed to. Without a
commitment to change, innovation, and greater efficiencies, these problems will only get worse. Because
I believe a simple commitment to priorities and a willingness to do the heavy lifting, I can give the voters
confidence in a sustainable future. I have assembled a core team of running mates who are committed
to these objectives. On behalf of them, I ask for your vote and your support.
LeeAnn Carlson
I am an Engineer with 10 years professional experience with Andersen Consulting and IBM. I am
experienced at finding inefficiencies in companies and markets, and then developing solutions to
address those inefficiencies and improve operations. My work with CCM has made me realize that I
have a skill set that can help put Montclair on a more sustainable path --- and that I feel passionately
about our town and want to help keep it healthy for all our residents.
Peter Zorich
My parents, former longtime Montclair residents Olympia Dukakis and Louis Zorich, were founding
members of "The Whole Theater," an award-winning theater company that served the Montclair
community and region for twenty years.
Professionally I have been one of the country's top media professionals for the past two decades
reaching the highest levels of the television news industry as a Senior Producer at major cable news
networks including CNN, FOX News, MSNBC and Bloomberg at the forefront of planning and executing
some of the most highly rated political talk shows. I currently run my own media consulting company
helping political figures, business executives and thought leaders with media strategy.
Chris Swenson
When I was 18 years old, I worked for a year as for Community Service Society as a case worker aide
in Harlem and the West Side of Manhattan. I graduated from Yale University in 1975 with a BA and
from the Yale School of Management with a Masters in Public and Private Management. I worked on
Bill Bradley's Senate Staff and two of his Senate races. As a member of his Senate staff I assisted NJ
municipalities with grants and federal contracts. I worked as an investment banker on Wall Street in
corporate finance, mostly with technology companies, assisting them in raising capital, going public, etc.
I left Wall Street and since then I have run, as a CFO, COO or CEO, a number of venture capital
backed companies, including a software company, an Internet marketing company and a publishing
company. One of the companies was named NJ Tech Council's startup company of the year and I was
twice awarded the NJ Press Association award for Public Service for weekly newspapers. Until the
campaign began I owned and operated the Montclair Tutoring Club on Grove Street.
CRIME/SAFETY
1.
How would improve the relations between Montclair PD and the community?
Montclair 2012: Revitalize Community Watch program. Encourage the hiring of more Montclair residents
on the MPD. Regular community/MPD dialogue meetings in each ward.
For Montclair: We sense no unwillingness on the part of the Montclair Police Department to meet with
any community groups. As we will address below, however, we believe that our police officers
need greater training in community policing tactics. We also have discussed adding a third monthly
Council meeting in order to allow us to (among other things) meet more regularly with department
heads, including the police chief, and let residents express their views about public safety issues.
Real Progress Montclair: We will seek a closer working relationship with our police department, residents,
and community leaders to find ways to increase police street presence in high-crime neighborhoods.
The Montclair Police Department and residents can both benefit from organized and committed
neighborhood watch programs and 'feet on the street' initiatives in neighborhoods throughout town.
We also believe it is essential to develop a department with real ties to the community. To that
end, we will aggressively cultivate and recruit new hires from within the community and encourage
them to make Montclair their home as well as their beat.
2.
What are your top three priorities to deal with the growing crime issues in Montclair?
Montclair 2012: Clear lines of accountability. Increase police presence through technology and community
policing. Positive alternative pursuits for youth and young adults.
For Montclair: First, we think patrol staffing levels are too low. We want to increase the number of
patrol officers and believe we can find the money to do so by reducing the number of patrol
supervisors. We have 33 supervisors overseeing fewer than 80 patrol officers and detectives. We
also will explore hiring off-duty officers from neighboring towns to augment our patrol staffing
during times of peak need. Second, we must improve lighting in areas known for drug trafficking.
Finally, although we will never be able to prevent all burglaries, we will, through the Township
Manager, strongly urge the police chief to add resources to burglary prevention and investigation.
Real Progress Montclair: Neighborhoods that suffer a disproportionate share of crime have also suffered
from an unequal delivery of services. This has produced an unfair crime gap that we must be
committed to reducing. RPM will: 1. improve lighting throughout town, especially in high crime
areas, downtown areas, and corners with cross walks; 2. reallocate police resources to increase
street presence in higher crime areas and use nonuniform personnel rather than uniformed
personnel to supervise utility and road-work projects. We support the Police Chief's use of
CompStat to ensure that officers are deployed as efficiently as possible and that civilians are used
to staff office and support positions as much as possible so that officers can fulfill prioritized public
safety rolls in areas most in need; 3. place a greater emphasis on deterrence and an increased use
of technology to increase the reach of our police force. For example, use of cameras that connect
to the internet empower residents to help monitor their own streets. This approach is being used
very successfully in East Orange, where it is credited with a 40-60% reduction in crime. These
cameras could be an effective way to facilitate partnerships between neighborhood watch groups
and the Police Department.
3.
What is your opinion of Community Policing?
Montclair 2012: Favorable. Given staffing constraints it must be supplemented with technology to be most
effective.
For Montclair: Community-oriented policing tactics are essential in Montclair. To us, this means, among
other things, (a) assigning more officers and supervisors as liaisons to community groups, (b)
ensuring that we receive all available grants for police personnel to receive community policing
training; and (c) where grants are not available, but where Chief Sabagh advises that training is
essential, finding those resources in the budget.
Real Progress Montclair: We need a renewed commitment to Community Policing. We see this as a critical
path to safer neighborhoods. Our officers should be a regular presence on our streets, especially in
high-crime areas. The officers should know who lives on the street, and who is from out of town.
4.
How would you address the safety and drug issues in the Mission Street area? Glenfield Park?
Montclair 2012: Joint operations with the Sheriff and NJ Transit Police. Lighting. New technology.
For Montclair: These are issues we will want to discuss in detail first with the Township Manager we select
and, through the Manager, with Chief Sabagh. Chief Sabagh is one of the most highly-regarded
police commanders in New Jersey; we will do everything we can to give him the resources he tells
us he needs to address the safety and drug issues in the Mission Street area, Glenfield Park and
other areas that need greater police attention. We believe that our plan to increase the patrol
staffing available to Chief Sabagh will help.
Real Progress Montclair: We think these two areas should be given status as "areas in need of added
police presence". The strategies above can be used to address safety issues in these areas. We
also have to acknowledge that other departments of government can impact public safety. For
example, as the vacant property at the intersection of Mission Street and Bloomfield Avenue is
developed, all will benefit if quick and streamlined access to zoning, planning, and construction
officials is available so that the project is not needlessly delayed and the neighborhood is
enhanced.
5.
Would you approve the closing of the Nishuane Fire House as a budget saving measure?
Montclair 2012: No.
For Montclair: We would not approve the closing of the Nishuane Fire House unless we enter into a
shared services agreement with a southern neighbor that would provide adequate fire coverage to
the south end of town. We believe that Montclair and surrounding towns would improve both
public safety and the budgetary bottom-line by entering into a comprehensive shared-services
agreement for fire coverage and we will work tirelessly during our term to reach such a deal.
Real Progress Montclair: All costs and services in all departments must be reviewed for the good of the
whole community. We must be willing to research any and all options for providing current,
equivalent or even improved services. Core public safety should not be compromised for short-term
fiscal gain so consideration of the closure of Nishuane Fire House would not be undertaken lightly.
6.
Would you vote for a budget that reduced Police or Fire Resources for Montclair?
Montclair 2012: Very difficult to address in the abstract, however, our philosophy is not to reduce public
safety resources. If Essex County police departments are merged, for example, there obviously
would be opportunities to reduce resources without affecting public safety.
For Montclair: As explained above, we would not vote for a budget that reduces police patrol staffing.
We plan to increase police patrol staffing, paying for this by eliminating supervisory positions.
We also oppose reductions in the fire resources available to Montclair residents, but we certainly
will explore whether those resources can be provided safely and efficiently as part of a regional
shared-services agreement.
Real Progress Montclair: As stated above, all costs and services in all departments must be reviewed for
the good of the whole community. We must be willing to research any and all options for providing
current, equivalent or even improved services. Core public safety should not be compromised for
shortterm fiscal gain but we must not be afraid to identify and implement efficiencies, partnerships
and savings that better serve the community as a whole.
EDUCATION
1.
In your role on the Board of Estimates, would you approve a Board of Education budget that eliminated the
magnet school System in Montclair? Would you eliminate or reduce the school busing system?
Montclair 2012: No. No.
For Montclair: Our slate strongly supports the magnet school system in Montclair. We would preserve it.
If it is possible to preserve the current magnet system while also reducing the cost of busing
students, we will pursue those alternatives. A committee appointed by the Board of Education is
looking at that issue, as well as whether the schools' magnet themes can be improved, and we will
study their report and consider their recommendations.
Real Progress Montclair: No. All candidates on the RPM slate are strong, unequivocal supporters of
Montclair's magnet school system. The magnet school system offers one of the best, most diverse
and most creative learning environments in the entire country. Our busing system is essential to
maintaining the magnet system, we would not eliminate it. The BOE Transportation Working Group
has already studied possible changes to our busing program and concluded that the savings would
not justify the disruption. However, the BOE Working Group has begun studying more innovative
ways to transport our students, using NJ Transit buses and trains, for example. Those options might
allow us to reduce our busing costs without reducing service to our students.
2.
Do you support the Charter application for the Quest School in Montclair?
Montclair 2012: No.
For Montclair: We know that Charter schools have greatly benefited students in some communities, and
as such, we appreciate their utility in limited circumstances. We also appreciate the fact that certain
families feel a sense of frustration and concern with regards to the high school. While a charter
school may or may not be the best course of action to address this concern, some have used this
process as an outlet to express their frustration at the status quo. We believe it is important to
address these concerns. Having said that, we believe that approving a charter school in Montclair,
given that it will divert money from the BOE operating budget, should be the last resort to address
problems and not the first. If we are fortunate enough to be elected, we want to work closely with
the BOE to address these issues. On this issue, as with the citizens of Montclair, our slate has varying
opinions on the best course to implement a common solution to alleviate these concerns. While we
may or may not agree with the current application as drafted, we recognize that the current
charter application process is a result of the need to address a greater underlying issue – one that
we are committed to address.
Real Progress Montclair: No. A charter school would drain millions of dollars away from our entire school
system, negatively impacting ALL 6,600 general education and special education students from
grades K- 12, not just those at the high school. The charter school model is most frequently used in
urban environments with schools that are underperforming and not applicable to a district like
Montclair where the concept of choice is already embedded in the community's magnet system and
additional "small learning communities" are being developed within Montclair High School.
3.
Did you support the Appointed or Elected School Board position on the recent ballot initiative?
Montclair 2012: Appointed.
For Montclair: Members of our slate took different positions with respect to the elected board initiative.
The question went to the voters and those who wanted to retain an appointed board prevailed,
though narrowly. Undoubtedly, this issue will arise again, but our slate is united in opposing town
dollars being spent on another ballot initiative within the next few years. Although we recognize
that those who want an elected board may not be satisfied with any compromise, we are pleased
that our Mayoral candidate, Harvey Susswein, has pledged both to solicit broad community input
before nominating candidates to serve on the Board of Education and, more importantly, to submit
his choices to a ratification vote by the full Council.
Real Progress Montclair: Appointed. The appointed system has been preserved by Montclair voters at the
polls by wide margins for nearly four decades because it has served our unique school system very,
very well.
4.
What are the three most pressing Educational issues facing Montclair Public Schools? As a member of the
Town Council what would you do to address these issues?
Montclair 2012: Next iteration of the magnet system. Superintendent Search. Assure quality programming
and opportunities in an era of funding uncertainty
For Montclair: The candidates of For Montclair are strong supporters of education in
Montclair. Collectively, our candidates have devoted decades of hard work toward improving our
public schools. We have a former Board of Education member and a past school PTA president on
our slate. The children of four of our five candidates attend or graduated from the public
schools. We also have had extensive involvement with early education in Montclair and with the
Montclair Adult School. We believe that every Montclair child is entitled to a quality
education, provided in a manner that maximizes each child's learning capacity and supports his or
her learning style. Council members do not directly control education policy in Montclair, but we
will be vigorous advocates for our schools.
Montclair High School is in need of additional focus and resources to continue its progress toward
state-wide prominence. Principal James Earle has done a tremendous job in restoring order to the
high school. He is respected by the teachers, students and parents and by all accounts is doing a
great job. By expanding opportunities for students to participate in more clubs and after school
activities – from the Fed Challenge to Robotics; Fencing to Football, Montclair High School is the
cornerstone of our educational program. Curriculum is set at the High School level so that the
prerequisite classes can be taught in the elementary and middle school levels. Small Learning
Communities like the CGI and CSJ are delivering education in an innovative manner, while the
development of STEM, and BELA additional Small Learning Communities continue to provide
opportunities for students with special interest. Continued support for the guidance program to
ensure that students have a clear and achievable next step beyond high school, and
extracurricular, internships programs as well as hands on job opportunities that support the
academics are crucial to continued success at the high school.
Special Education represents approximately 25% of the Board of Education's budget. With
additional space in the schools, Montclair needs to find ways (where logical) to bring back more of
these students into the district. Not only would this be a less expensive means of educating special
needs students but it would provide the inclusion experience in the community where these students
live. By focusing these programs and resources back to Montclair we are creating an educational
mechanism that will be better for our students, our teachers and our tax base.
It is a fact that pre-school education is an important component to a student's education. Early
education not only prepares young children for the curriculum of kindergarten, but also provides
the necessary socialization skills necessary for a good start in school. More importantly, it enables
early identification of learning issues that, if recognized during these pre-k years, enables teachers
and counselors the opportunity to work with the student and parents to develop a plan that can
address issues more effectively resulting in a smoother transition to kindergarten. For Montclair
advocates a committee to review the pre-K options in town and determine how best to address
early childhood education with a model that meets the needs of our children and is sustainable for
the long term success of the program.
Real Progress Montclair: 1) Although the minority achievement gap has been reduced, we should push
hard to eliminate it altogether.
2) We need to introduce more technology-based learning that will allow for more focused
assessments and more individualized and targeted curriculum that addresses specific needs for
individual students. We are starting to fall behind other districts in the use of technology to
better educate our children.
3) We need to ensure that all 11 schools are equally strong. We need to re-look at magnet school
themes to make sure they are still as relevant and vital for our students and determine where
these themes can be strengthened.
We will speak out on larger educational issues in the community, but the BOE is where the details
are discussed and decided, and that is as it should be. Through responsible budgeting, the Council
can take pressure off the schools to bear the brunt of spending cuts that cripple their ability to fund
programs designed to address these challenges. We feel three areas of importance are continued
enhancement of our high school programs, special education, and early education. All three of
these areas, if addressed coherently and consistently, will be a major factor in closing the
achievement gap that has been a concern for so long.
5.
What is your position on Pre-K in Montclair? Would you restore funding to Montclair Pre-K organizations?
Would you approve a resolution forgiving the debt to the Montclair Community Pre-K ?
Montclair 2012: Yes. No.
For Montclair: We believe that Montclair should have a vibrant, diverse Community Pre-K that is open to
all Montclair residents and affordable by every family. As soon as possible, we will reach an
agreement with the Pre-K board as to the level of municipal funding (whether from the Township or
the Board of Education budget) that the Pre-K can count on receiving from Montclair during the four
years of our term, so that the Pre-K can engage in both short- and long-term planning necessary
for its sustainability. We will work during our term to find a long-term solution for the Pre-K that
will wean it from its need for annual municipal appropriations, while supporting its mission to
provide an early education to Montclair children regardless of a family's ability to pay. We
expect that forgiveness of the Township loan may need to be part of that long-term solution and
we will look at this issue closely.
Real Progress Montclair: For a community as diverse as Montclair, affordable Pre-K education is essential.
It is tied fundamentally to the closure of the achievement gap. Real Progress Montclair will review
all Pre-K options provided in town and evaluate whether there is a better use of township
scholarship funds to best close the educational gap in a more financially sustainable way. RPM
supports continued funding for the Montclair Community Pre-K (MCPK) at the level they have
requested for 2012-2013 as a stop-gap measure ($125,000). We will freeze that level of
funding from the town until a broader solution is determined and implemented. While the founding
of the MCPK as a private-public partnership was done with good intentions, the process was
devoid of transparency and we now know that the planning needed to ensure its long-term
viability was never done.
We will seek an agreement and arrangement that respects the communities commitment to early
childhood education, acknowledges the satisfaction that so many parents have had with the MCPK,
recognizes that the MCPK is not the only Pre-K in the community deserving of support and
assistance and does not reward the status quo politicians who negotiated a loan that they never
intended to collect or repay. If that common good agreement must include the partial forgiveness
of the loan, we will consider that option in negotiations.
6.
Question for candidates for Mayor: What would be your process for selecting and appointing members of
the Board of Education?
Montclair 2012: The most important job responsibility of the Mayor. Advice from all corners of Montclair
would be sought including Council members, BOE members, parents, administrators, etc. The
selection process would include factors such as academic/professional expertise, demonstrated
interest, and "connection" to the schools i.e. elementary, middle, high school.
For Montclair: Our mayoral candidate, Harvey Susswein, will continue to use a committee appointed by
the township council to identify qualified school board candidates for the mayor's consideration. In
addition, Harvey has pledged to submit his choice(s) to the full town council for approval, even
though he is not required to do so by statute.
Real Progress Montclair: If elected mayor, Karen Turner will continue to use the current BOE Advisory
Committee to publicly solicit applicants, review them, and recommend candidates to serve on the
BOE.
QUALITY OF LIFE ISSUES
1.
What is the number one civil rights issue facing Montclair today? What would you do during your first year
in office to address this issue?
Montclair 2012: Affordable housing. Adopt an Affordable Housing Strategic Plan. Control property
taxes.
For Montclair: We believe that the top issues facing Montclair overall also happen to be the top civil
rights issues: the tax burden, school quality and the achievement gap, and the availability of
affordable housing. We need to ensure that Montclair has a school system strong and diverse
enough to attract families to Montclair, that our taxes don't drive those same families away, and
that middle class working families can afford to live in Montclair.
By demonstrating that we are serious about finding savings in the budget without affecting service
levels or the quality of life in Montclair, we believe that we can quickly dispel the perception that
Montclair is ungovernable and unaffordable and that it cannot get its budget and taxes under
control. As the perceptions and the financial realities change, the features that attracted all of us
to live in Montclair will both keep our current residents in their homes and attract the new families
we need to sustain Montclair's diversity.
Real Progress Montclair: The high cost of living that is forcing out working class residents of every color
and background, destroying the diversity we cherish and leading to the growth of a predominantly
white, wealthy, and homogenous town.
2.
What is your position on after-school community programs and youth services such as sports, tutoring and
guidance programs? Would you approve the funding required to provide additional services thru PRCA or
a Montclair non-profit?
Montclair 2012: Our youth need positive alternative activities and these programs certainly fit the bill.
We have to find the funds (public and/or private) to provide these opportunities.
For Montclair: Montclair is known for its community outreach and provision of services for
youth. However we can't answer the question of what additional services are needed until we
answer two more fundamental questions: a) What is currently being provided, and b) What is the
need?
Simply budgeting more money won't necessarily result in a noticeable gain in services. There are
many programs trying to provide the same or similar services, often at the County or Federal
level. At times some of these well-meaning providers will even clash with one another.
We will, working with citizens and community advocacy groups, determine exactly what we have,
decide what is needed, and decide what to fund and how to fund it. Keep in mind that some of
these services are a "natural" for sharing with other communities.
Real Progress Montclair: We support them. A thorough analysis must be done to ensure the best possible
programs are delivered as efficiently as possible, targeted to those most in need, and properly
incentivized to maximize integration after the school day ends.
3.
How would you improve Services for Senior Residents in Montclair? Name three programs that you would
support?
Montclair 2012: Seniors Connect: coordinated transportation/mobility initiative
Seniors Help: promote senior volunteering
Seniors Thrive: promote health, cultural opportunities
For Montclair: The fundamental need is for "one stop shopping." There are many services available for
seniors and those services go unused because people are unaware of them. People are confused
and we can help. Montclair had a Social Services Director but that position was eliminated. We
cannot commit to replacing that position, but we can commit to replacing the function provided by
that position. This is yet another opportunity to partner with surrounding communities to provide
needed social services that is too expensive to be shouldered by each community.
Passaic County has a model for delivery of social services -- "Passaic County Senior Services,
Disability, and Veterans Affairs." It provides one point of contact for seniors. It includes everything
for Medicaid to Care Management, to Telephone Reassurance to Adult Care, to Property Tax
Reimbursement to Adult Care.
We commit to studying the Passaic County model and determining if it is worthwhile to initiate a
similar program in Montclair and its surrounding communities.
Real Progress Montclair: 1.The special needs registry;
2. Continued support of the library,
3. Encouragement of cross-generational communication between the youth advisory board and the
senior citizens advisory committee.
4.
Would you support funding for a Community Center for Youth and Senior Services?
Montclair 2012: Concept is good. Impossible to make a judgment without a specific proposal.
For Montclair: Not at this time, unless state, federal or private funding pays for it. Until Montclair
substantially reduces its long-term debt, we must resist the temptation to add new debt for
significant projects — no matter how worthy — that aren't necessary for public safety or that won't
quickly pay for themselves.
Real Progress Montclair: The need for such a center has been recognized for decades and it should be
considered with respect to a comprehensive analysis as to how to best provide after school
programs and senior services. This may involve partnerships with libraries, expanded use of
existing facilities like Clary Anderson Arena, or partnerships with private organizations. However,
the unfortunate reality is that past councils have indebted the town so much that we simply can't
afford the outright purchase of a new facility as was proposed a few years ago.
5.
What measures would you take to maintain the diversity of Montclair residents?
Montclair 2012: Keeping the cost of government i.e. property taxes as low as possible
For Montclair: We are hesitant to say that there are specific short-term steps the Township Council can
take to preserve Montclair's diversity. All of us on the For Montclair slate chose to live in Montclair
specifically because it is a racially and economically diverse community; we trust most, if not all of
those who choose Montclair did so for similar reasons. The reality is that without a serious, longterm plan to reduce the tax burden on Montclair's citizens and without a sustained commitment to
support affordable housing in the Township the cost of living here will inevitably make the
community more homogenous. This is a complex problem with no easy solution but we are
committed to working hard to find the correct balance to preserve this community's diversity.
Real Progress Montclair: The diversity we will preserve is not simply racial, ethnic, or religious, but includes
and is often tied to economic diversity as well. We need to reduce the cost of living that has
severely affected traditionally working class neighborhoods, especially the Fourth Ward. Even as
more affluent African American families have come to other parts of Montclair, families that have
lived in the Fourth Ward for generations have been forced to leave town. High turnover rates are
not good for the fabric of our neighborhoods and our community at large.
6.
What is your position on funding for the Montclair Library? Would you approve more than the required
state minimum funding? Would you restore funds for the Bellevue Branch Library?
Montclair 2012: The library should be funded in the $2.8 -$3.0 million range annually in order to provide
a minimum level of service, adopt the latest technologies, and maintain its collection. Yes, we would
support restoring funds for BAB.
For Montclair: The state minimum library funding is tied to the total assessed value of Montclair's
property. Because the recent reassessment dropped Montclair's total from $7.2 billion to $5.7
billion, Montclair's mandatory minimum funding will be much lower next year than it has been.
Reducing spending to that level would be devastating to the Library.
Our library is a fantastic resource and we support both of its branches. Our slate has said
throughout the campaign that we want the Bellevue Branch to be open on Saturdays and at least
two weekdays and we are committed to ensuring budgetary levels are adequate for that purpose.
Real Progress Montclair: RPM understands the important need for the town library and will ensure the
library continues to remain open. Because of the severe drop in the town's assessed property, in
order for the main branch to remain open at its current level of operations, next year funding
would likely have to be more than the state minimum. We will work with the library board to find
partnerships, shared services and new programs that might increase funding with the goal of
maintaining the entire system, including the Bellevue Ave. branch.
AFFORDABLE HOUSING
1.
What role should the Township of Montclair play in the development of housing that's affordable to all
Montclair residents?
Montclair 2012: Controlling property taxes. Encourage inclusionary developments.
For Montclair: Maintaining and expanding the supply of affordable housing in Montclair is key to
maintaining the character and diversity of the Township. The Township must proactively seek out
and maximize whatever county, state, and federal funding is available for affordable housing and
must partner with local affordable housing organizations such as HOMECorp to ensure that
available funds are utilized to maximize the number of affordable units created each year.
Existing local ordinances such as the Inclusionary Zoning Ordinance (IZO) should be actively
monitored to ensure that development money flows into the fund for affordable units.
Real Progress Montclair: Montclair needs to strive to make living affordable for all of its current citizens.
Montclair's goals, initiatives for affordable housing for low and moderate-income earners have
been very commendable and we are a leader in the state for doing this. Our diversity is one of our
strengths and that's a draw for young families to locate into Montclair. However, Montclair's
population is not immune to today's economic problems and challenges individually or as a
community. The dramatic increase in property tax burden from 2000-2012 is approximately 80%
(including the increase in municipal, school and county tax levy & sewer billings). Our debt has
increased 198% in these 12 years. These increases are unsustainable for any citizen of all income
levels and are driving many people away from our town. We have seen a drop in the AfricanAmerican population of approximately 20% over these years. Montclair needs to work hard to
reverse this trend and live within its means, while supporting strong schools and an environment for
diversity, before taking on any new major projects. RPM supports the state guidelines for
inclusionary zoning of requiring 10% of units to be developed to be designated as low and
affordable units using Montclair's current size and design recommendations for affordable housing.
RPM would also like to see an inventory of all affordable housing units taken and a focus given to
rehabilitating these homes where needed using the existing affordable housing trust fund. When
Montclair is back on a sustainable track, we would seek to review the affordable housing goals
and look to move back to Montclair's current inclusionary zoning requirements.
2.
Does Montclair have an effective affordable Living Program? In your first year in office, what, if any, would
be your plan to encourage affordable housing in Montclair? Where in town should these units be located?
Montclair 2012: Affordable housing should be located throughout Montclair. We would encourage all
developments to be inclusionary or to transfer the development rights to more favorable locations
i.e. near services, markets, and public transportation
For Montclair: Assuming that by 'affordable living' you mean 'affordable housing', Montclair's
commitment to affordable housing and its performance in supporting affordable housing
development has been more consistent than most communities in the state. However, that
commitment and performance has not been adequate to combat the market forces driving the cost
of real estate and housing and therefore has not been adequate to stem the departure of middle
class working families from our town.
Within the constraints of the operating and capital budgets we are firmly committed to maximizing
development of affordable housing as described above in Question1 above. Affordable housing
should be located anywhere in town where property can be acquired at a price that allows
affordable development to take place with the grant money available.
Real Progress Montclair: Please refer to 1 above. RPM also recommends that an cost and revenue analysis
be done before any major development is undertaken to ensure the council and planning board
understand these impacts on our town and schools budgets and the town and schools'
infrastructures.
3.
Do you support the recent decision of the Town Council to build two affordable housing units on Wildwood
Avenue?
Montclair 2012: The decision to put affordable housing in all wards, including the First is the right one.
We'd like to see the land bids, development plans, and fiscal impact statement.
For Montclair: Regarding Wildwood Avenue, the short answer is 'no'. It is unclear that the economics for
affordable units on the Wildwood plot can work, and we believe that affordable units can be
developed elsewhere at lower cost, including in the 1st Ward. Given the budget constraints we are
all under, selling Township assets for less than full market value does not make sense, especially if
the impact on the supply of affordable housing will be negligible, if not nonexistent.
We are firmly committed to seeing affordable housing developed in all four Wards of the
Township and we are firmly committed to making the best use of affordable development funding
to maximize the production of affordable units.
Real Progress Montclair: We do not. RPM supports affordable housing throughout the town, but believes
property should not be sold at below market rates. We believe Wildwood should remain open
green space.
4.
Assuming you think community partnerships are important to the development of affordable housing, what
strategies are you willing to design and implement to make them more efficient?
Montclair 2012: Community partnerships have been a catalyst for affordable housing in Montclair. The
role of these partnerships will be included in the Affordable Housing Strategic Plan that our slate
will develop in the first year of our term.
For Montclair: We do not, as of yet, have strategies committed to paper, yet we are convinced that a
viable strategy for affordable housing is absolutely dependent on working partnerships with
community stakeholders and organizations. We are pledged to develop those partnerships and
are committed to sit down with affordable housing advocates and organizations to develop both
short-term and long-term plans. This will happen within our first 100 days.
Real Progress Montclair: RPM supports the work that HomeCorp has done in Montclair. We would
collaborate with this agency and other agencies to provide the best platform for success to all
families living in Montclair.
5.
How strongly do you value providing housing opportunities/choices for Montclair Township employees
including but not limited to police, fire and teacher personnel?
Montclair 2012: Very strongly.
For Montclair: We believe it is desirable that Montclair's teachers and first responders live in town. As
explained above, we support the development of affordable housing in all of Montclair's Wards.
We do not anticipate spending Township funds out of the operating budget to provide special
housing opportunities for public employees, but as stated above, we are committed to maximizing
IZO revenue that can be used for affordable development.
Real Progress Montclair: RPM believes it is critical that municipal employees are able to live in Montclair.
Many have left this community due to the rising property taxes. For too long, employees have not
been encouraged to live in the community and that is a significant deficiency in a number of ways.
The benefit of having police officers and firemen living in our town and our neighborhoods are
obvious. The township would enjoy a greater sense of community if more employees lived here,
participated in community life, belonged to local clubs and non-profit organizations, etc. Local
residency would aid negotiations with municipal worker unions because the effect those agreements
on the employees' property tax bills would not be divorced from their demands at the bargaining
table.
BUDGET/MANAGEMENT ISSUES
1.
All of your platforms focus on fiscal issues. What are the three programs you would cut or reduce funding
for in your first budget year and during your first term in office?
Montclair 2012: No "targets" for our slate. We'll take a look at the numbers close up first. Our slate is
focused on generating new revenues to maintain our quality of life not just on drastic cuts that will
gut the very essence of Montclair.
For Montclair: We have committed to saving at least $1 million annually by seeking competitive bids for
sanitation and other township services. None of us will take health care benefits from the township,
as the current Council has done. We also believe that we have too many highly-compensated
managers on the township payroll and that some functions can be combined. For that reason, we
are going to insist on an accountability review at the outset of our term.
Real Progress Montclair: RPM does not want to reduce services and has no plans to simply cut programs or
reduce funding in any area. Rather, we hope to deliver the same or better services with more
innovative operations, more accountability, and more transparency. RPM believes a thoughtful and
thorough analysis needs to be done of the town's finances, how services are delivered and how
operations are administered. While, this has not been fully possible because of the lack of
transparency, it is clear that other municipalities have taken the time to identify and implement
innovative solutions, accountability measures and transparency protocols. Montclair should be no
different.
- RPM will develop and implement a 5-year budget plan.
- RPM will commit to a moratorium on new debt until a clear plan for reducing our existing debt
is implemented
- RPM will pass resolutions requiring operating and capital budget monitoring on a regular
basis.
- RPM will require that this information be made available on the township website for
transparency.
- Within the first 6 months in office, RPM will require a comprehensive analysis of costs to
provide sanitation and recycling services to the town. RFP's would be issued and an analysis of
the town's current services compared with the RFP responses would be compared.
- RPM will also request and accept help from citizen-led budget groups modeled after the
Board of Education budget groups to analyze opportunities for efficiencies and intra-town
shared services, such one purchasing office for both the municipal operations and the schools.
- RPM will review all costs associated with services currently being provided by Montclair and
sold to surrounding towns such as animal control and health services. These costs will be
compared to what the surrounding towns are paying to receive these services.
- Recommendations will be made as to whether Montclair should continue as a service provider
or become a consumer of services provided by other towns. This type of analysis would be
done for all core services.
- RPM will also implement goal setting and accountability measures on a department-by
department basis through the collaborative efforts of current employees, the township
manager and citizen budget working groups.
Overall RPM's goal is not to simply to cut programs. We certainly don't accept the premise that a
concern for fiscal issues will require cuts. For too long, the incumbents and the status quo have
continually allowed themselves to be distracted by sideshow issues. They have not been willing to
do the hard work of researching best practices and innovative solutions being employed on other
local governments across the country. Even today, there is an enormous amount of low-hanging fruit,
(efficiencies, savings, reorganization options), that we will leverage to control the growth of costs in
the short term and avoid painful cuts.
2.
Do you support the outsourcing of Waste Management Services? How would you guarantee the quality of
service to the community? How would you deal with the impact on Montclair residents that lose their
positions?
Montclair 2012: Outsourcing of WMS is not a goal in and of itself for our slate. It is not a foregone
conclusion. We have yet to see the compelling numbers in either direction. We will get the
numbers and make a decision. Philosophically, we champion marketing our services to other
municipalities as a source of revenue.
For Montclair: Montclair is one of very few remaining New Jersey towns with municipal sanitation
services. Most other towns have outsourced sanitation services and many have recognized
significant savings by doing so. We owe it to Montclair taxpayers to (1) obtain a full, honest
accounting of what we are paying for these services now, (2) obtain competitive bids from private
providers, (3) work constructively with our town workers to see if we can achieve the same savings
without outsourcing, and then (4) choose the option that delivers quality services at the lowest cost.
If we select a private provider, we will ensure that our contract fully protects our ability to
guarantee quality services to all of Montclair's residents. A private provider would need to hire
new workers to service Montclair, and we would negotiate with the provider to give first priority to
Montclair workers who are displaced.
Real Progress Montclair: RPM supports analyzing all the costs associated with providing sanitation and
recycling, including capital expenditures, fuel, fleet maintenance, uniforms, workers compensation
costs, etc. If current employees can deliver these services with the same level of quality as
independent service providers for the same current and projected cost, this service should not be
outsourced. However, if a thoughtful and thorough analysis reveals that better services can be
delivered at a lower cost in both the short term and long term through outsourcing we will pursue
that option for the good of the whole township.
If outsourcing is determined to be best, we would stipulate in contract negotiations with the chosen
vendor that our employees be given a clear hiring preference. For others, RPM would provide job
training, consider transitioning employees to fill other positions in township departments and, to the
extent allowable under state statute, facilitate early retirement for those with the town more than
20 years.
3.
What is your economic development plan for the downtown area? The Lackawanna Plaza area?
Montclair 2012: The Plaza can be transformed to a mixed-use gem. The owner is excited to get going.
The proximity to NYC public transportation is unrivaled. The Plaza will serve as the "anchor" for
the rest of the downtown.
For Montclair: We think the master plan for the DCH site is a good one, but we share the concerns some
residents have expressed about the way the developer presently proposes to execute that plan.
Starting with the primarily-residential tower is not the right way to go — at least, not without a
contractual guarantee that the developer also will build the primarily-commercial tower (and will
receive no tax preference until it does so). As for the Hahne's lot, all of us are skeptical that the
assisted living facility proposed for that site is the best we can do, and our Mayoral candidate has
said publicly that he is opposed to an assisted living facility at that site. We all agree that the
current Council should not approve that plan. A full study is needed that simply cannot be
completed during the current Council's short remaining term.
The Township does not own Lackawanna Plaza. Accordingly, unless the Township is willing to
exercise its eminent domain powers — a step we do not support because it would embroil the town
in years of costly litigation — we must persuade the owners of Lackawanna Plaza to do better.
We will use all tools at our disposal to do so.
Real Progress Montclair: RPM's economic development plan for Montclair's 6 business districts would
include the following:
- Convene an economic development committee comprised of citizens, businesses associations
from all 6 business districts, business owners, representatives from Montclair Art Museum, MSU,
and other interested parties.
- Encourage development of vacant and underutilized space in a manner that fits with the town's
long term vision, its master plan and encouraging commercial businesses that align with the
vision for a long term sustainable Montclair.
- Perform cost and revenue analysis before new development projects are approved.
-
-
4.
Ensure in the planning stages that over-development will not occur that would threaten the
character of Montclair.
Make Montclair more business friendly by streamlining and better defining the zoning and
planning requirements for businesses looking to open or make changes to their properties.
Develop a written document with checklists or a software program that defines the steps
needed, and processes for approvals for all developers and businesses owners to open a
business, renovate a property or space. This should also list all one time and recurring costs to
remain in compliance with Montclair's planning and zoning laws.
Review all of the planning and zoning laws to ensure they are not too onerous on the
commercial property owners or renters. Look to find "best practices" in the state for these laws
and requirements.
What would the role of Operating Budget Advisory Committee during your term?
Montclair 2012: OBAC serves an important role and its membership includes some very bright minds. Our
slate will look to OBAC to provide guidance to the Council and the management team.
For Montclair: Montclair is fortunate to have many residents with experience in many important fields,
including accounting, finance and operations. We will open the Township's books to the Operating
Budget Advisory Committee and give the Committee's views a respectful hearing. (The need to
meet regularly with OBAC and other Township advisory committees is another reason why we have
discussed adding a third monthly meeting to the Council's regular schedule.)
Real Progress Montclair: The Operating Budget Advisory Committee's role would be active and
appreciated. RPM would very much like to tap the talents of our citizens and will be grateful for
their volunteer efforts. We will expand the scope of the Operating Budget Advisory Committee
and model it after the process developed by the Board of Education under President Shelley
Lombard's leadership.
This would require the town's financial information be available and offered in a transparent
manner for OBAC to review and to make informed recommendations to oversee the finances more
effectively.
CAPITAL FINANCE ISSUES
1.
Should the Town have a policy of reducing its debt? If so, how would you do it? What types of capital
spending would you eliminate?
Montclair 2012: We should establish a goal of reducing our existing debt by two dollars for every dollar
of new spending. No particular category should be eliminated but health, safety, and cost saving
should be priorities.
For Montclair: The candidates of For Montclair are committed to reducing Montclair's debt load. To that
end, although each proposed capital spending project needs to be looked at on its own merits, we
have two overall policy goals. First, during our term in office, we will aim to borrow less for new
capital projects each year than the amount of debt we pay down in that year. Second, we are
prepared to say no to any project that is not important to public safety or that is not expected to
pay for itself within a reasonable time. Within this framework, we will look at all of Montclair's
capital spending proposals -- from the town itself, the Library and the Board of Education -together, so that the highest priority items town-wide can be addressed while decreasing our
overall debt each year.
Real Progress Montclair: Yes. Debt service on nearly $250 million now consumes 24% of our operating
budget. This cripples our ability to fund worthwhile programs and initiatives that reflect the
Township's values. Without this debt, many of the concerns addressed above would not even be
questioned. RPM will issue a moratorium on issuing debt for non-essential items. Essential items
would include bonding for health, safety and maintenance should deferring the work cause a
dramatic rise in costs. This two-year period would allow for all current projects to be completed.
After this two-year period, RPM would have a goal of issuing new debt equal or less than ½ the
amount of debt being retired in a given year.
2.
What would be the Role of the Capital Finance Committee during your term?
Montclair 2012: Guidance on structuring and managing the Town's debt and ad hoc studies as required.
For Montclair: If the voters elect the For Montclair slate, one of our first acts as a Council will be to readopt the ordinance appointing the CFC. More importantly than re-establishing the CFC, however,
we plan to listen to it. The men and women who have agreed to serve on the CFC possess valuable
expertise and we will be lucky to have the benefit of that expertise.
Real Progress Montclair: RPM will re-engage the CFC to assist with providing advice on managing the
town's significantly greater than average debt burden. This will include:
- imposing a moratorium on debt for any new, non-essential expense for two years
- working collaboratively with the town manager to develop a plan to convert the outstanding
short-term, floating rate debt to long-term fixed rate debt to lock into the current low interest
rate environment.
- working collaboratively with the town manager to develop a plan to pay down debt and
reduce the annual debt service cost
- creating and monitoring a detailed capital budget plan
3.
Do you agree or disagree with the resolution recently adopted by the Council which prohibits the Capital
Finance Committee from examining particular capital spending projects? Please explain
Montclair 2012: The CFC can provide useful input here at the request of the Council.
For Montclair: We fail to understand the logic of prohibiting the CFC from simply examining specific
project proposals. We will welcome the CFC's views with respect to the wisdom of particular
projects, although, of course, the final decision with respect to whether or not to proceed with a
project will lie with the Council.
Real Progress Montclair: RPM disagrees with this resolution. A talented and willing group of volunteers
offered their time and advice to help get Montclair on a more sustainable track. This involves
formulating a good plan to reduce our exorbitant debt burden. In order to do this effectively the
Township must be true to its own resolution forming the committee and share the financial
information that the committee needs to fulfill its mission.
4.
Do you support the conversion of short-term notes to bonds even if this increases debt service in the short
run?
Montclair 2012: Yes. The conversion ensures that Montclair is insulated from dramatic increases in interest
rates. This "safety net" is worth the higher interest rates and principal repayment requirements
For Montclair: When the Capital Finance Committee told the Council that Montclair had a higher
percentage of short-term notes per resident than any other municipality in New Jersey, the Council
should have listened. Instead, the Council recklessly muzzled the CFC, then went out and spent
taxpayer money on a consultant who delivered exactly the same news the CFC had. Only then did
the Council wisely convert a percentage of Montclair's short-term notes to bonds. We support that
decision, even though we recognize that the increased interest expenses will put additional strain on
the budget. The alternative -- leaving Montclair vulnerable to swings in short-term interest rates (or,
worse, a potential inability to borrow at all) -- is not acceptable.
Real Progress Montclair: This needs to be done in a balanced manner. We are in a low interest rate
environment so locking into these current low rates would be prudent.
5.
Should the Township continue to borrow money to pay for annually recurring expenses, such as shade trees
and the repaving of streets?
Montclair 2012: No. This practice has been discontinued in the 2012-2013 budget.
For Montclair: We strongly oppose the use of borrowed money to pay for operating expenses.
Real Progress Montclair: The Township should learn to live within its means. In our first two years, RPM will
impose a moratorium on new, non-essential debt. As with municipal departments, we will examine
the best way to maintain shade trees and roads. We may find that while its more efficient to
outsource garbage collection, it's also more efficient to leverage the expertise of our municipal
employees to maintain roads or trees. Our first reaction cannot simply be to outsource but to
undertake the hard work of analyzing our options and navigating the system to implement the best
solutions. The town must live within its means if we hope to fund programs and services that reflect
our values and the amenities that were once reliably provided. A thoughtful and balanced
approach to budgeting is key to accomplishing these goals.
6.
What policy, if any, the Township should adopt with respect to the overall level of capital?
Montclair 2012: The total debt should be limited so that annual debt service is 10%-15% of the budget
versus current 20+%. Of course, the ultimate goal is a pay as you go practice.
For Montclair: As stated above, we believe Township policy for the foreseeable future should be to pay
down net debt each year.
Real Progress Montclair: Capital is clearly needed, but the purchasing of new capital needs to be done so
in a much more measured manner prioritizing future capital spending plans.
ENVIRONMENTAL QUESTIONS
1.
What actions would you take to increase participation in the recycling program in homes, schools and
businesses in Montclair? Would you vote to increase code enforcement?
Montclair 2012: Better communication of the environmental and fiscal benefits. BOE has not met recycling
expectations and should be encouraged via carrot and stick to get it done and be a role model for
its students. Code enforcement resources should be increased; they will pay for themselves in
penalties and increased compliance.
For Montclair: In the last year for which Essex County released recycling statistics for all towns,
Montclair's recycling rate of 28% of total disposed waste was lower than that of most of its
neighbors, including West Orange, which had a 41% rate. This is bad for the environment and
bad for Montclair's budget, because we pay $90 per ton to burn solid waste but recycling firms
pay us up to $70 per ton for recyclables.
Montclair has not done enough to educate its residents about what can be recycled and how
recyclables should be left out for collection. We need to greatly improve the content of the town's
website (in this and many other respects), send a mailing to residents about recycling and, yes, step
up code enforcement — although we would start with a reminder and then a warning before
issuing a fine to any residence or business.
Real Progress Montclair: We will establish a recycling task force to research best practices implemented
across the country for both recycling and composting. Other towns are able to generate significant
revenue by selling recycled materials and composting resulting in a reduction of waste output and
corresponding "tipping" fees by 60-75%. Since our tipping fees now exceed $1.4M, reducing this
fee by 60-75% with an effective recycling program must be done to reduce our overall budget.
2.
What will be your policy toward utilization of remaining open space in Montclair and specifically the
remainder of the Wildwood tract?
Montclair 2012: Developers in targeted growth areas will be given density bonuses for acquiring open
space. Goal should be not to lose any more open space. The use of the Wildwood tract should be
subject to land bids, development plans, and fiscal impact study.
For Montclair: Open space is a precious commodity in a densely populated area like Montclair and the
preservation of open space is a laudable goal. However, the disposition of township owned open
space must be reviewed on a case by case basis and a balance found between the need for open
space in a neighborhood and the need for the township to realize a return on the sale of land and
the return of property to the tax role. Regarding the four Wildwood parcels and their immediate
proximity to Brookdale Park, we are in favor of maximizing the return on selling them at market
rates.
Real Progress Montclair: We do not support the development of Wildwood tract. We would leave this as
open green space.
3.
Would you support a "No Idling" Resolution to make Montclair an "Idle-Free Zone," as such towns as
Millburn, Red Bank and Madison have done?
Montclair 2012: Yes.
For Montclair: We support the goal of reducing idling, which we agree saves fuel and reduces harmful
emissions. In the tight budgetary environment, however, we do not plan to use taxpayer dollars to
purchase, post and maintain "No Idling" signs. If a private organization raises the money to pay
for signs, we would post them.
Real Progress Montclair: This exists on some blocks in Montclair. We would support extending this initiative
on a block-by-block basis if citizen groups petition for it and are willing to generate support
through education and awareness initiatives on a volunteer basis. It's unlikely that we could
currently afford funding for enforcement of such zones.
4.
What are your plans for capping and reducing Montclair's fossil fuel consumption and greenhouse gas
emissions for Montclair to be in compliance recent and pending NJ regulations?
Montclair 2012: Where possible, we would introduce the use of electric vehicles and charging stations and
look to minimize our carbon footprint with alternate energy sources..
For Montclair: One of the biggest problems we have with emissions is the age of our sanitation fleet. An
outsource provider is likely to use newer trucks with lower emissions. As we purchase new vehicles
of other kinds during our term, we will, as appropriate, purchase hybrid or CNG vehicles.
Real Progress Montclair: While it's unlikely that we could afford enforcement of an entire class of new
regulations on our own, we would support any efforts by the League of Municipalities or other
partners to petition the legislature for PERMANENT funding of enforcement mechanisms and /or
complete funding of any one-time costs needed to bring the Township itself into compliance with the
regulations.
5.
What is your position on protecting and replacing shade trees in Montclair?
Montclair 2012: Support the proposed Tree Ordinance with the elimination of the $50 permit fee. Pursue
opportunities with the NJ Tree Foundation which recently gave free trees to MHS.
For Montclair: We do not support the proposed shade tree ordinance that would require residents to
pay a fee and obtain a permit to remove trees on their private property. On public property, and
when approving development plans under the Council's control, we will insist on replacement of any
trees that are removed.
Real Progress Montclair: Montclair has issued an enormous amount of debt over the past several years for
shade trees, yet relatively few have been planted. However, it's clear we need to be attentive to
the health of our trees, many of which are reaching the end of their lives. We will partner with the
environmental commission to develop a comprehensive plan for purchasing, planting and
maintaining our trees in a way that does not further increase our debt burden.
6.
Would you increase/decrease the operating and capital budget for tree maintenance and
replanting? Would you extend the arborist's time in Montclair to more than a day (the bare minimum)?
Montclair 2012: Our 40,000-tree canopy is a treasured asset in Montclair. We will seek to dedicate more
resources to its "care and feeding." More arborist time is a good thing. The new tree ordinance
will require more time.
For Montclair: Tree maintenance is a public safety issue as well as an environmental issue. We believe
that this is another area in which we can better cooperate with neighboring towns, sharing
employees or contracting together with a private provider. We believe that, this way, we can
achieve better services for Montclair at a lower cost than we are paying now.
Real Progress Montclair: See the answer for number 5 above. We will ask that all of these issues be
addressed in the Commission's comprehensive plan.
HEALTH AND WELLNESS
1.
Montclair plays a leadership role in NJ's Complete Streets policy development due to partnerships between
local government, advocacy groups and citizens. As an elected official, what actions would you support that
would enhance and implement Montclair's Complete Streets policy?
Montclair 2012: Support a policy that each application for development, street design, public
transportation project, etc, in town include a complete streets checklist to ensure that it has been
thoroughly considered.
For Montclair: We support the goals of the Complete Streets initiative. Montclair's downtown should be
pedestrian-friendly and our roads should be accessible to and shared by bicycles and cars. We
will aggressively pursue state and federal monies that may be available to allow us to accelerate
repair of Montclair's roadways; Montclair's having a Complete Streets policy can help us compete
successfully for those funds. Because we have so many roads needing repair, however, we cannot
promise that every road project we undertake will be fully consistent with the current Complete
Streets policy. Because so many streets in Montclair are in need of repairs, we believe it is more
important to substantially improve the largest number of road-miles than to make a smaller number
of miles Complete Streets.
Real Progress Montclair: Complete Streets have been a big focus of the current administration while the
finances have gone unchecked. We would not undo any of the great work they have done, but we
would choose to focus on the finances of the town, paying down the debt and identifying innovative
and more efficient ways to deliver our core services. We would also continue focusing on
continuously improving our schools.
2.
With the support of community advocates, our Township has received over $1.5M in grants for pedestrian,
bicycle and "smart growth" projects and studies through federal funding sources such as Safe Routes to
School, Main Street NJ, and Sustainable Jersey. How would you work to assure that Montclair continues to
be a leader in these areas?
Montclair 2012: Promote downtown/train-centered development. Encourage town administration to seek
grants aggressively. Leverage strong relationships with county, state, and federal officials.
For Montclair: As the question states, Montclair has many community advocates who have helped the
Township apply for and win these grants. We thank these neighbors for their involvement in the
community and we will eagerly continue to work with them to help Montclair maintain and increase
its receipt of outside monies to do good works in the town.
Real Progress Montclair: RPM would encourage and empower volunteer citizen groups to focus on these
areas.
3.
Livable, walkable and bicycle-friendly communities have been proven to be more socially equitable, have
more vital economies, and have higher property values. What do you believe are the major challenges and
opportunities to Montclair achieving these goals?
Montclair 2012: Cultural inertia. Much of our existing infrastructure is based on an automobile society. The
good news is that society is moving back to downtowns and train-centered areas in a major way.
We have 5 downtowns and 6 train stations. Let's use them!
For Montclair: The two major challenges in this respect are, first, that our major roads in town are
controlled by Essex County, not Montclair, and, second (of course), our budget constraints. We
want our downtown to be even more pedestrian-friendly than it already is and will pursue policies
to that end, including with respect to the DCH and Hahne's lot redevelopment plans.
Real Progress Montclair: The speed of vehicles passing through our town and the small width of many
streets are challenges that allow for full and safe bike lanes. In addition to increasing street
presence, the police department must continue to enforce the speed limit particularly on morning
evening commuters who cut through town to get to the Parkway or Route 280.
4.
What would you personally do to improve the safety of pedestrians and cyclists on our public streets
through improved law enforcement and engineering initiatives?
Montclair 2012: Communicate to administration and citizens that this is a priority for the Council and our
community. Fully support Robin Schlager's (our 2nd Ward candidate) "Cross With Care" initiative.
For Montclair: When we repaint crosswalks, we should make maximum use of "Continental crosswalks" —
multiple diagonal lines rather than two parallel lines — which traffic engineers have found are
more visible and effective. Through the Township Manager, we will encourage the police to step
up enforcement of crosswalk regulations, particularly during the hours when children are walking to
and from school. We also plan to investigate installation of red light cameras at some Montclair
intersections.
Real Progress Montclair: We will welcome the advocacy, research and recommendations of pedestrian
groups and other stakeholders with respect to law enforcement and engineering initiatives. In the
short term, however, our focus as elected officials will be on the big financial picture. We must
prioritize short and long-term fiscal planning or every kind of amenity, non-mandated spending,
and valued program will end up being eliminated.
5.
What actions would you take to support other policies, programs or initiatives to encourage more bicycling,
walking and transit use in Montclair's vibrant centers?
Montclair 2012: Ensure that our public facilities are "complete streets" friendly and encourage private
facilities to get on board as well. Make sure that all of our reviewing panels, e.g. Planning Board,
Zoning Board and HPC, incorporate it into their deliberations.
For Montclair: Our answers above have explained the actions we would take to maintain Montclair as a
pedestrian- and bicycle-friendly town. We look forward to working with community leaders to
pursue other initiatives, mindful of our budgetary constraints.
Real Progress Montclair: We will welcome the advocacy, research and recommendations of pedestrian
groups and other stakeholders to support the development of such initiatives and would encourage
the development of a comprehensive pilot program in one of the business centers, perhaps in
partnership with the local business association. From there, strategies effective strategies will be
replicated in the other districts as time, circumstances, and resources permit. Components could
include improving the town's marketing through a more interactive website developing maps of
shops, restaurants, cultural events, and better signage for parking and walking routes.
6.
What would you personally do to improve the health and well-being of residents of Montclair
Montclair 2012: Learn more and advocate/communicate more vigorously. A town-wide initiative, e.g.
Give me 10 (lbs) or Walk with Me, may be worth a look.
For Montclair: Public safety is the Township Council's first duty. We will promote the well-being of our
residents by increasing police patrol resources and ensuring adequate fire coverage. We will
improve the health of our children by working with the Board of Education to restore funding for
school nurses. Members of our slate have long been active in the cleanup and maintenance of
Montclair's beautiful parks. We will, of course, continue that work during our terms in office —
and, more importantly, use our positions as Councilors to improve our parks.
Real Progress Montclair: RPM would appoint an advisory committee to take the lead in collaborating with
Mountainside Health Foundation, to determine the best, most productive way to support their efforts
in reaching and educating the Montclair community.
7.
Studies show links between synthetic lawn pesticides and health issues (neurological disruption, cancer, brain
impairment). Currently Montclair schools and public parks do not use harmful synthetic lawn pesticides. What
will you do to ensure that these toxic chemicals are never used in the future in public places like schools,
parks, etc?
Montclair 2012: Maintain and enforce current policy.
For Montclair: As the questions states, Montclair does not presently use synthetic lawn pesticides. We
would be pleased to consider an ordinance banning their use on Montclair-owned property, if such
an ordinance is needed.
Real Progress Montclair: We would establish a formal policy precluding the use of such materials binding
both on municipal employees and vendors contracted to maintain our parks. Accountability
measures will be implemented to ensure continued compliance.