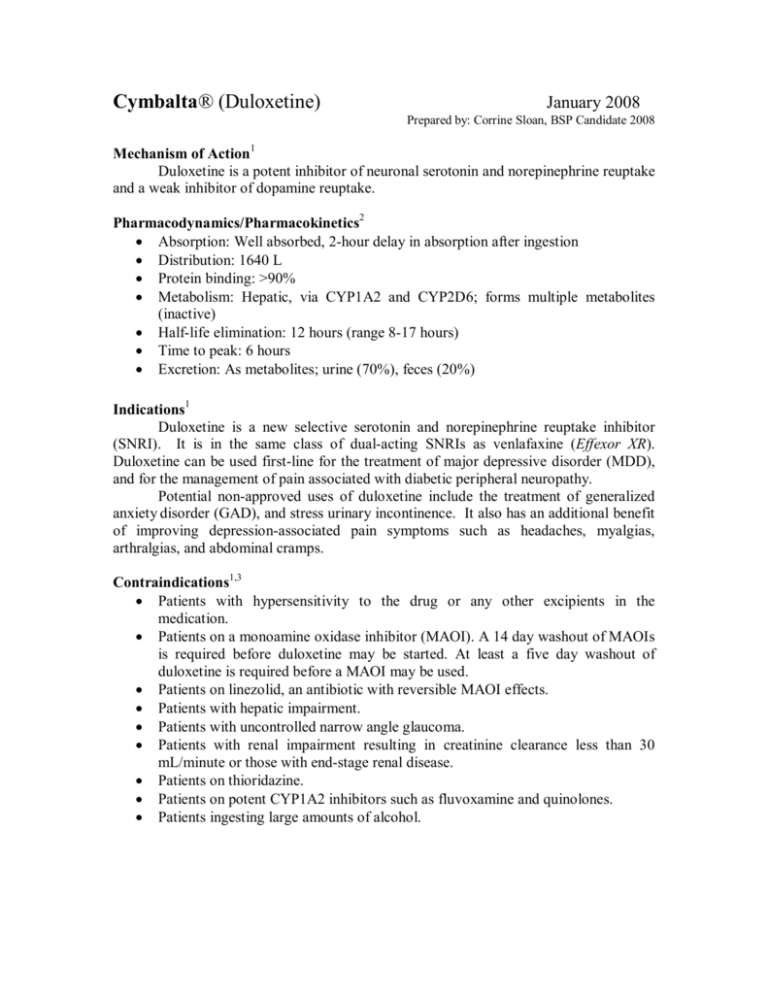 Cymbalta® (Duloxetine) January 2008 Prepared by: Corrine Sloan, BSP Candidate 2008 Mechanism of Action 1 Duloxetine is a potent inhibitor of neuronal serotonin and norepinephrine reuptake and a weak inhibitor of dopamine reuptake. Pharmacodynamics/Pharmacokinetics 2
· Absorption: Well absorbed, 2­hour delay in absorption after ingestion
· Distribution: 1640 L
· Protein binding: >90%
· Metabolism: Hepatic, via CYP1A2 and CYP2D6; forms multiple metabolites (inactive)
· Half­life elimination: 12 hours (range 8­17 hours)
· Time to peak: 6 hours
· Excretion: As metabolites; urine (70%), feces (20%) Indications 1 Duloxetine is a new selective serotonin and norepinephrine reuptake inhibitor (SNRI). It is in the same class of dual­acting SNRIs as venlafaxine (Effexor XR). Duloxetine can be used first­line for the treatment of major depressive disorder (MDD), and for the management of pain associated with diabetic peripheral neuropathy. Potential non­approved uses of duloxetine include the treatment of generalized anxiety disorder (GAD), and stress urinary incontinence. It also has an additional benefit of improving depression­associated pain symptoms such as headaches, myalgias, arthralgias, and abdominal cramps. Contraindications 1,3
· Patients with hypersensitivity to the drug or any other excipients in the medication.
· Patients on a monoamine oxidase inhibitor (MAOI). A 14 day washout of MAOIs is required before duloxetine may be started. At least a five day washout of duloxetine is required before a MAOI may be used.
· Patients on linezolid, an antibiotic with reversible MAOI effects.
· Patients with hepatic impairment.
· Patients with uncontrolled narrow angle glaucoma.
· Patients with renal impairment resulting in creatinine clearance less than 30 mL/minute or those with end­stage renal disease.
· Patients on thioridazine.
· Patients on potent CYP1A2 inhibitors such as fluvoxamine and quinolones.
· Patients ingesting large amounts of alcohol.
Warnings and Precautions 1
· Reports of behavioural changes, emotional lability, suicidal thoughts, or thoughts of harm to others have occurred with the use of serotonin­enhancing antidepressants in both adults and those younger than 18 years of age.
· Duloxetine has a relatively short half­life of 12 hours and therefore, it is not advised to stop therapy abruptly.
· Patients should monitor for abnormal bleeding as there have been case reports of gastrointestinal bleeding associated with duloxetine.
· Use with caution in those with a history of seizures.
· Concomitant therapy with other serotonin enhancing or neuroleptic medications may increase the risk of serotonin syndrome or neuroleptic malignant syndrome from duloxetine. Use In Pregnancy 1 Safety of duloxetine in pregnancy has not been established. It is Pregnancy Category C. Adverse Effects 1,2 ● Nausea ● Dry mouth ● Constipation ● Reduced appetite ● Fatigue ● Dizziness ● Worsening glycemic control in those with diabetes ● Somnolence ● Sweating ● Insomnia ● Vomiting ● Blurred vision ● Sexual dysfunction Supplied 1 Duloxetine is available as 30 mg and 60 mg delayed­release capsules. Dosage and Administration 1,2
· Major Depressive Disorder/Diabetic neuropathy: initial dose of 30 mg daily may be used for the first seven to 14 days to improve tolerability. Target dose: 60 mg once daily.
· Onset of effect in MDD: allow 1 ­ 4 weeks for therapeutic effect
· Onset of effect for diabetic neuropathy: as early as the first week Doses greater than 60 mg have not demonstrated additional benefits; however, a maximal dose of 120 mg (given as 60 mg twice a day) has been studied in some clinical trials. Dosing for non approved uses 2
· Generalized anxiety disorder: Initial: 30­60 mg/day as a single daily dose; patients initiated at 30 mg/day should be titrated to 60 mg/day after 1 week; max dose: 120 mg/day
· Chronic pain syndromes: 60 mg once daily
· Fibromyalgia: 60 mg twice daily
· Stress incontinence: 40 mg twice daily
Monitoring Parameters 2 Blood pressure should be regularly monitored, especially in patients with a high baseline blood pressure; mental status for depression, suicidal ideation (especially at the beginning of therapy or when dose changes), anxiety, social functioning, mania, and panic attacks. Safety/Efficacy 1,4,5 There have been no head­to­head trials that have directly compared the efficacy and safety of duloxetine with venlafaxine when treating MDD. There was a meta analysis done that indirectly compared the efficacy and safety of the two agents vs. placebo. There were no statistically significant differences between them with regards to the safety and efficacy; however, a direct comparison of duloxetine and venlafaxine should be studied to accurately compare them. Clinical trials have concluded that duloxetine has proven effectiveness compared to placebo when treating MDD; however, duloxetine did not show a clear advantage over other existing treatments like paroxetine. Studies have also shown duloxetine to be more effective than placebo when managing the pain associated with diabetic neuropathy. Since duloxetine is a newer agent, it is expected there will be more clinical trials done in the future to determine its effectiveness vs. other first­line treatments, and to obtain further safety data. References 1) New drug: Cymbalta (duloxetine). Pharmacist's Letter/Prescriber's Letter 2008;24(1):240115. 2) Duloxetine. Lexi­Drugs Online. 1978­2008 Lexi­Comp Inc. Retrieved 04JAN2008; cited: http://online.lexi.com.cyber.usask.ca/crlonline?siteid=293 3) Product monograph for Cymbalta. Eli Lilly Canada Inc, Toronto, ON. October 2007. Retrieved 04JAN2007; cited http://www.cymbalta.com/index.jsp 4) Wernicke JF, Pritchett YL, D'Souza DN, Waninger A, Iyengar S, Raskin J. A randomized controlled trial of duloxetine in diabetic peripheral neuropathic pain. Neurology, October 2006: 67(8), 24:1411­1420. 5) Vis PM, Van Baardewijk M, Einarson TR. Duloxetine and venlafaxine­XR in the treatment of major depressive disorder : a meta­analysis of randomized clinical trials The Annals of Pharmacotherapy, 2005: 39:1798­807.