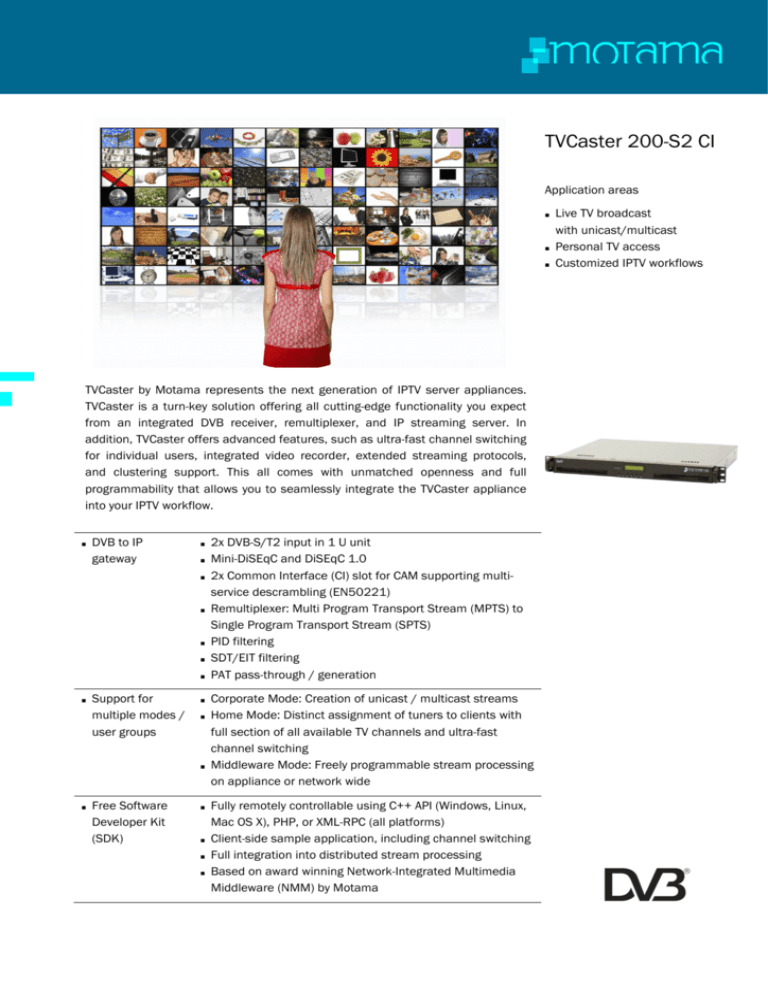 TVCaster 200-S2 CI
Application areas
■
■
■
TVCaster by Motama represents the next generation of IPTV server appliances.
TVCaster is a turn-key solution offering all cutting-edge functionality you expect
from an integrated DVB receiver, remultiplexer, and IP streaming server. In
addition, TVCaster offers advanced features, such as ultra-fast channel switching
for individual users, integrated video recorder, extended streaming protocols,
and clustering support. This all comes with unmatched openness and full
programmability that allows you to seamlessly integrate the TVCaster appliance
into your IPTV workflow.
■
DVB to IP
gateway
■
■
■
■
■
■
■
■
Support for
multiple modes /
user groups
■
■
■
■
Free Software
Developer Kit
(SDK)
■
■
■
■
2x DVB-S/T2 input in 1 U unit
Mini-DiSEqC and DiSEqC 1.0
2x Common Interface (CI) slot for CAM supporting multiservice descrambling (EN50221)
Remultiplexer: Multi Program Transport Stream (MPTS) to
Single Program Transport Stream (SPTS)
PID filtering
SDT/EIT filtering
PAT pass-through / generation
Corporate Mode: Creation of unicast / multicast streams
Home Mode: Distinct assignment of tuners to clients with
full section of all available TV channels and ultra-fast
channel switching
Middleware Mode: Freely programmable stream processing
on appliance or network wide
Fully remotely controllable using C++ API (Windows, Linux,
Mac OS X), PHP, or XML-RPC (all platforms)
Client-side sample application, including channel switching
Full integration into distributed stream processing
Based on award winning Network-Integrated Multimedia
Middleware (NMM) by Motama
Live TV broadcast
with unicast/multicast
Personal TV access
Customized IPTV workflows
TVCaster 200-S2 CI
■
IP Streaming
■
■
■
■
■
Comfort features
■
■
■
■
Administration
■
■
■
■
■
Hardware
■
■
■
■
■
■
■
■
■
■
■
2x 1000 BaseT Gigabit Ethernet
1x Mgmt (Management and Streaming)
1x GbE (Streaming only)
Output rate:
up to 500 Mbps
or 60 SDTV streams
or 40 HDTV streams
MPEG Transport Stream (MPEG-TS) for SDTV and HDTV
MPEG-2
MPEG-4 (H.264), ..
MPEG Audio, AC3, …
Protocols:
Unicast / Multicast / Broadcast
UDP
RTP over UDP
Optimized TCP streaming (reliable)
Application areas
■
■
■
Live TV broadcast
with unicast/multicast
Personal TV access
Customized IPTV workflows
Automatic channel search
Server-side electronic program guide (EPG)
Fully programmable digital video recorder with integrated
hard disk
Linux system
Web interface (http/https)
ssh
ftp
1 U, 19" rack mountable
2x DVB-S/S2 input: IEC F-type (female)
2x CI slots for Conditional Access Modules (CAM)
1x SSD (Hot swap carriers)
Option: Redundant disk array (RAID1, 2xSSD)
VGA port, keyboard port, mouse port for KVM
2x USB
Height x Width x Depth
43 mm (1.7") x 426 mm (16.8") x 495 mm (19.5")
Voltage: 100V – 240V AC, 50-60 Hz
Weight: 9.5 kg
Power consumption:
< 4 W (standby), 40 W (idle) to 50 W (loaded)
Option: Redundant power supply
High-quality server appliance assembled in Germany
Motama GmbH
Faktoreistr. 4
66111 Saarbrücken
Germany
www.motama.com
© 2014 Motama GmbH. All rights reserved.
The information contained herein are
subject to change without prior notice
and do not carry any contractual
obligation for Motama.
Motama, TVCaster, CodecCaster, AdCaster,
RelayCaster, PolyCaster, RCSP and related
trademarks are either registered trademarks
or trademarks of Motama GmbH.
DVB and the DVB logos are
Trademarks of the DVB project.