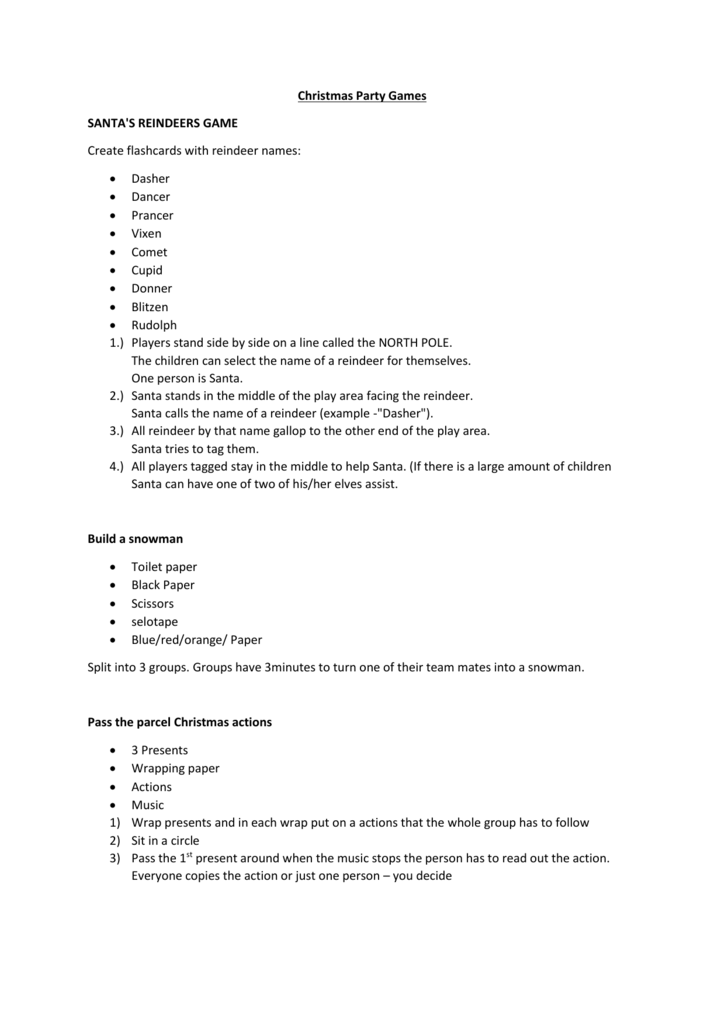 Christmas Party Games
SANTA'S REINDEERS GAME
Create flashcards with reindeer names:









1.)
Dasher
Dancer
Prancer
Vixen
Comet
Cupid
Donner
Blitzen
Rudolph
Players stand side by side on a line called the NORTH POLE.
The children can select the name of a reindeer for themselves.
One person is Santa.
2.) Santa stands in the middle of the play area facing the reindeer.
Santa calls the name of a reindeer (example -"Dasher").
3.) All reindeer by that name gallop to the other end of the play area.
Santa tries to tag them.
4.) All players tagged stay in the middle to help Santa. (If there is a large amount of children
Santa can have one of two of his/her elves assist.
Build a snowman





Toilet paper
Black Paper
Scissors
selotape
Blue/red/orange/ Paper
Split into 3 groups. Groups have 3minutes to turn one of their team mates into a snowman.
Pass the parcel Christmas actions




1)
2)
3)
3 Presents
Wrapping paper
Actions
Music
Wrap presents and in each wrap put on a actions that the whole group has to follow
Sit in a circle
Pass the 1st present around when the music stops the person has to read out the action.
Everyone copies the action or just one person – you decide
Snowball Race


Hula Hoop
Balls
1.
2.
3.
4.
5.
Place hula hoops into 4 corners of the room
Place 1 hula hoop in the middle of the room
In the main hula hoop place all the balls
Split group into 4
Aim to get as many balls in your hoop in a short period of time
Christmas Musical Statues

1.
2.
3.
Selection Christmas music
Play music and dance around the room and when music stops you freeze
Whoever moves sits to the side.
Make it more physical change the actions
Christmas dinner run

Split room in to 3 areas with coloured cones – you can ask group for 3 foods they eat at
Christmas. eg
1 Turkey
2 Sprouts
3 sausages
When you call out the food the players have to run to the cone which goes with the food. Speed
it up or slow it down depending on the group.