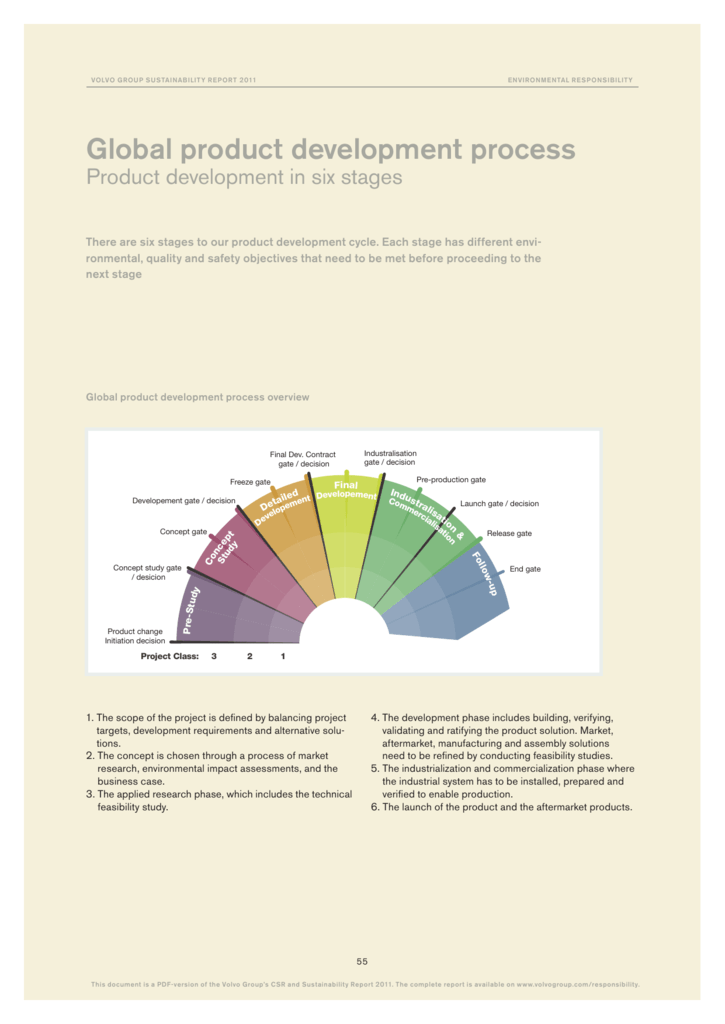 VOLVO GROUP SUS TAINABILIT Y RE PORT 2011
E nvironmental Responsibility
Global product development process
Product development in six stages
There are six stages to our product development cycle. Each stage has different environmental, quality and safety objectives that need to be met before proceeding to the
next stage
Global product development process overview
Final Dev. Contract
gate / decision
Industralisation
gate / decision
Freeze gate
Final
iledent Developement
a
t
De lopem
Developement gate / decision
ve
De
Co
n
St ce
ud pt
y
Pre-Stu
dy
up
wllo
Fo
Product change
Initiation decision
Project Class:
3
Release gate
on
Concept study gate
/ desicion
ti
Launch gate / decision
&
Concept gate
Pre-production gate
Ind
Comustr
me alis
rci a
ali tio
sa n
2
End gate
1
4. The development phase includes building, verifying,
­validating and ratifying the product solution. Market,
aftermarket, manufacturing and assembly solutions
need to be refined by conducting feasibility studies.
5. The industrialization and commercialization phase where
the industrial system has to be installed, prepared and
verified to enable production.
6. The launch of the product and the aftermarket products.
1. The scope of the project is defined by balancing project
targets, development requirements and alternative solutions.
2. T
he concept is chosen through a process of market
research, environmental impact assessments, and the
business case.
3. T
he applied research phase, which includes the technical
feasibility study.
55
This document is a PDF-version of the Volvo Group's CSR and Sustainability Report 2011. The complete report is available on www.volvogroup.com/responsibility.