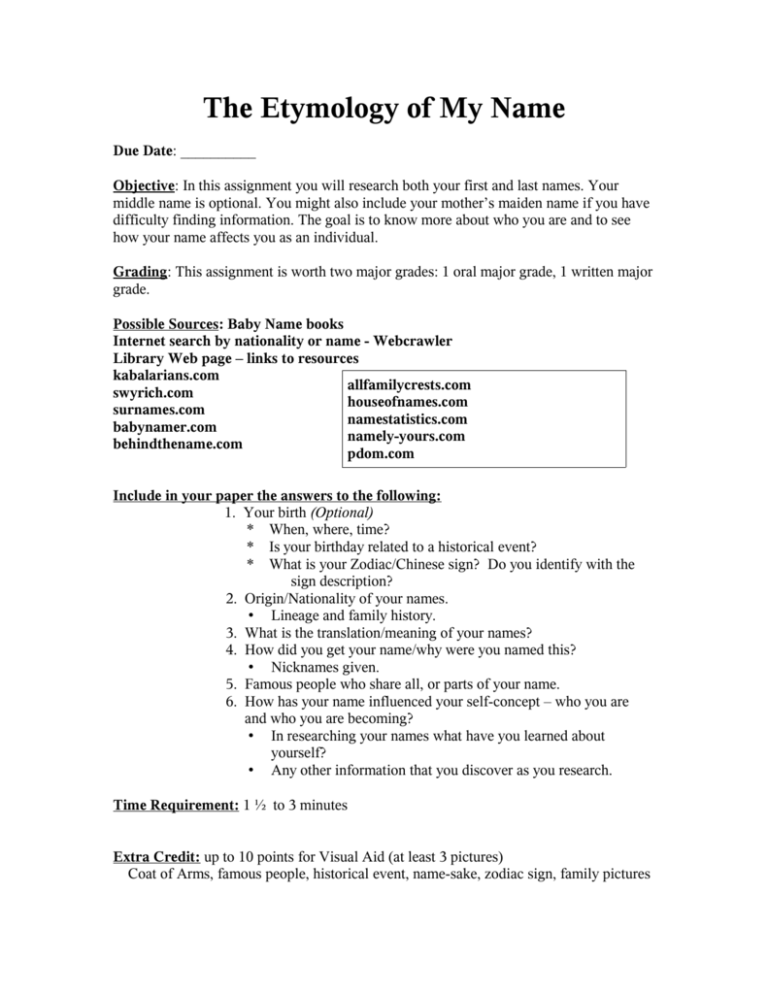 The Etymology of My Name
Due Date: __________
Objective: In this assignment you will research both your first and last names. Your
middle name is optional. You might also include your mother's maiden name if you have
difficulty finding information. The goal is to know more about who you are and to see
how your name affects you as an individual.
Grading: This assignment is worth two major grades: 1 oral major grade, 1 written major
grade.
Possible Sources: Baby Name books
Internet search by nationality or name - Webcrawler
Library Web page – links to resources
kabalarians.com
allfamilycrests.com
swyrich.com
houseofnames.com
surnames.com
namestatistics.com
babynamer.com
namely-yours.com
behindthename.com
pdom.com
Include in your paper the answers to the following:
1. Your birth (Optional)
* When, where, time?
* Is your birthday related to a historical event?
* What is your Zodiac/Chinese sign? Do you identify with the
sign description?
2. Origin/Nationality of your names.
• Lineage and family history.
3. What is the translation/meaning of your names?
4. How did you get your name/why were you named this?
• Nicknames given.
5. Famous people who share all, or parts of your name.
6. How has your name influenced your self-concept – who you are
and who you are becoming?
• In researching your names what have you learned about
yourself?
• Any other information that you discover as you research.
Time Requirement: 1 ½ to 3 minutes
Extra Credit: up to 10 points for Visual Aid (at least 3 pictures)
Coat of Arms, famous people, historical event, name-sake, zodiac sign, family pictures
2 days are reserved in the computer lab for research
Guidelines for Written Papers
Papers are to be typed or handwritten. My preference is that they are typed.
They are easier to read and communicate a more professional look.
Minimum length for papers is 1 full page.
***Typed papers are to use a 12 font, 1 inch margins, and double spaced. Do not cheat
the margins!
***Handwritten papers – do not skip lines. Blue/Black ink only! Do not write on the
back. Do not write on the last full line of the page.
Format:
Paragraphs are indented
Introduction paragraph with thesis statement
Body
Conclusion
Bibliography/Cite Sources
Heading– each paper needs to include the following information in upper right hand
corner:
Name
Title
Communication Applications/______ Period
Points are deducted for incorrect spelling, punctuation, grammar, and scratch outs.
****Please plan ahead....use the outline provided. Check and recheck format. Take
time in developing a clever attention-getter and conclusion****
My printer won't work will not be accepted as an excuse for not having your paper.
Save your info. on a disk and bring it to school or email it to me.
My computer won't work will not be acceptable as an excuse for not having your
paper.