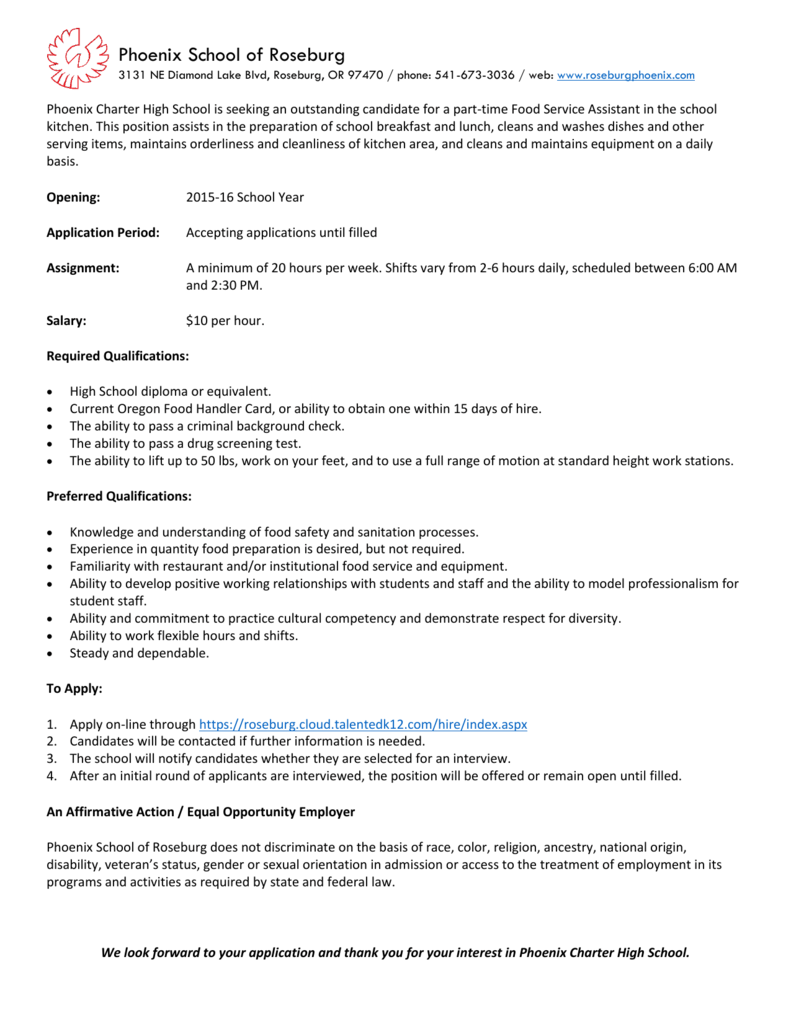 Phoenix School of Roseburg
3131 NE Diamond Lake Blvd, Roseburg, OR 97470 / phone: 541-673-3036 / web: www.roseburgphoenix.com
Phoenix Charter High School is seeking an outstanding candidate for a part-time Food Service Assistant in the school
kitchen. This position assists in the preparation of school breakfast and lunch, cleans and washes dishes and other
serving items, maintains orderliness and cleanliness of kitchen area, and cleans and maintains equipment on a daily
basis.
Opening:
2015-16 School Year
Application Period:
Accepting applications until filled
Assignment:
A minimum of 20 hours per week. Shifts vary from 2-6 hours daily, scheduled between 6:00 AM
and 2:30 PM.
Salary:
$10 per hour.
Required Qualifications:





High School diploma or equivalent.
Current Oregon Food Handler Card, or ability to obtain one within 15 days of hire.
The ability to pass a criminal background check.
The ability to pass a drug screening test.
The ability to lift up to 50 lbs, work on your feet, and to use a full range of motion at standard height work stations.
Preferred Qualifications:







Knowledge and understanding of food safety and sanitation processes.
Experience in quantity food preparation is desired, but not required.
Familiarity with restaurant and/or institutional food service and equipment.
Ability to develop positive working relationships with students and staff and the ability to model professionalism for
student staff.
Ability and commitment to practice cultural competency and demonstrate respect for diversity.
Ability to work flexible hours and shifts.
Steady and dependable.
To Apply:
1.
2.
3.
4.
Apply on-line through https://roseburg.cloud.talentedk12.com/hire/index.aspx
Candidates will be contacted if further information is needed.
The school will notify candidates whether they are selected for an interview.
After an initial round of applicants are interviewed, the position will be offered or remain open until filled.
An Affirmative Action / Equal Opportunity Employer
Phoenix School of Roseburg does not discriminate on the basis of race, color, religion, ancestry, national origin,
disability, veteran's status, gender or sexual orientation in admission or access to the treatment of employment in its
programs and activities as required by state and federal law.
We look forward to your application and thank you for your interest in Phoenix Charter High School.