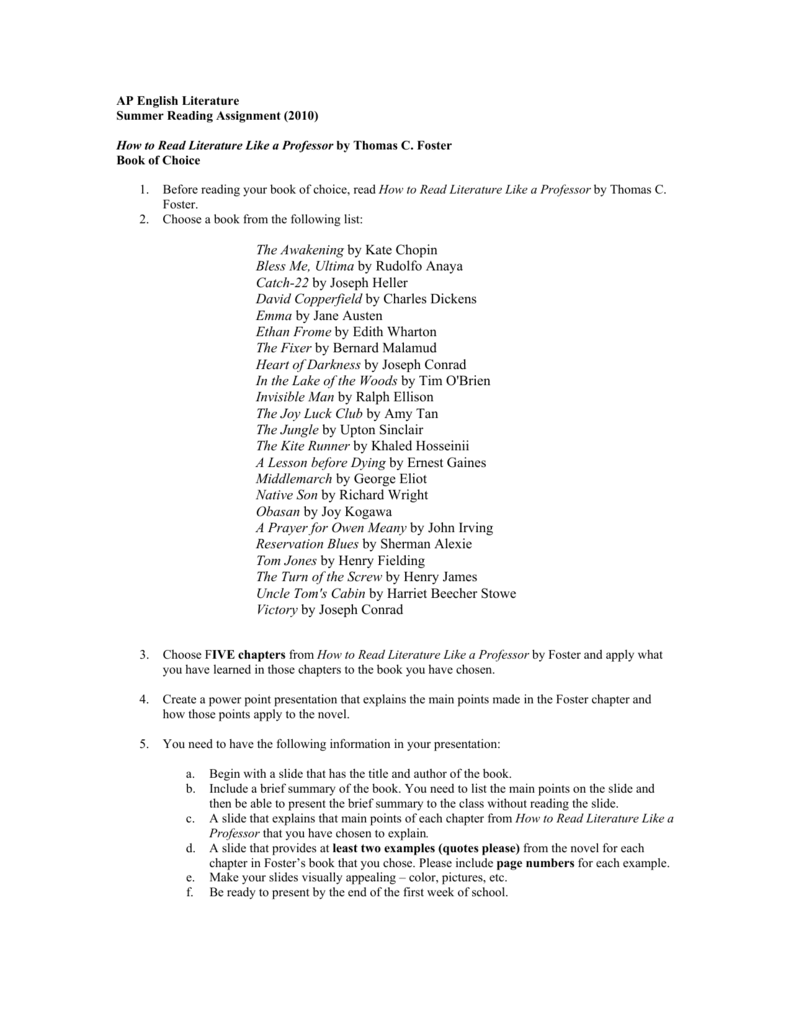 AP English Literature
Summer Reading Assignment (2010)
How to Read Literature Like a Professor by Thomas C. Foster
Book of Choice
1.
2.
Before reading your book of choice, read How to Read Literature Like a Professor by Thomas C.
Foster.
Choose a book from the following list:
The Awakening by Kate Chopin
Bless Me, Ultima by Rudolfo Anaya
Catch-22 by Joseph Heller
David Copperfield by Charles Dickens
Emma by Jane Austen
Ethan Frome by Edith Wharton
The Fixer by Bernard Malamud
Heart of Darkness by Joseph Conrad
In the Lake of the Woods by Tim O'Brien
Invisible Man by Ralph Ellison
The Joy Luck Club by Amy Tan
The Jungle by Upton Sinclair
The Kite Runner by Khaled Hosseinii
A Lesson before Dying by Ernest Gaines
Middlemarch by George Eliot
Native Son by Richard Wright
Obasan by Joy Kogawa
A Prayer for Owen Meany by John Irving
Reservation Blues by Sherman Alexie
Tom Jones by Henry Fielding
The Turn of the Screw by Henry James
Uncle Tom's Cabin by Harriet Beecher Stowe
Victory by Joseph Conrad
3.
Choose FIVE chapters from How to Read Literature Like a Professor by Foster and apply what
you have learned in those chapters to the book you have chosen.
4.
Create a power point presentation that explains the main points made in the Foster chapter and
how those points apply to the novel.
5.
You need to have the following information in your presentation:
a.
b.
c.
d.
e.
f.
Begin with a slide that has the title and author of the book.
Include a brief summary of the book. You need to list the main points on the slide and
then be able to present the brief summary to the class without reading the slide.
A slide that explains that main points of each chapter from How to Read Literature Like a
Professor that you have chosen to explain.
A slide that provides at least two examples (quotes please) from the novel for each
chapter in Foster's book that you chose. Please include page numbers for each example.
Make your slides visually appealing – color, pictures, etc.
Be ready to present by the end of the first week of school.