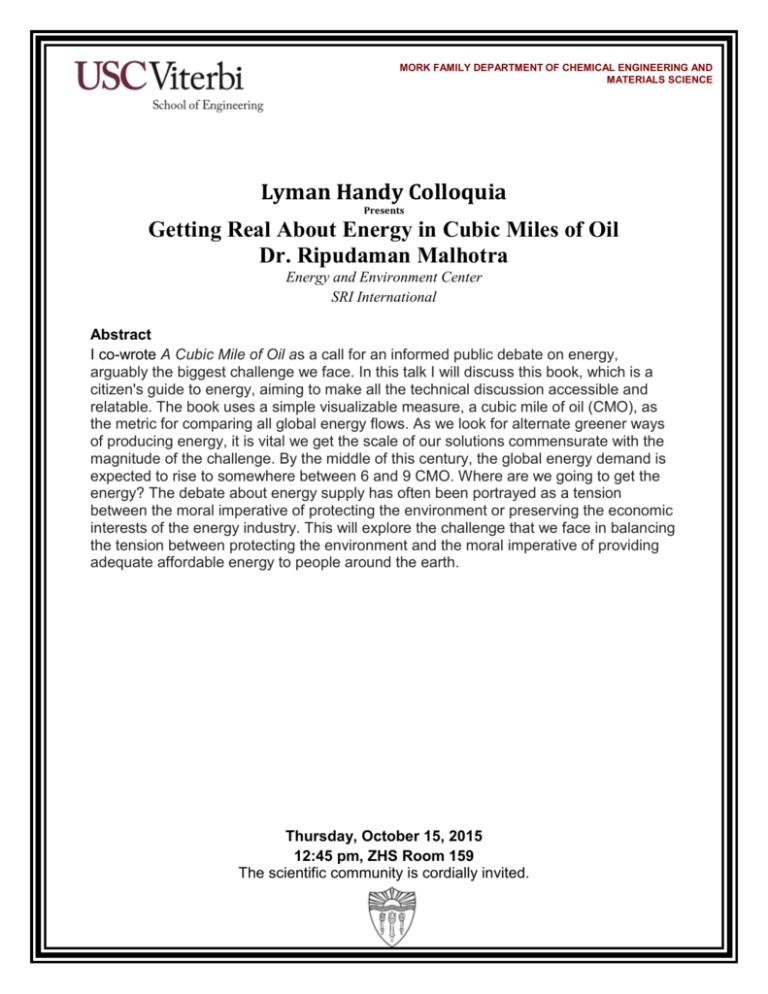 MORK FAMILY DEPARTMENT OF CHEMICAL ENGINEERING AND
MATERIALS SCIENCE
Lyman Handy Colloquia
Presents
Getting Real About Energy in Cubic Miles of Oil
Dr. Ripudaman Malhotra
Energy and Environment Center
SRI International
Abstract
I co-wrote A Cubic Mile of Oil as a call for an informed public debate on energy,
arguably the biggest challenge we face. In this talk I will discuss this book, which is a
citizen's guide to energy, aiming to make all the technical discussion accessible and
relatable. The book uses a simple visualizable measure, a cubic mile of oil (CMO), as
the metric for comparing all global energy flows. As we look for alternate greener ways
of producing energy, it is vital we get the scale of our solutions commensurate with the
magnitude of the challenge. By the middle of this century, the global energy demand is
expected to rise to somewhere between 6 and 9 CMO. Where are we going to get the
energy? The debate about energy supply has often been portrayed as a tension
between the moral imperative of protecting the environment or preserving the economic
interests of the energy industry. This will explore the challenge that we face in balancing
the tension between protecting the environment and the moral imperative of providing
adequate affordable energy to people around the earth.
Thursday, October 15, 2015
12:45 pm, ZHS Room 159
The scientific community is cordially invited.