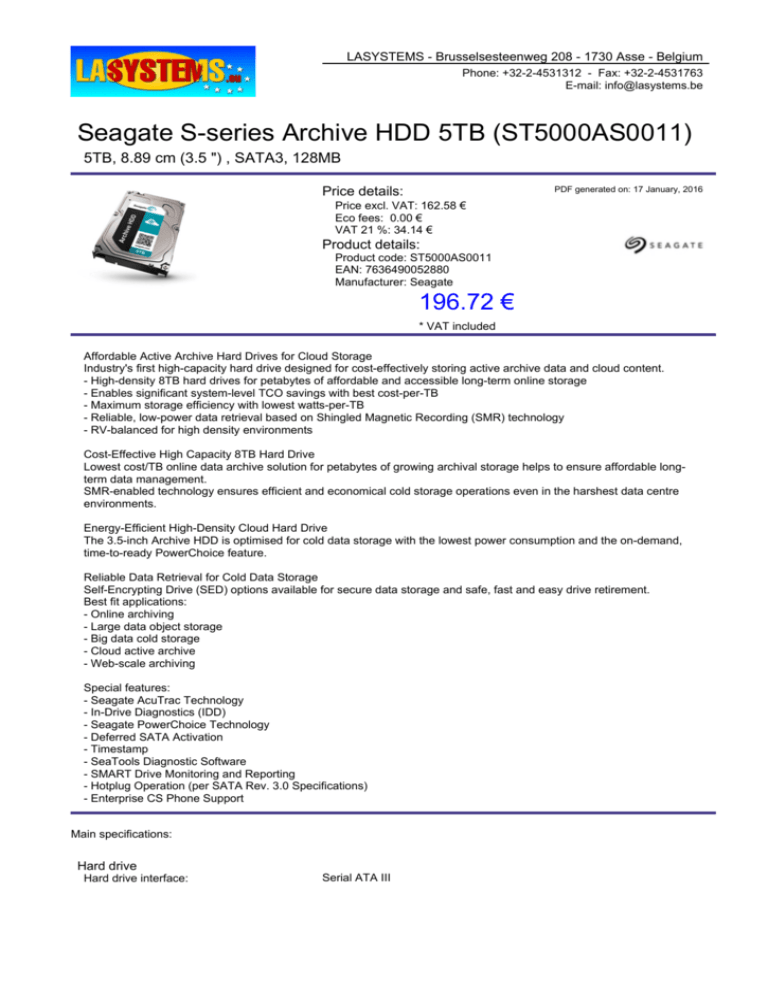 LASYSTEMS - Brusselsesteenweg 208 - 1730 Asse - Belgium
Phone: +32-2-4531312 - Fax: +32-2-4531763
E-mail: info@lasystems.be
Seagate S-series Archive HDD 5TB (ST5000AS0011)
5TB, 8.89 cm (3.5 ") , SATA3, 128MB
PDF generated on: 17 January, 2016
Price details:
Price excl. VAT: 162.58 €
Eco fees: 0.00 €
VAT 21 %: 34.14 €
Product details:
Product code: ST5000AS0011
EAN: 7636490052880
Manufacturer: Seagate
196.72 €
* VAT included
Affordable Active Archive Hard Drives for Cloud Storage
Industry's first high-capacity hard drive designed for cost-effectively storing active archive data and cloud content.
- High-density 8TB hard drives for petabytes of affordable and accessible long-term online storage
- Enables significant system-level TCO savings with best cost-per-TB
- Maximum storage efficiency with lowest watts-per-TB
- Reliable, low-power data retrieval based on Shingled Magnetic Recording (SMR) technology
- RV-balanced for high density environments
Cost-Effective High Capacity 8TB Hard Drive
Lowest cost/TB online data archive solution for petabytes of growing archival storage helps to ensure affordable longterm data management.
SMR-enabled technology ensures efficient and economical cold storage operations even in the harshest data centre
environments.
Energy-Efficient High-Density Cloud Hard Drive
The 3.5-inch Archive HDD is optimised for cold data storage with the lowest power consumption and the on-demand,
time-to-ready PowerChoice feature.
Reliable Data Retrieval for Cold Data Storage
Self-Encrypting Drive (SED) options available for secure data storage and safe, fast and easy drive retirement.
Best fit applications:
- Online archiving
- Large data object storage
- Big data cold storage
- Cloud active archive
- Web-scale archiving
Special features:
- Seagate AcuTrac Technology
- In-Drive Diagnostics (IDD)
- Seagate PowerChoice Technology
- Deferred SATA Activation
- Timestamp
- SeaTools Diagnostic Software
- SMART Drive Monitoring and Reporting
- Hotplug Operation (per SATA Rev. 3.0 Specifications)
- Enterprise CS Phone Support
Main specifications:
Hard drive
Hard drive interface:
Serial ATA III
Hard drive capacity:
Hard drive size:
Device type:
Drive device, buffer size:
Hard disk number of heads:
Start/stop cycles:
Hard drive interface transfer rate:
Hard drive sustained transfer rate:
Mean time between failures (MTBF):
RoHS compliance:
5000 GB
3.5 "
HDD
128 MB
8
300000
6 Gbit/s
180 MiB/s
800000 h
Y
Power
Power consumption (typical):
Power consumption (standby):
Power consumption (idle):
5.5 W
0.75 W
3.5 W
Operational conditions
Operating temperature (T-T):
Storage temperature (T-T):
0 - 60 °C
-40 - 70 °C
Weight & dimensions
Width:
Height:
Depth:
Weight:
101.6 mm
26.11 mm
146.99 mm
655 g
Packaging data
Quantity:
1
*PLEASE NOTE: Every effort has been made to ensure the accuracy of all information contained herein. Lasystems makes no warranty expressed or implied with respect to
accuracy of the information, including price, editorials or specifications. Lasystems or its suppliers shall not be liable for incidental, consequential or special damages arising from, or
as a result of, any electronic transmission or the accuracy of the information contained herin, even if Lasystems has been advised of the possibility of such damages. Product and
manufacturer names are used only for the purpose of identification.