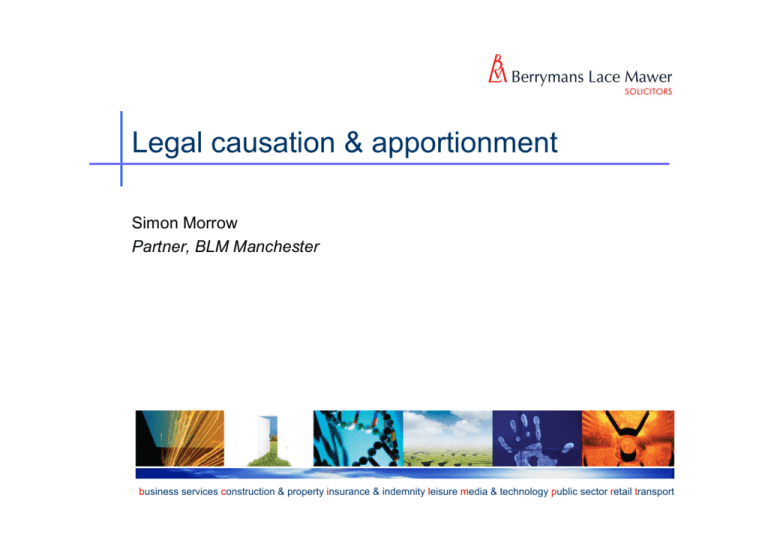 Legal causation & apportionment
Simon Morrow
Partner, BLM Manchester
business services construction & property insurance & indemnity leisure media & technology public sector retail transport
Liability in disease cases
The essential components are:
" The existence of a common law or statutory duty;
" A breach of that duty; and
" Damage resulting from the breach
The 'but for' test
"
"
"
"
Would the damage have occurred but for the
defendant's breach of duty?
Balance of probabilities > 50%
Damages in full
Doubling of the relative risk
Shortell v Bical Construction (2008)
"
"
"
"
"
Lung cancer case
Asbestos exposure
Heavy smoker
Attribution - Helsinki criteria - 25 fibre/ml years?
'But for' test satisfied
Other tests
"
"
"
Proof a scientific impossibility?
'Material contribution'
'Material increase in risk' / 'Fairchild' test
'Material contribution'
Bonnington Castings v Wardlaw (1956)
Innocent
dust
Guilty
dust
Disease
Material increase in risk
"
"
"
McGhee v NCB (1972)
Wilsher v Essex AHA (1988)
Fairchild v Glenhaven (2002)
Wilsher v Essex AHA (1988)
Risk factors
Outcome
Excessive O2
Risk 2
Risk 3
Blindness
Risk 4
Risk 5
Contribution to risk
Fairchild v Glenhaven (2002)
Asbestos
source 1
Mesothelioma
Asbestos
source 3
Asbestos
source 2
The Fairchild conditions
"
"
"
"
"
Mesothelioma - indivisible disease
Multiple potential sources/culpable defendants
Greater exposure increases the risk
Each exposure alone potentially causative
Science cannot show which exposure is to blame
Fairchild extended?
Barker v Corus Group (2006)
"
"
Fairchild applied
Liability limited to contribution to the risk
Fairchild extended?
Novartis Grimsby Ltd v Cookson (2007)
"
"
"
"
Bladder cancer
Occupational exposure 70-75% of increased risk
'But for' test satisfied
Fairchild test highly arguable
Fairchild extended?
Sanderson v Hull (2008)
"
"
"
"
Bacterial infection
Contracted at work/elsewhere?
Fairchild test not applicable
'But for' test not satisfied
Apportionment
Divisible diseases - yes:
" NIHL - Thompson v Smith's Shiprepairers (1984)
" Asbestosis - Holtby v Brigham & Cowan (2000)
" HAVS – Allen v British Rail Eng. (2001)
Apportionment
Indivisible diseases:
" Depends on test applied?
" Contribution to risk - Barker v Corus (2006)
" But for / material contribution:
• Ellis v Environment Agency (2008)
• Bailey v MoD (2008)
Apportionment
Dickens v O2 (2008)
"
"
"
"
Occupational stress
Material contribution sufficient
50% reduction for non-tortious factors
Psychiatric injury indivisible?