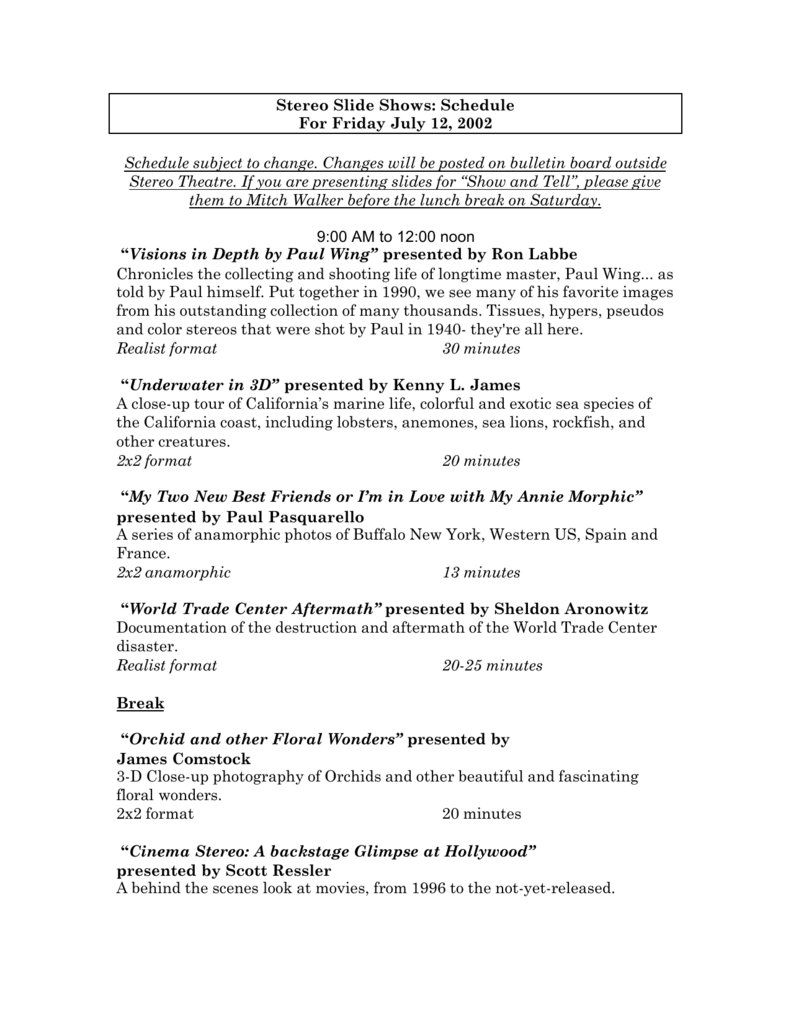 Stereo Slide Shows: Schedule
For Friday July 12, 2002
Schedule subject to change. Changes will be posted on bulletin board outside
Stereo Theatre. If you are presenting slides for "Show and Tell", please give
them to Mitch Walker before the lunch break on Saturday.
9:00 AM to 12:00 noon
"Visions in Depth by Paul Wing" presented by Ron Labbe
Chronicles the collecting and shooting life of longtime master, Paul Wing... as
told by Paul himself. Put together in 1990, we see many of his favorite images
from his outstanding collection of many thousands. Tissues, hypers, pseudos
and color stereos that were shot by Paul in 1940- they're all here.
Realist format
30 minutes
"Underwater in 3D" presented by Kenny L. James
A close-up tour of California's marine life, colorful and exotic sea species of
the California coast, including lobsters, anemones, sea lions, rockfish, and
other creatures.
2x2 format
20 minutes
"My Two New Best Friends or I'm in Love with My Annie Morphic"
presented by Paul Pasquarello
A series of anamorphic photos of Buffalo New York, Western US, Spain and
France.
2x2 anamorphic
13 minutes
"World Trade Center Aftermath" presented by Sheldon Aronowitz
Documentation of the destruction and aftermath of the World Trade Center
disaster.
Realist format
20-25 minutes
Break
"Orchid and other Floral Wonders" presented by
James Comstock
3-D Close-up photography of Orchids and other beautiful and fascinating
floral wonders.
2x2 format
20 minutes
"Cinema Stereo: A backstage Glimpse at Hollywood"
presented by Scott Ressler
A behind the scenes look at movies, from 1996 to the not-yet-released.
Realist format
10 minutes
"The Burning Man Festival 2000-2001" presented by
Franklin J. Flocks
A stereo look at the Burning Man festival held in the Black Rock Desert
north of Reno, Nevada. A sensory overload of surrealistic art worthy of
anything done by Salvador Dali. (Contains some nudity)
Realist format
13 minutes
"Monumental Mayans" presented by Phyllis Maslin
A glimpse of a few of the Mayan Momuments on the Yucatan Peniula of
Mexico.
2x2
9 minutes
"Come to Charleston N.S.A. 2003"
An invitation to the City of Charleston, South Carolina the home of the 2003
NSA convention.
Realist
10 minutes
12:00 noon to 1:30 PM Lunch Break
1:30 PM to 5:00 PM
"Rare Tru-Vue Commercial Films" presented by
Chris Perry
An interesting look at Tru-Vue films with period music and narration.
Realist format
20 minutes
"3 x g2" presented by Gary Greenspoon
3 Short Programs: "Images from Thailand", "Favorite Images"-"That thing
Next Door". Preceded by a reading of award winning short story; "Thang" by
Martin Gardner.
2x2 format
18 minutes
"The Landscape Show" presented by
Stereo New England Group
A collaborative program open to all Stereographers.
Participants include Paul Wing, Ron Labbe, Jon golden, Ed Shaw, Bob
Brackett, Jan Burandt, Bill Salkin and Dick Koolish.
Realist Format
20 minutes
"LA 3D, Stereoscopic View of Los Angeles and
Hollywood 1900-2000" Presented by Ray "3D" Zone
Vintage and contemporary views of Los Angeles by a variety of
Stereographers.
2x2 format
20 minutes
Break
"Mardi Gras Masquerade" presented by
George Vidacovich
Costumes, people, and parades celebrating Mardi Gras. (Some nudity)
Realist format
20 minutes
"The Lost Temples of Angkor" presented by Robert Bloomberg
A thousand years ago the great Khmer civilization arose in the jungles of
Cambodia and eventually dominated all of Southeast Asia. The magnificent
architecture and exquisite sculpture of its temples illustrate the myths,
religions and history of this remarkable culture. After years of terror under
the Khmer Rouge followed by war and instability, Angkor is again open to
foreign visitors. Now a World Heritage Site, the ruins include Angkor Wat,
the largest religious structure in the world.
Original music composed and performed by Robert Bloomberg
2x2 Format
25 minutes
"U R There 3D" presented by Abe Perlstein
An eclectic blend of surreal and psychedelically-inspired fantastical
landscapes, highways stretching to the horizon, the majesty of the desert,
wildflower displays, aerial perspectives, behind-the-scenes of Hollywood
feature films and television productions, provocative female nudes in
spectacular natural settings, and architectural studies in both color and stark
black & white.
2x2 Format
20 minutes
"Classic American Cars of Cuba" presented by Simon Bell
2x2 Formats
10 minutes
10:00 PM Friday night after the Auction
"Lesbians, thespians, Hookers, Hoofers and other Cinematic
Delights."
Presented by Mark Kernes
Portraits of Adult Movie Stars and freeze frames of their performances.
ADULTS ONLY, some images will be sexually explicit.
Stereo Slide Shows: Schedule
For Saturday July 13, 2002
Schedule subject to change. Changes will be posted on bulletin board outside
Stereo Theatre. If you are presenting slides for show and tell, please give them
to Mitch Walker before lunch break today.
10:00 AM to 12:30 PM
"1998 View-Master International Sequence Exhibition."
Presented by Mitch Walker and the Stereo Club of Southern California.
A presentation of the View-Master sequence exhibition from 1998. The late
Bill Duggan said this was the best View-Master program he had ever seen.
View-Master
20 minutes
"10 Years of Burning Man" presented by James Comstock
Images from ten years of the burning man festival in Nevada.
(Some nudity and adult themes)
2x2 format
20 minutes
Break
"Wide Waterworks" presented by Dale Walsh
Panoramic medium format slides images of water, ships, boats, lakes,
harbors, and other interesting sites projected ten feet high and 24 feet wide.
Medium Format
20 minutes
"California Dreamin" presented by Christopher Olson
Images and Icons of California
Realist Format
15 minutes
12:30 PM to 2:00 PM Break for Lunch
2:00 PM to 5:00 PM
"Dream Series 7 and 8" presented by Lynn Butler
Horses dreams and his owner's dream.
2x2 format
13 minutes
"Meeting of the Minds" presented by Phyllis Maslin
2x2 format
7 minutes
"About the Birds and the Bees" presented by Norm Henkels
A stereo spectacular of macros and ultra close-ups of flowers, insects, and etc.
Some of Lew Miller's legendary butterfly close-ups which were done way back
in the early 50's with daylight Kodachrome, blue photofloods and a slide bar
will also be featured.
Realist Format
20 minutes
"The C.A. Stone Program" presented by C.A. Stone
A Stereo slide program presented by C.A. Stone of Orlando, Florida
2x2 format
20 minutes
"PSA Sequence Exhibition"
The PSA Stereo Sequence is an exhibition made up of a number of short
sequences of stereo slides. The slides are submitted from entrants around the
world. After judging and selection, the sequences are set to music and/or
spoken narration, and presented as one program.
Realist format
35-40 minutes
"Show and Tell Time"
An opportunity to present your work to the NSA Audience.
Due to time constrains, please only present a maximum of 10 images per
person.
Realist or 2x2 formats only.