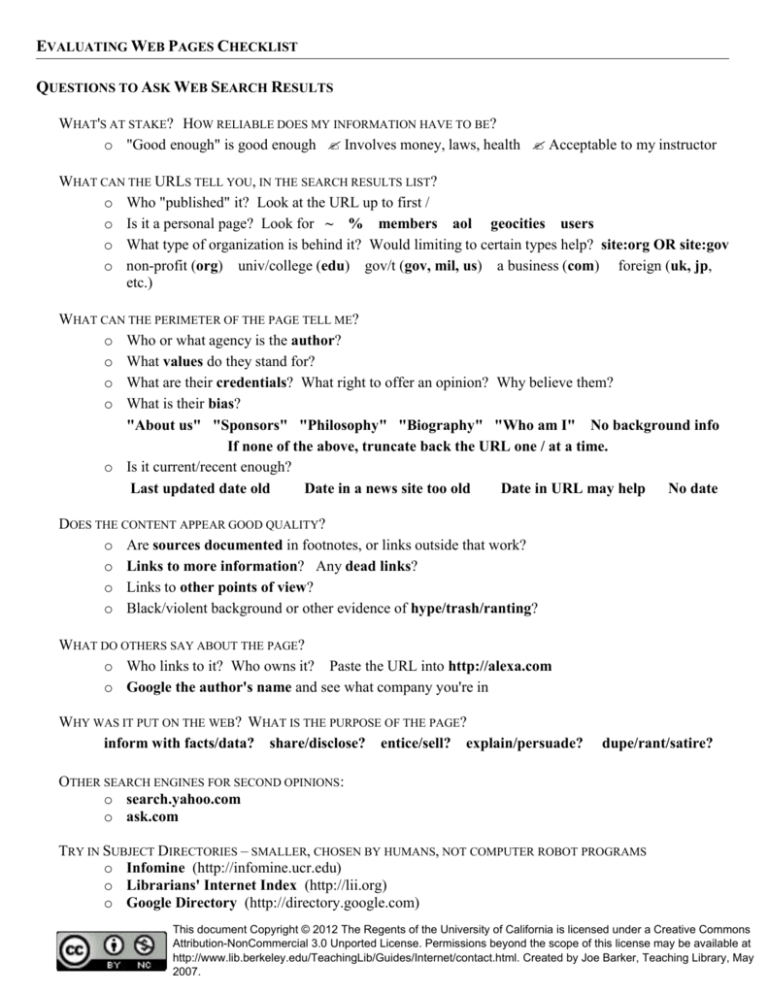 EVALUATING WEB PAGES CHECKLIST
QUESTIONS TO ASK WEB SEARCH RESULTS
WHAT'S AT STAKE? HOW RELIABLE DOES MY INFORMATION HAVE TO BE?
o "Good enough" is good enough ? Involves money, laws, health ? Acceptable to my instructor
WHAT CAN THE URLS TELL YOU, IN THE SEARCH RESULTS LIST?
o Who "published" it? Look at the URL up to first /
o Is it a personal page? Look for ~ % members aol geocities users
o What type of organization is behind it? Would limiting to certain types help? site:org OR site:gov
o non-profit (org) univ/college (edu) gov/t (gov, mil, us) a business (com) foreign (uk, jp,
etc.)
WHAT CAN THE PERIMETER OF THE PAGE TELL ME?
o Who or what agency is the author?
o What values do they stand for?
o What are their credentials? What right to offer an opinion? Why believe them?
o What is their bias?
"About us" "Sponsors" "Philosophy" "Biography" "Who am I" No background info
If none of the above, truncate back the URL one / at a time.
o Is it current/recent enough?
Last updated date old
Date in a news site too old
Date in URL may help
No date
DOES THE CONTENT APPEAR GOOD QUALITY?
o Are sources documented in footnotes, or links outside that work?
o Links to more information? Any dead links?
o Links to other points of view?
o Black/violent background or other evidence of hype/trash/ranting?
WHAT DO OTHERS SAY ABOUT THE PAGE?
o Who links to it? Who owns it? Paste the URL into http://alexa.com
o Google the author's name and see what company you're in
WHY WAS IT PUT ON THE WEB? WHAT IS THE PURPOSE OF THE PAGE?
inform with facts/data? share/disclose? entice/sell? explain/persuade?
dupe/rant/satire?
OTHER SEARCH ENGINES FOR SECOND OPINIONS:
o search.yahoo.com
o ask.com
TRY IN SUBJECT DIRECTORIES – SMALLER, CHOSEN BY HUMANS, NOT COMPUTER ROBOT PROGRAMS
o Infomine (http://infomine.ucr.edu)
o Librarians' Internet Index (http://lii.org)
o Google Directory (http://directory.google.com)
This document Copyright © 2012 The Regents of the University of California is licensed under a Creative Commons
Attribution-NonCommercial 3.0 Unported License. Permissions beyond the scope of this license may be available at
http://www.lib.berkeley.edu/TeachingLib/Guides/Internet/contact.html. Created by Joe Barker, Teaching Library, May
2007.