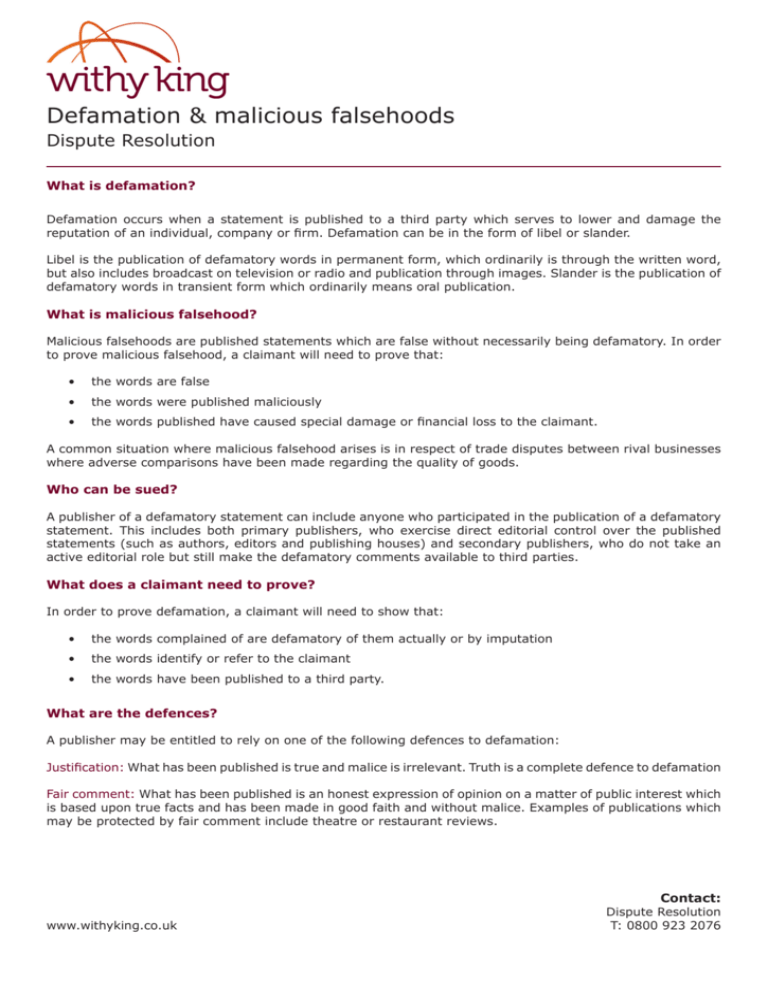 Defamation & malicious falsehoods
Dispute Resolution
What is defamation?
Defamation occurs when a statement is published to a third party which serves to lower and damage the
reputation of an individual, company or firm. Defamation can be in the form of libel or slander.
Libel is the publication of defamatory words in permanent form, which ordinarily is through the written word,
but also includes broadcast on television or radio and publication through images. Slander is the publication of
defamatory words in transient form which ordinarily means oral publication.
What is malicious falsehood?
Malicious falsehoods are published statements which are false without necessarily being defamatory. In order
to prove malicious falsehood, a claimant will need to prove that:
• the words are false
• the words were published maliciously
• the words published have caused special damage or financial loss to the claimant.
A common situation where malicious falsehood arises is in respect of trade disputes between rival businesses
where adverse comparisons have been made regarding the quality of goods.
Who can be sued?
A publisher of a defamatory statement can include anyone who participated in the publication of a defamatory
statement. This includes both primary publishers, who exercise direct editorial control over the published
statements (such as authors, editors and publishing houses) and secondary publishers, who do not take an
active editorial role but still make the defamatory comments available to third parties.
What does a claimant need to prove?
In order to prove defamation, a claimant will need to show that:
• the words complained of are defamatory of them actually or by imputation
• the words identify or refer to the claimant
• the words have been published to a third party.
What are the defences?
A publisher may be entitled to rely on one of the following defences to defamation:
Justification: What has been published is true and malice is irrelevant. Truth is a complete defence to defamation
Fair comment: What has been published is an honest expression of opinion on a matter of public interest which
is based upon true facts and has been made in good faith and without malice. Examples of publications which
may be protected by fair comment include theatre or restaurant reviews.
Contact:
www.withyking.co.uk
Dispute Resolution
T: 0800 923 2076
Privilege: This defence recognises that there are occasions where it is in the public interest to permit greater
freedom of speech. There are two types of privilege:
• Absolute privilege: No action for libel or slander can succeed where absolute privilege applies, regardless
of the dishonesty or motive of the speaker or writer. Examples of where the defence of absolute privilege
will apply include statements made in the course of Parliamentary proceedings, judicial and quasijudicial proceedings, fair and accurate reports of Parliamentary and judicial proceedings published
contemporaneously or statements of criminal behaviour made to the police.
• Qualified privilege: Is a lesser protection which cannot be relied on if the statements were published
with malice. Qualified privilege can attach to the following:
• statements made in pursuance of a legal, moral or social duty, with a corresponding interest in
receipt of such statement
• statements made in the protection or furtherance of a private or public interest, with a corresponding
interest in receipt of such statement
• statements made in the protection of a common interest
• fair and accurate reports of Parliamentary and judicial proceedings, whether or not published
contemporaneously.
Consent: If a claimant has consented to the publication of certain statements and there is clear evidence of
that consent, they are not entitled to libel damages arising from the publication.
Accord & satisfaction: If the claimant has agreed to accept an apology they may be prevented from suing for
defamation.
Innocent Disseminators
Under English law there is a defence available which essentially protects 'innocent disseminators' of defamatory
material over the internet. This defence can be relied on by Internet Service Providers (ISPs), web hosting
companies and other intermediaries.
In practice however, and following the case of Laurence Godfrey v Demon Internet Limited [1999] 4 All ER
342, in order to rely on this defence, the ISPs, web hosting companies and other intermediaries now have to
remove allegedly defamatory material as soon as they are put on notice of their existence and even before
investigations are carried out. Otherwise, they face a real risk of liability for defamation and they may not be
able to rely on the 'innocent disseminators' defence.
What are the remedies?
A claimant may be entitled to an injunction to prevent publication, compensatory damages, an apology and an
undertaking not to repeat the defamatory allegations.
Limitation Period
Proceedings for defamation need to be brought within 1 year from the date of publication.
Pre-action Protocol for Defamation
There is a specific Pre-Action Protocol for Defamation which sets out the steps that parties are required to take
before starting proceedings for defamation. The purpose of the Pre-Action Protocol is to encourage parties to
exchange information early on and to attempt to resolve the dispute without the need for litigation. Parties are
expected to comply with the Pre-Action Protocol and there may be costs consequences if parties fail to do so.
Contact:
www.withyking.co.uk
Dispute Resolution
T: 0800 923 2076
The Pre-Action Protocol sets out what steps should be taken and what information should be exchanged
between the parties. In summary, the steps are as follows:
• letter of Claim – the claimant should send a detailed letter to the defendant setting out the words
complained of and the key details of the claim. Ordinarily the claimant should allow the defendant 14
day to respond.
• letter of Response – the defendant is to respond to the allegations set out in the Letter of Claim and to
indicate what parts of the claim are accepted or rejected
• Alternative Dispute Resolution (ADR) – the parties should consider whether ADR such as mediation,
informal settlement discussions, arbitration or reference to the Press Complaints Commission is
appropriate.
If you have any questions or concerns about defamation, please contact any member of our Dispute Resolution
team for a no obligation discussion.
Contact:
www.withyking.co.uk
Dispute Resolution
T: 0800 923 2076
Withy King is the trading name of Withy King LLP, a limited liability partnership registered in England and Wales with registered number OC361361. Withy King LLP is
authorised and regulated by the Solicitors Regulation Authority. The term partner is used to refer to a member of the Withy King LLP or an employee or consultant with
equivalent standing and qualification. A list of members is available at the registered office 5-6 Northumberland Buildings, Queen Square, Bath BA1 2JE. Information
contained in this communication does not constitute legal advice. All statements of law are applicable to the laws of England and Wales only.