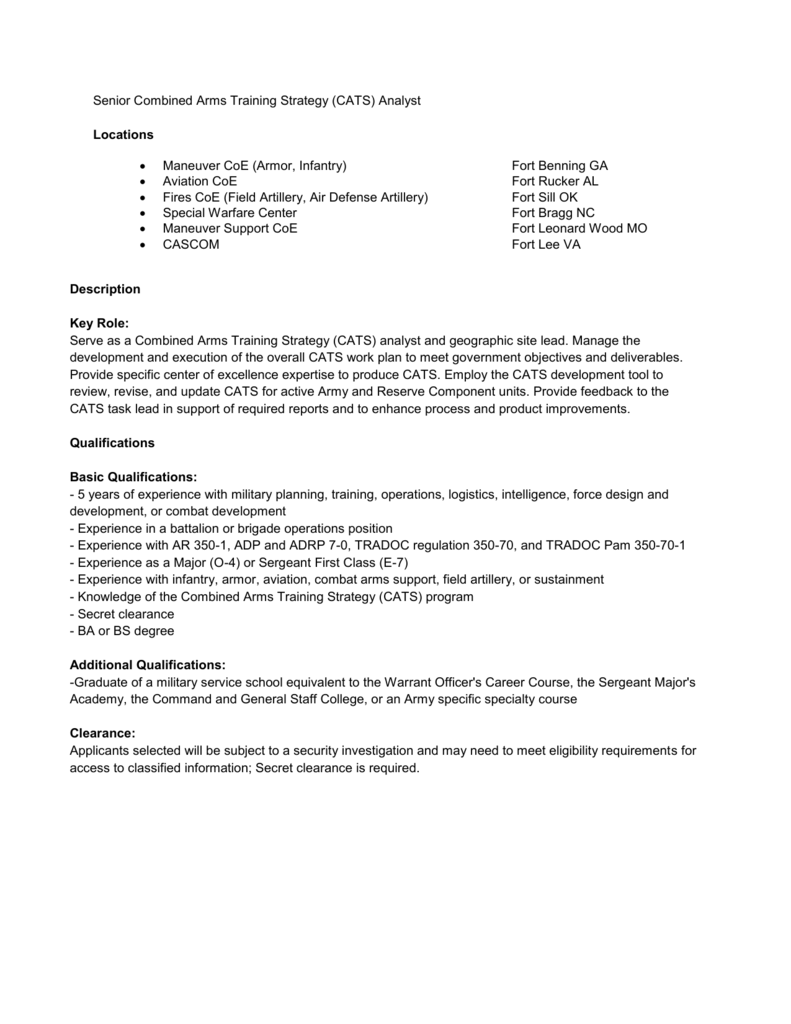 Senior Combined Arms Training Strategy (CATS) Analyst
Locations






Maneuver CoE (Armor, Infantry)
Aviation CoE
Fires CoE (Field Artillery, Air Defense Artillery)
Special Warfare Center
Maneuver Support CoE
CASCOM
Fort Benning GA
Fort Rucker AL
Fort Sill OK
Fort Bragg NC
Fort Leonard Wood MO
Fort Lee VA
Description
Key Role:
Serve as a Combined Arms Training Strategy (CATS) analyst and geographic site lead. Manage the
development and execution of the overall CATS work plan to meet government objectives and deliverables.
Provide specific center of excellence expertise to produce CATS. Employ the CATS development tool to
review, revise, and update CATS for active Army and Reserve Component units. Provide feedback to the
CATS task lead in support of required reports and to enhance process and product improvements.
Qualifications
Basic Qualifications:
- 5 years of experience with military planning, training, operations, logistics, intelligence, force design and
development, or combat development
- Experience in a battalion or brigade operations position
- Experience with AR 350-1, ADP and ADRP 7-0, TRADOC regulation 350-70, and TRADOC Pam 350-70-1
- Experience as a Major (O-4) or Sergeant First Class (E-7)
- Experience with infantry, armor, aviation, combat arms support, field artillery, or sustainment
- Knowledge of the Combined Arms Training Strategy (CATS) program
- Secret clearance
- BA or BS degree
Additional Qualifications:
-Graduate of a military service school equivalent to the Warrant Officer's Career Course, the Sergeant Major's
Academy, the Command and General Staff College, or an Army specific specialty course
Clearance:
Applicants selected will be subject to a security investigation and may need to meet eligibility requirements for
access to classified information; Secret clearance is required.