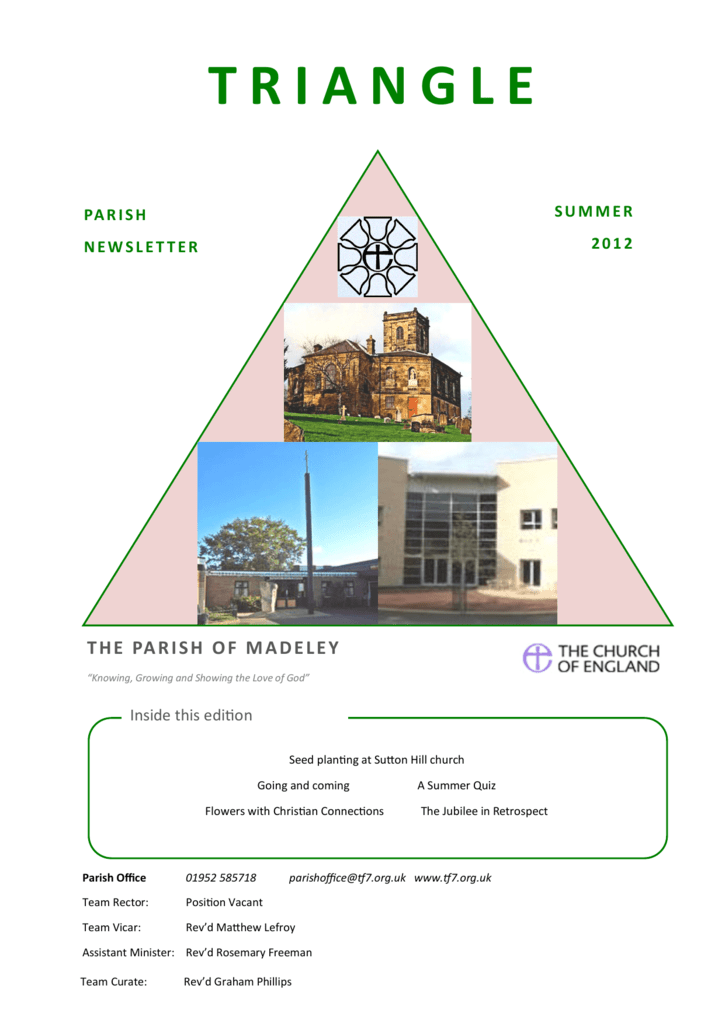 TRIANGLE
SUMMER
PA R I S H
2012
NEWSLETTER
T H E PA R I S H O F M A D E L E Y
"Knowing, Growing and Showing the Love of God"
Inside this edition
Seed planting at Sutton Hill church
Going and coming
Flowers with Christian Connections
Parish Office
01952 585718
Team Rector:
Position Vacant
Team Vicar:
Rev'd Matthew Lefroy
The Jubilee in Retrospect
[email protected] www.tf7.org.uk
Assistant Minister: Rev'd Rosemary Freeman
Team Curate:
A Summer Quiz
Rev'd Graham Phillips
GOING AND COMING
GOING
It is with sadness that we say goodbye to our curate David Moulden, his wife
Sarah and their children Tim and Lydia who are leaving us on the 22nd July to move
south to Canterbury. David has a position there as a vicar...not as the higher position
of archbishop! Our thoughts and prayers are with them as they move and we give thanks to
God for their ministry during their four years here in the parish.
COMING
We are pleased to welcome Graham and Emma Phillips and their children
Matthew, Thomas and Frances to the parish. Graham was ordained at Hereford
Cathedral on 1st July and is now working within the parish as a curate.
~~~~~~~~~
SEED PLANTING AT SUTTON HILL CHURCH
For some time we had been concerned at Sutton Hill church, because we were failing
to reach the children from the estate. As all children are precious in God's eyes, we needed
to change this. Jesus tells us in Mark chapter ten verse fourteen "Let the little children
come to me."
So we asked God to show us how to open the doors for the little ones to come in. God
answered our prayers and very soon we had a group of children coming to church every
week.
At first we felt overwhelmed and unprepared, so again we turned to prayer. Very soon
we had a very enthusiastic group willing to share the responsibility of leadership. We may
all be well past our sell by date—the oldest leader is in her mid eighties, but this does not
seem to bother the children. As long as they are made to feel welcome and we show them
we care, they are happy.
We are planting seeds of faith and nurturing these seeds and watching their faith
grow. We pray that at some future date, these seeds will produce a
rich harvest and their faith will be just like the tiny mustard seed that
grows into a sturdy bush where even the birds can build their nests. So
if you would like to encourage seed planting on Sutton Hill, why not
come and join our team. Age is no barrier!
Jan Ford
PAWS FOR THOUGHT
I wonder, how many of you still have a copy of the church
notices from 4th March, the 2nd Sunday in Lent?
In case you're not a hoarder like me, let me tell you about the
picture on the front. It shows a cat looking down at a mouse. The
cat's face conveys interest; the mouse is, to say the least,
nonplussed. Perhaps the latter is very scared, being viewed by a
quadruped many times its own size - "poor, wee, cowering,
timorous beastie", to coin a phrase.
But to return to puss. Its four paws are firmly planted on the
floor, in a rather non-commital way, but it is obviously carefully
observing mus musculus.
So far, I have shared my life with numerous specimens of
domestic cat, ranging in size, colour and temperament. Their names
have varied from the simple, generic Puss, via Nasser, at the time
of the Suez crisis, to Orinoko, who was a stray, and whose name
presented a challenge in spelling to the veterinary nurse who once
needed to write down his details!
The cat on the notice sheet, (name unknown), as I've
mentioned, is interested, its eyes fixed on its companion. If you
want to look into the eyes of a cat, and don't have same, try
getting to know the black and white one at the Six Bells.
What are those eyes saying? Do we ever think about looking
into the eyes of God? What would His eyes say to us and, in turn,
what reflection should our eyes convey to the person we meet? Is
He a God of unthinking power, ("I'm going to eat you all up"), a
God who looks down from heaven above, ("I'm so much taller than
you"), a detached, enquiring God, ("what are you, strange being?"),
or a God who is very atypical of a cat, ("we two furry beings have
so much in common, let us share the world.")
Surely He is a God of unconditional love - "Greater love has no
man than this, that a man lay down his life for his friends." As we
attempt, however imperfectly, to mirror His life, shown to us in the
life of Jesus - "He who has seen me has seen the father" - may we
always be conscious of the message which we convey, by all our
actions.
Tony Curzon
…………...…..GREETINGS FROM ABU DHABI ……………….
Since I last wrote things are beginning to settle down for the summer season. With
temperatures soaring up to 50C many people simply flee the Gulf for cooler climes and we
will be joining them.
The holy month of Ramadan will be during the hottest time of the year this year so
do remember our Muslim friends who will not be allowed to eat or drink during the long
daylight hours. It is a brutal discipline and yet many are determined to please God by
following this spiritual regime. It makes me wonder how many Christians would be so
determined to please God by doing this. However we live under a law of grace and so we
are exempt from the rigours of spiritual law.
These last few weeks have seen some great answers to prayers and I am thankful to
God that I continue to enjoy the grace and favour of people in power. This has been a real
blessing to the church and in being able to help those in need. Today I was meeting with
the Human Rights office of the UAE government and they are willing to give me special
carte blanche permission to visit prisoners. This is a very rare privilege and one which
even diplomatic missions do not have. This is an answer to prayer as there are many in
prison who are there for non-criminal reasons (e.g. running away from abusive employers,
or are in debt usually because their employers have not paid them). There are many
Christians among the prisoners especially from the Philippines and India. There are also
some British prisoners too. One prisoner from the UK who is 21 years old has just been
sentenced to death for dealing in cannabis. I am hoping to open the doors for other
Christian ministers to come into prison and this is a prayer request.
Where we are struggling is in the area of our ministry team. One by one each of my
team members has been struck with major problems ranging from homelessness, debt, ill
health and bereavement. I feel like I am the only one standing at the moment. But slowly
we are seeing answers to prayers as we see jobs restored, healing of body and mind and
accommodation provided. Two nights ago I was sat under the desert stars sitting on
Persian rugs on the sand enjoying the hospitality of an Emirati Arab who delights in
talking with Christians about theology and philosophy. It was a great evening and it comes
close to my desires and hopes as to what I should be doing in terms of interfaith relations.
This last week also saw the final language (out of 12 languages) recorded for our
human rights project of making the labour law available to the migrant workers in
accessible form. This will be distributed through an mp3 device and made available on
line and through the churches and diplomatic missions. We are hoping to secure
government approval for this project and if that be the case it
could be a springboard for a region wide project. Pray for this - we are simply calling it the
LOVE ABU DHABI Project.
I am looking forward to being with you all over the summer.
Every Blessing,
Reverend Canon Andrew Thompson MBE
We look forward to hearing Andrew preach at St Michael's on July 22nd.
MAKING HISTORY
On Friday July 22nd, my eldest grandson, Ben, 13 years old, made history at St. Andrew's
Church, Abu Dhabi.
He is the first person to be baptised by full immersion in that church. In front of a packed
congregation, with lots of his peers present, Andrew and the youth leader baptised him in a
large children's paddling pool set up in the sanctuary. He only just fitted in enough to be
submerged! A real family event as Rianne sang a solo during the service.
Malcolm Thompson
SUMMER QUIZ
All these are anagrams of places in Shropshire.
How many can you identify?
1)Balance Lord Frosh
11)Chant weds tony
2)Morbid Ford Gent
12)Bin leg silly
3)Lancer Unbolt
13)Tripod in sort
4)A long birth
14)Blab taste toys
5)Nosh knot mop
15)Morbid elf
6)Fear posh town
16)Below ed too
7)Ancient oat sonnet
17)Arch chubs
8)All tents rot
18)Crashed wine
9)Shrilling
19)Narrow tub
10)Conk ink
20)Than bell
Answers on page 7
FLOWERS WITH CHRISTIAN CONNECTIONS
There are many plants whose names reflect something of Christianity.
Columbine-Aquilegia vulgaris-is also known as the 'dove
flower'. The dove is a symbol for new creation and baptism and
carvings of the flower are often found in cathedrals and churches.
Sorrel-Rumex acetosa-was one of the bitter herbs that Hebrew
people ate with Passover lamb and so possibly part of the Last Supper.
Moschatel-Adoxa moschatellina-also known as the Good Friday flower. There is no
other flower like it with its five petals facing north, south east and west and a fifth facing
the sky and a scent of musk.it is the only species in its genus and the only genus in its
family in the world.
Wild Pansy-Viola tricolour- a member of the violet family, and also known as
'heartsease' and 'Trinity Violets' because they are yellow, white and purple.
Cow Parsley-Anthriscus sylvestris-also sometimes known as 'Our Lady's Lace'.
Pasque Flower-Pulsatilla vulgaris-thought to be the lilies of the field Jesus pointed to
in his Sermon on the Mount.
Solomon's Seal-Polygonatum multiflorum-grows in the wild now only in a few places.
King Solomon was renowned for his wisdom, composed 3000 proverbs and 1005 songs
and built the first temple.
Speedwell-Veronica-when Jesus carried his cross, legend has it that Veronica was the
girl in the crowd who offered him her handkerchief. When Jesus handed it back his face
was imprinted on the cloth. An old country name for speedwell is 'God's Eye'.
Lady's Smock-Cardamine pratensis-in the cloisters of Lincoln Cathedral which is
dedicated to Mary there is a garden full of her flowers.
Lords and Ladies-Arum maculatum-has also been known as 'Parson in the Pulpit' and
'Parson in his smock'.
Hazel Shipman
(Thanks to Cross+link, the parish magazine of the Bridgnorth Anglican Team Ministry)
THE JUBILEE IN RETROSPECT
Her Majesty's long and unstinting dedication to the service of Britain and the
Commonwealth is indeed worth celebrating. Even the republicans and anti-monarchists
enjoyed the opportunity for protest and propaganda!
But what about 'Jubilee'? Like many foundations of our society the concept of jubilee
is biblical. It is an extension of the idea of 'sabbath' – the day of rest given to God. Every
seven years there was to be a sabbath year - a year of 'rest' for the people, their domestic
animals and their land. The year of jubilee repeated the theme of 'sevens'. i.e. the jubilee
year was the fiftieth year, i.e. it followed the seventh sabbatical year.
The idea of jubilee sought the equalisation of wealth by cancelling all unpaid debts
which involved the return of property which had been surrendered as guarantee for loans.
It also encouraged the reunion of scattered families. This principle of jubilee underlies
Jesus's and the early Christian's stand alongside the poor and disposed.
During the recent celebration a veil of silence appears to have been drawn between
the demonstration of patronage, power and unaccountable wealth and the deepening
inequality and injustice experienced by huge numbers of her Majesty's subjects. NOT a
demonstration of jubilee, just a denial of its original subversive symbolism.
The Old Testament gives no hint that the leaders of their society ever honoured these
directions; nor many others. Indeed the very reverse. They developed a centralising,
wealth accumulating monarchical tradition. What's new pussy cat? Not today's perception
of Christianity as a tool of the establishment and the status quo. Celebrate what's worth
celebrating, but please try not to wrap it up in pseudo religious language.
For primary source consult Leviticus 25.
Geoff Pochin
ANSWERS TO SUMMER QUIZ
1)Ashford Carbonell
)8)All Stretton
15)Bromfield
2)Montford Bridge
9)Grinshill
16)Leebotwood
3)Acton Burnell
10)Knockin
17)Baschurch
4)Albrighton
11)Chetwynd Aston
18)Cheswardine
5)Monkshopton
12)Billingsley
19)Burwarton
6)Hopton Wafers
13)Ditton Priors
20)Benthall
14)Astley Abbotts
DATES FOR THE DIARY
Sun 15th July 3-5pm
Strawberry cream tea with live music
Sat 21st July
8am
Ladies Prayer Breakfast
Sat 4th Aug
9.30am
Men's breakfast at The Brewery, Coalport
Sun 19th Aug 3-5pm
Strawberry cream tea with live music
Sat 1st Sept
Men's breakfast at The Brewery, Coalport
9.30am
ST MICHAEL'S FELLOWSHIP PROGRAMME OF EVENTS
Sept 3rd
Nursery Rhymes and Stories
D Nicholle
Sept 17th
Fun with Ron
Ron Miles
Oct 1st
Harvest Lunch
Oct 15th
Abu Dhabi Memories
Nancy and Malcolm
Oct 29th
Desert Island Discs
Members Afternoon
Nov 12th
Music for Fun group
Hannah Lawrence
Nov 26th
Christmas Quiz
Dec 10th
Christmas Lunch
Fellowship meetings are held in St Michael's Church unless otherwise stated and commence
at 2.30pm. All are welcome and tea, coffee and biscuits are available afterwards.
~~~~~~~~~~~~~~~
Thank you to all who have contributed to this Summer edition of Triangle. The editorial
team reserve the right to edit items given to them for inclusion in this newsletter. The views
expressed are not necessarily those of Madeley Parish. Please send items for the Autumn
edition to [email protected] by 30th Sept. It will be available by mid October.
Editorial team: Carol Greenwell, Hazel Shipman, Jan Holt
Particular thanks to Rev Matthew Lefroy who has organised the printing of this edition.