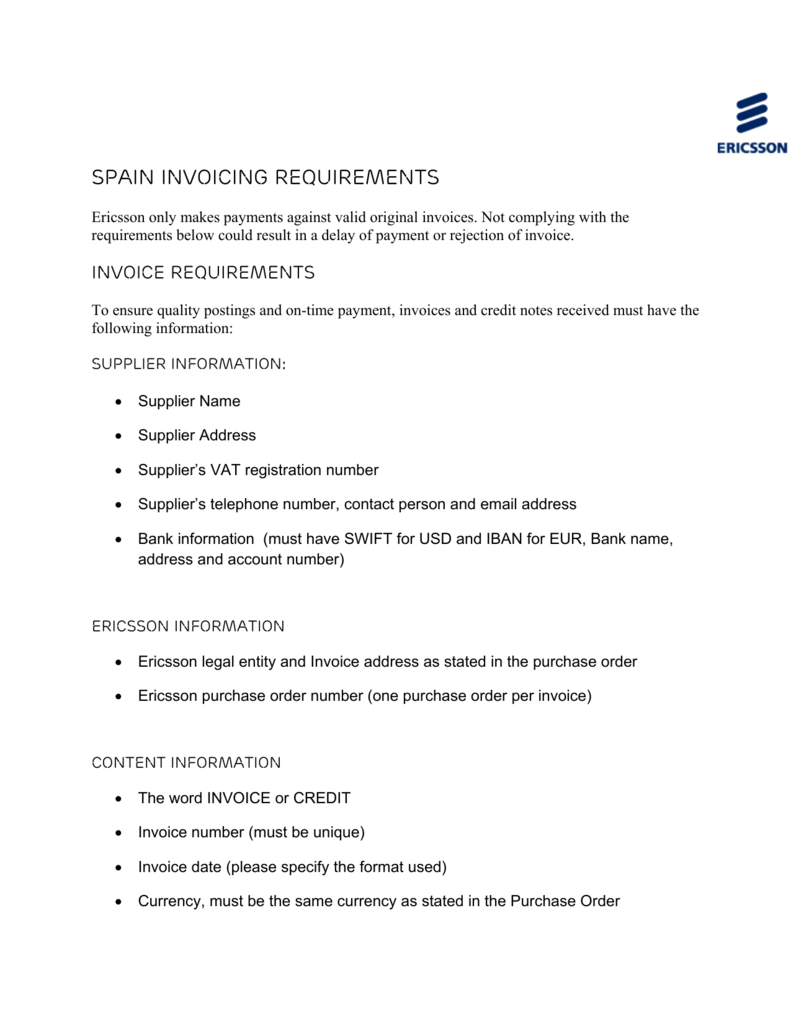 Spain Invoicing Requirements
Ericsson only makes payments against valid original invoices. Not complying with the
requirements below could result in a delay of payment or rejection of invoice.
Invoice requirements
To ensure quality postings and on-time payment, invoices and credit notes received must have the
following information:
Supplier Information:
•
Supplier Name
•
Supplier Address
•
Supplier's VAT registration number
•
Supplier's telephone number, contact person and email address
•
Bank information (must have SWIFT for USD and IBAN for EUR, Bank name,
address and account number)
Ericsson Information
•
Ericsson legal entity and Invoice address as stated in the purchase order
•
Ericsson purchase order number (one purchase order per invoice)
Content Information
•
The word INVOICE or CREDIT
•
Invoice number (must be unique)
•
Invoice date (please specify the format used)
•
Currency, must be the same currency as stated in the Purchase Order
•
Specification of goods and services delivered; Line items and description in the
purchase order should match the invoice
•
Total net amount
•
Tax amount. If multiple taxes (VAT/WHT) are applicable, the tax rate for every net
amount should be specified
•
Total payable amount
•
For credit notes, invoice number being credited must be stated (one credit note
per invoice)
Mailing Address (Where the invoices will be send for payment processing)
Ericsson España
Att: Accounts Payable
C/ RETAMA 1
MADRID
28045
Spain
Email: [email protected]
Invoicing Address (Company name and address that will be written on the invoice)
Please enter the correct Ericsson Company Name:
ERICSSON ESPANA S.A.
(EEM)
ERICSSON NETWORK
SERVICES S.L. (ENI)
C/ RETAMA 1
Postal Code: 28045
MADRID
Spain
C/ RETAMA 1
Postal Code: 28045
MADRID
SEVERO OCHOA 4
PLANTA 3
P.T.A CAMPANILLAS
MALAGA (ANDALUCÍA)
SPAIN
VAT Reg. No:
ESB91070714
VAT Reg. No:
ESB92430792
VAT Reg. No:
ESA28858603
OPTIMI SPAIN SLU (SLU)
Please ensure the address on the invoice is identical to the one stated in the Purchase Order.