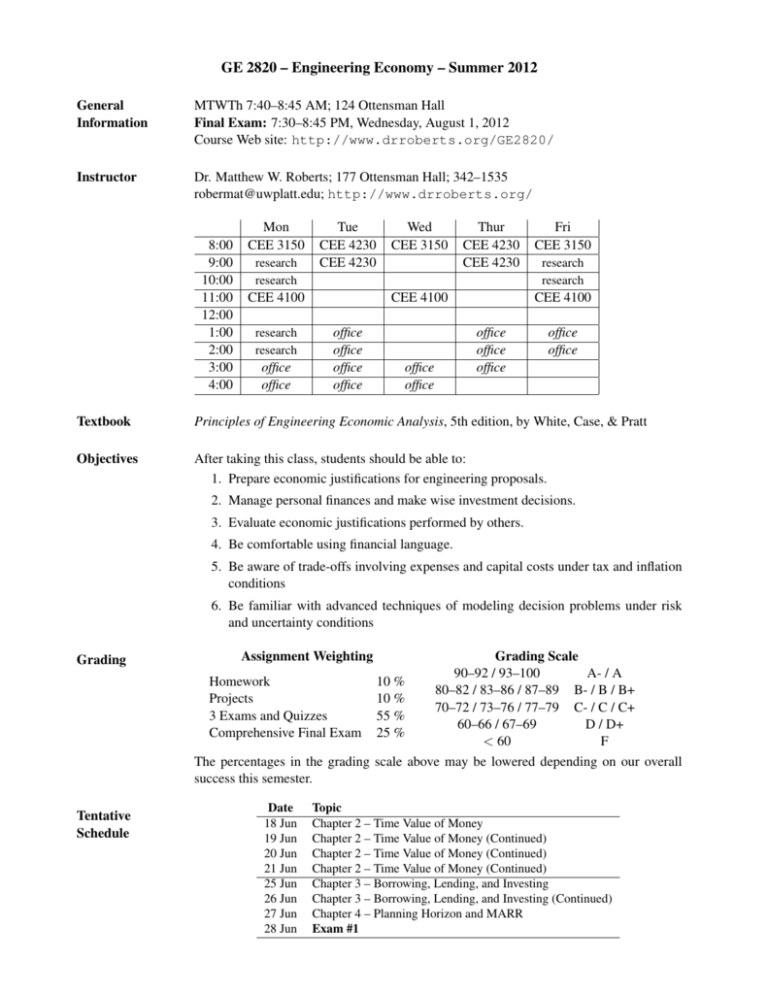 GE 2820 – Engineering Economy – Summer 2012
General
Information
MTWTh 7:40–8:45 AM; 124 Ottensman Hall
Final Exam: 7:30–8:45 PM, Wednesday, August 1, 2012
Course Web site: http://www.drroberts.org/GE2820/
Instructor
Dr. Matthew W. Roberts; 177 Ottensman Hall; 342–1535
robermat@uwplatt.edu; http://www.drroberts.org/
8:00
9:00
10:00
11:00
12:00
1:00
2:00
3:00
4:00
Mon
CEE 3150
research
research
Tue
CEE 4230
CEE 4230
CEE 4100
research
research
office
office
Wed
CEE 3150
Thur
CEE 4230
CEE 4230
CEE 4100
office
office
office
office
office
office
Fri
CEE 3150
research
research
CEE 4100
office
office
office
office
office
Textbook
Principles of Engineering Economic Analysis, 5th edition, by White, Case, & Pratt
Objectives
After taking this class, students should be able to:
1. Prepare economic justifications for engineering proposals.
2. Manage personal finances and make wise investment decisions.
3. Evaluate economic justifications performed by others.
4. Be comfortable using financial language.
5. Be aware of trade-offs involving expenses and capital costs under tax and inflation
conditions
6. Be familiar with advanced techniques of modeling decision problems under risk
and uncertainty conditions
Grading
Tentative
Schedule
Assignment Weighting
Grading Scale
90–92 / 93–100
A- / A
Homework
10 %
80–82 / 83–86 / 87–89 B- / B / B+
Projects
10 %
70–72 / 73–76 / 77–79 C- / C / C+
3 Exams and Quizzes
55 %
60–66 / 67–69
D / D+
Comprehensive Final Exam 25 %
< 60
F
The percentages in the grading scale above may be lowered depending on our overall
success this semester.
Date
18 Jun
19 Jun
20 Jun
21 Jun
25 Jun
26 Jun
27 Jun
28 Jun
Topic
Chapter 2 – Time Value of Money
Chapter 2 – Time Value of Money (Continued)
Chapter 2 – Time Value of Money (Continued)
Chapter 2 – Time Value of Money (Continued)
Chapter 3 – Borrowing, Lending, and Investing
Chapter 3 – Borrowing, Lending, and Investing (Continued)
Chapter 4 – Planning Horizon and MARR
Exam #1
2 Jul
3 Jul
4 Jul
5 Jul
9 Jul
10 Jul
11 Jul
12 Jul
16 Jul
17 Jul
18 Jul
19 Jul
23 Jul
24 Jul
25 Jul
26 Jul
Notes
Chapter 5 – Present Worth Analysis
Chapter 6 - Future Worth
Fourth of July – No Class
Chapter 7 - Annual Worth
Chapter 8 – Rate of Return Analysis
Chapter 9 – Depreciation Methods
Chapter 9 – Depreciation Methods (Continued)
Exam #2
Chapter 10 – After-Tax Economic Analysis
Chapter 10 – After-Tax Economic Analysis (Continued)
Chapter 14 – Economic Analysis in the Public Sector
Chapter 11 – Replacement Analysis
Chapter 11 – Replacement Analysis (Continued)
Chapter 12 – Inflation Effects
Chapter 13 – Break-Even Analysis
Exam #3
1. Exams must be taken as scheduled. Any absence not excused in advance will result in a
zero for that exam. Examinations will be closed-book and closed-notes. You will be given
a summary sheet to use on the exam that will include important equations. Depending on
the coverage of the exam, code books may be allowed—I will let you know. If you feel an
answer on an exam is unreasonable but cannot see the error (or do not have time to correct
it) indicate your concern with an explanation of why the answer does not seem right.
2. Homework will not be accepted after the grader has picked up the assignment. There is
usually not a set time when the grader will pick up the homework, so your best bet is to
turn in the assignment during class. Please do not turn in homework once the lecture has
started—wait until after class. Proper (full-participation) use of study groups for homework is encouraged (and may be required on some assignments). Improper (copying other
people's work) use of study groups is a violation of engineering ethics. If you experience
difficulty, don't waste time trying again and again. Instead, come to me for help with your
basic approach. Of course, do not leave your homework until the last day.
3. Cheating of any sort will not be tolerated. As an engineer, your signature means that
you have done the calculations and stand behind the results. If you collaborate with other
students when completing homework assignments (highly encouraged) then note the names
of those you worked with on the front of your homework.
4. Desire2Learn will be used to record your scores from homework, projects, and exams.
http://d2l.uwplatt.edu/
5. If you need an accommodation due to a disability, please make an appointment to see me
during office hours. A VISA from Services for Students with Disabilities authorizing your
accommodations will be needed. For more information, see http://www.uwplatt.
edu/disability/.
6. Please phone for help on assignments only as a last resort. It is very difficult to understand
your problem without seeing your work. Providing help by e-mail is also difficult. The
easiest way for me to provide assistance is to see your work first-hand during office hours.
If you cannot make office hours, please email or call to make an appointment so I can be
sure to be in my office when you stop by. Getting help on homework works best when you
start your assignments early and do not leave matters until the last minute.
7. All class correspondence sent by me will be to your UWP e-mail address. I do not have
access to non-UWP account addresses. You are responsible for periodically checking your
UWP account or having the mail from your UWP account forwarded to the e-mail address
of your preference.
8. Seek help from me when you first encounter difficulty. Don't wait until you are behind to
seek help. I am eager to help you in your desire to master the material of this course.
9. Religious accommodations will be granted for students who wish to observe religious
events. You are responsible for letting me know within the first two weeks of class any
accommodations you require. You will still be responsible for the assigned work, but you
will be allowed a due date that does not conflict with your religious needs
10. Veterans and reserve duty military personnel with special circumstances are welcome
and encouraged to communicate these in advance (if possible) to me. I am happy to work
with you to ensure that your service will not conflict with your academic goals.
Expectations on
Homework and
Exams
Read the Directions - Many mistakes on homework and exams are made because students
fail to read the instructions. This can be particularly detrimental on exams if unnecessary
work is performed that wastes valuable time.
Work Symbolically - It is often preferable to develop solutions in terms of symbols.
Reduce developed formulas as much as possible. Unless otherwise required, a numeric
answer is acceptable on homework or exams.
Draw Diagrams - Diagrams should be drawn well (particularly on the homework) and
should be reasonably close to scale.
Solve the Problem Clearly - Your solutions on homework and exams should flow logically and should be easy to follow. Indicate the basis for any new equations. Number all
equations that are referred to by subsequent statements. Ask yourself, "Would I be happy
to pay for the quality of work that I am producing?" On exams, make sure that any extra
sheets you use are attached in order so that the exam can be graded without need to skip
pages or turn to previous pages.
Clearly Mark your Answers - Answers should be easy to find and interpret. If you have
multiple answers they must be summarized in a "results table" at the end of the problem.
Produce Excellent Shear and Moment Diagrams - Shear and moment diagrams are
critical for designing structures. Your shear and moment diagrams should be drawn reasonably close to scale. The minimum, maximum and zero values should be labeled and
the location of each noted.
On exams, it is particularly important that your shear and moment diagrams be consistent
with the loads and reactions. The first derivative of the moment is the shear and this should
be evident on the diagrams. Shear and moment diagrams that are wrong will be marked
down further if they are inconsistent.
Use Units - All your calculations should include units and the units on the final answer
should be correct. Up to 5 points can be deducted on exams for consistently neglecting
units or for incorrect units. Do not proceed with an answer if the units are obviously
inconsistent.
Ask yourself: Is this answer reasonable? - If your answer does not seem reasonable and
you don't have time to find your error (for example, on an exam), explain that the answer
is not reasonable as well as a short explanation why you feel that way. Unreasonable
answers that are not commented upon will lose points on exams.
Simultaneous Equations on Exams - You should be able to solve three simultaneous
equations on exams.