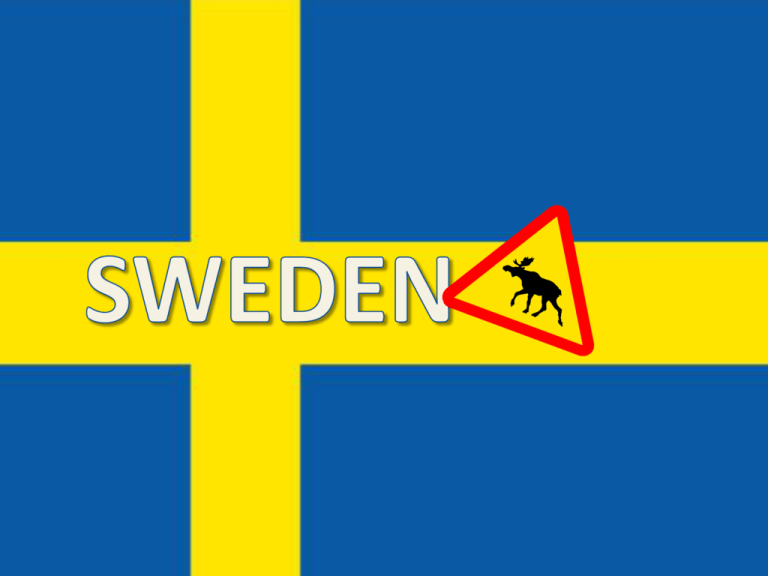 We have four seasons in sweden
WINTER
AUTUMN
SPRING
SUMMER
Norrland
Sweden is a long and narrow country with very
varied nature. We start our journey in the north.
This is the largest part of Sweden, but not many
people live there, only about 1 200 000.
The red line on the map corresponds to the
Arctic Circle. North of the line the sun never goes
up during the winter and never down during the
summer.
Norrland
Norrland consists mainly of coniferous forest. Here you can find Sweden's
highest mountain, called Kebnekaise 2099 m. We have quite a lot of different
animals, for example elk, bear, lynx och raindeer.
Here you can also find the Sami, a minority group of people. They provide for
themeselves by working with raindeer. They follow the raindeer in their search
for food.
The Northern Lights are a beautiful phenonomen, which you only can find in
the north of Sweden.
The whole of Sweden has a
fantastic nature with many
wild animals.
We have something called
"allemansrätt" here in
Sweden. That means that
you can be out in nature and
you are allowed to do almost
everything you like.
Except from our beautiful
nature we also have big
cities.
Kiruna is situated in
Lappland and there you can
find the spaceport Esrange.
Close to Kiruna you can also
find Jukkasjärvi, with its
famous ice hotel, Abisko
Nationalpark and Kalix with
its world famous spawn from
vendace.
SVEALAND
In Svealand is the capital of Sweden, Stockholm.
Svealand is in the middle of Sweden. The type of
nature varies greatly between the coast and the
inland.
"Mälaren" and "Vättern" are Sweden's largest lakes
and you can find them here.
In Svealand about 3.800.000 inhabitants live.
Svealand
Dalarna is a province in Svealand and is known for "Vasaloppet", the
Dalahorses, Falu Copper mine and the special red paint called "Falu Rödfärg".
"Vasaloppet" is a cross-coutry skiing race and is 90 km long. The first person
who is said to have completed the race was the Swedish King Gustav Vasa, in
the 16th century.
Värmland is another province in Svealand. Here the Swedish author Selma
Lagerlöf was born. She won the Nobel Prize in litterature in 1909.
DALAHÄSTEN
You usually decorate the halter and
harness with patterns in different colours,
mostly white and blue. This first started in
the 17th century.
Stockholm
The capital of Sweden is Stockholm, in Svealand. Here lives the Royal
family.
The King has no official power in Sweden. It is the popularly elected
government which has the official power and Fredrik Reinfeldt is our
Prime Minister. Sweden is a democracy.
The Princess
In Stockholm you also find "Gröna Lund", which is an amusement park.
A very special round building is The Globe, which is used for concerts and
sports events.
GÖTALAND
Götaland is the most southern part of Sweden.
The landscape consists of coast, coniferous forest,
deciduous forest and fields.
About 4.500.000 inhabitants live in Götaland.
Nearly 1.000.000 live in Gothenburg, which is the
largest city in Götaland. Here are tourist
attractions like "Liseberg" and "Universeum".
In the ocean, off the west coast, are crabs,
shrimps, cray fish, lobster and mackerel.
Götaland
Sweden is devided into 25 provinces. One of these is Blekinge, where we live.
Ikea's founder, Ingvar Kamprad, comes from this part of the country. IKEA is
a furniture company.
POLKAGRISAR
In a small town called Gränna the typically Swedish candy "polkagrisar" are
made. The town is by the lake "Vättern." The famous engineer and ballonist
S.A. Andrée is from Gränna. He tried to reach The North Pole with a hydrogen
ballon, but failed and died in 1897.
"Polkagrisar" is hard candy, made of water, suger,
glucose and vinegar.
The classical "polkagris" is red and white.
Well-KNOWN SWEDISH PEOPLE
Astrid Lindgren is a popular author. She has written the books about Pippi
Longstocking.
Everybody knows about the football player Zlatan Ibramhimovic.
ABBA has become world famous through their music.
Alfred Nobel invented the dynamite.
More famous Swedish people and companies
Some of the famous Swedish
companies are: IKEA, H&M och Volvo.
IKEA is one of the largest companies in
the world and was founded by Ingvar
Kamprad, Småland.
H&M – Hennes & Mauritz – a clothing
company,
Volvo is a car company and they were
first with installing seat belts in their
cars.
Björn Borg is a world known tennis
player with his own lable in shoes and
clothes.
Börje Salming (hockeyplayer), Jan-Ove
Waldner (table tennis player) and
Carolina Klüft (heptathlon) are also
famous people from Sweden.
Karlskrona
Karlskrona was founded by King Karl XI, who is now a statue in the middle of
the big square in Karlskrona.
Karlskrona is on UNESCO's world inheritage list. It is built on islands and is
surrounded by water.
We have a Naval Museum and many old monumatal buildings. The old
beggar "Rosenbom" stands in front of the old, red, wooden church, called
"Amiralitetskyrkan".
Jändelskolan 7-9
We attend a secondary school, with 225 students.
The school is in a suburb to Karlskrona, called Jämjö. .
If you are interested in music or sports you can choose
one of these as your own profile.
There are about 30 skilled teachers at our school.
We have free education, school lunches, and we don't
wear school uniforms.