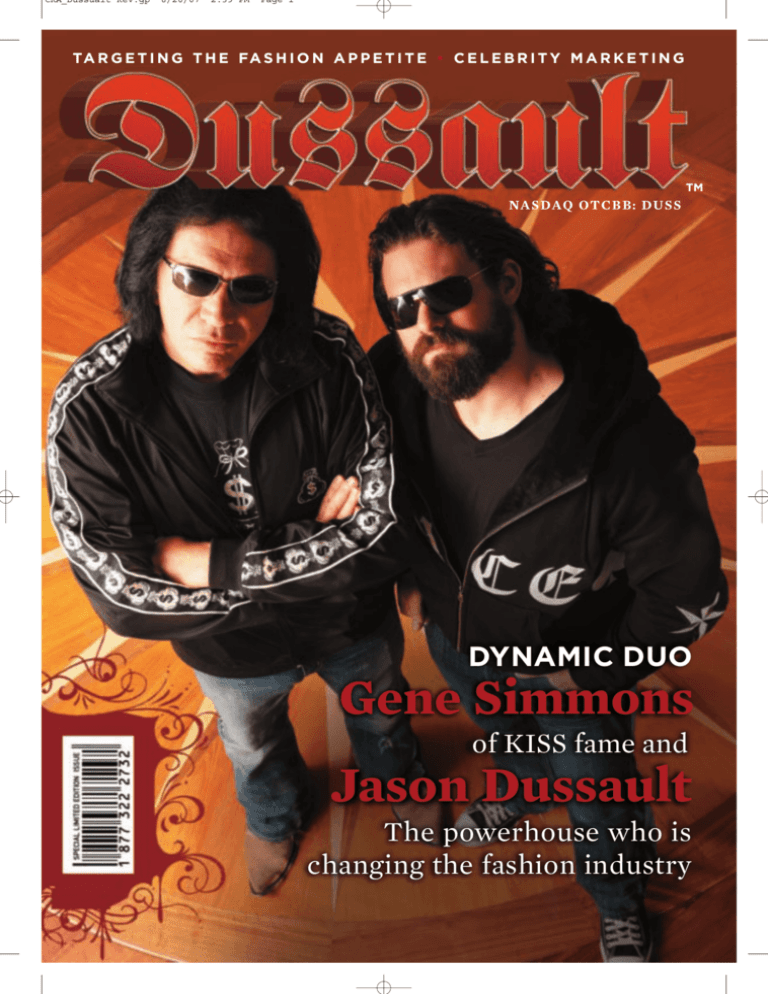 CRA_Dussualt Rev.gp
8/20/07
2:39 PM
Page 1
TA R G E T I N G T H E FA S H I O N A P P E T I T E • C E L E B R I T Y M A R K E T I N G
TM
NASDAQ OTCBB: DUSS
DYNAMIC DUO
Gene Simmons
of KISS fame and
Jason Dussault
The powerhouse who is
changing the fashion industry
CRA_Dussualt Rev.gp
8/20/07
2:39 PM
Page 2
03 THE NEW LUXURY EXPERIENCE
It's not just apparel.
07 THE MARKET
A Multi-Billion Dollar Fashion Appetite.
10
12
14
THE BUSINESS CONCEPT
Building A Billion Dollar Brand.
THE MIND BEHIND THE JEANS
An Intimate Conversation With Jason Dussault.
MARKETING & MERCHANDISING
The Dussault Brand.
18
MANAGEMENT TEAM
Team Dussault.
23 CHARITY
Corporate Citizenship: Our Approach.
24
MARKET DATA
Investor Highlights.
Contents
16 CELEBRITY MARKETING TO GENERATION Y.
Up and Coming Trendsetters with Deep Pockets.
CRA_Dussualt Rev.gp
8/20/07
2:39 PM
Page 3
TM
It's not just apparel. Or jeans.
Or a hoodie or luggage.
It's an experience. A way of life.
From the finely-stitched silk linings and
custom-made embroidery to the mind-bending
theme-park in-store environment, every thread
in the fabric of the Dussault consciousness is
100% original, uncompromising and pushing the
limits of the luxury experience.
In just two years, that passion has propelled this revolutionary custom
apparel company to the forefront of the fashion world, boasting
a legion of celebrities including the Black Eyed Peas, Pamela Anderson,
Kid Rock, Jessica Alba, Nicole Richie, Everlast, Swollen Members,
Robin Williams and Quentin Tarantino among the trend-setting clients
wearing their clothes.
And it's just the beginning.
Today, Dussault Custom Ink is poised for an explosive phase of
growth, guided by an undeniable fashion concept, premium retail and
distribution partners, and an elite leadership with the proven credentials
to build a true global brand.
03
CRA_Dussualt Rev.gp
8/20/07
2:40 PM
Page 4
Taking The Luxe Brand
To Generation Y.
It began two years ago, with a single store
creating custom apparel for the world's most
recognized celebrities.
The Powerhouse Leadership
Behind The Brand.
Like their flawlessly designed and crafted
apparel, the team behind Dussault Custom Ink
boasts an impressive pedigree.
Today, Dussault Custom Ink is a vertically
integrated premium fashion apparel company
boasting license agreements with Todd
McFarlane Entertainment, creators of the
Spawn comic book franchise, as well as
entrepreneur Gene Simmons to manufacture
his new Gene Simmons' MoneyBag fashion
line. The company also recently earned honors
at the prestigious MAGIC show, the world's
largest apparel industry event, surpassing
3,300 leading fashion companies with its award
winning booth.
From Founder and Chief Visionary
Jason Dussault to President Terry Fitzgerald
and rock'n'roll legend Gene Simmons,
the impressive leadership behind the Dussault
brand have collectively generated billions
in the entertainment, fashion and financial
sectors over the past 20 years. More
significantly, they have proven their mettle
at transforming innovative ideas into
global brands.
The New Luxury Experience.
Just as significantly, the company is currently
negotiating distribution agreements with
several premiere North American retailers
for store-within-a-store outlets, and is only
months from the star-studded opening of its
flagship store in the heart of Hollywood's
prestigious Melrose Avenue.
04
Together, they represent the guiding force
behind the next global name in premium
high-end apparel for Generation Y.
Dussault Apparel
Throughout, the company's vision has never
wavered to redefine the luxury experience and
fulfill the lofty desires of affluent, fashionconscious customers worldwide.
"Our mission is to design, develop, manufacture, market,
distribute and sell distinctive and innovative products that redefine
luxury in the fashion world. From our premium high fashion
hoodie jackets, denim jeans and tops to our urban apparel and
accessories, every element we create intends to redefine the
luxury experience, and to fulfill the lofty desires of affluent,
fashion-conscious customers worldwide."
– Jason Dussault, Founder & CEO
™
CRA_Dussualt Rev.gp
8/20/07
2:40 PM
Page 5
JASON DUSSAULT,
FOUNDER, WEARING
A CUSTOM HOODIE
DESIGNED FOR KID ROCK
05
CRA_Dussualt Rev.gp
8/20/07
2:40 PM
Page 7
THE MARKET
Targeting A
Multi-Billion Dollar
Fashion Appetite.
In 2004, a small blue jean company called True Religion
noticed a rise in their $1 share price as their blue jeans began appearing
on celebrities like Jessica Simpson, Angelina Jolie and the cast of
Desperate Housewives. In just over a year, True Religion's stock had
soared beyond $20, with sales increasing five-fold and the company
generating sales of $22 million in a single quarter. Today, True Religion is
a $500 million company with annual sales exceeding $139 million.
While True Religion's impressive growth is a promising indicator of
Dussault's potential success, these sales represent but a fragment of a
$500 billion world apparel market which is growing by 7.3% a year.
TRUE RELIGION STOCK VALUE FROM 2003 - 2007
$27.50
20.00
15.00
AUGUST 25 2003
True Religion begins trading
under "TRLG" at $1.35
10.00
AUGUST 18 2005
True Religion trades on the
NASDAQ exchange at $14.80
5.00
2.50
1.25
OCT
04 APR JUL
" The
OCT
05
APR
JUL OCT
06
APR JUL OCT
07 APR
Luxury Apparel niche market has five distinct
advantages: high profit margin, low marketing costs, easier
market domination, continued long-term product demand
and low vulnerability to recession. Mark-up for premium
jeans are far higher than most other apparel."
— Ian Wyatt, Rising Star Stock
06
07
8/20/07
2:40 PM
Page 8
A $600 Million Premium Denim Market.
With the sale of luxury denim jeans in the
United States exceeding $679 million in 2006,
this category continues to endure as one of the
most appealing segments of the apparel market.
Similarly, denim sales in the United Kingdom
are seeing explosive growth, with industry
estimates of over 86 million pairs of jeans to be
sold in 2007.
Simply put, luxury denim is built to last,
providing some significant advantages in
the marketplace.
PREMIUM DENIM SALES 2004 - 2006
$700
Today, the wearables market
is the leading category for
promotional products
distributors, representing nearly
30% of the $18 billion in total
distributor sales reported in
2005 (New York Times).
And premium hoodies, customized caps and
other fashion accessories are driving that
continued growth.
Leather Accessories
CRA_Dussualt Rev.gp
As one of the pillars in the company's product
line, Dussault Custom Hoodies are ideally
positioned to generate continued heat for the
company over the coming years.
Capitalizing On Travel Goods And
Leather Accessories.
More than ever, branded accessories represent
a large and growing segment of the apparel
market. In 2006, travel goods and leathers retail
sales in the United States totaled $17 billion, up
11.3% from the preceding year, with the largest
share of growth among higher-end products.
600
500
400
300
MILLIONS
200
100
0
2004
2005
2006
The Undeniable Appeal Of
Luxury Apparel.
While luxury apparel holds an undeniable
luster for discerning shoppers, this segment
also offers five distinct advantages for
manufacturers. Combining an extremely high
profit margin with low marketing costs,
luxury apparel also benefits from less market
competition, continued long-term product
demand, and relatively low vulnerability
to recession.
For luxury apparel makers, that translates into
high margins and sustained growth for the
bottom line.
As with premium denims and hoodies, the
demand for branded designer accessories
continues to grow, as consumers demonstrate
their willingness to spend premium dollars on
high-quality luxury products.
HANDBAGS
TRAVEL/SPORTS BAG
LUGGAGE
PERSONAL
LEATHER GOODS
BACKPACKS
U.S. TRAVEL GOODS MARKET 1992 - 2006 (IN U.S. DOLLARS)
BILLIONS
8
7
6
5
4
3
2
1
1992
1996
1998
2000
2001
2002
2003
2004
2005
MILLIONS
U.S. TRAVEL GOODS MARKET 1992 - 2006
(# OF PIECES)
BACKPACKS
PERSONAL
LEATHER GOODS
1 billion
MILLIONS
800
BACKPACKS
Hoodies Are Hotter Than Ever.
If one look at the celebs on MTV doesn't
confirm the emergence of premium hoodies as
a major force in popular culture, then consider
the industry figures.
600
400
200
1992
08
2006
1996
1998
2000
2001
2002
2003
2004
2005
2006
CRA_Dussualt Rev.gp
8/20/07
2:40 PM
Page 9
CRA_Dussualt Rev.gp
8/20/07
2:40 PM
Page 10
THE BUSINESS CONCEPT
Building a
Billion Dollar Brand.
Creating a global
brand transcends logic.
It defies reason.
Beyond an inspired vision, it requires a mastery
of the intangibles, a gift for navigating the
cultural zeitgeist.
The Cache of Apparel as Art.
It also requires an uncanny understanding of
global distribution.
10
As the former President and Co-Founder of
Todd McFarlane Entertainment, newly
anointed Dussault President, Terry Fitzgerald,
has demonstrated his ability to create a billion
dollar brand. Working with partner Todd
McFarlane, he transformed a comic book
company into an international conglomerate
producing action figures, comic books, films
and television programs with global
distribution partners including Wal-Mart,
Target, K-Mart, Toys'R'Us, Paramount Pictures,
Universal Studios and beyond.
Working with Jason Dussault and Gene
Simmons, this team has the expertise to propel
this unique, one-of-a-kind luxury experience
into a household brand.
CRA_Dussualt Rev.gp
8/20/07
2:40 PM
Page 11
The Dussault™ Luxury Experience.
From its flawless stitching to its
hand-embossed design and limited edition
presentation box, the Dussault brand
promises the extraordinary.
More than merely clothing, Dussault
produces a distinctive line of urban men's
and women's high quality fashion hoodies,
denim jeans, shirts and accessories that
redefine expectations.
These intensely detailed, hand-worked and
custom finished garments represent the
culmination of urban design, offering
affluent, fashion-conscious GenY'ers
with bold, unique, one-of-a-kind styling
at a premium price point.
Like true works of art, each denim
product is showcased in a custom-built
wooden box embossed with the
Dussault's trademark double-D skull logo
to distinguish it as a singularly unique
fashion masterpiece.
Like all art, Dussault™ apparel is
a form of self-expression.
From our many premium fabrics to a
multitude of custom treatments, washings,
detailings or embossings, no two jeans or
hoodies are ever alike. Bold, brash and
" For
irreverent, each unique element in the
Dussault Custom line becomes an expression
of the customer's individuality and aversion to
the status quo.
For Generation Y customers seeking a
premium fashion experience, Dussault
represents the pinnacle in apparel as hip,
cool, one-of-a-kind urban art.
Custom Experience For The
Mass Luxe Market.
Designed entirely by our world-class in-house
team, each element in our product line is
manufactured to exacting standards by
local and international third party apparel
companies, with final customized elements
added in the actual Dussault factory. From our
shirts, belts, hats and luggage to our upcoming
lines of shoes and jewelry, our entire product
line is conceived to provide uncompromising
quality and individual touches at a premium
price level.
This strategy allows the company to benefit
from economies of scale without forsaking
quality or committing to the significant
capital expenditures required for large scale
manufacturing. This approach allows the
company to invest in retail expansion and
building brand awareness through marketing
and publicity.
the past 20 years, I partnered with Todd McFarlane
to build one of the world's leading comic book and toy companies.
Together, we expanded the company from two employees into a
billion dollar conglomerate... In Jason Dussault, I see the same
drive, energy, creative inventiveness and determination to own the
world. I have no doubt that we'll be a force in every metropolitan
center worldwide."
Terry Fitzgerald, President
Formerly President and COO of Todd McFarlane Entertainment
11
CRA_Dussualt Rev.gp
8/20/07
2:40 PM
Page 12
The Mind Behind The Jeans.
An Intimate Conversation
with Jason Dussault
Jason Dussault, the Founder, Chief Creative Officer and
guiding force behind Dussault Custom Ink, sits down with friend
and confidant Nipper Mulberry for an intimate tête-à-tête.
Q What was the guiding vision that
inspired you to build this company, and
why do you think it's caught on as
quickly as it has?
A I decided to make clothes for a market I was
intimately familiar with. Namely, me. I had
money, success, a passion for the good life and
a taste for distinctive, unique, high quality
fashions. I was constantly being disappointed
by so-called premium brands that weren't
distinctive, well-produced or particularly
unique. They definitely didn't reflect my tastes
or individual style. When I looked around, I
saw a massive subset of people just like me –
hungry for truly distinctive, unique, luxurious
and hip clothes. And willing to pay a premium
price for it.
because once I commit myself to something,
it becomes a 24 hour seven day a week
commitment. That was my approach when I
was raising capital for start-up companies,
and it's still the only way I know how to
operate. From the moment I founded Dussault
Custom Ink, I was building an international
fashion and accessory brand that was going
to be a household name. No question, part of
my success has been a natural artistic gift and
an innate love for fashion. But an equally
large component was a very clear vision from
the outset, with defined business goals and
a solid strategy. Thankfully, after a decade
working in the public markets, I understood
the business fundamentals as well as the
fashion business.
Q So why fashion and why now?
Q You seem to have exploded onto the
scene right out of thin air. It's been
barely two years, and your clothes are
being worn by some of the world's
biggest celebrities. You've signed a
license agreement with rock star/entrepreneur Gene Simmons, are about to
open a flagship store on Melrose
Avenue, and have now brought on
Terry Fitzgerald as President of your
company. What the hell happened?
A Yea. That was pretty quick, though it really
hasn't felt that way. The truth is, I've always
been successful at everything I've done,
12
A To me, fashion combines the best of the artistic and financial worlds. As an artist and lover
of good fashion, my goal is to create clothing
and accessories that people are inspired to
wear, and that truly serves as an expression of
who they are. As a businessman, I saw an
opportunity to provide for a need that I had,
and that I knew others also shared. Over $200
billion is spent every year in the United States
on clothing. That's a staggering amount of
money, which clearly suggests that Americans
are willing to spend money when something
of value is offered to them. I decided to give
the market what it was crying out for.
CRA_Dussualt Rev.gp
8/20/07
2:40 PM
Page 13
Q Celebrities have been a large part
of the company's success. Was that
simply luck, or was there a master plan
behind it all?
A "Master Plan" sounds a bit sinister. I'd prefer
to call it a core element of a comprehensive
brand building strategy. Besides, what better
advertising for our product than the kinds of
people our clothes were created for? In other
words — stylish, distinctive, unique, accomplished, self-expressed, affluent people who
are willing to drop some real coin to make a
personal statement. Just for the record, we
also make lots of custom items for amazing
individuals who aren't celebrities. But there's
no question, nothing speaks louder to the
Gen Y market than having Nelly Furtado
hitting a party or doing an MTV interview
wearing our clothes. Old fashioned advertising
and endorsements just don't do the trick with
the Gen Y crowd. They're just too sharp and
jaded. So we went with what works.
Q Tell us about your relationship with
Gene Simmons.
A I've been a fan of KISS and in particular Gene
since high school. When I was presented with
the opportunity to meet him I leapt at the
chance. I created an original piece for Gene —
an embroidered lamb skin jacket —which I
gave to him at our first meeting. He loved it
and has worn it on his hit show "Family
Jewels" several times. We had an instant bond
at that first meeting. We have similar passions;
we are both artistic and share the same desire
to be successful in business. We also share
the same work ethic; Gene works 24 hours
a day. When Gene offered me the chance to
work with him on the MoneyBag line
I jumped. Gene trademarked the MoneyBag
image over twenty years ago and had been
waiting for the right opportunity to bring it to
market. He saw that opportunity in Dussault,
and has been an amazing partner in the
project, making himself
available for tradeshows and
promotional events. He's been
a tremendous help and terrific
business partner.
Q What are your goals for Dussault?
A Like I said earlier on, I opened the first store
knowing that it was the first building block in
the construction of international household
brand. Right now, we're on our way. We're
starting to cement agreements with top-tier
retail outlets around the United States. We've
just brought on one of the most successful
mass merchandisers in the country in Terry
[new Dussault President Terry Fitzgerald],
we're opening stores and outlets in major
markets in the states, and we're building
revenues and brand recognition. At this pace,
we just need a few more years to get there.
Q Thanks for taking the time
to talk, Jason.
A Least I could do. It is my company
magazine, after all.
CRA_Dussualt Rev.gp
8/20/07
2:41 PM
Page K
13
CRA_Dussualt Rev.gp
8/20/07
2:41 PM
Page L
Q What makes your clothes special?
Frankly, if someone comes into our store, gets
a huge kick out of our photo-booth, but doesn't buy our clothes, I still feel like we did our
job. That's the Luxe experience. And truth is,
it's not rocket science.
A That's a no-brainer. It's the attention to detail.
The moment someone slips on a Dussault
Hoodie or Dussault Jeans, something happens
to them. They start to notice the insane quality and attention to detail. There's just no compromise at any level. From silk linings to delicate faux Mink cuffs, our clothes have this
amazing, gentle, luxurious feeling that you
don't get with anything else. I constantly hear
the same thing from our customers — that
their Dussault Hoodie is their favorite piece of
clothing. You just can't fake quality, integrity
and obsessive attention to detail.
Q A lot of your marketing talks about the
Luxe experience. What is that exactly?
A It's the human craving to feel unique, alive. To
feel like you're not just another faceless number wearing faceless clothes, leading a faceless
life and being served by other faceless people
performing faceless tasks. From where we sit,
that means providing a complete and unique
experience that starts the moment someone
steps into our store. We make every facet of
the Dussault experience unique — not just
because we want you to buy our clothes, but
because we want people to truly get that there
are some places where passion and creativity
do matter, and where inspiration does rule.
Q
Speaking of the stores, yours are pretty
out there. What is the inspiration for
the concept?
A
Our goal with each store is to take you somewhere you've never been before, and to give
you an unforgettable experience. Our original
store was created with an entryway that's
actually this crazy photo-booth. When you
enter the compartment, it seals behind you so
you're in an enclosed booth, then it takes four
photos of you — which you get to keep as a
memento of your visit. Then, you're released
into the main store, which is a surreal setting
right out of a movie. Our flagship store on
Melrose builds on that, with an even crazier
world designed along the lines of a vintage
1970s motel, with the cash register area in the
style of a front desk, and a café and motel
lounge — right out of a classic film. And the
farther into the store you travel, the more layers you'll discover. It's a bit like our clothes —
the closer you look, the more great little
details you find.
continued inside flap
A Strategy for Global Growth
CRA_Dussualt Rev.gp
8/20/07
2:41 PM
Page 14
couver
n
a
V
,
e
or
ult St
Dussa
MARKETING AND MERCHANDISING
The Dussault™ Brand.
From
our intricate custom-detailed hoodies, jeans and shirts to our
insane in-store theme-park experience, every facet of the Dussault brand
promises the extraordinary. We're committed to building on that promise
at every level of the shopping experience, and at every stage of our growth.
The Dussault™ Theme Park Retail Experience.
Starting with our original boutique in Vancouver, B.C. Canada, to our
soon to open flagship store on Hollywood's prestigious Melrose Avenue,
every moment of the Dussault experience is a true original.
From a built-in photo booth providing shoppers with a memento of
their visit, to an entire store designed in a "Dussault Motel" theme
featuring an old-style café and functioning retro video arcades, Dussault
aims for the exceptional.
For celebrity and premier clients, the new Melrose boutique will
also feature a private shopping experience themed as a
Canadian snow chalet, with authentic log construction,
antique ski equipment and blowing snow.
Life can be banal.
Dussault makes it a scream.
14
CRA_Dussualt Rev.gp
8/20/07
2:41 PM
Page 15
The Store-Within-a-Store Concept.
For Dussault, the store-within-a-store
model represents a powerful and cost-effective
strategy for maximizing brand exposure
while also leveraging the credibility of larger
retail partners.
Working in association with large premium
retailers that share a compatible vision and
demographic, Dussault will benefit from
prime retail locations and pre-existing traffic
in major metropolitan centers without the
prohibitive costs associated with store
construction and maintenance.
This approach has proven enormously
successful for the company to date. Located in
Vancouver's Leone's-L2 fashion center, one of
North America's leading specialty department
stores, the original Dussault outlet has been the
leader both in sales and earnings for Leone'sL2 since its opening nearly two years ago.
A Strategy For Global Growth For 2008.
Building on our proven store-within-a-store
model, Dussault is currently undertaking
an aggressive one-year plan for establishing
itself as a global brand. This includes outlets in
New York and London by Winter 2007,
Toronto and Montreal by Spring 2008, Chicago
and Miami by Summer 2008, and Tokyo by
Winter 2008.
Growing The Brand Through Joint
Ventures.
As a company committed to preserving the
quality and integrity of our brand at every stage
of growth, we believe that joint ventures and
licensing agreements will be central to our
continued success.
The first such agreement is already underway,
with Dussault developing, manufacturing and
distributing the Gene Simmons' "MoneyBag"
clothing and accessories collections. This
exciting product line will launch across North
America in Fall 2007.
A similar collaboration with comic book
creator Todd McFarlane will generate
substantial co-marketing opportunities for
both companies, with Mr. McFarlane creating a
new character called "Deuce The Destroyer".
Inspired by Dussault founder Jason Dussault,
this character will be featured prominently on
a line of Dussault apparel, and other
merchandising and entertainment
opportunities are also being explored,
including an internationally distributed
"Deuce The Destroyer" comic book.
These outlets will be localized primarily in
high-end department stores such as Nordstrom
and Bloomingdales, as well as top-tier specialty
retailers such as Fred Segal, Yellow Rat Bastard
and Kitson.
Building Our International
Distribution Channels.
In addition to the company's store-within-astore strategy, Dussault is also in the process of
establishing an extensive domestic and
international wholesale distribution network.
Dussault is currently in negotiations with
international distributors in the United
Kingdom, Europe, Asia and South America,
and intends to have agreements in place and
product shipping by Fall 2007.
GENE SIMMONS AND JASON DUSSAULT AT
THE MAGIC TRADE SHOW, LAS VEGAS 2007
15
CRA_Dussualt Rev.gp
8/20/07
2:41 PM
Page 16
Larger, and more impenetrable than the
"Baby Boomers", the 16-36 year-old
Generation Y represents the heart and soul of
Dussault's customer base. Smart, savvy, jaded
and individualistic, they seek products that
transcend and defy the consumer culture.
What's more, they're willing to pay serious
coin to get it. And Dussault Custom Apparel is
emerging as their voice.
Celebrity Marketing
to Generation Y
Building Our Celebrity Network.
From the Black Eyed Peas, Nelly Furtado
and Jessica Alba to Nicole Richie,
Quentin Tarrentino and countless other
celebrities, we're developing a passionate and
rapidly expanding network of trend-setting
fashion leaders.
Building on this impressive marketing
showcase, the company is expanding its relationship with Gene Simmons, as we continue
to create new opportunities to leverage our
brand and build visibility.
Dussault™ Forward
SALES
• Expansion into more store-within-a-store
retailers within the next year in cities like
LA, Chicago, Miami, Montreal, Toronto,
London
• International distributions deals for
territories such as the UK, Ireland, Italy,
France, Germany, Canada, Brazil, UAE,
Japan, Singapore
PEOPLE
• Will use a combination of in-house and
outside sales agents enabling us to maximize
full sales potential for a company our size
and age
16
STORE OPENING
• In-house stores include LA this year and
one more next year in an eastern American
location to be announced
NEW PRODUCTS
• High-quality embossed and embellished
leather travel gear, messenger bags and
wallets, as well as hand decorated hats and
fully detailed belt buckles and belts
• Jewelry for men and women in silver, gold
and platinum metals, adorned in gemstones
from around the world
CRA_Dussualt Rev.gp
8/20/07
2:41 PM
Page 17
This will include a wide range of media
opportunities, including continued
appearances on his network television
program "Gene Simmons Family Jewels" and
other co-ventures to build brand awareness.
Looking Beyond Traditional Marketing.
When it comes to Gen Y'ers, old-fashioned
advertising and endorsements are death.
Instead, Dussault combines its aggressive
celebrity-based, non-paid marketing with
leading-edge merchandising events and
partnerships, as well as advertising in
skateboarding, hip-hop, young adult culture
and Gen Y lifestyle magazines.
And then, there's the ultimate marketing
vehicle — the internet.
The Dussault™ Viral Marketing Program.
From outrageous short films to animations
and music videos, Dussault is constantly
developing and airing fresh branded videos
on YouTube.com, Myspace.com, Facebook.com
and Squidoo.com.
This cost-effective marketing approach
represents a powerful marketing strategy that
allows Dussault to deliver its fresh, unique and
irreverent message to a sophisticated audience
on an ongoing basis.
Building a Brand With
A Social Conscience.
Like our target market,
Dussault believes that for
a brand to truly live in the
consciousness of Generation Y,
it must possess a true
social conscience.
As a company committed to
bringing true integrity and
excellence to every facet of the
fashion world, we're constantly
seeking out strategies for
incorporating a charitable or
fundraising component into our
merchandising programs. More than
simply a marketing strategy, it represents
yet one more opportunity to enrich our
customers by allowing them to give back
to the world at large.
Similarly, the company is also very
committed to reducing its own footprint
on the planet. This includes using
shopping bags made from 100%
non-toxic recyclable materials, and
participating in a carbon credit
program. We've always believed in
being leaders, and that holds true at
every level of our company.
• High-end lambskin products for men
and women
• Increase total jean SKUs/lines from
7 to over 10
• Increase hoodie designs for both men and
women from 6 to over 15
• T-Shirt series will increase from 3 to
close to 10
• The company will explore new areas within
the apparel business for possible future
expansion, such as footwear, skirts and
other outerwear.
17
CRA_Dussualt Rev.gp
8/20/07
2:41 PM
Page 18
M A N AG E M E N T T E A M
Team Dussault
TM
18
Jason "Deuce" Dussault
Chairman and Chief
Creative Officer
Creating and collaborating with
several companies over the past
15 years, Mr. Dussault has worked
to take small start-up companies
public, accessing financing from
U.S., Canadian and European sources and
providing corporate guidance. In 2005, after
successfully raising hundreds of millions of
dollars in capital for his client companies, he
finally decided to pursue his ultimate passion.
From that first inspired leap, Dussault Apparel,
Inc. was born. A year later, his first line of fashions sold out almost immediately, establishing
his company and launching Dussault Apparel,
Inc. Today, this cutting-edge design aesthetic
and meticulous attention to detail are highly
sought after by leading celebrities and
trendsetters. As the company's creative
visionary, he works with Head Designer Peter
Tsang to expand on a unique style, honing his
creations through an intimate connection to
some of the world's leading celebrities and elite
from the worlds of entertainment and sports.
125 million comic books in 30 different
languages worldwide. He was then integral in
the acquisition and subsequent expansion of a
corporation that would later be known as
McFarlane Toys. This company is known for its
highly detailed action figures of licensed properties such as the Simpsons, Halo, the Matrix,
Kiss, Elvis, MLB, NBA, NFL and NHL, the
Terminator and the Beatles. With his vital
involvement at the executive level, the
McFarlane Group has grown from a two-person
organization to one that now includes 150+
employees in four countries, with sales in the
nine-figure range, with distribution with retailing partners such as Wal-Mart, Target, K-Mart,
Toys'R'Us and Kaybe. As President and COO of
Todd McFarlane Entertainment, Inc., he oversaw development and production of feature
films and television series for New Line Cinema,
Paramount Pictures, Universal Pictures, Warner
Bros. Pictures, Home Box Office, UPN and Fox
Television. Mr. Fitzgerald's role as producer and
writer/director of these and other projects has
garnered him two Emmy Awards, two Grammy
Award nominations with one win, nine MTV
Music Video Award nominations wins and one
MuchMusic Music Video Award.
Terry Fitzgerald
President
Mr. Fitzgerald brings to the
company 16-years of corporate
experience in the licensing, design,
entertainment, and manufacturing
arenas. After graduating from
college in British Columbia,
Canada, he relocated to Portland, Oregon to
create the McFarlane Group of Companies with
Partner Todd McFarlane. Mr. McFarlane is best
known as the world's top selling comic book
artist. Together in 1992, he and Mr. Fitzgerald
formed Todd McFarlane Productions, Inc., a
comic book company that to date has sold over
Peter Tsang
Director of Designer/Manufacturing
As Dussault's Director of Design and
Manufacturing, Mr. Tsang is a rapidly emerging
voice in the design world. Graduating from the
Helen Lefeaux School of Fashion Design and
earning a Diploma in Textile Design from British
Columbia's Capilano College, Mr. Tsang went on
to receive numerous distinctions as an emerging
designer, including finalist in the Smirnoff
Experience Fashion Competition. In 2004, he
became Lead Designer and Partner in Pierrejale,
a high-end women's clothing line, where he
went on to design lines for Toronto Fashion
Week and other prominent fashion events,
CRA_Dussualt Rev.gp
8/20/07
2:41 PM
Page 19
earning a Canadian New Designer Award
Nomination from Fashion Expert Awards in
2005. He then moved to Dussault, where his
sales booth design for the Summer 2007 MAGIC
Trade Show in Las Vegas was distinguished
from among 3,300 contestants with the Award
For The Most Innovative Booth Design.
Jason Sundar
VP, Corporate Finance
Combining an impressive
background in high finance
and capital markets with a
profound entrepreneurial
spirit, Mr. Sundar began
his career at the age of 17
working for the B.C. Attorney General's office,
where he developed and promoted youth
programs to protect high-risk youth. At 20 years
of age Mr. Sundar became the youngest facilitator of corporate training programs for Peak
Performance Systems — a Brian Tracy
International Network focused on the psychology of achievement, goal setting, professional
selling skills, advances selling skills and B2B
selling skills. Among their numerous clients
were Yorkton Securities and Crown Packaging.
By the age of 23, Mr. Sundar was the top
performer for investor relations specialists
PCMI. Leaving that position, he partnered with
Olivia Communications, raising over five
million dollars and taking the organization from
three people to a staff to 24. Since founding
Sundar Communications Group in 2002, he
has personally raised over $50 million for his
clients worldwide.
Jeremy Poirier
VP, Investor Relations
Establishing his passion for
the business world at a young
age, Mr. Poirier moved to
Vancouver to become an
entrepreneur and work in
the public markets when he
was 18 years old. Over the past three years, Mr.
Poirier has been a significant player in the success of Deuce Jeans and Open Sundae ventures.
Mr. Poirier has worked with over thirty publicly
traded companies, and has been President of
Seacove Investor Relations for two years.
Robert Mintak
Director & COO
Mr. Mintak, has over 25 years of
experience in the retail and
wholesale industries. His track
record in management includes five
years with the Robinson Group,
which was named one of the 50
best managed companies in Canada
2005, and ten years of management experience
in retail. Mr. Mintak is also a certified lighting
designer. Mr. Mintak has been the CFO of
Open Sundaes Bath and Body Products for the
past three years.
Jamie Arthur Lewin, CFO
Mr. Lewin has 15 years of progressive
experience and responsibility in accounting,
financial analysis, financial management and
business administration. Mr. Lewin has been the
Chief Financial Officer for Abenteuer Resources
Corp. since June of 2006 and the Manager of
Finance and Administration for CNIB
BC/Yukon Division since October 2006. Mr.
Lewin has a strong work ethic and is highly
developed in accounting.
Tina Baird
VP, Corporate Communications
Ms. Baird has been responsible for
media relations, public relations,
and advertising for Dussault Custom
Ink since the launch of the first
collection in 2005. In addition to
handling Dussault, she has twentyfive years experience providing media relations,
advertising, publicity, marketing, corporate
communications, and public relations. Ms. Baird,
a UBC graduate, has designed and supervised
international, national and locally targeted
communication, publicity and marketing
campaigns for her clients. Past clients include
Peace Arch Entertainment Group Inc., the
Vancouver Art Gallery, the Whistler Resort
Association, The Western Magazine Awards
Foundation, Travel Concepts Inc., Blanche
McDonald School of Fashion and Design, and
Voyageur Film Capital Corporation.
19
CRA_Dussualt Rev.gp
8/20/07
2:42 PM
Page 20
CRA_Dussualt
8/21/07
3:54 PM
Page 21
M A N AG E M E N T T E A M
Advisory Team
M A R K E T I N G A DV I S O R
J O I N T V E N T U R E PA R T N E R
Kiley Hendriks a.k.a. Prevail
"As one of the lead singers in 4 time Juno
winning rap group, Swollen Members, I am
blessed with opportunities to meet people,
whose lives are highly popular, on a more
social platform. The doors that are opened,
from touring and song collaboration, are ones
that, in time can lead to long lasting and
influential friendships. It's no secret that the
music and film industries are changing. What
is also taking shape though, is that artists,
more than ever, are networking and building
together to support each other. My ability to
offer amazing, custom made clothing, to people
I have come in contact with, is a great asset to
Dussault. In the business world, as much is in
the entertainment world, an introduction is
only as solid as the person making it. For a
group of people who are constantly bombarded
with sponsorship ideas and more free stuff
than one can handle, it is exciting to know that
our gear is getting worn, not only for its unique
design, but also on the strength of friendship.
This is what I can offer to Dussault Custom
Ink. I have been not only an artist, but also a
self promoter, for the last decade. I'm good
with communicating and am building new contacts daily. I look forward to propelling our
company to the top, and appreciate the well
you have provided me to draw from."
Gene Simmons
MoneyBag Fashion Partner
"I have owned the trademark MoneyBag
logo for over 25 years. I have used it on my
magazines, book imprints, my record company
and a few other areas. Until I met Jason
Dussault, I held off on really going out into
the marketplace in the street wear line. It has
to do with finding a kindred spirit. And, Jason
is it. He and I share a passion for only doing
things in life that mean something. Together
we are creating cutting edge, in-your-face
fashions. The MoneyBag Line, at long last,
has become a reality."
Sincerely,
Gene Simmons, KISS
y,
Kiley Hendriks, Swollen Members
21
CRA_Dussualt Rev.gp
8/20/07
2:42 PM
Page 22
DISTRIBUTION
Marcello Leone
US Distribution
Marcello Leone is highly regarded in the
fashion industry. He has spent over 16 years
operating one of Canada's largest and most successful independent specialty stores known as
Leone's. Leone's, located in Vancouver, British
Columbia, represents over 30,000 sq. ft. of luxury brands including the exclusive Gianni Versace
boutique, as well as Roberto Cavalli, Prada and
Christian Dior just to name a few. Leone's contemporary division known as L2 represents contemporary designers such as Diesel, Rock and
Republic, True Religion, Miss Sixty and
Dussault Custom Ink.
Marcello is responsible for the development
of new product lines, guiding the buying team,
and daily operational duties for Leone's and
L2. Today, due to Marcello's participation
and on-going management team, Leone's has
been recognized as one of North America's
leading retailers as quoted in Vogue Italy
2 years running.
JASON DUSSAULT CREATING
CUSTOM HOODIES
22
Munir Ali
International Distribution
Munir Ali is involved in a broad range of
business interests, including manufacturing,
international trade and investment management. With 15 years in the industry, Munir has
extensive experience conducting retail business in Asia, Singapore, Thailand, India,
Pakistan and Bangladesh. In this capacity, Mr.
Ali has developed retail networks to facilitate
the marketing and distribution of consumer
products, including operations and sales.
Through business in this industry he has also
gained experience in manufacturing and sales
of commodities. He has also worked to develop
infrastructure and logistics to support retail
business which requires a thorough familiarity
with the market, as well as planning for change
and anticipating market trends.
CRA_Dussualt Rev.gp
8/20/07
2:42 PM
Page 24
INVESTOR HIGHLIGHTS
TM
Head Office
8010 Melrose Avenue
Los Angeles, CA
90046-7010
• In just two years, this vertically integrated premium apparel company
has developed a relationship among world-class celebrities, athletes and
entertainment figures around the world.
• The company is poised for explosive growth with established
distribution partners and an elite leadership with the proven credentials
to build a true global brand.
Store Locations
8010 Melrose Avenue
Los Angeles, CA
90046-7010
Tel: 323.951.9215
• New President Terry Fitzgerald, the former President and Co-Founder of
Todd McFarlane Entertainment, who partnered with Todd McFarlane to
transform a comic book company into an international conglomerate
producing action figures, comic books, films and television programs
with global distribution partners including Wal-Mart, Target, K-Mart,
Toys'R'Us, Paramount Pictures, and Universal Studios.
56 Powell Street
Vancouver, BC
V6A 1E7
Tel: 604.222.2010
• The company boasts license agreements with Todd McFarlane
Entertainment, creators of the Spawn comic book franchise, as well
as entrepreneur Gene Simmons to manufacture his new MoneyBag
fashion line.
Investor Relations
Jeremy Poirier
Tel: 1.877.322.2732
Email: jp@dussaultink.com
• The company recently earned a distinction at the prestigious MAGIC
show, the world's largest apparel industry event, beating over 3,300 of the
world's leading fashion companies with its award winning booth.
Market Data
Exchange:
OTCBB
Symbol:
DUSS
Restricted:
21 Million
Free Trading:
28 Million
Total Issued & Out: 49 Million
Transfer Agent
Island Stock Transfer
100 Second Avenue South,
Suite 104N
St. Petersburg, FL
USA 33701
Att: Kara Kennedy
Board of Directors
Jason Dussault
Terry Fitzgerald
Robert Mintak
Auditors
John Kinross-Kennedy CPA
Legal Counsel
Clark Wilson
Bill Mcdonald
• The company is only months from the star-studded opening of its
flagship store in the heart of Hollywood's prestigious Melrose Avenue.
• Comparable history to True Religion, which went from $1 share price
to $20 in just over a year after their blue jeans began appearing on
celebrities like Jessica Simpson, Angelina Jolie and the cast of
Desperate Housewives. Today, True Religion is a $500 million company
with annual sales exceeding $139 million.
• Continued growth of the luxury denim jeans in the United States with
sales of $679 million in 2006. Similarly, denim sales in the United
Kingdom are seeing explosive growth, with industry estimates of over
86 million pairs of jeans to be sold in 2007.
IMPORTANT DISCLAIMER Each person to whom a copy of this company profile ("Profile") is provided is a "User" and
each User agrees to be bound to the terms of this agreement. IF YOU DO NOT AGREE TO THESE TERMS RETURN THIS
PROFILE TO DUSSAULT APPAREL INC. UNREAD AND UNUSED. The attached information has been prepared by Dussault
Apparel Inc. using its best efforts to realistically and factually present the information contained. However, subjective
opinion, dependence upon factors outside Dussault Apparel Inc.'s control and outside information sources unavoidably
dictate that Dussault Apparel Inc. cannot warrant the information contained to be exhaustive, complete or sufficient. In
addition, many factors can affect the Profile which could significantly alter the results intended by Dussault Apparel Inc.,
rendering the Profile unattainable or substantially altered. Therefore, interested Users should conduct their own assessment and consult with their own professional advisors prior to making any investment decisions. This Profile does not constitute a prospectus or public offering for financing, and no guarantees are made or implied with regard to the success of
Dussault Apparel Inc.'s proposed ventures.
Some of the information in this Profile are forward-looking statements. The User can identify these forward-looking statements by forward-looking words such as "may," "will," "expect," "potential," "anticipate," "forecast," "believe," "estimate," "project," "plan," "continue" or similar words. The User should read statements that contain these words carefully
because they discuss future expectations, contain projections of future results of operations or of financial condition, or
state other forward-looking information. Forward-looking statements include, but are not limited to, statements regarding potential product development or sales and marketing programs, and future plans and objectives of Dussault Apparel.
The risk factors listed in our disclosure documents and the cautionary language on this Profile provide examples of risks,
uncertainties and events that may cause actual results to differ materially from the expectations and projections described
by Dussault Apparel in its forward-looking statements. Actual results relating to, among other things, the markets for
Dussault Apparel products, capital costs and production costs could differ materially from those currently anticipated in
such statements. Factors affecting forward-looking statements include: the speculative nature of development stage companies; changes in the operating costs; changes in economic conditions and conditions in the financial markets; changes of
the interest rates on borrowings; hedging activities; changes in the market for retail fashion sold by Dussault Apparel;
changes in the investments and product development levels; litigation; legislation; environmental, judicial, regulatory,
political and competitive developments in areas in which Dussault Apparel operates; technological, mechanical and operational difficulties encountered in connection with Dussault Apparel's products and product development activities; and
labour relation matters and costs. The user should refer to the risk disclosures set out in the disclosure documents filed by
Dussault Apparel from time to time with the applicable regulatory authorities.
The Profile is being disclosed to User for User's discussion, review, and/or evaluation only. User also agrees not to trade in
the securities of Dussault Apparel Inc. while in possession of any material information about Dussault Apparel Inc. that
has not been publicly disclosed. User agrees to hold the Profile, and all related information and discussions, in strict confidence. User agrees that Dussault Apparel Inc. reserves all rights in and to the Profile. User agrees to return all originals
and all copies of all materials related to Profile to Dussault Apparel Inc. upon request or upon the conclusion of User's
review and evaluation of the Profile thereof, whichever is earlier.