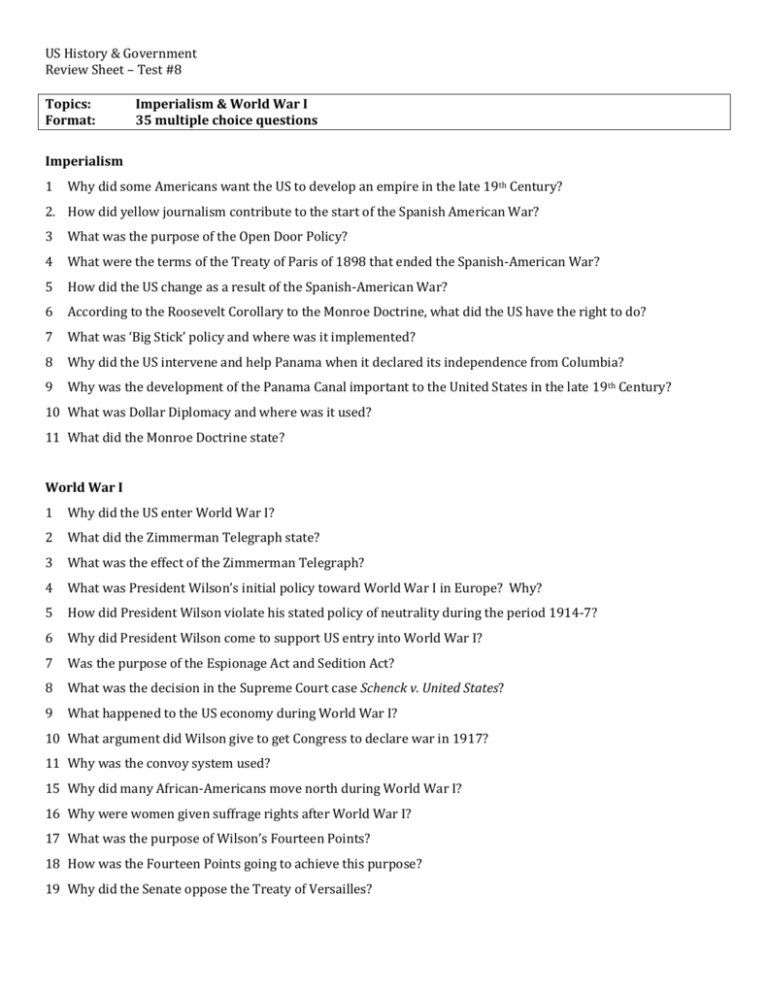 US History & Government
Review Sheet – Test #8
Topics:
Format:
Imperialism & World War I
35 multiple choice questions
Imperialism
1
Why did some Americans want the US to develop an empire in the late 19th Century?
2. How did yellow journalism contribute to the start of the Spanish American War?
3
What was the purpose of the Open Door Policy?
4
What were the terms of the Treaty of Paris of 1898 that ended the Spanish-American War?
5
How did the US change as a result of the Spanish-American War?
6
According to the Roosevelt Corollary to the Monroe Doctrine, what did the US have the right to do?
7
What was 'Big Stick' policy and where was it implemented?
8
Why did the US intervene and help Panama when it declared its independence from Columbia?
9
Why was the development of the Panama Canal important to the United States in the late 19th Century?
10 What was Dollar Diplomacy and where was it used?
11 What did the Monroe Doctrine state?
World War I
1
Why did the US enter World War I?
2
What did the Zimmerman Telegraph state?
3
What was the effect of the Zimmerman Telegraph?
4
What was President Wilson's initial policy toward World War I in Europe? Why?
5
How did President Wilson violate his stated policy of neutrality during the period 1914-7?
6
Why did President Wilson come to support US entry into World War I?
7
Was the purpose of the Espionage Act and Sedition Act?
8
What was the decision in the Supreme Court case Schenck v. United States?
9
What happened to the US economy during World War I?
10 What argument did Wilson give to get Congress to declare war in 1917?
11 Why was the convoy system used?
15 Why did many African-Americans move north during World War I?
16 Why were women given suffrage rights after World War I?
17 What was the purpose of Wilson's Fourteen Points?
18 How was the Fourteen Points going to achieve this purpose?
19 Why did the Senate oppose the Treaty of Versailles?