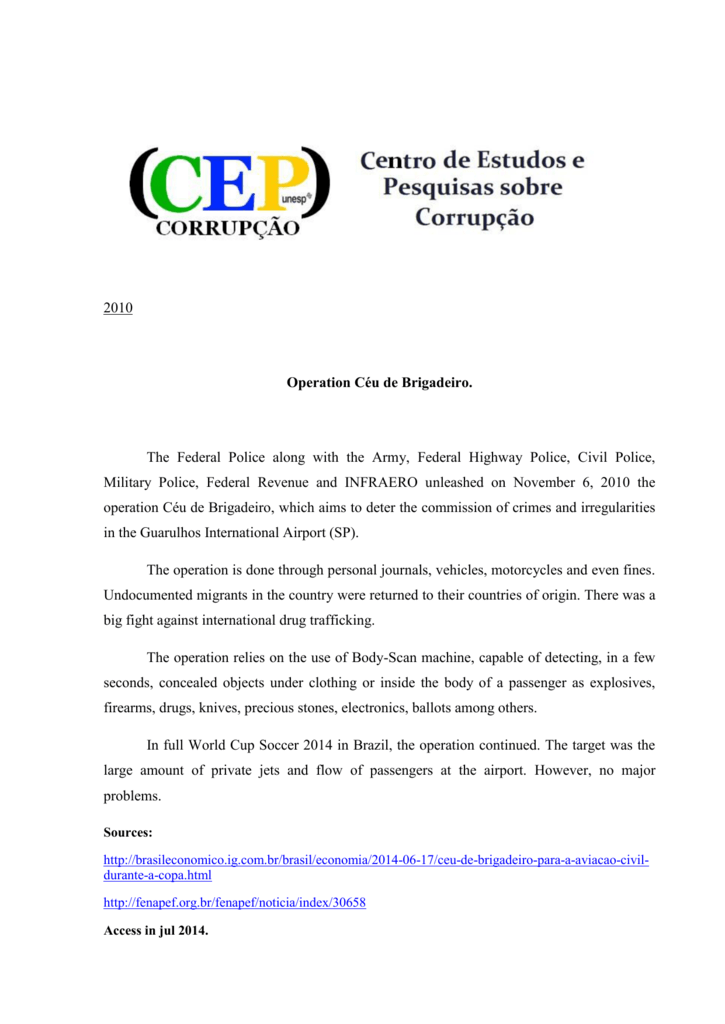 2010
Operation Céu de Brigadeiro.
The Federal Police along with the Army, Federal Highway Police, Civil Police,
Military Police, Federal Revenue and INFRAERO unleashed on November 6, 2010 the
operation Céu de Brigadeiro, which aims to deter the commission of crimes and irregularities
in the Guarulhos International Airport (SP).
The operation is done through personal journals, vehicles, motorcycles and even fines.
Undocumented migrants in the country were returned to their countries of origin. There was a
big fight against international drug trafficking.
The operation relies on the use of Body-Scan machine, capable of detecting, in a few
seconds, concealed objects under clothing or inside the body of a passenger as explosives,
firearms, drugs, knives, precious stones, electronics, ballots among others.
In full World Cup Soccer 2014 in Brazil, the operation continued. The target was the
large amount of private jets and flow of passengers at the airport. However, no major
problems.
Sources:
http://brasileconomico.ig.com.br/brasil/economia/2014-06-17/ceu-de-brigadeiro-para-a-aviacao-civildurante-a-copa.html
http://fenapef.org.br/fenapef/noticia/index/30658
Access in jul 2014.