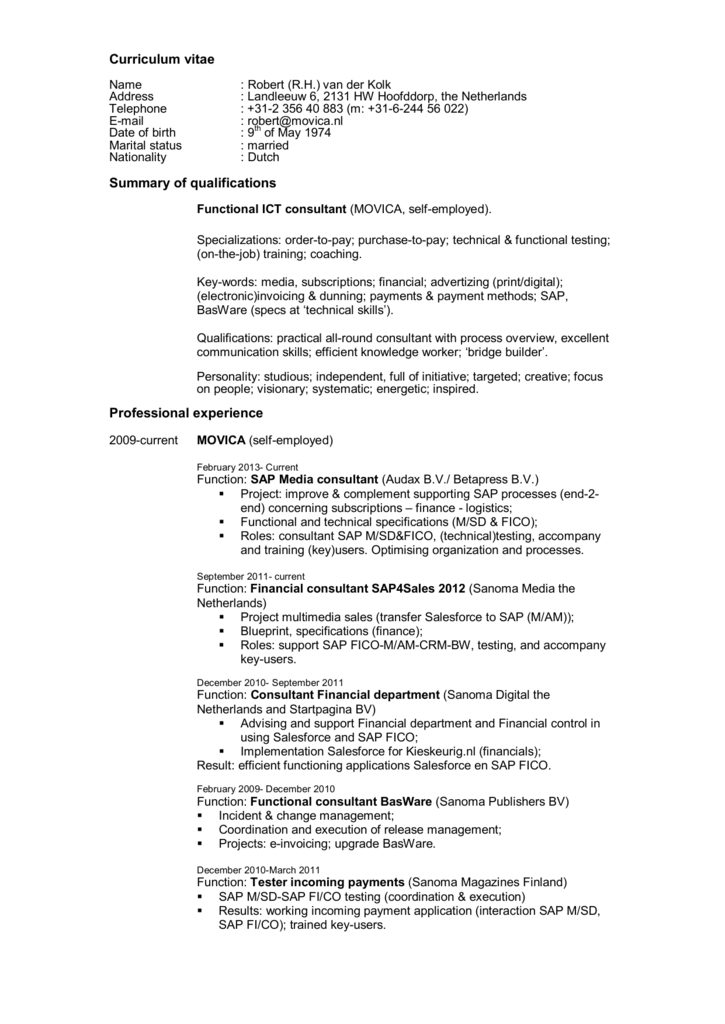 Curriculum vitae
Name
Address
Telephone
E-mail
Date of birth
Marital status
Nationality
: Robert (R.H.) van der Kolk
: Landleeuw 6, 2131 HW Hoofddorp, the Netherlands
: +31-2 356 40 883 (m: +31-6-244 56 022)
: [email protected]
: 9th of May 1974
: married
: Dutch
Summary of qualifications
Functional ICT consultant (MOVICA, self-employed).
Specializations: order-to-pay; purchase-to-pay; technical & functional testing;
(on-the-job) training; coaching.
Key-words: media, subscriptions; financial; advertizing (print/digital);
(electronic)invoicing & dunning; payments & payment methods; SAP,
BasWare (specs at 'technical skills').
Qualifications: practical all-round consultant with process overview, excellent
communication skills; efficient knowledge worker; 'bridge builder'.
Personality: studious; independent, full of initiative; targeted; creative; focus
on people; visionary; systematic; energetic; inspired.
Professional experience
2009-current
MOVICA (self-employed)
February 2013- Current
Function: SAP Media consultant (Audax B.V./ Betapress B.V.)
 Project: improve & complement supporting SAP processes (end-2end) concerning subscriptions – finance - logistics;
 Functional and technical specifications (M/SD & FICO);
 Roles: consultant SAP M/SD&FICO, (technical)testing, accompany
and training (key)users. Optimising organization and processes.
September 2011- current
Function: Financial consultant SAP4Sales 2012 (Sanoma Media the
Netherlands)
 Project multimedia sales (transfer Salesforce to SAP (M/AM));
 Blueprint, specifications (finance);
 Roles: support SAP FICO-M/AM-CRM-BW, testing, and accompany
key-users.
December 2010- September 2011
Function: Consultant Financial department (Sanoma Digital the
Netherlands and Startpagina BV)
 Advising and support Financial department and Financial control in
using Salesforce and SAP FICO;
 Implementation Salesforce for Kieskeurig.nl (financials);
Result: efficient functioning applications Salesforce en SAP FICO.
February 2009- December 2010
Function: Functional consultant BasWare (Sanoma Publishers BV)
 Incident & change management;
 Coordination and execution of release management;
 Projects: e-invoicing; upgrade BasWare.
December 2010-March 2011
Function: Tester incoming payments (Sanoma Magazines Finland)
 SAP M/SD-SAP FI/CO testing (coordination & execution)
 Results: working incoming payment application (interaction SAP M/SD,
SAP FI/CO); trained key-users.
- curriculum vitae Robert van der Kolk2003-2009
Sanoma Publishers BV
May 2008-january 2009
Function: Super key-user Financial Shared Service Centre
 Key-user BasWare (authorizations, incident management, project einvoicing);
 Coordination incident management and release management SAP M/SD
and SAP FI/CO;
 Key-user SAP FI/CO, SAP M/SD.
October 2006-april 2008
Function: Tester project SAP Media
 Developing and testing new subscription process financial interaction
SAP M/SD and SAP FI/CO;
 Execution and coordination integration and user acceptance tests;
 Result: operating subscription SAP M/SD system well integrated with
SAP FI/CO.
December 2005-september 2006
Function: Team leader Financeteam
 Operational team leader 3rd line support(7 Fte), financial support
consumer complaint handling;
 Key-user SAP M/SD en FI/CO.
September 2003-november 2005
Function: (senior) employee incoming payment
 Operational incoming payment processing (B2B, B2C);
 Key-user SAP FI/CO.
2002
Unilever Bestfoods Netherlands BV
Function: data –and process manager (purchase and sales management)
 Clean-up master data SAP MM, SAP FI/CO;
 Functional and technical support purchase/sales department
 Key-user SAP MM
1999-2001
Heineken
Several functions:




Project leader workflow
Account supervisor (sales POS materials)
Logistical employee POS materials (operation purchase, master
data SAP MM)
Key-user SAP MM
- curriculum vitae Robert van der Kolk-
Education
2013
2011-2012
1999-2002
1993-1997
1986-1993
Master Coach (Bureau Personal Development). Coaching through excellent
communication and use of different psychological and behavior models.
NLP Master Practitioner (Bureau Personal Development. Degree 2011 and
2012). Achieving personal goals by using excellent communication skills.
Leergang Bedrijfskunde (post-HBO; Stichting Samenwerkende Leergangen
Bedrijfskunde Haarlem). Degree 2002.
Hotel Management (MHS Hanze College Zwolle). Degree 1997.
VWO (Emelwerda College Emmeloord). Degree 1993.
System-technical skills
SAP


Profound user and test experience at different levels (FI/CO, M/SD, M/AM, MM, BW,
CRM)
Severe knowledge of functional and technical structure SAP
BasWare
 Functional and technical knowledge IP (invoice processing) en PM (purchase
management)
 Functional interface knowledge (Opalis, Bizztalk)
Passions
Motor biking; travelling; hunting dogs; cooking; skiing; bootcamp; reading.
Relevant items
Qualified motorbike instructor; travel guide Travel2Explore (adventurous motorbike travel).