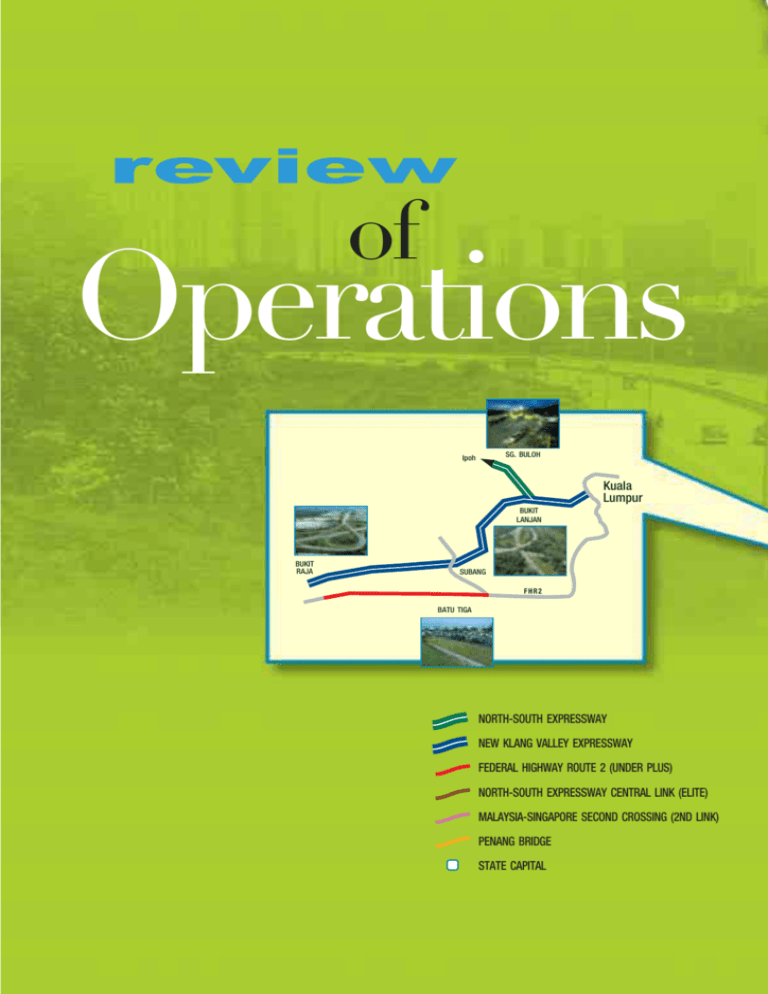 review
of
Operations
SG. BULOH
Ipoh
Kuala
Lumpur
BUKIT
LANJAN
BUKIT
RAJA
SUBANG
FHR2
BATU TIGA
NORTH-SOUTH EXPRESSWAY
NEW KLANG VALLEY EXPRESSWAY
FEDERAL HIGHWAY ROUTE 2 (UNDER PLUS)
NORTH-SOUTH EXPRESSWAY CENTRAL LINK (ELITE)
MALAYSIA-SINGAPORE SECOND CROSSING (2ND LINK)
PENANG BRIDGE
STATE CAPITAL
Bukit Kayu Hitam
Gurun
Alor Setar
Georgetown
THAILAND
G. Semanggul
PENINSULAR
MALAYSIA
Bukit Gantang
Ipoh
G. Tempurung
Tapah
Sg. Buloh
Kuala Lumpur
Sg. Besi
Shah Alam
Pedas Linggi
Seremban
Pagoh
Melaka
Ayer Keroh
Johor Bahru
Johor Bahru Causeway
SINGAPORE
Driving Along
848
km of Excellent Service
Experience the journey with PLUS Expressways,
your safer and more convenient choice.
overview
PLUS operates and maintains 848km of expressways comprising the 797km North-South
Expressway (NSE), 35km New Klang Valley Expressway (NKVE) and a 16km section of the
Federal Highway Route 2 (FHR2), from Subang to Klang. The three expressways represent
approximately 69% of the total length of Malaysia's toll expressways in operation.
PLUS also operates 67 toll plazas and 78 interchanges as well as a range of ancillary
facilities that serve to enhance the convenience of the expressways. These include two
overhead bridge restaurants, 18 Rest and Service Areas (RSAs), 44 lay-bys and three vista
points. The lay-bys and RSAs are located at intervals along the expressways of about
30km and 60km, respectively.
Travelling along PLUS's expressways, one cannot help but be impressed by the grandeur
of this immense engineering accomplishment. Recognised as a Malaysian landmark,
PLUS's expressways have transformed the socio-economic landscape of the western
corridor of Peninsular Malaysia. Inter-urban travel in the country today has come to be
regarded as a pleasant and comfortable experience and we at PLUS Expressways are
committed to delivering total customer satisfaction.
Moving forward from the listing exercise completed in July 2002, PLUS Expressways has
set its sights on being the Model Expressway Group, setting the benchmark for others to
follow. With a responsibility to the nation, our stakeholders and the public, we will strive
56
PLUS Expressways Berhad
to provide 'Excellent service and facilities PLUS optimal returns'. This is the promise enshrined in our Mission Statement. Achieving these goals
will be a challenge, but PLUS Expressways is up to the task. In this respect, every division within PLUS has been moving in cohesion throughout
the year 2002 to continuously improve the Company's overall operating and financial performances.
toll collection
During the year under review, Malaysia's broad-based economic recovery continued to have a positive impact on the operations of PLUS.
Annual traffic volume on the expressways amounted to 11,131 million passenger car unit kilometers (pcu-km) in 2002, an increase of 2.3%
from the 10,877 million pcu-km recorded in 2001. For the year 2002, PLUS recorded a total of 310.5 million toll transactions, with an
average of 850,548 vehicles plying the expressways daily. In terms of toll receipts, this translates to some RM1,376 million, an increase
of 12.5% from the previous year's collection of RM1,223 million.
Some 88.2% of the traffic volume consisted of Class One vehicles (primarily passenger cars) while the remaining 11.8% consisted of
commercial and other vehicles. Cross-border traffic to Thailand in the north and Singapore in the south, accounted for RM22 million or
1.6% of toll receipts for the year.
To ensure a smoother traffic flow and to improve throughput at the toll booths, customers have the option of paying toll using the
electronic toll collection (ETC) system as an alternative to cash. During the year, efforts were focused on promoting the Touch 'n Go and
SmartTag products. Over a promotional period from 20 August to 31 October 2002, more than 30,000 SmartTag units were sold, translating
into a 20% increase in SmartTag lane utilisation.
traffic management and safety
The comfort and safety of our customers remain a top priority for us and we maintain a commendable traffic safety record with 63.0
accidents per 100 million vehicle km travelled.
In providing assistance to motorists in distress, PLUS operates a 24-hour vehicle breakdown and accident service known as PLUSRonda,
provided free of charge to our customers. As at 31 December 2002, the total available resources comprised 83 PLUSRonda teams with
248 employees on patrol duty, 73 PLUSRonda Patrolling Vehicles (PRPV), two vans and 27 patrolling motorcycles distributed among the
three operating regions.
2002 Annual Report
57
83
PLUSRonda Teams
Our vehicle breakdown and accident
service patrols work 24 hours a day,
365 days a year to ensure your
safety and assist you on your journey.
In 2002, PLUSRonda responded to a total of 102,070
breakdowns, of which 92.1% were attended to within the
established compliance level of 30 minutes. The coming year will
see several improvement initiatives aimed at reducing the
response time to within 20 minutes. These will include increasing
patrolling loops, installation of global positioning system (GPS)
vehicle tracking devices, and the addition of new patrol vehicles
and motorcycles.
Customers in need of assistance in the event of a breakdown
or other distress incident can call PLUSLine 03-2692 0000,
our 24-hour customer care line.
maintenance highlights
PLUS's maintenance policy is to preserve the level of safety as
well as the structural and functional condition of the expressways
while complying with relevant maintenance obligations under the
Concession Agreement. Towards this end, daily and periodic
inspections are carried out to assess the expressway condition
and establish the maintenance programme. The maintenance
programme involves a combination of routine, curative and
preventative works. In addition, as pavement forms a major asset,
periodic pavement condition survey and structural evaluations are
carried out for planning and budgeting purposes.
58
PLUS Expressways Berhad
Using the Total Expressway Maintenance Management System
(TEMAN), our maintenance team is able to access inventory,
condition and maintenance information about the expressways.
Further details on TEMAN are included in the section headed
Information Communication Technology.
During 2002, nine pavement structural overlay projects were
implemented at priority areas identified. Various techniques were
employed including Hot-in-Place Recycling, Cement Bound
Macadam and mill and pave.
Other pavement works carried out during the year included thin
overlay and porous asphalt treatments for preventive maintenance
at specific locations along the expressways.
Preventive methods used to improve and preserve slope condition
included Erosion Protection Mat (EPM) and Terra Control, which
are erosion control methods for difficult slopes having depleted
nutrients for vegetation growth.
Flood mitigation studies were also carried out at various locations
along the expressways.
Other works carried out to ensure serviceability and functionality
of ancillary structures included replacement of bridge deck joints
and repair of drainage structures.
67
Gateways to a Smooth Journey
We make it our business to ensure that every
transaction at each of our 67 toll plazas is handled
efficiently and reliably, whether at entry or on exit.
PLUS believes that with an effective expressway maintenance management system and through continual innovation in
maintenance techniques the prime objectives to minimize expenditure for maintenance and to maximize returns on allocated
funds will be achieved.
construction of new interchanges
New interchanges will provide improved access and spur economic growth with the potential of generating additional traffic
volume on the expressways.
The new Nilai Interchange, located at km 283.5 of the Kuala Lumpur-Seremban stretch of the NSE, was completed and
opened to traffic on 31 October 2002. It replaces the old interchange which was unable to cope with increasing traffic
volumes. The new toll plaza features 12 toll lanes, including four Touch 'n Go and SmartTag lanes, a customer service
centre, surau and toilet facilities.
In addition, there are two other interchanges under construction. The construction of the interchange at Kota Damansara
by Perbadanan Kemajuan Negeri Selangor (PKNS), located at km 19.75 of the NKVE, is ongoing and is targeted for
completion by mid-2003. When completed, the interchange is expected to relieve traffic congestion at the Sg. Buloh and
Damansara toll plazas. The Pendang Interchange, previously known as the Kota Sarang Semut Interchange, located at km
63.4 of the Alor Setar-Gurun stretch, is one of the deferred interchanges to be constructed by PLUS under the Concession.
The construction of this interchange is currently in progress. The interchange will improve access to the NSE and is
expected to serve as a catalyst for economic development within the Pendang district.
2002 Annual Report
59
upgrading and improvement works
In living up to our vision as the Model Expressway Group, upgrading and
improvement works are continually being carried out to provide better service to
our Customers.
RSA AND LAY-BY
PLUS's approach with respect to upgrading the RSAs and lay-bys is to provide
additional and improved facilities within a spacious and aesthetically pleasing
environment for the comfort and convenience of our Customers. The plan is for
each RSA or lay-by to have its own unique Malaysian theme and identity, to offer
our Customers a wide range of attractions as well as to attract tourists.
Substantial work was undertaken at Tapah RSA, one of the most
highly patronised facilities along the NSE. Improvement works
involved providing a new restroom complex based on an open
concept with a Landscaped Central Courtyard. Other significant
features include the creation of segregated parking facilities for
heavy vehicles.
before
PLUS has upgraded the Sg. Buloh lay-by to cater specifically for
the convenience of truckers. In addition, all eight lay-bys between
Senawang and Tangkak have been upgraded with new restrooms
and wakaf. A major upgrading project is also underway at the
Bukit Gantang lay-by where a thematic concept based on a
tropical fruit village theme has been implemented.
after
67
Reasons to Take a Break
Take a break during your journey and
experience Malaysian culture at each
of our 67 rest and service areas and
lay-bys, designed with your comfort
and leisure in mind.
2002 Annual Report
61
859
Surveillance Cameras
We've installed CCTV cameras at
strategic locations to monitor traffic
conditions and provide round-the-clock
surveillance at toll plazas for enhanced
security.
62
PLUS Expressways Berhad
TOLL PLAZA
Eight toll plazas were upgraded to accommodate increased traffic
volume. At the Kuala Kangsar, Juru, Seremban and Senawang toll
plazas, the project involved toll lane extension and equipment
upgrades. For critical toll barriers at Jelapang, Sg. Besi,
Sg. Rasau and Skudai, semi-permanent staggered toll booths
were implemented to ease traffic flow. In addition, lane
channelisation initiatives, which involve separation of cash
customers from those utilizing ETC, were introduced at the
Sg. Besi and Batu Tiga toll plazas to help improve traffic
management and allow for more effective traffic dispersion.
CCTVs were installed at selected toll plazas for effective traffic
monitoring and to improve security surveillance.
CARRIAGEWAY
In anticipation of the projected increase in traffic volume, PLUS
has prepared a third lane widening proposal to improve the level
of service at priority areas. In addition, PLUS has also proposed
the implementation of through traffic from Kuala Lumpur to
Penang via improvement of the existing configuration of the
expressway between Ipoh (Selatan) and Jelapang. Initiatives
completed during the year include the installation of streetlighting
at the Senai-Johor Bahru stretch, while upgrading of cabling
works at the Subang-Jalan Duta stretch is in progress. PLUS has
also introduced Variable Message Signs (VMS) at certain
locations to disseminate traffic information for our customers'
convenience. Other major projects in progress include pavement
raising works at Alor Pongsu, Tikam Batu and Bukit Beruntung
for flood mitigation purposes.
PLUS's ISO efforts are complemented by other quality initiatives
including the setting up of Quality Control Circles or Quality PLUS
teams (QPts) to pursue continual improvement. In a more unique
facility adoption programme, every rest and service area and
several lay-bys have been assigned to selected employees at PLUS
Headquarters for them to take responsibility to improve the
overall service quality of these facilities.
During the year, PLUS initiated a customer satisfaction survey to
determine our Customer Satisfaction Index (CSI). Knowing the
customer's perception of our service quality we have established
Action Plan for continual improvement.
the Quality initiative
Since 1997, PLUS has embarked on a journey of continual
improvement towards excellence as encapsulated in the ISO 9000
System of quality management. By 31 December 1998, all
functional units in PLUS had achieved certification under the ISO
9002:1994 series. Since then, the Company has consolidated its
ISO certifications to reflect changes in the organisation structure.
To date three out of the current five Divisions and two of the three
Regional offices have upgraded their certification to ISO 9001:2000.
As an organisation that shares the public's growing concern for
the preservation of the environment, we are also in the final
stages of establishing an environmental management system and
achieving ISO 14001 certification.
2002 Annual Report
63
Driving Environmental Awareness
We embark on continual improvements to reduce air, water,
noise and soil pollution. We're driving environmental awareness
for a better tomorrow.
our
commitment
to
health,safety and
At PLUS, health, safety and the environment (HSE) have
the
long formed an integral part of our
corporate business philosophy. In our endeavour to be one of the best expressway companies
in the world, we take pains to ensure that our activities and operations do not compromise on aspects of HSE.
This is a challenge we have taken upon ourselves: to
continually strive towards the highest
HSE standards. It is a commitment we owe not only to ourselves and our employees but
also to the millions of
our Customers who use our facilities.
As a guiding principle, PLUS's Occupational Safety and Health Policy Statement explicitly spells out that "It is the policy of PLUS to
provide a safe and healthy environment for all employees, customers and contractors." The statement serves as a constant reminder
to all employees that HSE is a collective responsibility. Every employee is directly involved in a group-wide concerted effort to prevent
accidents and occupational health hazards, whilst preserving the quality of the environment in which we conduct our business. While
every reasonable precautionary measure has been taken to protect the health and well-being of our employees, there are procedures
in place to remind all employees to exercise caution at all times and abide by such procedures.
66
PLUS Expressways Berhad
Environment
PLUS's philosophy and the practices governing its environmental
To mitigate the problem of noise pollution, PLUS takes a
management system are encapsulated in its Environmental Policy:
proactive stance in adopting remedial measures, such as erecting
"It is the policy of PLUS to provide expressway products and
noise barriers at the Sg. Buloh overhead bridge restaurant and
services that are environmentally friendly. In implementing this
planting more trees to serve as a buffer. Even in the choice of
policy, PLUS will embark on continual improvements to reduce
plant nutrients, we use organic composts in preferences over
air, water, noise and soil pollution in compliance with legislative
chemical fertilisers for landscaping purposes. Wherever possible,
requirements and international standards while promoting the
PLUS considers environmentally friendly methods, such as the
conservation of the environment".
planting of shrubs on hill slopes to prevent soil degradation and
the implementation of accepted erosion control methods such as
Since its inception, PLUS has invested considerable effort and
grassing and hydro-seeding.
funds to ensure that the benefits of its operations are not negated
by any adverse impacts on the environment. In preserving air
The success of PLUS's environmental programme depends on the
quality, PLUS is among other things, promoting the use of ETC
competency of its employees. Necessary training and guidance
transactions to maintain congestion-free toll plazas at all times. The
are provided to our employees. All policies, objectives and
ETC system allows a higher throughput of 550 vehicles per hour,
procedures regarding HSE matters are regularly communicated to
compared to cash transactions that typically achieve a throughput
ensure commitment to the programme. PLUS encourages active
of only 240 vehicles per hour. It helps to reduce the impact of
participation from all levels of employees on environmental
vehicle emissions on air quality. A ventilation system operating 24-
preservation.
hours a day has been installed at the Meru-Menora tunnels. The
system is inspected periodically and preventive maintenance are
regularly carried out to ensure reliability at all times.
2002 Annual Report
67
Human
managingour
assets
People drive an organisation in meeting its business goals. One of PLUS's key human resource objectives is "to
attract, motivate, retain and reward quality employees by providing competitive compensation and benefit
packages". We aim to effectively utilise our human resources and to cultivate a performance oriented workforce
using the best human resource management (HRM) practices and programmes.
With respect to HRM, we aim to provide best in class service to support the attainment of both corporate and
individual goals.
At PLUS, we believe in teamwork. Over the years, both management and employee have forged strong ties with
one another, working closely together and sharing innovative ideas. It is a relationship built on trust and mutual
understanding towards the achievement of common goals. Through motivational and performance management
programmes, we are able to encourage employees at all levels of the organisation to share responsibility towards
meeting PLUS's business goals and objectives.
Creating a conducive work environment and promoting industrial harmony for about 3,000 employees is a key
priority of HRM. In this regard, PLUS has put in place various schemes and programmes for the benefit of its
employees and their families.
PLUS enjoys a healthy relationship with its two in-house unions. In the year 2002, meetings between Management
and the Unions were held periodically to address issues for the benefit of both the Company and our employees.
68
PLUS Expressways Berhad
To reinforce the good relations between management and employees, several social and sporting activities have
become regular features on PLUS's calendar. These include carnival, inter-section and inter-region games as well as
Family Days.
Caring for our employees' welfare also extends to the families of employees in certain job functions who have
passed away in the course of performing their duties. PLUS has "adopted" 14 children as part of its welfare
programme.
maximising the human potential
PLUS is committed to training and human resource development. In 2002, the Company spent an equivalent of
2.3% of the total salary payroll on training development and each employee benefited from an average of three
training man-days. Structured training programmes in key functional and development areas were designed to
equip employees with relevant skills and knowledge. Various motivational and behavioural training programmes
were also identified to enable the employees to enhance their performance and realise their full potential.
Given the customer-centric nature of PLUS's business, the training focus during the year was on enhancing
customer service. In August 2002, PLUS embarked on a specially tailored customer service programme known as
"Titian Mesra" aimed at all levels of employees.
PLUS is continuously developing multiskilled employees adept at handling a variety of tasks. Job rotation and
special job assignment, whereby employees from headquarters are assigned to assist the operations staff at toll
plazas and RSAs, are some of the initiatives taken towards employees attaining this goal. Succession planning to
ensure operational continuity and to minimise work interruptions are being practised in PLUS.
2002 Annual Report
69
Cutting
the
edge
Investment in Research and Development (R&D) is essential to the long-term success and future
of PLUS Expressways. It is one of the key imperatives to drive the Company forward to achieve its
vision of being the Model Expressway Group. Through R&D, we aim to improve the performance
of our expressway network, boost productivity and efficiency, enhance safety and meet the growing
expectations of our Customers on the quality of the services and facilities provided.
Our current R&D programmes and efforts are focused on several
key areas:
achieving high performance
pavement surfacing material
Pavement maintenance takes up a major portion of PLUS's
maintenance budget. Maintenance works such as resurfacing, are
generally required to maintain the functional aspects of the
expressway such as riding quality and skid resistance. These
works incur high costs and affect the flow of traffic.
As such, PLUS realizes the importance of achieving efficient
designs, by using innovative techniques in construction methods
and materials. PLUS is now embarking on a collaborative effort
with Universiti Putra Malaysia and Scott Wilson Pavement
Engineering Sdn Bhd, in association with the University of
Nottingham, to carry out research on High Performance
Pavement Surfacing Material.
It is envisaged that the research would bring potential benefits
such as long-term cost optimization on pavement maintenance
expenditure, improved riding quality and reduced traffic
disruptions due to maintenance works.
development of multi-terrain mini
inspection vehicle
PLUS carries out periodical inspections of the expressways as part of its maintenance
obligation. We are continuously on the look-out for ways and means to improve
existing inspection methods and equipment. This includes the development of a multiterrain Mini Inspection Vehicle (MIV), for which talks on a joint development effort
have been initiated with academicians from the School of Electrical and Electronic
Engineering at Universiti Sains Malaysia.
The MIV is specifically intended for the inspection of PLUS's underground drainage facilities and spaces which are not easily accessible to
the maintenance team. The use of the MIV, among other benefits, will facilitate the inspection process and enhance the efficiency of
technical inspection resources.
This joint development work with Universiti Sains Malaysia is expected to commence in 2003.
silvicultural and horticultural techniques
PLUS provides extensive landscaping along its expressways, comprising both ornamental and timber plant species. Apart from
environmental, aesthetic and functional purposes, some timber species, for example teak, have been introduced for greening the expressway
as well as for potential commercial benefits.
Appropriate silvicultural and horticultural techniques, as well as site-specific land preparation protocols and cost effective maintenance
procedures, are applied to facilitate healthy plant growth.
To further enhance PLUS's current efforts, discussions are underway to establish a research and development collaboration with the Forest
Research Institute of Malaysia.
2002 Annual Report
71
Communication
information
technology
Almost every aspect of life in today's world is driven by
technology. The business of operating and maintaining
expressways is no different. Information Communication
Technology (ICT) is increasingly in use in modern expressways.
ICT helps to improve productivity, cost-effectiveness, and more
importantly, the comfort and safety of customers.
intelligent transport system (ITS)
Among the key improvement initiatives PLUS has embarked upon
is the introduction of an intelligent transport system (ITS) for
application on its expressways. The ITS integrates the three core
elements of an expressway system – human, road, vehicles –
using leading edge information and communication technologies.
The objectives of the ITS are three-fold. First, it helps to enhance
safety by providing information to reduce traffic accidents,
alleviating accident damage and preventing secondary accidents
72
PLUS Expressways Berhad
from occurring. Second, it facilitates a smoother traffic flow by
improving transport efficiency, facility usage and more effective
management of traffic demand. Third, it can lead to an improved
environment by reducing traffic congestion and pollution.
The components of the ITS for PLUS's operations, include
communication control centres for improved traffic management
coordination, closed circuit televisions (CCTV), variable message
signs (VMS) and automatic vehicle detection systems (AVDS) set
up at strategic locations.
The Regional Control Centre (RCC) at Subang has been upgraded
with ITS features and works are still on-going at Bertam and Yong
Peng. All 597 lanes at PLUS's toll booths and 17 bridges are
equipped with CCTVs to monitor traffic flow. In addition, CCTV is
used to monitor mainline traffic and disseminate information via
VMS facilities installed along the Bangi and Tanjung Malim
stretches. PLUS also utilizes mobile and portable VMS units,
which can be deployed at specific locations as and when required.
ITS will play an increasingly important role in enhancing PLUS's
expressway operations. Plans are in the pipeline to expand the use
of VMS and AVDS at sections of the expressways located in the
Klang Valley.
total expressway maintenance
management system (TEMAN)
TEMAN is essentially a decision support tool with sophisticated
capabilities for the retrieval and analysis of information pertaining
to the maintenance of PLUS's expressways. TEMAN currently
consists of four sub-systems:
•
•
Pavement Maintenance Management System (PMMS)
Expressway Slope Maintenance Management System
(ESMaS)
Bridges Maintenance Management System (BMMS)
Drainage Maintenance Management System (DMMS)
GIS-based applications
A geographic information system (GIS) is a computer-based tool
that facilitates the integration of common database operations
with the unique visualisation and geographic analysis benefits
offered by maps.
Presently, there are three applications at PLUS that utilise the GIS
basemap.
•
Following completion of system roll-out in 2001, the PLUS
maintenance team has already experienced the benefits of having
easy access to asset inventory information that is readily available
in the TEMAN system. Through on-going efforts to update
inspection and other maintenance records in the TEMAN
database, it is expected that sufficient historical data will be
collected to facilitate improvements in the planning of future
maintenance activities.
Total Expressway Maintenance Management System (TEMAN)
The GIS is a key component of TEMAN as it allows the
maintenance team to visualise the expressways in the form of
a seamless map as well as locate and display the position of
features and events such as bridges, slopes and flood prone
areas.
•
PLUS Interactive Map
First published on the PLUS website in September 2001 the
PLUS Interactive Map allows visitors to view the PLUS
expressways in a seamless mapping environment and to
navigate the map using GIS navigational tools.
By 2004, PLUS hopes to complete an additional three modules
covering tunnels, buildings and road signages.
•
MAAP
The Microcomputer Accident Analysis Package (MAAP) is a
software application used to capture and analyse traffic
accident information. GIS technology provides a tool for such
information to take on new dimensions and significance when
visualised in the form of maps.
•
•
2002 Annual Report
73
Driving Tourism
We're making tourist attractions more accessible to local and
foreign visitors. With new destinations to explore, we're driving
tourism to promote the splendour of Malaysia.
Out. . .
reaching
caring for our Customers
PLUS Mesra Campaign
In line with the Government's call to the private sector to upgrade and improve its services, PLUS
launched a courtesy campaign at the Sg. Buloh Overhead Bridge Restaurant. Running for six
consecutive months from January 2002 – June 2002, the PLUS Mesra campaign helped to inculcate
a more customer-friendly work culture among its employees especially frontliners such as toll tellers,
customer service assistants and PLUSRonda personnel. Customers participated by filling-up
feedback forms giving comments on the quality of service provided by PLUS employees.
PLUS – FIAT Brava Competition
To reward Customers for their loyalty, a contest offering a Fiat Brava as the grand prize was initiated
through PLUS's official newsletter, Rangkaian PLUS. A total of 16,000 readers took part in the onemonth long competition, and the award ceremony was held at the Sg. Buloh Overhead Bridge
Restaurant.
Safety Campaigns
In conjunction with major festive seasons, school holidays and national celebrations, safety
campaigns were held to increase awareness and remind Customers to take extra care on their
journey home. The campaigns included free vehicle and tyre inspections, distribution of safety
leaflets, exhibitions at key Rest and Service Areas and safety talks.
caring for our Employees
PLUS Grand Final QPt Convention
On 23-24 October 2002, the PLUS Grand Final QPt Convention was held at Renaissance Palm
Garden Hotel, Putrajaya. The convention's main objectives were to enhance service quality,
co-operation and team work among employees. Each region was represented by two team finalists
in this inaugural convention.
PLUSRonda New Uniform
1 April 2002 marked the date of PLUSRonda's new look. Launched at the Central Region Office,
Subang, PLUSRonda personnel were given new uniforms to reflect their Auxilliary Police Authority.
76
PLUS Expressways Berhad
caring for our Community
PLUS Street Soccer Challenge 2002
Running from June-August 2002, the tournament took place at selected RSAs in the north,
south and central regions. Targeted at promoting a healthy lifestyle among youths and building
a better relationship with residents in nearby communities, the tournament attracted
overwhelming response including teams from Singapore and Thailand.
Road Safety Educational Programme
On 19 August 2002, a Road Safety Educational Programme was held at Sekolah Menengah Ibrahim
Sg. Petani, Kedah. The objective of the programme was to create awareness among students on
road safety.
PLUS Merdeka Carnival
In conjunction with the National Day celebrations, PLUS held a month-long carnival in support of
the Government's call to the private sector to celebrate the event on a grand scale.
Minister of Works, Dato' Seri S. Samy Vellu officiated the PLUS Merdeka Carnival by raising a giant
flag at Sg. Besi Toll Plaza. Among the activities held were distribution of mini flags to Customers at
Sg. Besi Toll Plaza, a "Best Decorated RSA" contest, a Spot-the-sticker contest in which lucky
Customers won SmartTAGs and Touch 'n Go cards, exhibitions on Independence Day, birthday
celebration for Customers born on 31 August, and a Merdeka Carnival Day on 1 September 2002
at Ayer Keroh OBR which included a colouring contest, Best Brass Band and Best Decorated Car
competitions, traditional games and a Mini Concert by local artistes.
PLUS Cooking Competition
Held at Ulu Bernam (Southbound) RSA on 19 October 2002, 20 teams comprising PLUS's stall
operators and members of the public took part in the event. It aimed to promote local delicacies as
well as creativity in food presentation amongst stall operators.
PLUS GIS Day 2002
Held on 2 November 2002 at Sg. Buloh OBR, this was the second time PLUS participated in this
initiative to educate more people around the world about the importance of geography and GIS
technology. The theme for this year's event was "I Love Geography and The Environment". The main
highlight of the programme was a contest in which participating students were asked to present a
speech based on the theme.
Toys For Joy Campaign
The Toys for Joy Campaign which ran from 11 November to 10 December 2002, was aimed at
collecting toys for cancer children at the Paediatric and Oncology Ward of Hospital Universiti
Kebangsaan Malaysia (HUKM). PLUS also donated RM30,000 to "Friends of HUKM", a voluntary
body that also looks into the welfare of the children's parents.
2002 Annual Report
77
Driving Trade
Connecting distant plantations to urban processing plants.
Facilitating export to and import from global markets.
We're driving trade for the nation.