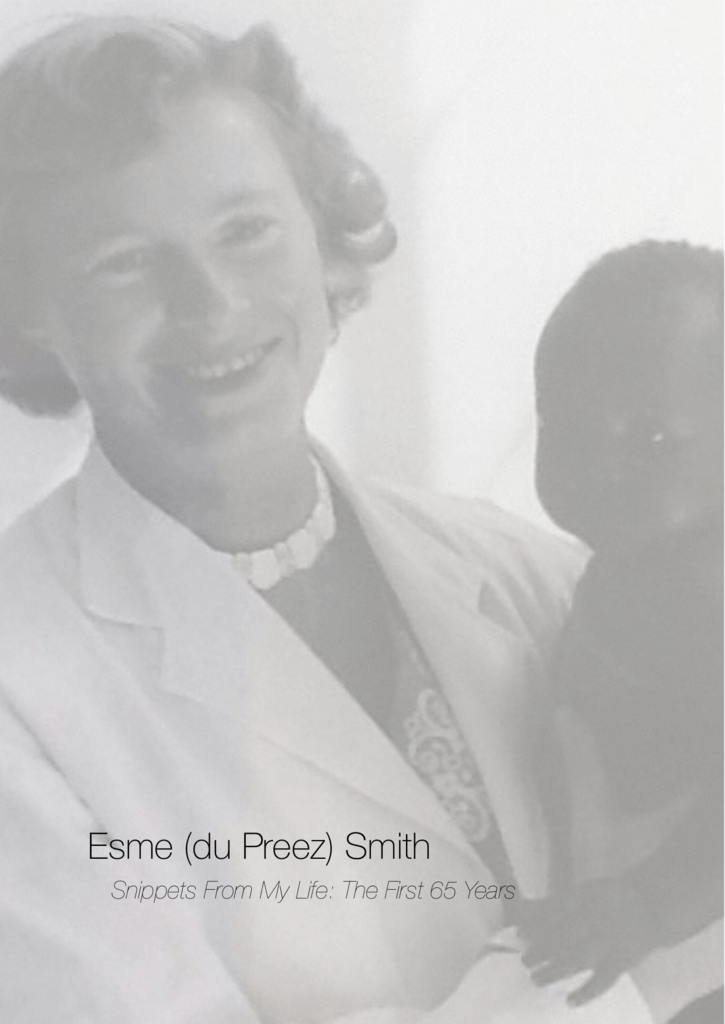 !
!
!
!
!
!
!
!
!
!
!
!
!
!
!
!
Esme (du Preez) Smith
!
Snippets From My Life: The First 65 Years
The Early Years
I was born 30 April 1922 in Keetmanshoop South West Africa weighing 4 1/2 lb. Mother
said I fitted into a shoe box. My father, who had been a Latin teacher at Grey College
Bloemfontein, set off to SWA in 1916 as adjudant to General Manie Botha to fight the
Germans. He fell in love with the country and decided to stay on with the military who also
formed a police force. He became head of the criminal investigation department.
!
When I was 3 years old we moved to Windhoek
where, at age of 5, I went to the dual language Govt
school in Leutwein street which was about half a km
from our home. My fox terrier dog used to walk me to
school, run home and was there again to meet me
when the bell rang at lunch time.
!
Most of the heads of government departments lived
in this street and we were all friends. I had a happy
carefree childhood. We used to roam about the hills
at the back of our house and there was no need for
our parents to worry about us. There were no tarred
My Father
roads in those days and I used to cycle to the
Convent for music lessons right at the other end of
town. On the way back I used to stop at the Zoo where the native nannies used to gather
with their charges. As I was an only child I loved to play with the babies and was
particularly fascinated with two sets of twins.
Xmas holidays were usually spent in
Swakopmund or the "Union" (of South Africa).
This involved a very hot three day train trip to
Cape Town and then to the Free State to visit
Mother's two sisters, Mot Joubert and Corrie
Geldenhuys. It was great to have cousins and
visit on the farm in Kroonstad. Much to my
mother's disgust I used to disappear to the
native "stroois" to play with the native babies
and come home smelling of smoke and
natives.
Mother, me and my fox terrier
!
!
Page 2
! of 46
!
Painting of the hills were I grew up
We also visited my paternal grand parents on their small farm outside Philippolis. They had
a large vegetable and fruit orchard. Oupa (Izak du Preez) used to fill baskets with fruit and
vegetables, inspan the horse and off in the "spider" to town to deliver fruit and veg to the
sick and needy. Ouma was great on "Boereraad" and I remember her cough medicine
made of mulberry juice.
!
When I was 14 it was time for boarding school so down to Cape Town – Rustenburg Girls
High for standards nine and ten. On the three day train trip down to school, I met and
befriended others going to various Cape schools. My special friend Margriet Pretorius
came from Swakopmund. Two years later we both went to U.C.T. to study medicine and
we are still friends.
!
As I could only go home to Windhoek during June and Xmas holidays, my mother's cousin
Emmie du Toit, who had a lovely home in Sea Point, very kindly acted as loco parentis and
invited me to spend leave outs and short holidays with them. There were three du Toit
daughters – Iona at UCT, Nerina at school in Paarl and Ileana at school in Stellenbosch.
They had a great circle of friends who used to congregate at their Sea Point home. We
had great fun and were known as Our Gang. Often we were taken to their farm at
Durbanville for the weekend. On one of these occasions Jan Smith, who was at school in
Stellenbosch, was invited to the farm. I have a photo of all of us getting on top of haystack
and having lots of fun. I met Jan again the next year in 1939 when we both went to U.C.T.
!
During the June holidays of my matric year, Nerina went with me to Windhoek and my
father took us up north to Namutoni in the Etosha Pan. We stayed in the Fort which was
Page 3
! of 46
!
then a police station, where we rode camels and went off game watching. With my old
Brownie camera, I was able to get good shots of lions who appeared suddenly behind a
bush and then came up to our car and played with the wheels.
!
At Rustenburg Girls High it was compulsory for boarders to play tennis, cricket and
hockey. Once a week in summer we went down to Kalk Bay for swimming lessons.
!
!
1939: War Clouds Gathering in Europe
In Windhoek we had already witnessed torch light processions at night by Hitler jeugend
marching down the streets singing German patriotic songs. My father took me down to
Cape Town at the beginning of the year (1939) to enrol for medical studies at U.C.T.
Student life was great. I stayed at Women's Residence (now Fuller Hall) with 199 other
female students from different faculties. Mens Res. (now Smuts Hall) directly opposite and
College House in town, were the only male residences at that time. Back then U.C.T. and
Wits were the only universities where you could obtain medicine and engineering degrees.
!
Apart from lectures there were all sorts of social activities and sports. Almost every
Saturday night there were formal dances in the Jamieson Hall, sing song practices for
Intervarsity and preparations for the annual Rag procession. Often on a Sunday we walked
to Kirstenbosch for tea and scones. Second year lectures were all at Medical School so
we walked along de Waal Drive from residence as very few students had cars.
!
With the war petrol was rationed. Blackout curtains were compulsory on all windows and
certain food stuffs difficult to get. Troop ships passed through Cape Town and painted the
town red. One night a fire broke out at Westbrook where the Greek royal family were
staying. Mens Res. chaps flocked down there to help and collect souvenirs.
!
One Sunday morning my friend Deidre Moore asked me to go with her to Groote Schuur
for lunch with General Smuts and family. Her mother Lady Moore, wife of the governor of
Kenya was visiting there. We walked down, climbed over the fence and proceeded to the
back porch, where the Smuts family gathered, and seated on a raised platform was the
Greek royal couple. Lady Moore introduced me and I felt such a fool having to curtsy in my
old pair of shorts.
!
Page 4
! of 46
!
Eventually the six years of medical study
came to on end with my MB ChB degree. I
now applied for a house job at Groote
Schuur hospital. We lived in the doctors
residence and earned ten pounds a month.
Jan meanwhile had completed his electrical
engineering studies, joined the S.A Navy,
was seconded to the Royal Navy and spent
time in Britain, Egypt and eventually Ceylon.
He received a Cape Times newspaper sent
by his mother in which my photo appeared
when I received my degree. He wrote to
congratulate me and from then on there was
regular correspondence between Cape
Town and Ceylon. When he returned after
peace was declared he was awarded a
Rhodes scholarship to Oxford.
Jan Smith in the S.A Navy
!
My second housemanship was as resident anaesthetist. With an emergency at night the
porter knocked on your door, came up to your bed and shone the torch into your face.
You grabbed some clothing and rushed to the operating theatre. There was an
underground passage between hospital and residence. This was said to be haunted so I
closed my eyes at the top entrance of the tunnel and ran all the way to the exit about ¼
km. So I never saw the ghost. Having completed two housemanships at Groote Schuur, I
joined the Health Centre Service and was sent to the training centre in Durban.
!
In Durban we were housed in old army barracks. Our patients were Africans, Indians and
Coloureds. My friend Jean Duncan Taylor also joined the Health Centre Service. She had a
lovely big car and every weekend we sped off to the Drakensberg or the North Coast
resorts. Salt Rock was one of our favourite places where we met a group of ex army
chaps who were farming in the district. They were very friendly and often invited us to their
dances. Durban North had a riding school where we sometimes hired horses and rode on
the beach – wonderful to dash along in the waves.
!
A year later John Ackerman and I were sent to Fort Beaufort to start a new Health Centre. I
looked after women and children and John did the men and administration. At this stage I
acquired a car. Together with two young teachers and a girl who worked at the magistrates
court we all stayed at the Commercial hotel. We were all keen tennis players and played
most afternoons after work. I was fortunate to meet very friendly farming people who often
Page 5
! of 46
!
invited me for weekends. Alternatively I would spend weekends at the Katberg, Hogs Back
or Grahamstown where I had friends. One young farmer became a bit too friendly and as I
did not relish the idea of becoming an orange farmer's wife, I applied for a years leave
(without pay) and was lucky to be accepted to do the Diploma of Child Health at Great
Ormond Street Children's Hospital in London.
!
Together with a number of other young people and Kay Tredgold who was a childhood
friend, we set off from Cape Town on a Union Castle boat in April 1949. We had lots of fun
on the boat. Jan came down from Oxford to meet me at South Hampton. He deposited
me at a private hotel in Bryanston Square which he had been recommended by the British
Medical Association. He arranged a bicycle for me and we set off for a ten day cycling tour
through Kent, Surrey and Sussex - staying at Youth Hostels. We all had ration cards.
Sweets, eggs, meat, butter and other foods were in short supply so where ever you
stayed you had to produce the ration card. We stopped at a farm to buy eggs leaving our
bikes on the other side of the fence where we had climbed the stile. Clutching the eggs I
was chased by some geese, dropped eggs--disaster! Almost the end of a budding
romance. Kay and I attended the May Ball at Clare college Cambridge, followed by punting
down the river to breakfast at Gronchester.
There were very nice boarders at Bryanston
house – some postgrad doctors, lawyers,
engineers, and we all become good friends.
Peter Besse, a French engineering student, was
very special and Kay and I (both only children)
regarded him as a brother who was always
ready to help, run errands, call a taxi etc. As
lectures at Great Ormond street only started at
10 am I used to walk there taking different routes
and discovered some lovely little statues in odd
places on the way. The students were from
various countries and I found them very
interesting. One paediatric surgeon used to
come straight from the theatre in a dressing
gown and Wellington boots, to deliver his
lecture. Having finished the lecture course, I
accepted an invitation to drive up to Scotland
with Shirley and Betty, two lively Australian girls.
On our way we picked up a Swedish hitch
hiking student called Owe. Owe was good
Me and Kay Tredgold in Cambridge
Page 6
! of 46
!
company and travelled right up to Glasgow with us. We visited many of the tourist sites –
the lochs, Oban, Isle of Iona, etc.
!
I had arranged to meet Kay in Newcastle. Jan meanwhile returned to South Africa as his
father was very ill. Jan had been to Scandinavia the previous year and told us where we
should go and what to see. So with only a rucksack on the back and sixty English pounds,
Kay and I set of for Bergen on a Youth Hostel boat. It was a wonderful summer and the
Norwegian landscape was magnificent – mountain and fjords. The people were charming
and friendly. We had no set plans but went north as far as Andalsnes:
sometimes on boats, sometimes on buses and sometimes hitch-hiking. There was a
scout jamboree up north and whenever we decided to bus we bumped into these scouts
and traveled with them. One charming Danish scout Morgens, whom I sat next to, made
me promise to visit his family on our way through Denmark. Morgens wrote to his mother
to expect us at his home in Aarhus.
One afternoon standing at the foot of Fanaraki
Mountain – the second highest in Norway, we met
two English speaking chaps who invited us to
climb the mountain with them and spend the night
at the students hostel up there. When we arrived at
the hostel there was a merry young crowd of
students. The girls all slept in one big dormitory
and the men in another. It really was great fun. Next
morning we descended on the other side of the
mountain along a narrow path across a glacier.
This was really scary but with the help of Tony – a
Cambridge student and Danny a teacher, we got
down safely. In fact Tony invited us to his 21st
birthday later in Cambridge.
!
The two weeks in Norway was pure bliss. The last
night we were near the border to Sweden, walking
along the road when we spotted an inviting farm
house with a huge barn. As it was starting to get
dark we knocked on the farmhouse door and
Me in Norway
asked whether we could sleep in the barn. With
our youth hostel sleeping bags we spend the night
on a haystack in the barn. Next morning the friendly farmer's wife brought us a tray with
milk and fresh bread which was delicious.
Page 7
! of 46
!
Then we hitch-hiked into Sweden. What a change! The young Swedes in the street were
rude, tried to lure us down a dark alleyway! Anyway we made our way by train to Owe's
house (the hitch-hiker friend from Scotland). He received us with open arms and straight
away arranged a party at his parent's holiday house on the lake. It was the height of
crayfish season. This was a hectic merry party. I was very impressed how those young
people cleaned up next morning and left the place spotless.
!
Our next stop was Denmark where we headed for the Youth Hostel in Copenhagen and
joined a young crowd to Tivoli. We arrived back late at the hostel and for punishment were
given the job of peeling a bucket full of potatoes. Having visited the Hans Christiaan
Andersen museum at Odense and Hamlet's castle Elsinore, we made our way to Aarhus.
We found Morgen's home, knocked on the door which was opened by his mother who
looked very surprised when we told her we were the friends from South Africa. She
thought we would be black.
!
Morgens was out, but arrived home soon after and we were invited to stay in the guest
room. We were shown everything to do with Viking history in the surrounding area. Years
later, attending a conference in Denmark, Jan and I met up with Morgens and his wife. He
had become a well–known artist. Kay and I returned to Britain via the Hoek of Holland after
spending two days cycling in the vicinity of Amsterdam. Jan was back in Oxford and we
became engaged. He now had to complete his thesis – on computers. My finances had
dwindled, so it was decided for me to go back to South Africa, and return to the U.K. next
June in 1950.
!
Back in South Africa I worked at Knysna health centre. This was real bush medicine as we
were expected to serve a large country area. Once a week we went to either Karatara or to
Blou Lelies. Patients gathered and were examined and treated under a large tree! One
afternoon I was playing tennis when a coloured man came rushing to the court to say that
his wife was having a severe attack of asthma. I left straight away with the little black bag,
climbed up the hill to their hut and proceeded to inject the lady with aminophylin – which
has to be administered intravenously at a slow rate. Looking down I saw that my white
takkies were black with fleas crawling up my legs. It was a case of grin and bare it till the
syringe was empty and I could dash down the hill and rid myself of the fleas.
!
There was no hospital and no Xray facilities in Knysna. If a patient was desperate he was
sent by ambulance to George Hospital over the rough mountain road and on arrival had
usually expired. I was glad to leave after six months. My parents who had retired to a small
fruit farm on the slopes of Simonsberg, gave me a farewell party on their farm.
!
Page 8
! of 46
!
My and Jan's Wedding day, 30 June 1950
I set off to the U.K by Union Castle boat in June of 1950. Ten days after arrival in Oxford,
Jan and I were married. After the Graduation Ball at Lincoln College, we set off for our
honeymoon at Lautebrunnen in the Swiss Alps. What on ideally beautiful place to relax and
enjoy ourselves roaming in the flower carpeted Alpine slopes. Jan hired a car and we
visited his cousin Hettie van Lis in Eindhoven. She was a Fagan from the Cape who went
to study music in England, met and married a Dutch Engineer and settled in Holland.
Driving through Holland and into Germany we were sad to see that there was still so much
evidence of war damage. Only half of the bridge over the Rhine in Cologne was still there.
After this wonderful honeymoon holiday we went to Rugby where Jan gained practical
experience with a job at the British Thompson Houston (BTH) Engineering works. Jake
Crompton had found us accommodation on the third floor of a large house belonging to
Dr. and Mrs. Hosken. There were large cherry trees and a huge area with rhodedendrons
and wild flowers. Soon after arrival we were invited to dinner by Peter and Audrey Marshall
and met the group of South Africans who were also at BTH – Bill and Sheila Tredre, Des
and Charm Kennealy, and Max Clarke.
!
Jan and I both had bicycles and had fun exploring the rural surroundings. The famous
Rugby School was almost directly across the road from where we stayed. I made friends
with one of the local doctors and used to attend ward rounds at the nearby hospital once
a week. As there was still food rationing Jan and I found the most economical was to buy
stewing mutton which was placed on the slow combustion stove. Every day a tin of
vegetables was added. One day Jan arrived with a stack of unlabeled tins bought cheaply
because of a fire in the store. So you never knew what was added to our stew. We
survived on ₤ 5–19 a week. I did two locums in Nuneaton, one at the hospital and the
other for a doctor (Dr. Muirhead) with a large general practice.
Page 9
! of 46
!
Later in December when I was five months pregnant, we set off for Paris. Coming out of
the opera one night I was thrilled to see falling snow flakes. We then went to Megeve – a
ski resort and had great fun on the nursery slopes. Back in Rugby I was still cycling which
our landlord Dr. Hosken thought was disgusting given the pregnancy, and Jan was obliged
to count his pennies and buy a car.
!
On Friday the 13th of April I was sent to the maternity hospital in Harborough Magna with
sky high blood pressure and very swollen ankles i.e. toxaemia. I lay there all weekend
feeling as if I would burst open. On Monday having discovered that I also had a placenta
praevia, a Caesarian Section was performed and out came a 5 ¾ lb boy and a 5 ½ lb little
girl. Jan and I were thrilled. The hospital tagged them Jim and Jane – later to become
Johan and Elise.
!
Joy did not last long as it rained solidly for ten days after I left hospital. All laundry was
done by hand. Two squealing infants as we had
feeding problems and I developed a breast
abscess. In desperation I bought some very
ripe bananas to satisfy their hunger. I was
exhausted and wept buckets full and felt that
death would be a relief. Jan was wonderful
and sat holding wet napkins in front of the
gas fire after returning from work. A colleague
of Jan's, whose wife was a doctor and had a
trained nurse for her infant, took pity on us
and we stayed with them for few days and
the twins were put on to bottles of the
Me, Elise and Johan
National milk. They thrived on this and I
recovered.
!
My mother came to visit and was a great help and comfort. Soon after her arrival we went
to stay in Kew within walking distance of the Gardens, where we had many visits. We were
staying in a friend's house while they were on holiday. One of our jobs was to feed their cat
who had a special menu and loved beetroot. There were also two hamsters to feed. After
Kew, we rented a house in Wembley. It was up on a hill with a lovely view and had a
garden with a huge apple tree. Greyhound racing was a popular sport in Wembley and my
mother and Jan went occasionally to watch.
!
As the twins were getting too big for one pram we decided it was time for a twin one.
Seeing an advert for one Jan and I went off on our bicycles with some rope. Having found
Page 10
! of 46
!
the advertised place and a satisfactory pram, well sprung with 2 hoods and high wheels,
we tied rope round it to our handlebars and pulled it along for a few miles to our home –
must have been quite a comical sight.
!
In November my mother returned from her visit to friends in Holland and Switzerland. With
winter on its way, she and I planned our return to South Africa. Jan still had to work another
two months.
!
Mother, the twins and I set off on Union Castle steamer from Southampton. We hit a terrific
storm in the Bay of Biscay. Most passengers were ill, the dining room was empty but
Johan and Elise were not in the least bit affected. They sat in the high chairs in the dining
room and enjoyed their food. Their twin pram was knocked over on the deck by a high
wave. Johan and Elise also won first prize at the fancy dress going as Adam and Eve.
!
My father met us at Cape Town docks and
took us to the farm on Simonsberg. With
sunshine and servants, life was bliss! Jan's
mother Ouma Miemie and his sister Anna
gave us a big welcome in Stellenbosch. Jan
come back a month later and in the old
Hudson, which he had inherited from his
deceased father, we made the trek to
Johannesburg.
!
Tant Anna and Ouma Miemie
We stayed with Fordyce Robertson while
Kath and Mary were visiting in Natal. Jan
started working at Eskom and I set out house hunting. We found a little Spanish style
house in Buffalo Road, moved in, and the twins could celebrate their first birthday in their
own home! The backyard had a selection of fruit trees – fig, plum, peach, cherry and
apricot. I soon learnt, with Jan's help, to make jam and can fruit. We had very good friends
in the same road – Doreen and Ren du Toit, Kath and Fordyce Robertson, and Audrey and
Derek Wenham. The Wenhams lived across the road and we regularly played tennis there.
Having good servants took away some of the chores of housework.
!
In 1955, again on 13th April, I went into the Queen Vic hospital and Andre was born in the
early hours next morning, on 14 April. With this event we had to build on an extra bedroom
and I acquired my first washing machine.
!
Page 11
! of 46
!
Our first house, Buffalo Road
The Wenhams moved to Rhodesia and Ted and Una Oosthuizen bought their house. Their
young Andre and our Andre were the same age and became friends – "Smitty" and
"Oosie". Johan and Elise started school at Jan Celliers and I joined a lift club with Marie du
Plessis and Yvonne Kusche.
I attended a short Paediatric refresher course at Wits and was roped in to work part time at
Alexandra clinic. This worked well as I could drop the children at school on my way to the
clinic and fetch them on the way home. I was also helping out at a contraceptive clinic at
Welfare House in town one afternoon a week.
Elise and Johan
Our Xmas holidays were usually spent in the
Cape with my parents on the farm, and then
Somerset West after they sold the farm.
Ouma Miemie had moved out of the
Jonkershoek house into a small house in
Stellenbosch. Anna usually accompanied us
during the Easter or June holidays to the
Drakenberg. Cathedral Peak was our
favourite, but we also stayed at The Royal
Natal, Champagne Castle and Drakensberg
Gardens where we met up with the Tredres
from Durban.
Page 12
! of 46
!
Johan, Andre and Elise
The June school holidays of 1963 we spent touring Rhodesia, starting with a visit to the
magnificent Victoria Falls. At one of the game reserves while we sat in the car viewing the
game, a female eland walked up to the car, struck her head through the window and
began helping herself to a tin of shortbread on my lap.
From the eastern highlands where we
stayed at Leopard Rock, we crossed the
border into Mozambique. In the Gorongosa
Reserve we were fascinated to see the tails
of two lions hanging down the wall of a
ruined building. Next stop was Beira. While
Jan and I went off to buy provisions, the
children spotted a trampoline, so we left
them there to enjoy some fun. When we
returned to fetch them we were met with
Elise nursing a broken arm; so off to the
hospital. A friendly Portuguese orthopaedic
surgeon was called to set the greenstick
fracture – and refused payments.
Me at Alexandra Clinic
Page 13
! of 46
!
On the way home we had news that my father was not well. He had been operated on for
carcinoma of the stomach. I was very attached to my father and decided, with
encouragement from Jan, to go down to the Cape and offer my assistance as my mother
did not drive their car. Fortunately they had sold their farm two years ago and had bought a
home in Somerset West. I was grateful to be able to spend time with my parents, knowing
that Jan was so willing and capable of looking after the children. My father was
unconscious for two days. I was sitting by his bedside, admiring the beautiful view of the
coast from Hangklip to Cape Point, when Dad sat up suddenly, turned his head to face me
making kissing movements with his lips. So I kissed him and he lay down again blowing
bubbles. At that moment the two fox terriers who always lay outside the bedroom door
and never came into the house, started barking up in the air and dashed into the room. I
knew then that the angels had come to fetch Dad's soul. He was cremated and we buried
his ashes in my grandfather's grave in Philippolis. My mother bravely stayed on in the
house for another two years before selling.
!
Johan went to boarding school at Grey College Bloemfontein – my father's old school, the
next year.
!
After selling the Somerset West house my mother came to visit us. She was having
problems with her vision and was diagnosed by a neurosurgeon with chordoma of the
brain. No ways could she return to the Cape and she stayed with us for two years till her
death in June 1968. As accommodation was a bit tight Jan bought 5 Tugela Road, a
lovely double story house which we had often admired on our walks. There were 3
bedrooms upstairs and one downstairs with a bathroom. This was ideal.
Our second house, 5 Tugela Road
Page 14
! of 46
!
As the disease progressed I employed a servant to look after Mother during the day and a
nurse at night. Andre was now also at Grey College; Elise at Helpmekaar. During July
1967 Eskom sent Jan to America to investigate which computers would be most suitable
for the organisation. It was authorised that I accompany him. The Conradie's house
opposite ours was partly burned down and we arranged that they moved into ours while
theirs was being repaired. So that took care of Elise.
!
10 July: Jan and I set off first to England, then Paris and Switzerland. While Jan had to
attend a board meeting of SWAWEK in Lisbon for a few days, I stayed over in Madrid with
Harry Wheeler, an old friend from Rugby days who took charge of me and showed me the
Spanish sights.
!
18 August: Jan and I flew to New York, then caught a train to I.B.M in Poughkeepsie and
Schenectady. We spent the weekend at Niagara Falls. Then to Minneapolis to Control
Data. I was able to visit a friend here who had been a nurse at Groote Schuur. Then to San
Francisco, Los Angeles, San Diego, Dallas, New Orleans, Chattanooga, Pittsburg,
Philadelphia, Washington and Boston.
!
We visited Expo in Montreal and spent a wonderful weekend traveling by rail to Quebec,
staying at Chateau Frontenac, which was like a fairy castle. It was a most exciting trip but
after living out of a suitcase for two and half months, I was glad to get home on the 30th of
September and see my mother and the children.
!
1968: M o t h e r 's c o n d i t i o n
deteriorated and she passed
away 29 June - the
anniversary of her wedding.
Her ashes were also buried in
Grandpa's grave in Philippolis.
Johan and Elise both wrote
matric at the end of the year,
b o t h o b t a i n i n g exc e l l e n t
results. Johan started his
obligatory National Service in
the S.A. Navy and Elise went
Jan and Me with the dogs at our second house
Page 15
! of 46
!
to Stellenbosch University to study for a B.Sc. My weekly routine was three morning clinics
and two mornings tennis. I inherited some money form my mother and we decided to use
this to take the family to Europe at the end of the year - 1969.
!
Elise, Johan, Andre and I flew to Rome on the 19th of December 1969 where we joined
Jan, who had left earlier for a business appointment. Having viewed the Roman sights we
went to Naples and across to the Isle of Capri for a few days. Then back to Rome and
Milan. Because of thick mist we were not able to fly to Switzerland so we took the train to
Zurich on Xmas day. Once in the Alps the sun came out and we were able to enjoy the
magnificent scenery. Then followed Lucern, Paris and across to Britain.
!
We hired a car at Heathrow and toured to Oxford to see Jan's old haunts, then Stratford,
Rugby, Cambridge, Chester and four days in London. Three days in Amsterdam, then we
flew to Vienna where we lost Johan and Jan while walking in the park. Fortunately we all
met up at our hotel that evening just in time to go to the opera. We then enjoyed eight
wonderful days in the ski resort of Hohentauern. Great fun was had learning to ski and
experiencing toboggan rides at night. Our last stop was Athens where the highlight was
climbing up to the Acropolis. We also visited Corinth, Mycenae, Epidaurus and Delphi. We
were back home in Johannesburg at the end of January. Andre was already at Grey
College having left a few days before the rest of us. For Jan and myself it was a wonderful
experience to have had this trip with the children and enjoy the sights through their eyes.
Elise at Stellenbosch
Johan in the S.A Navy
Page 16
! of 46
!
!
Elise went off to Stellenbosch and Johan to Cape Town University to start his civil
engineering studies.
!
August 1971: On the way to a conference in Istanbul, Jan and I flew via Israel for two
weeks holiday. We stayed in a hotel on the Mount of Olives which presented a lovely view
over the Kidron valley and Jerusalem. After visiting the biblical sites we toured north to
Haifa and spent a night in a kibbutz. Visiting a Monastery on Mount Carmel I was surprised
to recognise a monk who had been a fellow medical student with me at U.C.T. He also
recognised me and we had a lovely chat. After the Golan Heights we travelled south to
the Sea of Galilee, had a dip in the salty Dead Sea, climbed to the top of Masada and
spent two days in Eilat where I had my first experience of going on a glass bottom boat to
view the fishes and coral. Then to Istanbul, Hamburg, Frankfurt, London.
!
1972 was important as Andre started his medical studies at U.C.T. and in April Johan and
Elise turned 21. We celebrated with a party at the Vineyard hotel.
!
On the 17th of August we set off on our first trip to the East, flying via London to Bangkok
where we were met and welcomed with a huge basket of orchids. Highlights were visits to
temples with Buddhas, Floating market boat tour and tasting various exotic fruits like
rambutan, mangosteen etc.
!
Flying into Hong Kong presented a wonderful view of surrounding Islands and the harbour,
but the landing was scary as we dived down between the mountains onto a very short
landing strip on the edge of the sea. We stayed in Kowloon, visited the Peak, the New
Territories and sunset cruise to Aberdeen.
!
A three and three quarter hour flight took us to Tokyo where we met up with the Kato family
- Japanese friends whom we had known in South Africa. Next day they took us by bullet
train to Himeji, the largest castle in Japan with moat and park like gardens and a pagoda.
Next day by train to Kobe and by car to Kyoto. Naomi and Shiroku Kato were very good
company and excellent guides. They took us to the various shrines and gardens and we
slept on tatami mats on the floor of a Ryokan (Japanese inn). A drive took us to Nara with
more temples and through a forest of large red cedars. Then by train to Toba and Mikimoto
pearl island. Then to Hakone noted for its mountain scenery and steaming hot springs and
geysers. By train back to Tokyo and Nikko to visit the famous shrine and pagoda. After
more dinner parties and receptions, we boarded our flight to Sydney on the 12th of
September.
!
Page 17
! of 46
!
During the two days in Sydney we were able to visit Peter and Rosemary Long who had
emigrated from South Africa, and also Jean and David Stewart, who was a fellow Rhodes
Scholar with Jan. They gave a dinner party at their home and a pleasant evening was had
with other Rhodes Scholars who were also invited. They were last together 23 years ago.
On the 15th of September a two and half hour Quantas flight took us to Auckland for the
New Zealand W.E.C meeting in Wairakei. On the bus trip to Wairakei we stopped for a tour
of the glowworm cave at Waitoma, going into the grotto by boat. This was our first W.E.C
meeting attended by 132 delegates from 32 different countries.
!
We visited the Thermal Reserve with sprouting hot water geysers and bubbling mud pools.
The trembling earth was quite eery. A visit to Rainbow Springs, Rotorua was interesting
with many different types of ferns and trout springs.
!
In small planes we flew to South Island with stopovers at Wellington, Christchurch and
Queenstown, with superb views of snowcapped mountain peaks and lakes. Beautiful
scenery! A 20 mile motor launch crossing across Lake Monapouri took us to a
hydroelectric station with underground power house. Through sheep and cattle farms we
drove by bus to Mount Cook National Park and stayed at the Hermitage - a huge alpine
hotel.
!
On the 29th of September we flew back to Sydney. After visits to various power stations
and the Atomic Energy Commission, we bussed to Canberra for two days, and then flew
to Melbourne for more power station visits. Here ended the conference and on our own
we visited Happy Haarhoff and family. Visited Healsville sanctuary and saw beautiful birds,
koala bears, platypus, dingo, emu, spiny ant eater, etc.
!
9 October: We flew to Adelaide where we were met by four of Jan's Hardy family cousins all enthusiastic orchid growers. Kath Harris and her son John, drove us to Willunga to the
home where Jan's mother had lived and we visited the graves of his grandparents - John
and Anne Hardy. It meant a lot to Jan to meet his Australian cousins - five female and one
male, for the first time. His mother Florence Mabel Hardy died when Jan was ten years old,
and contact with the family was not kept up. With stopovers at Perth and Mauritius we
were pleased to arrive home on the 16th of October.
!
September 1973: During a visit to Britain we travelled north from New Castle by car up the
east coast to Durham to Hexham and toured Hadrian's wall and Roman camp sites. Then
to the Lake district driving from Keswick to Grasmere to Chester, Rugby, Stratford and
London. We flew to Paris where we met Elise and went to stay with Ria and Aat van der
Willigen till the 25th when we flew to Brasilia - the new modern capital city of Brazil. We
Page 18
! of 46
!
spent the day with the Viljoens sightseeing, and then flew to the most spectacular Iguacu
Falls - often called the "Eighth Wonder of the World". Wonderful views were seen from a
path along the river. Next day we crossed the river by ferryboat into Argentina and followed
a path through the forest at the bottom of the falls - equally spectacular! Stopping a few
days in Buenos Aires, we met up with our W.E.C. friends, flew to Mendoza - very near the
border of Chile. By charter plane we flew south to Neuquen and Bariloche on the Nahuel
Huapi Lake. This is very beautiful country with mountains, lakes, snow and a village
stocked with chocolate shops (like Switzerland).
!
Back to Buenos Aires and Monte Video and a two and a half hour Varing flight to Rio de
Janeiro. Going up to the Sugar Loaf and Corcavado we met Anne Baker and later visited
their home. On our last day in Rio we crossed to the island of Paqueta by ferry, hired
bicycles and had great fun riding right round this quaint but beautiful island. We were home
in Johannesburg on 21 October.
!
During September 1974 there was the very large W.E.C. meeting in Detroit. September
20th we started off in Paris staying with Ria and Aat, visiting art galleries, Malmaison
Chateau and the Lido show. Then via Brussels and London we flew to New York - visited
the Frick Art Gallery, spent the weekend at Barbara Loeb's home outside Westport and the
Schippers family (cousins) near Port Jefferson. A short stopover in Washington to visit the
monuments and wonderful national art gallery and sightseeing in Philadelphia.
!
We flew to Detroit for the W.E.C. opened by President Gerald Ford, attended by 4000
people. Because of the massive crime the streets were patrolled by mounted police. Every
time Jan and I left our hotel we were followed by two private detectives. Visits were made
to the Henry Ford museum and Greenfield village at Dearborn.
!
The study tour started with a flight to San Francisco to visit among others a geothermal
power station 15 miles other side the Golden Gate. Quick stops at Los Angeles and Las
Vegas. Then we bussed to Zion National Park to Lake Powell for a sunset cruise and
overnight stay. Entering the Grand Canyon Park was awesome, the colours changing with
the position of the sun. We drove through Oak Creek Canyon near Sedona admiring the
strange shapes of the red rocks and stayed in Phoenix. This ended the study tour and Jan
and I flew to Anaheim to relax and enjoy Disneyland for two fun days.
!
We then flew to Panama where Jan was interested in studying the activities in the Canal.
Average transit time through the canal is +/- 8 hours. From Panama we flew to Bogota
(Columbia). 50 Kilometers from here along the Pan Am highway we visited the world's only
subterranean Cathedral in the shaft of a salt mine at Zipaquira. The main attraction in
Page 19
! of 46
!
Bogota was the newly completed Gold museum containing gold relics from pre–
Columbian civilisations. A short flight took us to Cartagena with its walled old city and large
Spanish fort. Next we flew to Quito for four days sightseeing including a train journey with
locals and their chickens to Guayaquil.
!
From Quito we flew to Lima (Peru) where damage caused by an earthquake the previous
week, was visible next to our hotel. We flew to Cuzco where you are advised to rest and
drink coca tea to acclimatise to the altitude. Jan and I took no notice and went exploring
the Inca street and surroundings. Next day by narrow gauge train we zigzagged up to
Machu Picchu to the ruins of the Inca city. Over the snowcapped Andes we flew back to
Lima and on to Rio. With the Bakers we went up the Corcovado and visited the yacht
club. Home to Jo'burg on the 24th of October.
!
Feb 1975: We were invited to the International Edison Birthday Celebration in Iran. On the
7th of February we flew to Tehran - caviar served with drinks every day. This was the last
year of the Shah's rule. Undercurrent of unrest felt. Visit to the Golestan Palace with the
famous peacock throne and fabulous jewellery and Persian carpets.
!
Flew to Isfahan with attractive mosques and palace; bought small carpet. Short flight to
Shiraz. Then to Percepolis - religious capital built by Darius in 520 BC - well preserved
ruins. On the way back we had two short stopovers in Germany with drive along the Rhine
to Rudesheim, and two days in Zurich.
!
The next W.E.C. took place in Copenhagen on the 25th of May 1975. We flew to Nice.
Drove along the coast to Monte Carlo, back to Cannes. Then Swissair to Zurich and by car
to Belfort and Colmar - attractive city with half timbered buildings. By train to Paris for a
Lido show and "Baton Mouche" launch trip on the Seine. Via London we flew to
Copenhagen and meeting of old friends of May 1975 W.E.C. Bus sightseeing tour Frederiksberg Castle, Zoo, Tivoli, Rosenborg Palace, Little Mermaid, Bijon Winnblad shop,
Christiansborg Palace, and Kronborg Castle at Elsinore (Hamlet's Castle). Study tour to
Odense to open air museums of farm and country houses. Hans Anderson House. Two
and a half hour bus drive to Aarhus and meeting with old friend Morgens Skjoth with wife
and baby at Weldings home party. Tour of old town with water wheel and half timbered
buildings.
!
2 June: We joined a tour of Norway starting at Bergen. Along Hardanger Fjord to Voss, up
mountain into snow, bus down and along Sognefjord to Balestrand overnight. Along
Nordfjord to Olden; walk to Briksolalbre Glacier and a pony ride. Next day by ferry boat to
Geiranger overnight. Road to Noorddalsford and Romdalsfjord to Andalsnes. Drove
Page 20
! of 46
!
through narrow Romdals valley to Fefor. Next to the Lillehammer museum. Tour ended at
Oslo - Kon Tiki museum and Frogner Park. On the 10th of June flew to Amsterdam, to
Brussels, and drove to Brugge. Home on the 15th of June, 1976.
!
10 September: Flew to Frankfurt where met by friends - Emmy and Emil Kubler and taken
for four day sightseeing tour by car to Darmstadt, Heidelberg, autobahn to Baden-Banden,
through the Black Forest to Herrenalb, Creglingen, to old walled town of Rothenburg and
Nürnberg visiting the castle, craftsmans market, Dürer house.
!
15 September: We flew to Zurich and were put up at the posh Dolder Grand up on the
mountain overbooking the lake. Two days later we flew to Berlin, met again by friends - the
Linders, for sightseeing and through the Brandenberg gate to the eastern section, entry at
Check Point Charly. War damage and very drab along Unten den Linden. Fantastic
museums in Berlin - Charlottenberg Schloss and Dahlem.
!
On the 25th of September we flew to Stockholm for five days - beautiful city! A fifty minute
flight took us to Helsinki for five days. While there we drove 200 kilometres through lake
and forest country to Koli, Savonlinna and Kouvola. Back to Helsinki and flight to London
for two days and Paris for two days.
!
10 October: We flew to Abidjan on the Ivory Coast for W.E.C. meeting. A tour by car
through dense forest to Bingerville, the former capital, was arranged with open air buffet,
during supper entertained by native dancers. The next day a ladies excursion by car was
arranged to Tragba. On the way along the narrow road the car struck a tree and skidded
at right angles into dense forest. We had to be rescued. Another excursion by bus was to
Grand Bassam with lunch stop on the beach. At the gala dinner we were entertained by
more traditional dances. The conference ended with a tour along the coast to Ayama with
more dancing and an open air lunch. Back home on the 15th of October.
!
25 September – 9 October 1977: Johan had been sent to work at the French nuclear
power station at Tricastin, as Koeberg was to be built on the same pattern. He had
acquired a small Renault and had made contact with my friends Peter and Mary Besse at
Cavalaire.
!
Johan arranged to take Jan and me on a ten day trip through Provence. He met us when
we landed at Nice and drove us along the coast to the Besse's estate where we had a
great reunion and spent two days with them exploring the vicinity. Johan then took us to
the Gorge du Verdon passing perched villages of Trigance and Aiguines, through vineyards
and olive groves and along the highway to Marseille. Next day along the coast and north to
Page 21
! of 46
!
the artists village Martigues, then through fertile fields and orchards to Raphele. Then to
Arles visiting the Roman theater and arena and on to Nimes. The Roman aqueduct "Le
Pont du Gard" spanning the river, was a most impressive sight. Then to Tarascon on the
river Rhone. Eventually through more orchards and vineyards to the ancient city of Les
Baux on top of a mountain with cave dwellings and ruined castle. We travelled through St.
Remy, Lourmarin and the perched village of Roussillon with strange ocre coloured cliffs.
After visits to Avignon and Orange with its impressive Roman theater and arch. Then along
the Gorges del Ardeche, a very scenic route along the river. Next day through
mountainous country to Le Puy with interesting outcrops of volcanic rock. With a steep
descent from the Central Massive we drove through numerous villages along the Rhone
and eventually to Johan's flat in Pierrelatte, and the end of a wonderful holiday.
!
We drove from Tricastin to Lyon and the beginning of Jan's business appointments. We
were taken to dinner to the famous restaurant of Paul Bocuse. From Lyon Jan and I were
driven to Geneva, flew to Zurich for two days, then to Frankfurt for two days. Then drove
along the Rhine to Assmanshausen and along to Rüdesheim. Then flew to Paris where I
did a one day tour of the Loire Chateaux - Blois, Chambord and Chenonceaux.
!
22 September: We flew to Heathrow, hired a car drove to Weybridge Winchester,
Stonehenge, Salisbury, Glastonbury, Wells where swans on the moat around the cathedral
ring a bell for food. Through Cheddar Gorge to Bath, Burford to Oxford, London,
Gloucester, Stratford on to the Avon theater for a performance of Henry V. Then to Tratton
Park (N.T) and overnight at Dunham Knoll. Visits to Coventry Cathedral and Warwick
Castle. By car to Rugby and then to Heathrow for flight to Lisbon. Bus tour to Queluz
Palace, Sintra Palace and the Pena Palace.
!
5 October: We flew to Madrid with visit to the Prado with its famous art - El Greco,
Velasque, Goya, Raphael etc. Bus tour took us to El Escorial and Valle delos Caidos. Next
day bus tour to the walled city of Avila, Segovia in the heart of old Castle to the royal
Castile and La Granja. A Michelin walking tour of Madrid was very interesting before the
night flight back to Johannesburg.
!
1978: The highlights of this overseas tour were visits to two volcanoes - in Reunion and
Hawai and attending the W.E.C. in Banff with a "study tour" in the Canadian rockies. On
the 6th of August Jan and I flew to Reunion, rented a car (Peugeot) for two days in St.
Denis. We drove along the beautiful coastal highway with steep cliffs and ocean geysers to
St. Leu, then up a steep zigzag road up the mountain to Cilaos. Next day again up the
mountain through colourful fields with wild azaleas and lush trees and finally up to the 2234
meter volcano. Through larva rocks a small footpath leads up to the summit of the
Page 22
! of 46
!
volcano. Then back through geranium fields – (used in perfume industry) across the
mountain to fishing port of St. Pierre, to St. Benoit and back to St. Denis.
!
Next afternoon we flew to Mauritius - 20 minute flight, for our stay at St. Geran hotel. We
drove along the coast to the northern tip of the island and then to the 57 acre Botanical
garden - Pamplemousses with exotic and indigenous plants. Before returning to the St.
Geran we visited Port Louis.
!
11 August: We flew to Australia with a two day stopover in Perth and bus drive to
Freemantle. Next flight to Adelaide and renewed acquaintance with our Australian cousins
who took us to Willunga and the Urimbirra Fauna Park where we walked about feeding
kangaroos. Then followed a fish lunch, a visit to Victor Harbour and coffee at Hahndorf.
Next stop was Melbourne for two days with visits to the National Art Gallery, the botanical
gardens and the Healesville Sanctuary with friends. Very interesting was seeing the various
marsupial animals, koala bears and colourful birds.
!
We then flew to Sydney and spent the weekend with Pat and Dave Stewart - old friends
from Oxford days - at their beautiful 5 acre home in Dural. Back in Sydney at a dinner in
the executive flat of Metal Industries, there was a wonderful view of the harbour bridge and
opera house. Next day we were taken along the pacific highway for a visit to Vales Point
power station. Next day a Quantas flight took us to the Island of Fiji for a two day stopover
en route to Honolulu on the Hawaian Island of Oahu. We took a bus tour to the Polynesian
Cultural Centre where seven authentic villages were recreated round a network of
waterways. It was a wonderful experience to see demonstration's of the crafts, songs and
dances in colourful costumes of the Hawaii, Tonga, Samoa, Fiji, Tahiti, Marquesa and New
Zealand groups, followed by pageant of long canoes down the water. We also did bus
tours to Waikiki beach and the Arizona memorial at Pearl Harbour. (battleships bombed in
December 1941).
!
From Oahu we flew to the big island of Hawaii landing on a larva airport. We hired to
Toyota and drove along the coast to Kona for three day stay. We visited the eerie City of
Refuge at Hanaunau Bay with its ancient idols and Captain Cooke's monument. Next day
from Kona Lagoon we travelled through large areas of larva flow and plantations of coffee
and Macadamea nut trees to Naalehu, the southern most point in the U.S.A. Then to the
Volcanoes National Park viewing craters from special lookout points. Along a beautiful
highway with white ginger, fuschia and orchids to Hilo and Wailoa State Park with Rainbow
Falls and Boiling Pots.
!
Page 23
! of 46
!
Next the flight to Kauai - the "garden" Island. Again we hired a Toyota and drove along the
coast to "sprouting horn" (sea forced through larva tube) to Kiahuna. The next day we
drove through corn fields to Waimea and climbed up Canyon Drive to Kokea State Park.
The vivid colours seen from the 3657 foot high lookout down the canyon are fantastically
beautiful. Back along the highway to Wailua, where we did a boat trip on the river to Fern
Grotto and the Bali Hi beach on Haena.
!
On the 2nd of September we flew to San Francisco for three days, doing the cable car ride,
Fisherman's Warf, a two hour boat trip round the bay, Golden Gate Park and visit to John
Kiely's home at Woodside. On the 6th of September we took a one and half hour flight to
Seattle. We watched the sunset from the top of the Space Needle with a lovely view of the
bay, the city lakes and the distant mountains. Next day by ferry boat across Puget Sound
to Winslow to Port Angeles to Olympic National Park and Mount Rainier National Park.
Here next morning we stopped at the Mudflow nature trail, then off to Longmire. Through
the forest with various falls we visited Paradise Park, lake and canyon and overnight at
Longmire.
!
9 September: From Seattle we flew to Vancouver. With a Sunday bus pass we visited
North Shore, Capilano canyon with its suspension bridge, Grouse Mountain, Granville,
Stanley Park and Queen Elizabeth Park with beautiful gardens. Next morning by bus and
ferry to Victoria. Another bus took us to the famous Butchard Gardens, with six separate
colourful gardens covering 30 acres in an old quarry. That evening back to Vancouver by
bus and ferry. Next day a visit to B.C. University and drove by hired car to Horseshoe Bay.
The following morning set off for the rockies by car along the Trans Canada freeway to
Hope, Princeton Penticton, along the Okanagan Lake to Kelowna, Vernon, Revelstoke into
Glacier National Park, up steep Rogers Pass highway to Golden, along Kicking Horse river
to Emerald Lake in Yoho Park, and then to Banff National Park. From Lake Louise to Banff
for the W.E.C. at the Banff Springs hotel which looks like a huge Scottish castle set in the
forest up on the mountain side with fantastic view of the Bow valley and mountains. A
ladies tour was taken up Sulphur mountain by gondola lift and the next day to Lake Louise
and Lake Moraine. An attempt at playing ladies tennis was stopped by falling snow. The
post conference study tour took us by bus to Jasper for three days where we visited the
Columbia Icefield with a snow mobile ride on the Athabasca Glacier and cable car ride up
Pyramid mountain. The tour ended at Calgary.
!
On the 25th of September we flew to Toronto where we did a sightseeing tour. Next on the
27th we flew to Montreal and were met at the airport by Anne and Michael Baker. They
and whisked us off to the Laurentian Mountains to see the fantastic autumn colours -
Page 24
! of 46
!
indescribably beautiful. We spent the night at the Alpine Inn Ste Marguerita, then back to
Monteral.
!
After a busy sightseeing day we met Lucy and Dick Shaw, old friends from Oxford days,
for dinner. Next day we flew to La Guardia New York, took the limousine to West Port to
spend the night with Barbara Loeb. The following morning by car and ferry to Long Island
to visit Jan's cousins Erine and Anne Schippers at Riverhead and back to Kennedy airport
for our flight home over Ilha do Sol on the 1st of October.
!
1978: Elise and Ian were married in December with a small reception at our home. Two
days later we flew to Cape Town for Andre's graduation at U.C.T.
Ian and Elise, Wedding day 1978
1979, 7 September – 26 October: We flew to Frankfurt where we attended the opera
"Jenufa" the next night. Next day friends took us by car to Schlangenbad Spa and along
the river Lahn. After a day exploring Frankfurt we drove through the Tounis hills to
Assmannshausen and next day along the Rhine to Mainz and hovercraft on the river to
Boppard. Then by car to Cologne, Koblenz to Gummers Bach for dinner with Steinmuller
friends. Driving though hilly forested country we visited Oberen Schloss in Siegen where
William of Orange was born in 1533.
!
On the 16th of September we flew form Cologne to London and attended a gala ballet
performance at Covent Garden the next evening. Next afternoon we took the train to
Newcastle and were driven along the coast to Warrworth Castle, then to Alnwick Castle,
Page 25
! of 46
!
the home of the Duke of Northumberland. Back to Newcastle and next day drove through
farming country to Edinburgh for lunch after visits to the castle and Holyrood Palace and
dinner in Glasgow. The following day along the shore of Loch Lomond and Loch Fyne to
Inverary and overnight in Oban. Next day through Glencoe to Lake Awe and a visit to the
pump storage station, then to the Trossachs, Lake Katrine, Aberfoyle.
!
24 September: We flew from Glasgow to Paris. While our men were busy consulting, my
friend Emmie Kubler and I explored Paris – Pompidou art centre, Notre dame, Sorbonne,
Luxembourg garden and Odeon. Next day we took a bus tour to Château de Chantilly.
While Jan was on business I was sent off on 28th with a driver and charming French lady
for a 2 day tour of the Loire Valley visiting the Château Chambord, Chenonceaux, Loches,
Azay-le-Ridea Langeais, Sache (home of Balzac), Villandry and Amboise.
!
On the 30th of September we flew to Zurich, met by the Kublers who drove us to Salzburg
via Appenzell and the Tirol. Next day along the autobahn to St. Gilgen on the Wolfgang
See and lunch at the famous Weises Rössl and back to Salzburg. Early next morning we
were at the Festspielhaus for the opening of the V.G.B. Congress and the Mozart Concert
(Symphony 41 – Jupiter) that evening. We explored Salzburg and surrounding woods –
Gaisberg, Fuschl. Next day across the border to Berghtesgaden and walk through the
forest over looking the Konigsee. Then along the Alpenstrasse to Grossglockner pass to
Heiligen Blut overnight. Next day into Italy at Panzendorf in the Dolomite area with lots of
castles perched up the mountains, on to Bolzano. Up the steep Stelvio mountain pass
with 47 hairpin bends to Stilfserjoch, with snowclad peaks and overnight at Zernez. Then
into Switzerland to Pontresina and St. Moritz and drove back to Zurich for three days.
!
On the 10th of October we flew to London. There we hired a car from Avis on the 13th of
October and drove to Oxford, visited Tessa at Lady Margaret Hall and spent the night with
Goldie and Staffy (old UCT friend) at North Hinksey. Then we set off for Devon and
Cornwall over the Clifton Suspension bridge from Bristol along the west coast to Combe
Martin Bay, Ilfracombe, Clovelly, Bude, Boscastle with the rocky cliffs of the Cornish Coast
and six miles further to Tintagel, the birthplace of King Arthur with its castle and keep,
Polperro, Looe then to Plymouth and 3 days stay in Dartmouth with Sheila and Douglas
Anscombe (friends from Rugby days). With picnic lunches we had three wonderful days
exploring the area and surroundings, picking blackberries. Leaving Dartmouth we drove to
Torquay, Babbacome, Plymouth, Truro, Penpol where we spend the night with Eve Lester.
Next day to Falmouth Marazion with the causeway to St. Michaels Mount, Penzance,
Lands End and overnight at St. Ives. Then to Launceston, Exeter, Dorchester. Next
morning to Bournemouth, through the New Forest to overnight and visit to Jill and Mick
Long Innes and Jean and Rookie Rooke (distant cousins) at Billingshurst. Then Guildford
Page 26
! of 46
!
and a visit to Windsor Castle on the way to Heathrow having driven 1233 miles from
Oxford. We flew to Las Palmas for a two day stay on the way home.
!
The next important exciting event was the birth of Jacques Andrew Dymond on 7th
November 1979. The Christimas of 1979 was the first we could celebrate with a
grandchild and little Jacques received much attention.
!
1980: The next important event in the Smith family was
the marriage of Johan to Joy Minnaar which was
celebrated at the beautiful Spier wine farm.
!
20th August 1980 was our next visit to Europe, starting off
with three days in London, then Brussels, Antwerp,
revisiting sights in Paris including the cruise on the Boteaux
Mouche on the Seine. A Swiss Air Flight took us to Basle
where we met our friends Edith and Horst Linder who took
us by car along the river Rhine into the Black Forest with
Johan and Joy, Wedding day
lunch stop at Titisee, and on to Meersburg overlooking
1980
Lake Constance (the Bodensea) from our hotel on the hill.
The next morning we took a boat to the island of Mainau
with its colourful gardens and subtropical fruit trees. Then
along the Alpenstrasse to Lindau and up into the mountains to the ski resort Oberstdorf
and on the fairy tale castle Neuschwanstein built for Ludwig II the mad king of Bavaria.
Then we drove to Oberammergau with the Linders and Ernst Kahle and attended the
Passion Play. Walking through the village it was interesting to see the neat houses with
frescoes and wood work.
!
On the way to attend the World Energy Conference in Munich we stopped at Garmish
Partenkirche and took the cable car up to Zugspitze the highest peak in Germany. The
opening ceremony of the Conference attended by 2000+ was a very smart affair in a
grand schloss. Dignitaries like the President of the Federal Republic, the Chancellor, and
the Chairman of Siemens were present. After ten days of cocktail parties, dinners, visiting
castles and a farewell banquet at the Residence (the old winter palace), we set off by bus
on the 13th of September to Chiemsee. We went across the lake to Herrenchiemsee
Koning Schloss with a gallery of mirrors like that of Versailles. We crossed the border into
Austria for a day sightseeing in Salzburg. After a visit to petrol refinery we bussed to
Berghausen Fortress and museum, then to Altoetting the oldest and best known goal of
pilgrimage with a black virgin in the chapel. Next day to the Isar Nuclear Power station and
Page 27
! of 46
!
on to Regensburg with a Roman bridge over the Danube and overnight in Nurnburg.
Sightseeing next day and visit to the castle and dinner with friends.
!
The next day fetched by car and driven to Bonn, Siegen and Deuz for dinner at Heutlings
home. Next day a one and half drive to Frankfurt for three days sightseeing, meeting
friends and attending the opera "Magic Flute". We were invited to a very jolly party with
Bavarian beer, singing, dancing, eisbein and sauerkraut given by Steinmuller. With Jess
and Ian McRae we were driven next day to Cologne for more entertainment and
sightseeing for three days. We flew to Zurich for two days for more dinners and
sightseeing. It was all very pleasant and interesting but a relief to fly back home on the 27th
of September 1980.
!
September 1981: I was again privileged to accompany Jan on business trip taking us from
Hong Kong, Taiwan, and Japan to the United States. After a three day stopover in Hong
Kong, visiting Repulse bay, Aberdeen and trip through the New Territories to Lok Ma Chau,
and the walled village of Kam Tin. We flew to Taiwan were we were met by the very friendly
members of the Taiwan Power Company and taken to a Confusian Temple and the
National Place museum housing ancient priceless Chinese art treasures. We were royally
treated to Chinese meals.
!
Next day were taken by car though the 19 kilometre Taroko Gorge with its lofty marble rock
and 38 tunnels. Next day we drove through rice paddies and tea plantations, visiting a
pump water station in the mountains and reached Sun Moon Lake for an overnight stop.
After a trip round the lake and visits to pagodas and temples, we drove to Lishan and put
up in a suite at the guesthouse. Still higher up the mountains next day we visited a co-op
farm and had a conducted tour through Chiang Kai Sheks mountain retreat, followed by
lunch and visit to Techi dam and hydro power station, and then along the highway to Taipei
Grand Hotel. After shopping, a visit to Chiang Kai Shek memorial and a farewell dinner, we
departed next day to Japan on the 15th of September.
!
From the Palace Hotel in Tokyo we were taken the next day to the Meiji Gardens, Shinto
Shrine, a Kabuki theatre and shopping. On Friday the 18th we went by train and bus to
Hakone National Park with lovely view of Mount Fuji and up to the steam pools near top
cable station. Together with Marius and Kitty de Waal and J.P and Gerty Brand we took
the train to Kyoto to spend the night at a Japanese Inn dressing up in kimonos and
squatting on the floor for dinner.
!
Great excitement was getting news from Johan of the birth of Renee, our first
granddaughter, on the 18th of September, 1981.
Page 28
! of 46
!
!
We visited Nijo Castle, Heian Shrine Kiyomizu temple and the Byodo-In Temple. Then by
bus to Nara to the deer park and Todaiji temple with its large bronze Buddha which can
hold 13 people in his hand. Next along an avenue of stone lanterns to Kasugu Shrine and
more temples and pagodas. The next day to Kobe and back to Tokyo for reception with
the S.A ambassador, Frik Botha. Next day by taxi we were taken to Nikko to the famous
Toshogu Shrine with its beautiful carvings on the sacred stable, a 5 story pagoda and
store houses. Then we walked to Lake Chuzenji after lunch at the hotel. Back to Tokyo for
Mitsui reception and buffet supper. On the 23rd of September we departed from Narita
Airport for San Francisco, crossing the International Date Line 3 and a ½ hours later,
winning a day.
!
Met by John and Margaret Kiely we were taken to their home for dinner at Woodside. Next
day on the 24th the Kiely's driver took us across the Golden Gate bridge to Sausalito, an
art exhibition and a Tiffany's stained glass exhibition. Lunch at Franciscan Club followed by
drive through China Town, drinks at top of St Francis hotel, and dinner in Sausalito. On the
25th of September we drove to the Napa Valley via Sonoma to a wine tasting and an Indian
Museum. Jan and I jumped on to the cable car in front of the St. Francis hotel and went
down to Fishermans Wharf and Pier 39. Next day we flew to Salt Lake City for two days
visiting the Mormon Temple complex and Kennecotts open cut copper mine.
!
Next we flew to Jackson Hole (Wyoming), hired a Toyota and drove through the Grand
Teton National Park with spectacular scenery of Jackson lake and surrounding mountains.
Then on to Yellowstone National Park where snow started falling on the pass and we saw
the steam of Old Faithful geyser near the hotel. A large herd of elk and bison were seen in
the mid Geyser basin. We drove along a narrow gorge with attractive waterfalls and
steaming pools and spent the night at the Old Faithful Inn, constructed of wooden logs
and rocks. Early next morning Jan and I walked along wooden pathways viewing the hot
pools, fumeroles and various geysers in action. Then we drove back through Teton Park to
Jackson Hole Airport and flew to Denver for overnight stay. With rented Toyota we drove
the next day to Rocky Mountain National Park, Bear Lake and then back to Denver through
Georgetown – an attractive Victorian village. Next day a one hour drive took us to Red
Rocks Park and along Boulder canyon.
!
On the 4th of October we flew from Denver to Chicago where we stayed two days with
dear friends Carol and Tom Tucker at their home at Olympia fields, before flying to
Columbus Ohio. Next day with a Westinghouse 8 seater Cessna plane we flew to Muncie
and then to Pittsburg. A helicopter flight over Pittsburg gave a good view of the Golden
Triangle where two rivers meet, the Carnegie institute and Cathedral of Learning. A
Page 29
! of 46
!
Westinghouse driver took me through wooded country in beautiful autumn colours to
"Falling Water" a modern house in the forest built by the famous Frank Lloyd Wright in the
rock over a waterfall. Next day we flew to Philadelphia. Here a sightseeing drive through
the city along the East river to Independence Hall and the Liberty Bell.
!
A three hour drive along the highway took us to Washington for dinner at the South African
Embassy. Sightseeing included Georgetown, National Cathedral with space window, the
Lincoln and Jefferson monuments, visit to Mount Vernon, the Smithsonian Air and Space
Museum, the National Art Gallery, the Library of Congress and a tour of the Capital.
Four days later we flew to Albany for two days.
Drove in a G.E. limousine through wooded country
with magnificent fall colours to Olana Castle and
Hartford. Next day we were driven to Westport
where we met Barbara Loeb (an old friend whose
mother lives in Cape Town) for lunch, and then to
New York and Kennedy airport for flight back to
Johannesburg – landed on the 16th of October.
!
Graeme was born on the 27
!
th
of October 1981.
In January 1982 Andre and Heila were married in
Eston. Johan, Joy and Renee came up from the
Andre and Heila's wedding day
Cape for the wedding and we all spent a few days
at Royal Natal Park afterwards. Jan and I climbed
up the chain ladder to the top of the mountain. I was
amazed at the variety of wild flowers on the Berg at that time of the year.
!
In September 1982 while on the way to the W.E.C. in Saville, we stopped over in
Washington for four days. While Jan was engaged in talks at the S.A. Embassy, I toured
the Kennedy Centre for Performing Arts and by tour mobile visited the Lincoln memorial,
Arlington Cemetery, the Smithsonian, the National Art Gallery, the Capitol, the Library of
Congress, and the White House. That evening we had dinner at Rod Fisk's (of the S.A.
Embassy) home in Maryland. Next day I again enjoyed art exhibitions and the Museum of
National History. The S.A. ambassador Brandt Fourie and his wife Daphne invited us to
dinner the night before we flew to Paris. Beautiful dried bougainvilla arrangement on the
dinner table.
!
Page 30
! of 46
!
Andre in the South African Navy
On the 18th of September we landed at Charles de Gualle airport. Picked up at our Paris
hotel by Herbert Berger and Paul de Lieven ( an old friend). We drove to Giverny to visit the
Claude Monet Museum and its beautiful garden with a lily pond, bridge and willows. Next
day I visited the Jue de Paume, Place du Tertra, Sacre Coeur, Invalides, and that night
taken to the Moulin Rouge. The next two days sighteeing with June de Villiers and François
(de Lieven's secretary), we visited Marmottan museum and Monet paintings, Notre Dam
and Fontainbleau and the small village of Barbizon.
!
On the 23rd of September we flew to Madrid for two days. There we visited the Prado
museum with Velazquez, El Greco, Goya and Rubens paintings and guided tour of the
Royal Palace. It was good to meet up again with Harry Wheeler – old friend from U.C.T.
and Rugby days.
!
On the 25th of September we flew to Seville and were met by a W.E.C. representative.
Jan and I walked along the river bank and wandered through narrow streets to Giraldo
tower and picturesque Santa Cruz (the old Jewish quarter) with its small courtyards and
colourful gardens. By bus next day to a horse display, visit to an old cathedral, followed by
sherry tasting at a bodegas, and a drive up a steep hill to a small village for view of
cultivated plains, rolling hills and large white farm houses. After the opening of the W.E.C.
congress the ladies were taken on a sightseeing tour visiting the Cathedral, Alcazar and
convents.
!
Page 31
! of 46
!
30 September: The after-congress study tour started with flight to Valencia and 80 km
drive along the coast to visit a Thermal Power station. Then an overnight stop at Tarragona
situated within Roman walls on a hill overlooking the sea. Driving through hilly country with
castle ruins, visiting Asco nuclear power station and the Hydroelectic station on the Ebro
river. We came to a very steep hill where the bus got stuck and we had to walk up to
Mequinenza castle for our overnight stay with delicious dinner in the baronial hall. Next
morning we walked down the hill to our bus and drove 250km through orchards of
peaches, olives and hazelnuts to Barcelona.
!
We spent two days in Barcelona roaming along the Rambla, visiting museums, the
Spanish village and gazing at the strange Gothic Cathedral and Casa Milà. After two days
in Zurich where Jan had business talks with Brown Boveri, we flew to Munich where we
visited the Alte Pinakothek Museum, the Olympic games park, the Nymphenburg Palace
and the Amalienburg shooting lodge. We attended the performance of Othello at the
Opera House. Next day we were driven to Nurnberg, walked through the old town and
shopped for Xmas decorations. An hour's drive took us to Bayreuth. We walked through
the town, past Richard Wagners house and into the hofgarten. Next day we drove to
Gefrees and went for a walk in the forest with Edith and Horst Linder. On Monday the 11th
of October, we were fetched from the hotel in Wunsiedel to visit the Rosenthal studio in
Selb and toured the different factory departments ending with a fine lunch at Rosenthal
Castle with Neil Cullinan. Flew to Frankfurt later that afternoon. Two days in Frankfurt for
business followed by a drive along the Rhine to Cologne where we caught a flight to
Heathrow. We hired a car from Avis and drove to Oxford. We spent two nights with Goldy
and Godfrey Stafford at their cottage in North Hinksey. We strolled round Oxford and drove
through the Cotswolds visiting Chipping Norton, Stow in the Wold, Lower and Upper
Slaughter, Burton on the Water and Burford. On the way to London we visited Katrin and
Basil Pollard at Monkspeace. We spent two days in London. The last night we had dinner
with Pamela and George Nelson at their home in Belgravia. We arrived back home on the
21st of October.
!
1983: Johan phoned with news of the birth of Andre Minnaar Smith on the 10
!
th
of May.
August 1983: Our next Europe American trip commenced on the 12th of August, with a
visit to Emmi Kublers home in the lovely little Swiss village of Wildberg near Zurich, followed
by dinner with Ruth and Jo Abbt in Vittikon. Next day being a Sunday, the Abbts fetched
us from our Zurich hotel and drove us to Luzern, where we walked across the old wooden
Spreuerbrücke built in1408 for sightseeing and then to visit the large open air museum –
Ballenberg. We continued along the lake to Einsiedeln and then back to Zurich. Next day
Sprecher and Schuh drove to us to Aarau and took us on a tour of an 11th century castle.
Page 32
! of 46
!
Next day Jan had business at the bank and I was taken by boat to Erlenbach. That
evening we drove to Regensburg for dinner with friends. Next morning we drove to
Liechtenstein where Jan bought stamps in Valuz, then across the Arlberg Pass to
Innsbruck where we stopped for coffee and apfelstrudel, then to Kitsbuehel, having
traveled 400 km that day, and an overnight stop. Next day we crossed into Germany and
drove to Berchtesgaden where we walked in the woods overlooking the Königsee. Back
into Austria, spent the night in Fuschl am See after attending two ballets in the festival hall
in Salzburg – a very smart black tie event. Early next morning we were driven to Bad Ischl
and along the Traun river to Langbathsee, where we walked for two hours in the woods
round the lake. After lunch drove to St. Wolfgang and back in Salzburg with Fina and
Walter Pferdekemper and Karin and Hans Hirschman. We did a walking guided tour of
Salzburg, and that evening attended the opera "Cosi fan Tutti" at the Festspielhous. Next
day we saw a performance of "Jederman" in front of the cathedral. Along the autobahn we
went to Linz and Melk to visit the enormous monastery on the hill overlooking the Danube,
then to Durnstein a little fortified town on the Danube, and finally to Vienna for a
performance of "The Merry Widow". During our four day stay in Vienna we did a lot of
sightseeing and dining and wining. Main sights were a visit to Schonbrun Palace, a horse
drawn cab tour of the old city, a pleasant evening with Fina and Walter under the oaks in
Grinzing, a visit to Belvedere the residence of Prince Eugene of Savoy, and a pleasant
morning with Helen Obermaier.
!
On the 25th of August we flew to Munich where Jan had business with Munich Re. On
Saturday we were taken to Tegernesee for a walk in the woods with Ralph Root and a
typical Bavarian lunch, then to Spitzsingzee and Neuhau. Sunday we walked to the art
gallery and botanical gardens before catching the flight for Frankfurt.
!
On the 31st of August we flew to Washington and had a lovely surprise to be met at the
airport by Andre and Heila. During the next few days I accompanied Andre and Heila in
their Dodge camper to the various memorials, museums and sights while Jan was busy
with nuclear matters. On the Saturday afternoon the Fisk family took Joan and Grant Park,
Andre, Heila, Jan and I to a fun supper of fresh crabs in Annapolis, 40 Miles away from
Chesapeake Bay.
!
With the Parks, Jan and I flew to Columbus Ohio for two days, then flew to Buffalo where
we met Andre and Heila and drove to the Niagara Falls. They stayed with us in the hotel
and we had great fun viewing the falls from both the American and Canadian sides.
Dressing up in yellow mackintoshes and boots to descent, by elevator, to the tunnel
behind Horseshoe falls was great fun.
!
Page 33
! of 46
!
After 2 days we set off in the camper for Toronto, picnicking on the way. Andre dropped us
at the Holiday Inn and left for Oakville to stay with the Amms while he wrote exams for his
Fellowship. Next exploring Toronto on foot and dinner with Margaret and John Foster. Then
we flew to Montreal. After touring the city and a visit to the beautiful Notre Dame Basilica
with its blue and gold interior and meeting Dick and Lucy Shaw for dinner we drove to
Ottawa in a hired car and viewed the city. We stopped overnight at the imposing Château
Montebello on the river and drove via the Laurentian mountain villages back to Montreal for
flight to Heathrow.
!
During the next week in England we visited Chartwell, home of Winston Churchill,
Penshurst Palace, Tunbridge Wells and Polesden Lacey in the North Downs. We hired a
car in London and drove to Cambridge visiting Kings College Chapel. Then to Oxford
where Jan spent the night at Lincoln College for a special dinner. We spent the last day
visiting Blenheim Palace and Woodstock village before driving to Heathrow for the flight to
Johannesburg on the 24th of September.
!
1984, 4 October – 3 November: Visits to Holland, England, France, Germany. Landing in
Amsterdam we hired a car, drove to Veere via Utrech to visit Jan's cousins Ria and Aat van
der Willigen. Erina and Anne Schippres from America were also visiting and we had a
sociable dinner at "De Oude Werf" across the canal.
!
After two days sightseeing in this quaint old town we set off along the coast and alongside
the high dyke to Westkapelle with its monument to the Allied invasion in 1944. On to
Vlissingen an important harbour and Middleburg an attractive old town. Next day to
Zierikzee old harbour town, Brouwershaven and overnight in Brielle. Next day to Den Haag
for the VGB congress on the 9th of October where we met Ian and Jess McRae, Berger,
Hermes, and Becks. Next day we set off by bus to Gouda, Oudewater and Delft for
sightseeing and then back to Den Haag for dinner and dance in Congress hall.
!
The following day a one and a half hour bus drive took us to Arhem Open Air Museum with
old farm houses, windmills, costumes from different parts of Holland. Then a visit to the
Kruller-Muller art gallery with important van Gogh collection. That evening a "rijsttafel"
dinner was enjoyed at the Indonesian restaurant. The next day we drove by bus to
Enkhuizen, a fishing village on the IJsselmeer (Zuiderzee). A ten minute boat trip then took
us to the open air Zuiderzee Museum showinged aspects of the life of fishermen before
1932. Next day Jan and I took the train to Amsterdam where we did a boat trip on the
canals and visited the Vincent van Gogh museum.
!
Page 34
! of 46
!
14 October: We flew KLM from Schipol to Heathrow and were met by Ralph Appelby.
From the Cavendish hotel we walked through St James park, Green park and Hyde park.
While Jan was busy with energy matters, I shopped, and visited the Royal Academy to
view 17th century Dutch master pieces. That evening we were taken to Stratford on Avon
where we spent the night and next day Jess and I visited the Shakespearean sights. After
a pub lunch we were taken for a tour of Warwick Castle and then back to the theatre for a
performance of Hamlet. Next day to Coventry to see the new cathedral. A two hour drive
by the GEC driver to their guest house Durhamham Knoll in Altrincham for dinner and
overnight. Next day in a 5 seater Cesna for a bumpy flight to Newcastle and taken on tour
of Durham Cathedral - a fine example of early Norman architecture. The next morning we
were taken from Besom Barn along the coast to Alnwick, Seahouses, past Bambrugh
Castle, Holy Island and Lindisfarne Priory back to Newcastle.
!
20 October: Jan hired a Ford Fiesta in Newcastle and we drove 302 miles through the
North Yorkshire Dales and Peak District National Park, and spent the night in Rugby. Next
day we drove to Heathrow, having done a total of 400 miles from Newcastle. Took a flight
to Paris where we were met and taken to dinner at the famous "La Tour D' Argent" with old
friends - McRaes, Paul de Lieven, Herbert Berger. Next day Jess and I visited the Museum
Jeu de Paume (my favourite art gallery), Notre Dame and the Rodin museum. After more
sightseeing the next morning we flew Swiss Air to Zurich.
!
Jan addressed the Swiss South African Chamber of Commerce at the Dolder.
!
Next day I was picked up by Camilla Thomas for a drive through the woods – magnificent
in their autumn colours, for lunch at Habsburg Castle followed by a visit to Wildberg Castle.
It rained the next day and I enjoyed walking through the old city. Ruth and Jo Abbt drove
us the next day to the picturesque village of Gottlieben, and along the lake to Stein-amRhine and back to Zurich after dinner.
!
28 October: Swiss Air to Munich. With Jan we did a walking tour of the parks through the
Hofgarden and along the shopping area. That evening dinner preceded by a Mozart
performance was in Munich Re guest house. Next day a welcome and a tour of Munich
Re offices. The ladies were taken to the Nymphenburger Porcelain Factory and a bavarian
lunch followed by visit to Neue Pinakathik, a modern art gallery. That evening we saw a
beautiful performance of the ballet "Papillon" with dinner during interval. By bus next
morning we were taken to Garmisch-Partenkirchen, Ettal for lunch, walking, stayed at
Oberammergau. Then Wies Rococo Church, Rottenbuch and back to Munich for dinner.
Next morning we flew to Frankfurt and attended the opera "Madame Butterfly". Jan went to
Page 35
! of 46
!
a Dresdner Bank meeting the next morning and after another business meeting the next
day we flew back to Johannesburg on the 2nd of November.
!
November 30
!
th
1984, Elise gave birth to Antoine and Francois.
1985: Jan was diagnosed with Cancer of the Colon shortly after he retired from Eskom.
After a colostomy he carried on with his various directorships.
!
29 July 1986: Jan was asked to do an advisory job in Taiwan so off we set for Taipei with
Herbert and Kath Berger. Landing early morning, taken to our hotel, we were driven to the
Martyrs' shrine to see the changing of the Guard in the afternoon. Kathy and I walked next
morning to Chiang-Kai-Shek Memorial, climbing up 89 steps to the large bronze statue.
Through parklike gardens with carp ponds, we walked to the Lungshan Buddhist Temple,
and along alleyways past tiny shops and fish and fruit markets.
!
Next day Kathy and I did a guided tour of the National Museum and a Confucist Temple,
with its peaceful garden. Sunday with Kathy and Herbert, we were taken along the
highway to visit the Temple of the Golden Buddha, then to the busy seaport of Keelung,
up a steep winding road for a view and the lofty white statue of the Goddess of Mercy.
Further along the coast was Yehliu with peculiar reddish coral rock in the shape of animals
or people. The scenic drive inland over steep mountains covered with tree ferns took us to
Yangminshin Park where we walked along paths with waterfalls, subtropical trees and
azalea plants and a view of the valley with terraced rice paddies. Next day we had news
of Ouma Miemie's death, on the 3rd of August. Next day was spent shopping and visiting
the Tai Power Building for a multimedia presentation followed by a superb Chinese dinner
at a large round table.
!
On the 6th of August Jan and I took a nine hour flight to Honolulu form Taipei, crossing the
International Date Line after dinner. After breakfast we flew over the Island of Kauai where
we had a clear view of the colourful Waimea Canyon. The airport bus in Honolulu to our
hotel, gave us a good tour of the town and Wakiki beach.
!
Our next three days we spent sightseeing on foot and by bus; the highlights being the
Kodak show in Kapialani Park and the Polynesian Culture Centre in a beautiful park with a
stream for the pageant of the long canoes. This 41 acre living museum of the customs,
crafts, architecture, activities, songs and dance of the Polynesian people from Samoa Fiji,
Tahiti, Hawaii, New Zealand, Marquesas and Tonga is truly magnificent, providing a
spectacular show of music and dance. A five hour flight overnight took us to Vancouver on
the 10th of August where we were met by Andre and Heila. As their flat was small they
Page 36
! of 46
!
booked us into an apartment nearby. Within walking distance of False Creek with a view of
Expo across the creek, was Grenville Island market with beautiful fresh fruit and
vegetables, fish, homemade cakes. In the afternoon Andre drove us through the posh
suburb of Shaughnessy and to the University of British Columbia.
!
Next day we visited the various pavilions of Expo.
!
The following day Andre drove us over Burrard Bridge to Stanley Park, visiting the
aquarium, then over Lions Bridge to North Vancouver and along marine drive to Lighthouse
Park. There we walked along a trail in the forest and picnicked on the rocks before driving
to Horshoe Bay. With senior citizen transit bay passes Jan and I took the skytrain and did
some exploring. Next morning we walked through the colourful Queen Elizabeth Gardens,
built in an old quarry, and in the afternoon Andre took us for a picnic on a hillside
overlooking the yacht harbour at Deep Cove and Mount Seymour Park.
!
Taking the Royal Hudson steam train along the coast to the quaint old town of Squamish
was an interesting experience. That afternoon Andre took us up to Grouse Mountain ski
ride and then to Capilano Park where we walked over the 230 foot suspension bridge over
the canyon. On Saturday Jan and I took the Tsawwassen ferry to Vancouver Island and a
bus to the famous Butchard Gardens built in a quarry with magnificent floral displays. After
visiting Victoria and bus to the ferry, we reached Vancouver late at night. On Sunday we
again visited the campus of University of British Columbia with its beautiful gardens
scattered over 396 hectares. In the afternoon we watched Andre playing in a cricket match
in Stanley Park and later enjoyed the fireworks display of Expo. We did some more
Jan and Andre in Canada
Page 37
! of 46
!
exploring the next two days and on the 20th of August we flew via Heathrow back to
Johannesburg.
!
We had a month to recover from this trip to Taiwan and Vancouver, as we had a special
invitation to attend the World Energy Congress in Cannes starting on the 3rd of October.
!
26 September 1986: Jan and I flew to Heathrow, arriving early morning, we hired a car and
drove to Oatland's Park at Weybridge for accommodation. During our three days in Britain
we visited Jean and Rookie in Shalford, Susan and Brian Clark in Limpsfield and toured the
courtyard and gardens of Hampton Court.
!
30 September: We flew to Nice where Richard Besse met and drove us to Cavalaire and
the Besse estate. We stayed with Mary and Peter for two and a half days in their lovely
home on the hillside overlooking the bay. These hospitable old friends took us to nearby
St. Tropez and Port Grimaud Marina. Peter drove us to Cannes to our hotel where we met
up with our friends Jess and Ian McRae, the Normans and Dick Dutkiowicz. After
registering at the Palais des Congres, we walked up Mount Chavalier to the old town along
narrow streets and back for cocktail party with old friends - Fosters, Rutleys, Obermaiers,
Otts. Next day we obtained our tickets for the post congress study tour. That evening we
walked along the beach front to the Palm Beach Casino for the executive council reception
dinner and dance.
!
After the Grand Opening Ceremony by President Mitterand, who arrived by helicopter on
Sunday 5th October, we attended another cocktail party and then drove 6 miles out to the
famous Moulin de Mougins for dinner with McRaes, Becks, Bergers, and Hermes. Over
the next five days there were daily bus tours, coming back to Cannes for cocktail parties
given by various firms in the evenings. We visited the Biot Glass Factory, Antibes for the
museum in the castle with pottery and Picasso paintings. Then Cagnes, St. Paul's with art
show, the Maeght Foundation Art gallery with its modern sculpture and Chagall paintings,
Monte Carlo, Grasse with its Fragonard Perfumery. Sophie Antipolis Park of research
centres. At night there were fantastic fireworks displays.
Page 38
! of 46
!
Me, Jan and the kids - 5 Tugela Road
On the 11th of October the five day study tour commenced with a visit to the Gardanne
coal power station. Then to Arles where we climbed to the top of the Roman Amphitheater
and visited the Cloisters of St. Trophime, and spent the night at Montpellier with a
reception at Castle Grammont. After exploring Montpellier next morning we drove though
vineyards to the quaint old village of Saint-Guilhem-Le-Désert located at the entrance to
some rugged canyons, then on the Perpinan with dinner at the quaint fishing village of
Collioure. Early next morning we set off for Villefranche by train, transferred to a small yellow
train for a winding ride up the slopes of the Pyrenees to the Solar Experimental Station at
Font Romeu. On the way back to Perpignan we stopped for wine tasting at the Thuir
Page 39
! of 46
!
cellars. On our fourth day we drove one and a half hours to the mediaeval fortified city of
Carcassonne with its 52 towers and double walls. Here we explored the narrow streets
and cathedral, and after lunch drove to Toulouse for a reception and dinner at the Hotel de
Ville. After walking the streets and visiting the large Romanesque basilica built in 1096.
!
We left Toulouse and flew to Zurich where we met the McRaes and Berger for an excellent
Swiss dinner. During the next five days in Zurich we explored the old city, walked along the
lake and took the rack railway up to the grand Dolder, were taken to Brunnen for lunch,
and took a scenic drive through the short rock tunnels along the Unnersee to Altdorf and
Stans. On the 20th of October we flew back home from Kloten airport.
!
Jean Leon Smith was born in Vancouver on the 7
!
th
of June 1987.
1987: Jan was becoming weaker and we
knew the cancer had spread, but he kept
up attending his various directorship
meetings. We had a short holiday in
Hermanus in April. Jan died peacefully at
home in September. Johan came up from
the Cape for the last ten days and was
reading the paper to him when he noticed
Jan had stopped breathing. I will always
be grateful to Johan for his moral and
physical support during this time. I feel
very privileged to have had a happy
trouble free life with a wonderful, loving,
caring and supportive husband and three
healthy, bright and intelligent children.
!
I now had the mammoth task of clearing
up - getting rid of periodicals, books,
stamp catalogues, surplus furniture etc.
before thinking about a retirement village.
In spite of being on my own I still had itchy
feet and organised the following trips:
Jan at Tugela Road
!
2 September – 15 October 1988
Hong Kong on invitation of Carol and Tom Tucker for 1 week and obtaining visa for
Canada – Hornby Island, Vernon, The Rockies.
Page 40
! of 46
!
30 March – 14 April 1989
India + Nepal – Bombay, Udaipur, Jaipur, Amber – Taj M. Fateh Pur Sikri, Agra,
Delhi, Katmandu Pokara, Bhakiapur Patan.
!
29 May – 5 June 1990 Seychelles – Mahe, Praslin, La Digue, Moyenne and Cerf Islands.
!
24 August – 12 October 1990 London – Ross-on-Wye (Kemps)
Canada – Vernon, Houseboat on Shuswap Lake, Capitola. Monterey
!
28 September – 18 October 1991
TFC Seven Seas on Odysseus - from Venice. Rome, Naples, Capri, Florence,
Venice, Voutroton (Albania), Corfu, Olympia, Athens, Mykonos, Nessebur
(Bulgaria), Ephesus, Delphi, Taormina, Sante Margharita, Portafino, Genoa.
!
7 – 22 May 1992 Egypt – Cairo, Giza, Abu Simbal, Aswan, Philae, KomOmbo, Edfu, Luxor,
Dendera, Abydos, Tel-al-Amarna
!
19 Dec Xmas '92 Canada Mexico – Cosumel. Mayan ruins – Tulum, Chicken Itza
!
1993 23 March – 5 April Zimbabwe – Victoria Falls, Motoppos, Bulawayo, Kariba House boat, Harare.
!
!
10 Oct – 15 Oct
Malasia – Penang, Banding Island, Kota Bahru, Tanjong Tara, Singapore, Kuala
Lumpur,
!
2 Sept – 18 Sept
Prague St. Petersburg Moscow – Zagorsk, Budapest – Szentendre
!
June 1994 Canada via Singapore Alaska – inner passage Golden Princess cruise.
Juneau, Skagway Ketchiken
Rockies – Calgary Drumhaller, Banf Jasper
Athabasca Ice fields
Page 41
! of 46
!
!
July 1995
Tanzania– Arusha, Lake Manyara, Serengeti wildbees migration, Lobo, Olduval -maasai. Ngorongora Zanzibar. Prison island.
!
Oct 1995
Canada – Victoria, Silver Star, Halloween.
!
May 1996
Israel, Jordan, Turkey
Israel – Jerusalem, Bethany Jericho, Mount Nebo, Bethlehem En Gedi Dead Sea Emmaus
Jordan – Amman Petra.
Turkey – Istanbul, Ankara, Cappadocia, Goreme Hierapolis Pumukkale Kusadasi Ephesus
!
December 1996
Mauritius
!
1997 !
Caprivi Windhoek, Rundu, Nkwasi lodge, Ndhoru lodge
Llanshulu lodge, Mowanalodge Chobe, Victoria Falls.
23 Aug – 4 Sept 1997.
INDONESIA .Sumatera – Berastagi, Samosir Island on Lake Toba. Parapet,
Medan. JAVA– Yogykarta, Borobudur Buddist temple Prambanan Hindu temple.
Singapore – Sentosa.
!
June !
Canada – Vernon.
25th September 1998
London Windsor Castle
!
!
Page 42
! of 46
!
1998 October
New England. Fall tour New York, Newport Rhode Island, Cape Cod Hyannis.
Sandwich, Plymouth, Boston Concord. Kennebunkport Maine, Camden,
BarHarbour Acadia National Park, New Hampshire Gorham, Conway Vermont
Stowe Montpelier New York State Lake Placid.
New York – Central Park, Frick Art Collection.
!
1999 Sept
Ireland: Ross-on-Wye – Ledbury
New Ross, Kilkenny, Cashell, Tipperary, Limerick, Ring of Kerry, Killarney Nat.
Park, Beara, Caast Casletownshend, Blarney Castle, Ardmore Waterford Bay,
Wexford
Canada – Vernon. Kettle Valley excursion,
Vancouver Island – Pacific Shore Nature Resort Tofino Island, Butchard gardens
!
2000
!
China + Canada
15 May Hong Kong – Aberdeen Repulse Bay,
Guilin, Limestone peaks, Lijiang River cruise, rice paddies.
Xian – terracotta warriors
Beijing – Great Wall, Forbidden City, Summer Palace
Suzhou – Tiger Hill park gardens, Humble Administrator Gardens,
Gardens of the Master of the Nets, Surging Wave Gardens
Tong-Li
Shanghai Yu Garden The Bund.
!
June !
Canada – Vernon
2001 Xmas Mauritius
!
!
Page 43
! of 46
!
20 Apr – 5 May 2001
Morocco and Tunisia
Morocco – Rabat Mekenes Volubilis– Roman site. Fes Essaquira. Marrakesh
Tunisa.
Carthage, Sidi Bousaid, Kairouan; Sbeitla – Roman ruins, Tozeur, SlejaGorgeTermerza Oasis Douz, Matmata –
Troglodyte homes. El-Jem Roman amphitheatre
Hammamet Casablanca
!
September 2002 Canada.
Vernon Jasper National Park – Maligne canyon,
Athabasca glacier, Angel glacier, Sunwapta falls, Mistaya canyon,
Banff National Park – Lake Moraine, Lake Louise, Yoho national park
!
2003 21 May – 6 June Croatia:
Zagreb, Rijeka, Trsat, Opatija, Pula, Ravinji,
Zadar, Vodici, Trogir, Split, Dubrovnik
Korcula, Ston
Plitvicka National Park
Benguerra Island with Elise and Andre
!
2004 9 June Alaska + Canada
Vancouver, Ketchiken, Skagway Icy Straits (Glacier Bay) Juneau, Glacier Bay, Hubbard Glacier – Yakutat Bay
Seaward Anchorage By air to Vancouver Vernon
!
!
Page 44
! of 46
!
2005 March – April
Canada – Andre's 50th birthday
Vernon – Balloon ride
Danube - Boat Cruise
Vienna Black Sea
Budapest Kalocsa-Stunt horses Belgrade, (Serbia – Montenegro), The Iron Gate,
Veliko Turnova (Bulgaria), Constanta on the Black sea.
Bucharest (Romanian capitol)
Bran Castle.
!
!
2005 December
Comores: With Andre, Heila, Deon, Michelle, Elise, Jacques and Juilet and
Antoine.
!
2006 Sept
Seychelles
Mahe, Praslin,
Cerf Island, La Digue,
!
2008 June
Namibia.
Fish River Canyon, Sossosvlei,
Namatoni, Etosha Pan,
Flew back from Windhoek by air.
!
!
Three more grandchildren were born after my first 65 years:
Jacqui Michelle Smith, 26 January 1990
Deon Jacques Smith, 24 October 1991
Michelle Fay Smith, 19 June 1993
!
Page 45
! of 46
!
Esme Smith at Darrenwood Village, 2013
Page 46
! of 46
!