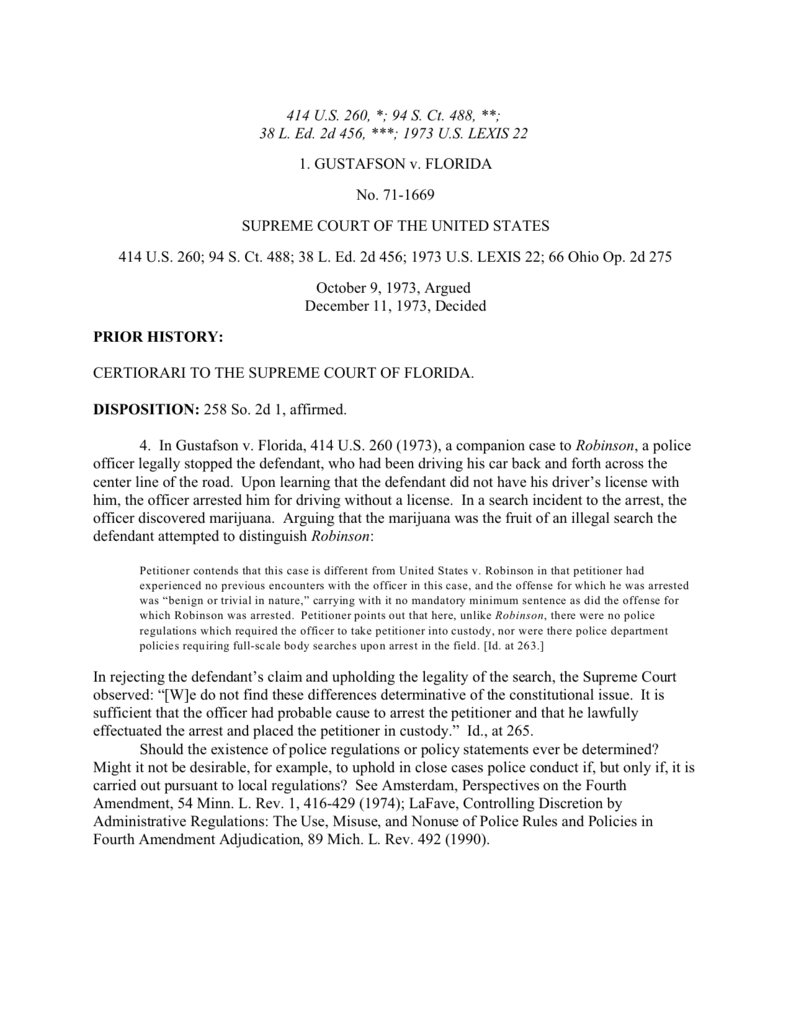 414 U.S. 260, *; 94 S. Ct. 488, **;
38 L. Ed. 2d 456, ***; 1973 U.S. LEXIS 22
1. GUSTAFSON v. FLORIDA
No. 71-1669
SUPREME COURT OF THE UNITED STATES
414 U.S. 260; 94 S. Ct. 488; 38 L. Ed. 2d 456; 1973 U.S. LEXIS 22; 66 Ohio Op. 2d 275
October 9, 1973, Argued
December 11, 1973, Decided
PRIOR HISTORY:
CERTIORARI TO THE SUPREME COURT OF FLORIDA.
DISPOSITION: 258 So. 2d 1, affirmed.
4. In Gustafson v. Florida, 414 U.S. 260 (1973), a companion case to Robinson, a police
officer legally stopped the defendant, who had been driving his car back and forth across the
center line of the road. Upon learning that the defendant did not have his driver's license with
him, the officer arrested him for driving without a license. In a search incident to the arrest, the
officer discovered marijuana. Arguing that the marijuana was the fruit of an illegal search the
defendant attempted to distinguish Robinson:
Petitioner contends that this case is different from United States v. Robinson in that petitioner had
experienced no previous encounters with the officer in this case, and the offense for which he was arrested
was "benign or trivial in nature," carrying with it no mandatory minimum sentence as did the offense for
which Robinson was arrested. Petitioner points out that here, unlike Robinson, there were no police
regulations which required the officer to take petitioner into custody, nor were there police department
policies requiring full-scale body searche s upo n arrest in the field. [Id. at 263.]
In rejecting the defendant's claim and upholding the legality of the search, the Supreme Court
observed: "[W]e do not find these differences determinative of the constitutional issue. It is
sufficient that the officer had probable cause to arrest the petitioner and that he lawfully
effectuated the arrest and placed the petitioner in custody." Id., at 265.
Should the existence of police regulations or policy statements ever be determined?
Might it not be desirable, for example, to uphold in close cases police conduct if, but only if, it is
carried out pursuant to local regulations? See Amsterdam, Perspectives on the Fourth
Amendment, 54 Minn. L. Rev. 1, 416-429 (1974); LaFave, Controlling Discretion by
Administrative Regulations: The Use, Misuse, and Nonuse of Police Rules and Policies in
Fourth Amendment Adjudication, 89 Mich. L. Rev. 492 (1990).